Seriously, where did the time go. It feels like it was just yesterday that I moved to New York City. Or that it was only a week ago that I packed up my newly married life to head out on The Trip. Suddenly, I've been living in New York City for TWELVE YEARS and The Trip ended four years ago this past June. And holy crap, WE HAD A KID.  Somehow back in February, our rescue pup Cambodia celebrated her third birthday, and this month, she logs her 34th month of living with us in Brooklyn instead of traipsing around the woods and highway shoulders of North Carolina.
Time goes by quickly it seems, which is why I'm so overdue for an update on how life with a recue dog is going. And this past year and a half has been rather interesting.
---
CURRENT PUP STATS:
Weight: 47 pounds (she clocked in at 42 pounds 18 months ago). Me thinks it's time for a diet.
Likes: laying in bed, patrolling the backyard for furry intruders, going to Eva's Play Pups, CHEESE, grandparents.
Dislikes: Myrtle Avenue, skateboards, flies in the house, construction workers and the loud banging terrifying sounds they make.
Toy-du-Jour: there are a few these days. A gray anteater stuffed toy that always goes to Eva's for overnights, a rubber gorilla, and a white dog-bear-thing that has had about 10 squeakers in it.
Favorite nap spot: her new bed (known as "place") in front of the faux-fireplace, adorned with uber-soft blanket because shes a lady. Please.
---
So what have we learned in the last few months?
BODIE NEEDS BOUNDARIES. OTHERWISE, LIFE IS CHAOS.
This dog NEEDS rules. She doesn't want them per say, but she thrives with boundaries. Left to her own devices, she will work her self up into fit of anxious energy and will take it out on the world in the form of barking, "guarding," and getting into things she shouldn't. This is why we must crate her when we leave the house. We both hate doing it, but in our current home, it just makes more sense for her state of mind. She lives in Brooklyn, surrounded by big city sounds and big city energy. A few months back, her anxiousness was getting worse and worse, and the worse it got, the more serious we became about finding a training solution to help her calm down. Nothing had been working well.
And then there was a baby on the way and shit got real.
With newly focused purpose to train the anxiety out of this dog, we hired more trainers and finally made some breakthroughs. With a mix of positive reinforcement, corrections, and repetition, we've seen A LOT of improvement. She will now stay in place (her deliciously comfy dog bed) when people come over. She wont lose her mind when a stranger needs to come into to the house to fix things. She listens to us when we tell her to stop barking at the mailmen/garbage men/neighbors getting mail from the mailbox. She walks well with us next to the stroller and is very VERY calm and accepting and loving with her little brother. I am SO SO proud of her. And happy for her that her anxiety has been tempered some. Hopefully we will continue to see progress in the coming months. Because it's not perfect yet. And think there's still more in there.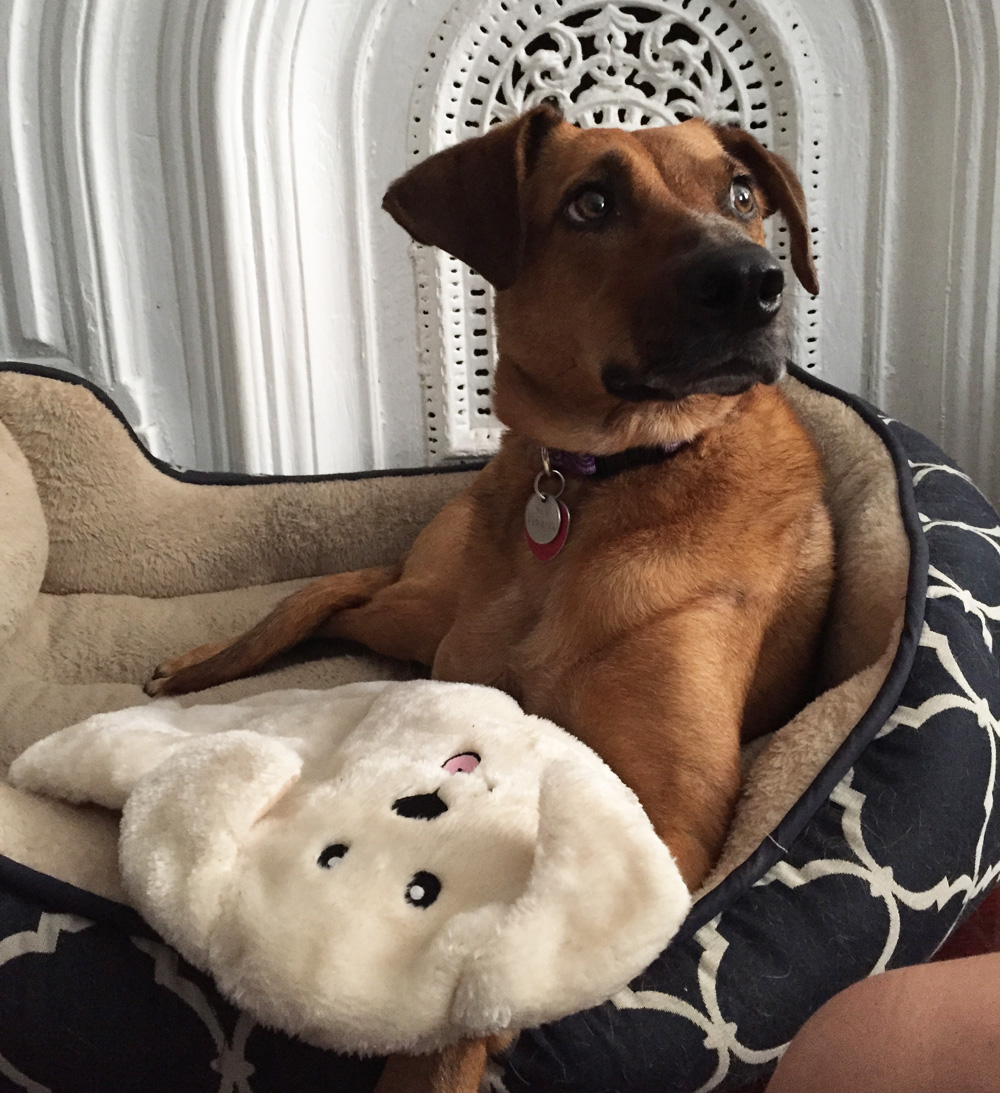 DOG COSTUMES ALWAYS MAKE PEOPLE HAPPY. THAT'S PEOPLE, NOT DOGS.
This was the first year we formally dressed up the dog for Halloween. Last year we put a clown collar in her and called it a day. Because we cant do nothing – that would be silly. This past year, we went all out. We even went so far as to enter her in the Fort Greene "Great Pupkin" dog Halloween costume contest, at which she took home the Audience Favorite award. It was a great day and great achievement…for us. Bodie was less than pleased with her AT AT Walker outfit.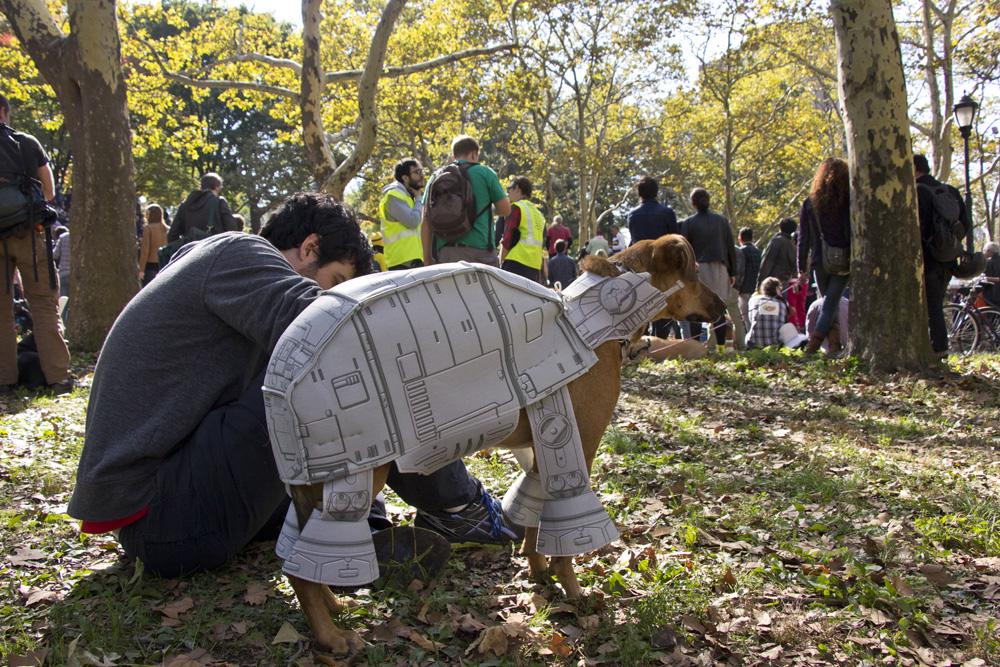 THIS DOG MUST HAVE THE TRAVEL GENE AS WELL
Though long car rides are not really her jam, going to new places definitely is. That's my girl.
This year we had the chance to take her to the mountains, to a lake, and to the beach. She loved them all. My personal favorite trip we took all together was our long weekend in Lewes, Delaware. The beaches are really dog-friendly and so is the awesome Dogfish Inn – owned by the Dogfish Head Brewery people and renovated in a very hipster-meets-the-beach kind of way. We definitely want to return again this year with both dog and kid.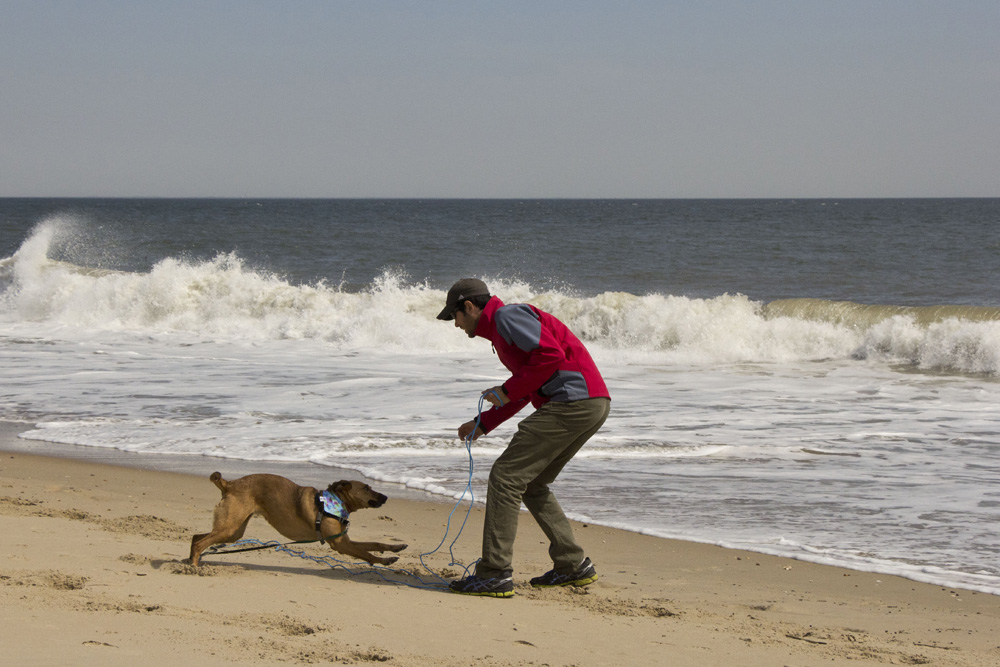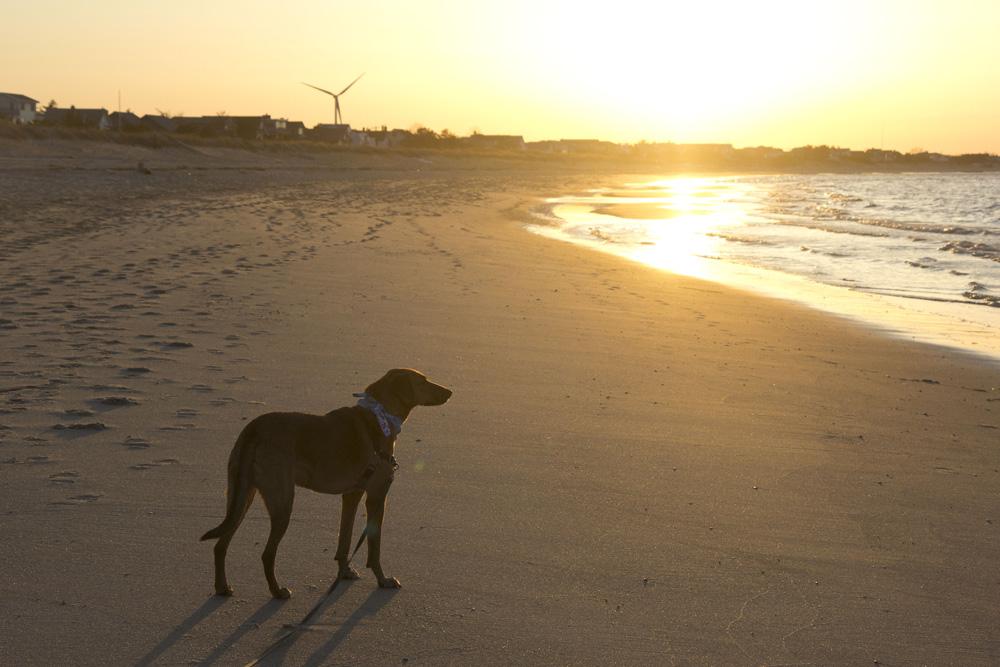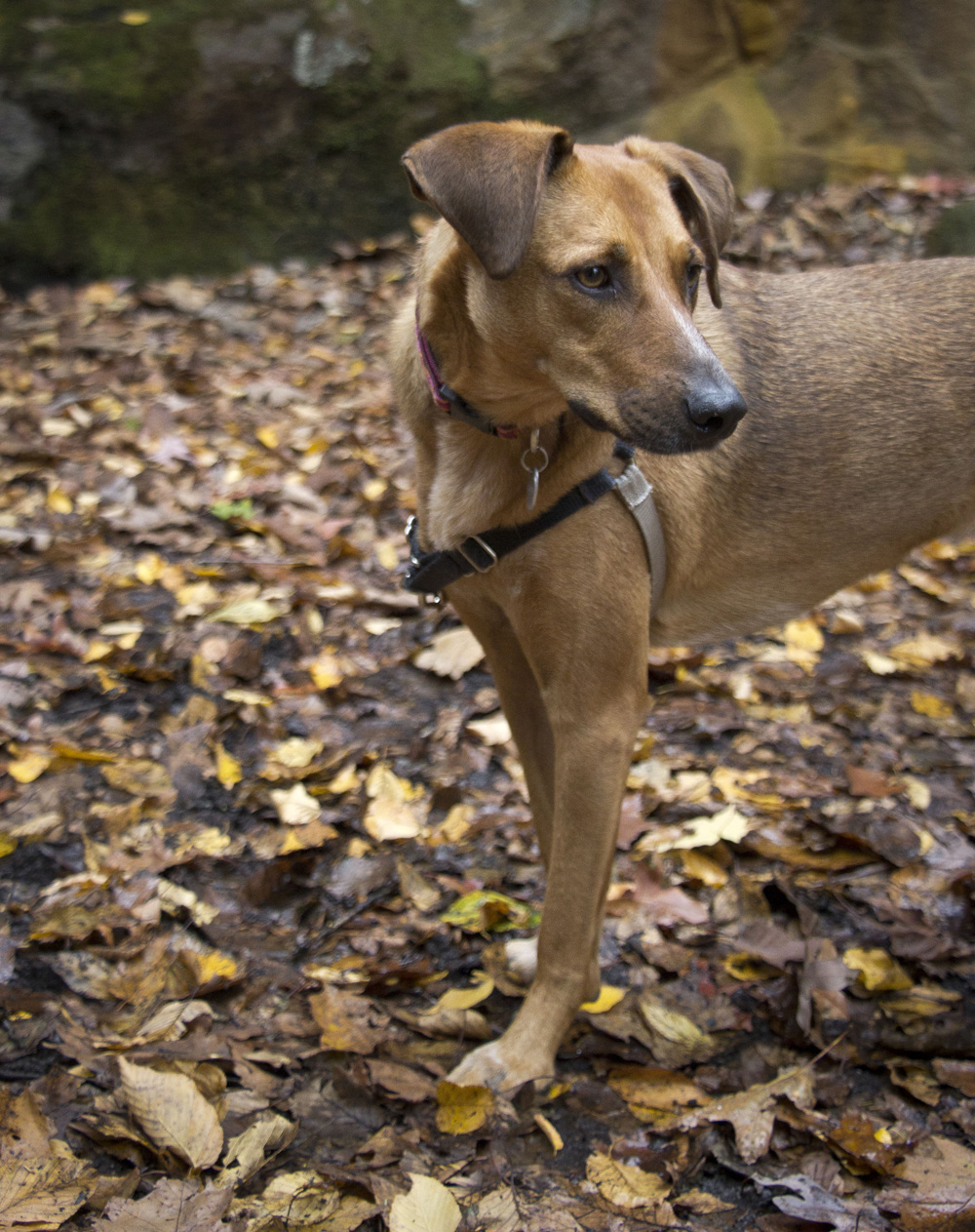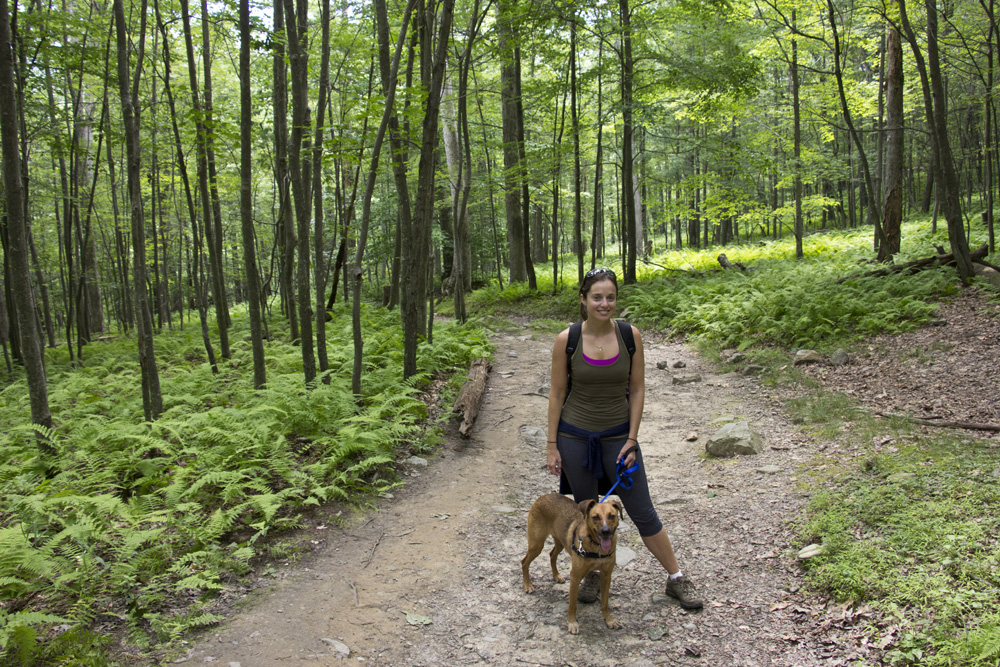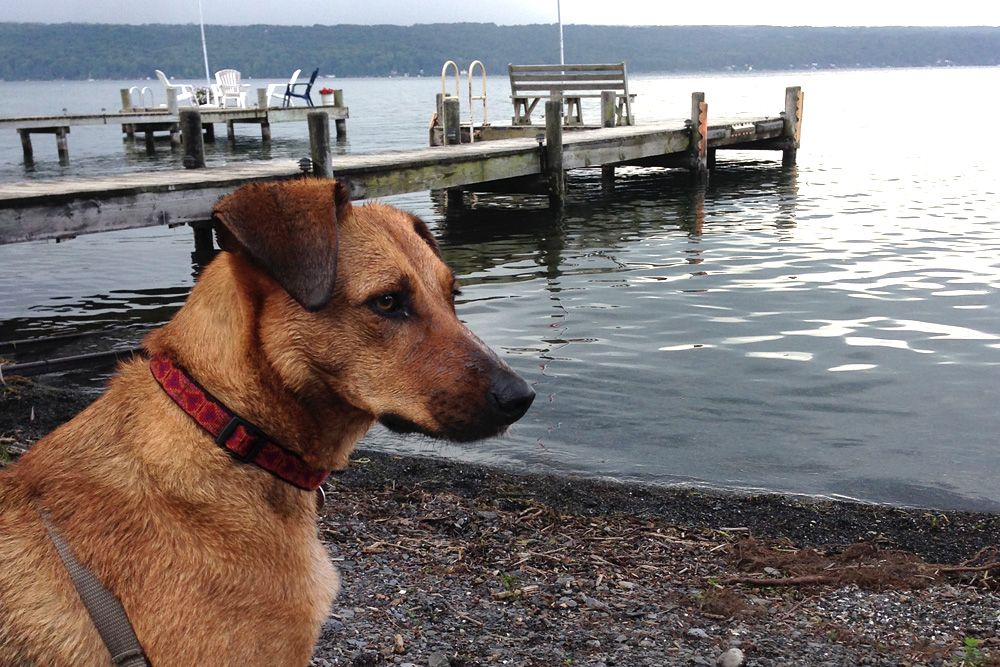 SHE MAKES A GREAT BIG SISTER
After a little bit of a tense start, baby and dog have been getting along quite well. Like two peas in a pod. Or rather, two peas that tolerate each other in a pod.
He's not mobile yet so there's a long way to go in baby-proofing her behavior, but she's wonderful with him now. He gets a sniff and a foot-lick as a hello, and she knows to stay away from him and his things when they are within her reach. And she has gotten used to us carrying him around the house. On occasion, she checks on him in his crib and will lay on the rug next to it when she hears little cries or moans coming from within. In these moments, I may go so far as to say that she likes him.
Maybe I'll stick a pin in that though. Because once the stray food items start flying off the high chair table, then she'll really be feeling the love.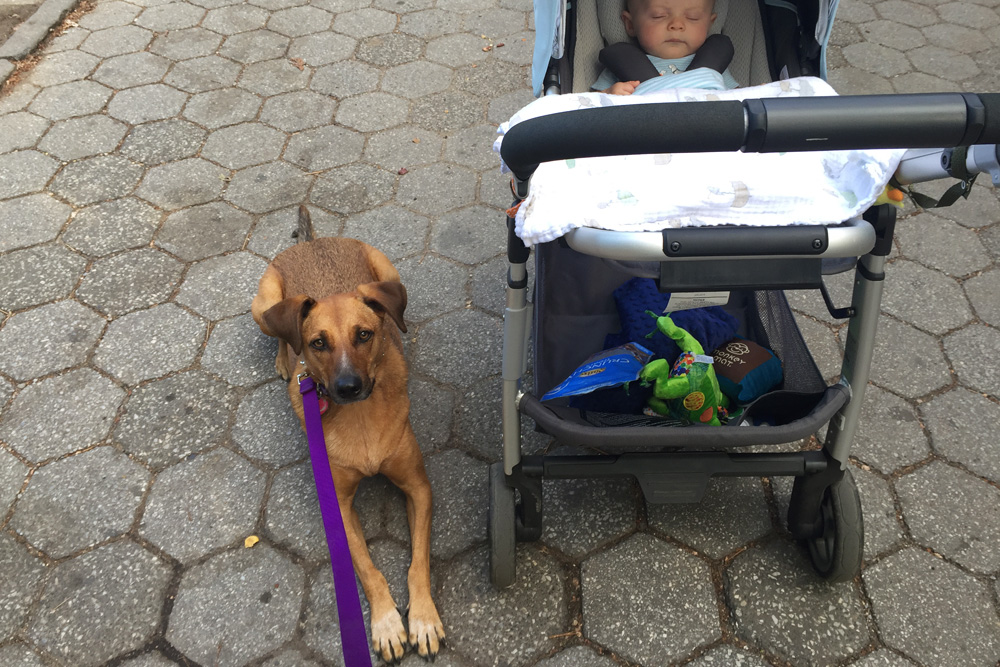 Those are the highlights. And I promise another update sooner next time. Hopefully with even more positive changes in Bodie's training.
---
Click here for more info about Badass! Or join their Facebook page to meet some dogs currently available for adoption.
---