It's that time again! Its been six months since my last post about life with our rescue dog Cambodia (aka Bodie) and it's time for an update on what we've learned about life with a canine.
Cambodia hails from the side of the road in Greensboro, North Carolina but moved up to Brooklyn thanks to the awesome, amazing, and completely wonderful rescue group Badass Brooklyn Animal Rescue. Now, she spends her days lounging in Brooklyn, stalking squirrels whenever possible, and barking at nothing. (Because nothing needs to be told who is boss of course.) Her name comes from our travels – it's a reminder to always appreciate what we have and to contribute to those who are in need, no matter where we are in the world.
Even though my wanderlust is stronger than ever now and I am on the road at least once a month, my life in my home base city of Brooklyn makes me pretty happy. I love my neighborhood Fort Greene, I love having a backyard, and I'm enjoying teaching Bodie how to be a good city pup. It's been difficult at times though since New York City can be pretty overwhelming. The constant noise, movement, and foot traffic can put a dog on alert non-stop, which means it's extra important to teach calming techniques. Matt and I are working on the "place" command and training her with long down stays in hopes of keeping her impulses under control. At the same time though, we try to give her freedom to just be a dog. We hike, we take long walks on the streets and in the park, and we visit the dog park right under the Brooklyn Bridge so she can run and play with other Brooklyn pups.
We are constantly learning about what she likes and doesn't like, and what she can handle and what she can't handle.
In turn, she is learning what she can and can't get away with.
She is just over two years old and has been a part of our family now for just over 18 months. Here's what we've learned this past six:
---
CURRENT PUP STATS:
Weight: 42 pounds (she clocked in at 38 pounds six months ago)
Likes: food, snacks, being outside, going to Eva's Play Pups, cheese, barking at random things, un-stuffing stuffed animals
Dislikes: skateboards, grocery carts, squirrels, cats, Myrtle Avenue, strangers in the house, MTA buses
Toy-du-Jour: giant tie dyed dolphin named Jerry
Favorite nap spot: memory-foam bed in front of the vintage fireplace
---
NEVER ENDING WINTERS ARE FUN WHEN YOU ARE DOG
I love it when it snows in Brooklyn. It makes living in the cold weather worth all the trouble. Especially when I can snowboard on it or romp with my puppy in it. But after three weeks straight of snow, ice, and temperatures cold enough to keep everything  rock solid, snow is not as fun to me. Bodie disagrees. The fluffy white stuff was as fun on Day 20 as it was on Day 2.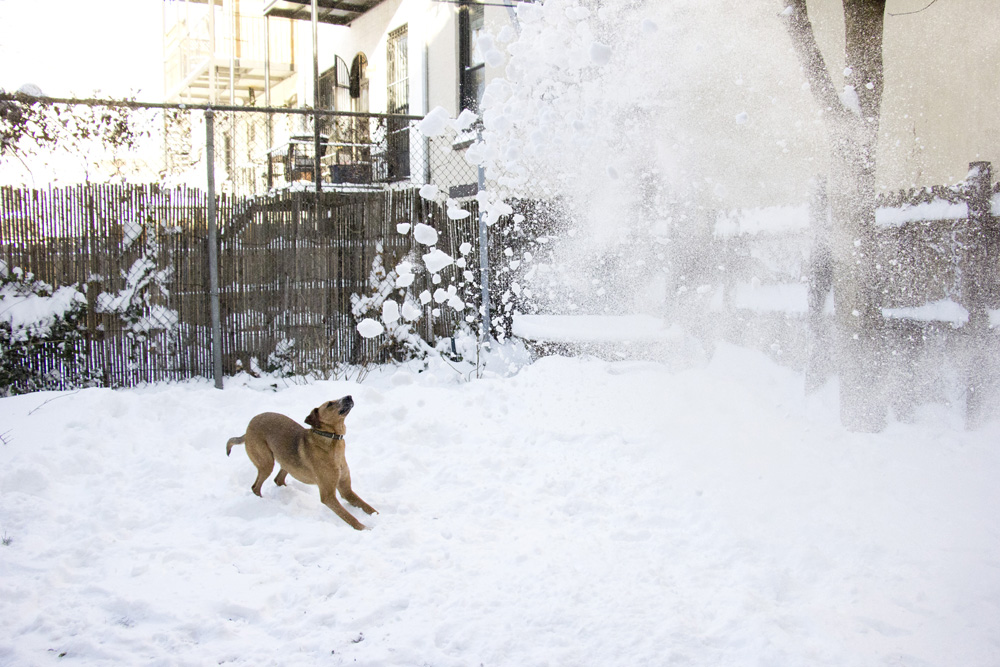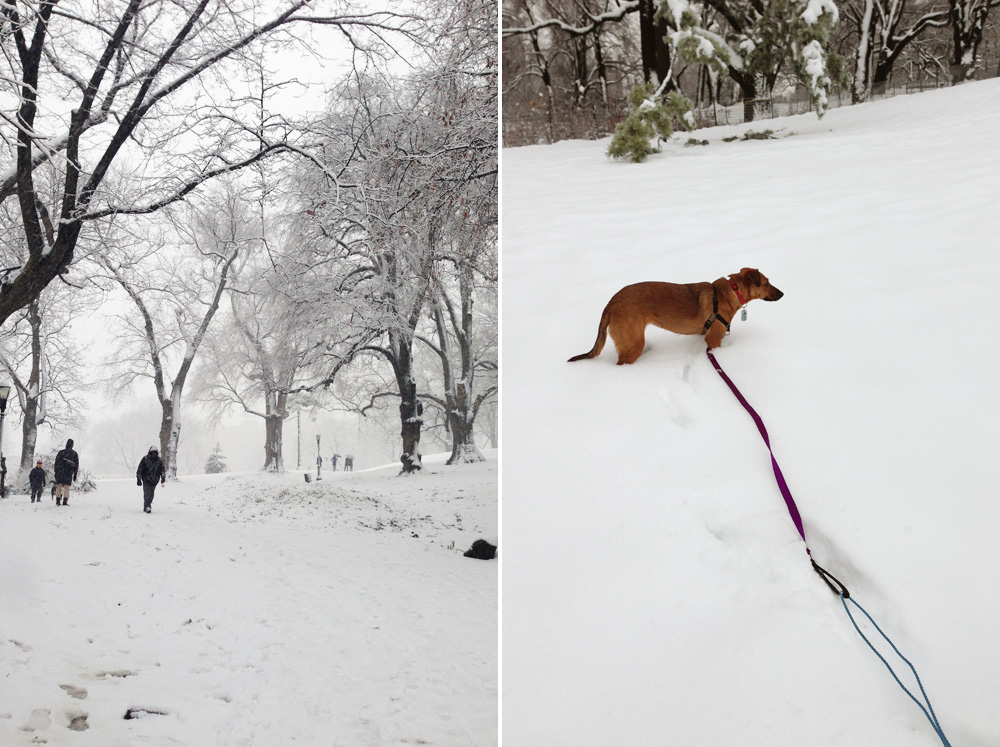 THEY MAKE REFRIGERATOR LOCKS FOR A REASON
This dog knows not to get up on our bed, not to put her paws up on the dinner table, and not to mess around in the kitchen. But then when we leave the house, it's a whole different world. Nothing is sacred, everything is fair game. Including the magic food box – the fridge.
She recently learned how to open both the fridge and the freezer and has taken a liking to gorging on raw meat as well as hiding frozen treats around the house for later. I've found frozen waffles, frozen burritos, and frozen raviolis all buried into my couch cushions. I'll admit it's hysterical – until you find a limp waffle under a couch pillow first thing in the morning.
 CLEAN IS A STATE OF MIND, NOT AN ACTUAL STATE OF THE HOUSE
Just when I think I've cleaned up the house, dusted everything, vacuumed up the dog hair, put all the pillows in place and put Bodie's toys back in the bin, she has unstuffed another toy all over the living room. Le sigh…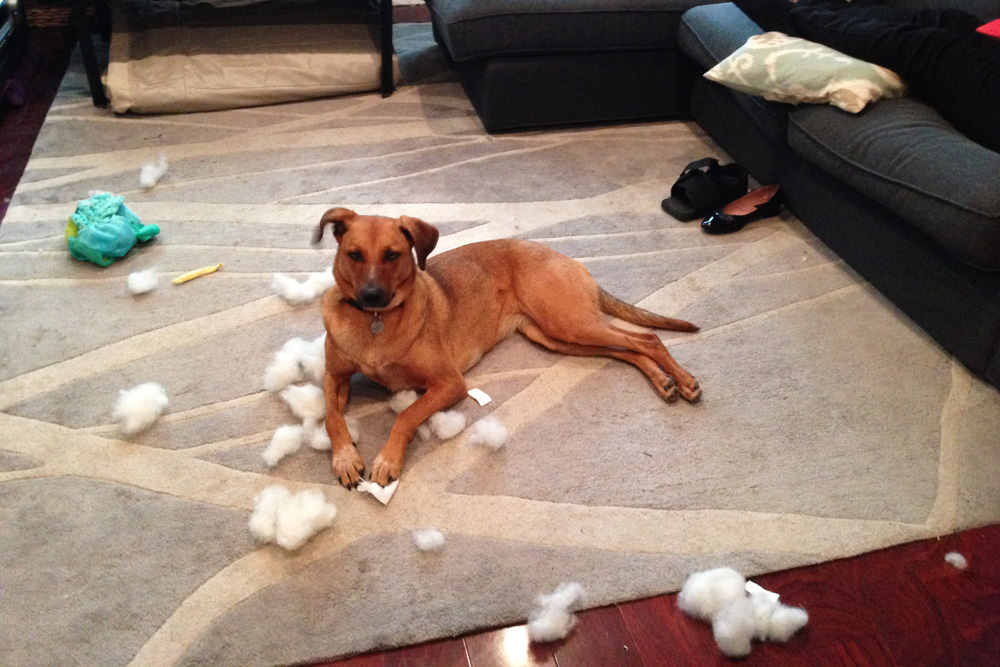 SWEATERS ARE FOR LOSERS
She HATES sweaters, but when it's below 25 degrees Fahrenheit for a month straight, a girl's gotta bundle up. This one will never get easier for her and will always be funny for me. Especially when said sweater has monkey ears on it.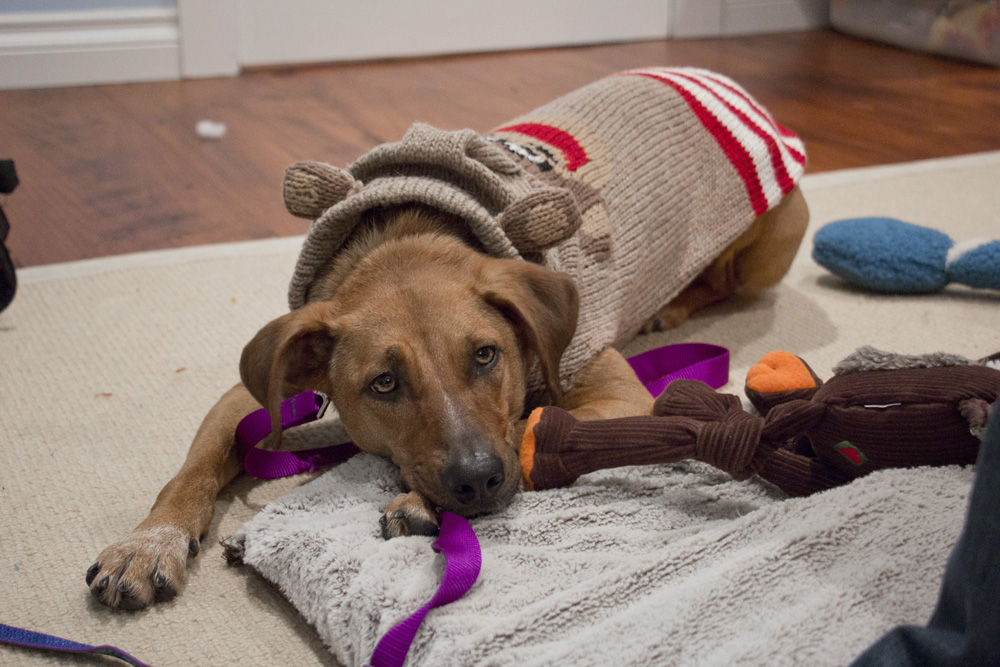 NAPPING IS AWESOME
It's amazing how much dogs sleep. It makes me tired just thinking about it. Wake up, go on a walk, eat breakfast, nap. Go on another walk, play, nap until mid-day. Go on another walk with some dog-friends. Nap until someone comes home around 630pm. Go on a walk, play, "help" with the yard work. (this really means patrolling for squirrels and/or cats). Eat dinner, nap until it's time to go to sleep for real for the night.
Though I am an excellent napper, I find myself so busy these days that I rarely have time to indulge. Perhaps it's time sleep became a higher priority.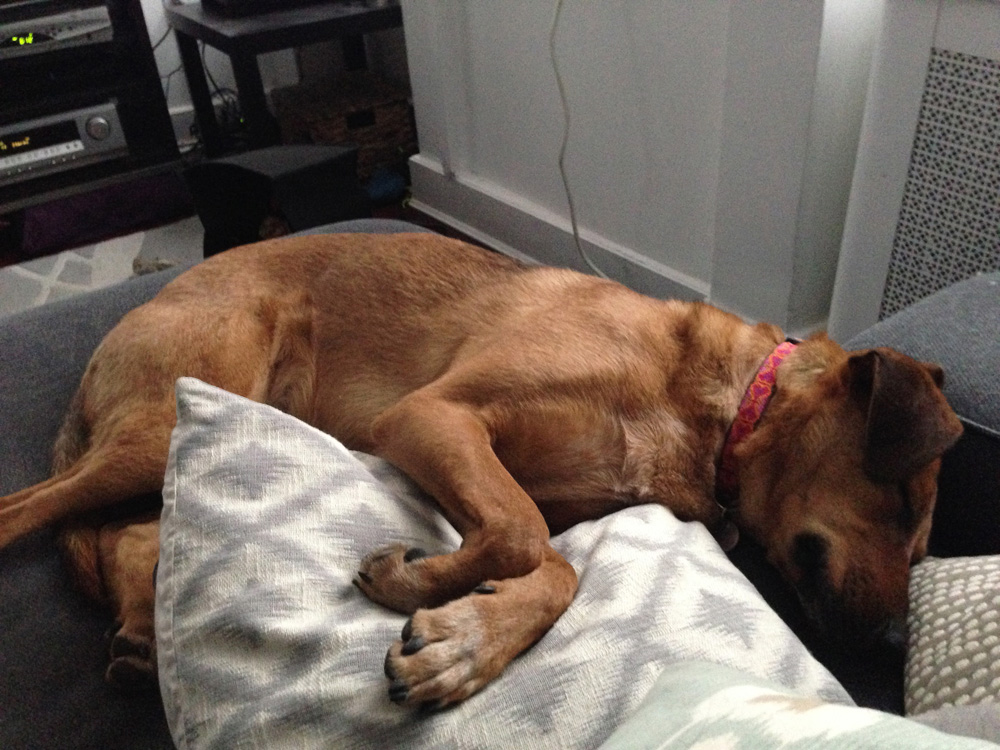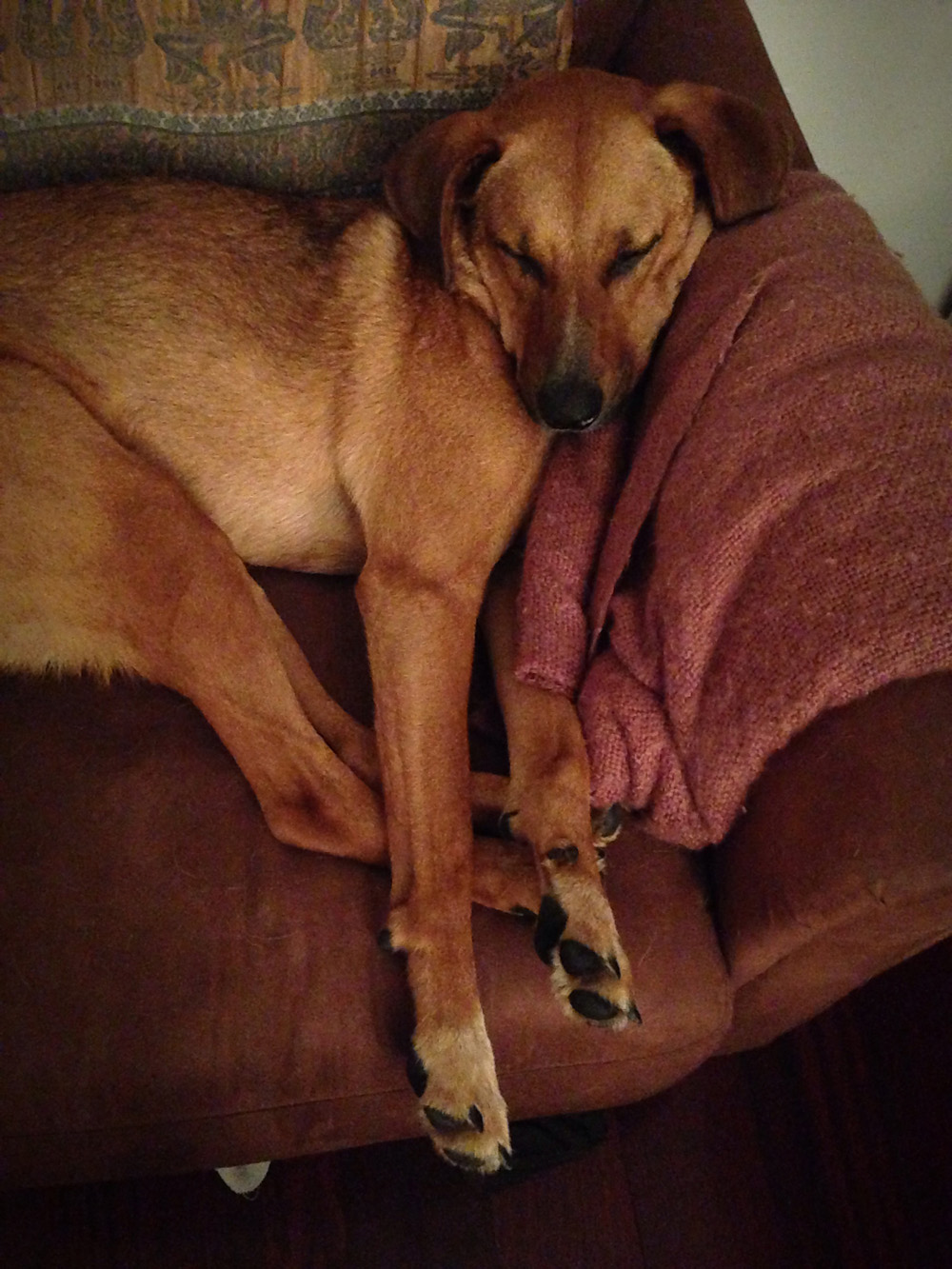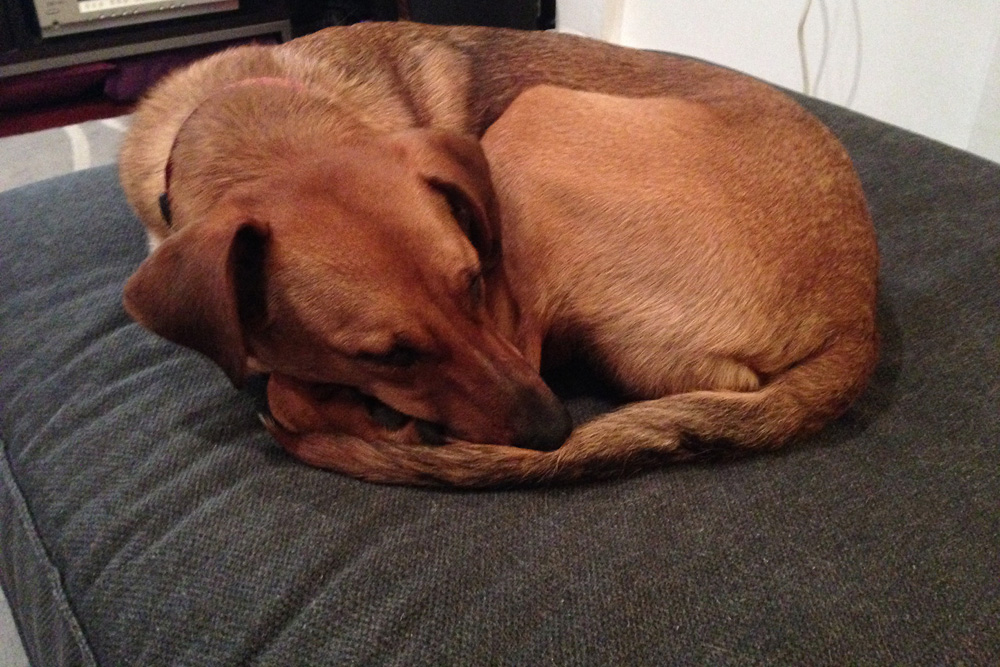 and lastly….
STAYING PUT FOR A LITTLE WHILE ISN'T ALWAYS A BAD THING WHEN THERE'S A PUPPY IN THE PICTURE
I love travel. I love moving around, discovering new places. But when there's a furry friend at home anxiously waiting for you to return, it makes life at home so much more fun.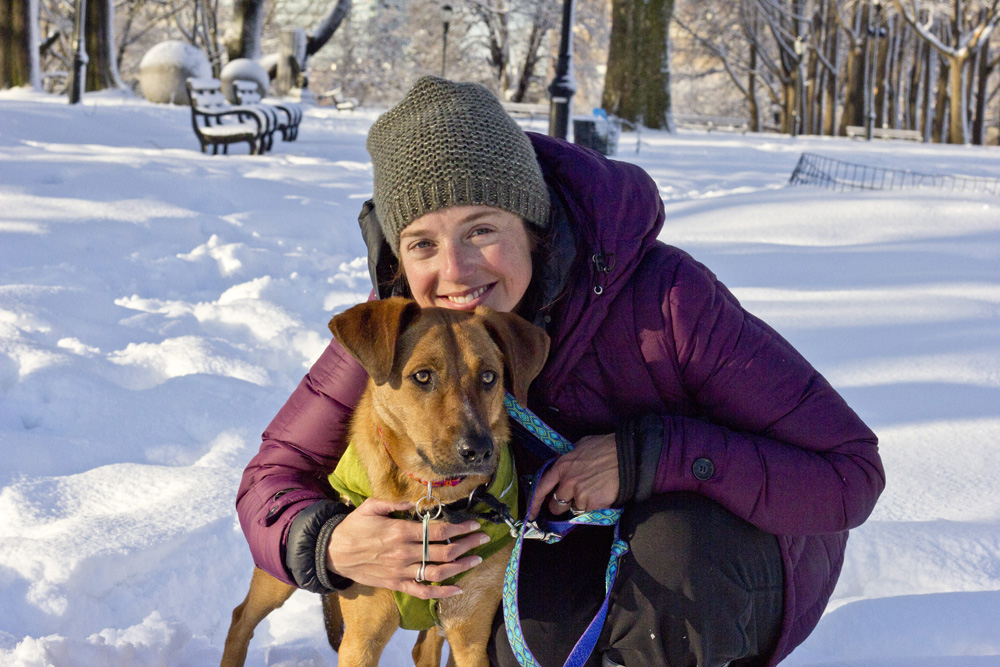 I'm pretty sure the next 6 months are going to teach us even more new things that we didn't know about ourselves, about dogs, and about how else to puppy-proof the house so we don't find frozen burritos hidden in the couch cushions. Only time will tell.
Thanks Cambodia for another interesting and completely wonderful six months! Here's to the next six.
-Annie
---
Click here for more info about Badass! Or join their Facebook page to meet some dogs currently available for adoption.
---
If you missed the first couple of posts about Cambodia, you can catch up here: