Have you ever been to a hotel that makes you want to throw away everything you own and just move in? I'm not talking about just any luxury hotel that stuns you with its over-the-top details and 18,000 thread count sheets. I mean a hotel that fits your exact style and personality. A place that makes you feel more relaxed that your own living room couch does. A place that somehow got it so right that you feel like it was meant for you.
I've been lucky enough over the years to find not only one, but two of these places. I didn't think I'd be lucky enough to find another, but I did – Jetwing's Vil Uyana in Sigiriya, Sri Lanka. It is the kind of eco-resort that spoils with luxury but still feels down-to-earth and local. Its use of natural elements and bright yet earthy colors feels comforting and restorative.
I was thrilled to be gifted a 2-night stay here from my parents on my birthday. Not only did I want to move in permanently, but it was the perfect way to kick off our Sri Lankan adventure.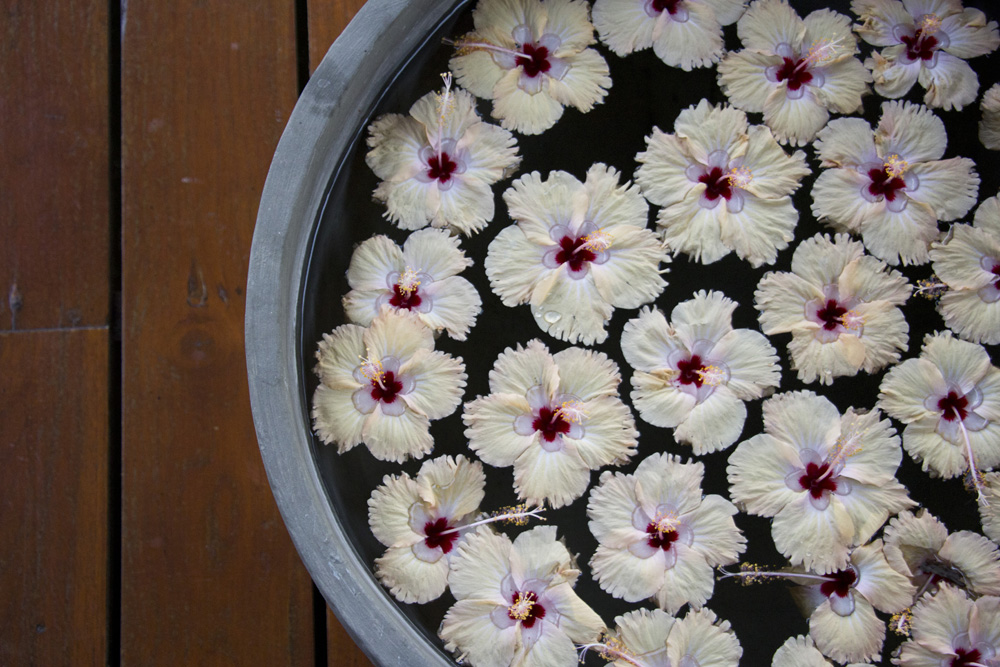 After 28 hours of transit from New York, including a 13-hour flight, another 5-hour flight, and 3-hour non-air conditioned van ride through coconut groves and villages, we arrived at the Vil Uyana in desperate need of…something. Maybe a cocktail, maybe just a change of clothes. But the Vil Uyana did us one better. We were welcomed with an ice cold glass of local tea, a moment to regroup in an over-the-water outdoor library, followed by a continental/local breakfast in the open-air dining room. It was the perfect antidote to travel fatigue.
Where has this place been all my life?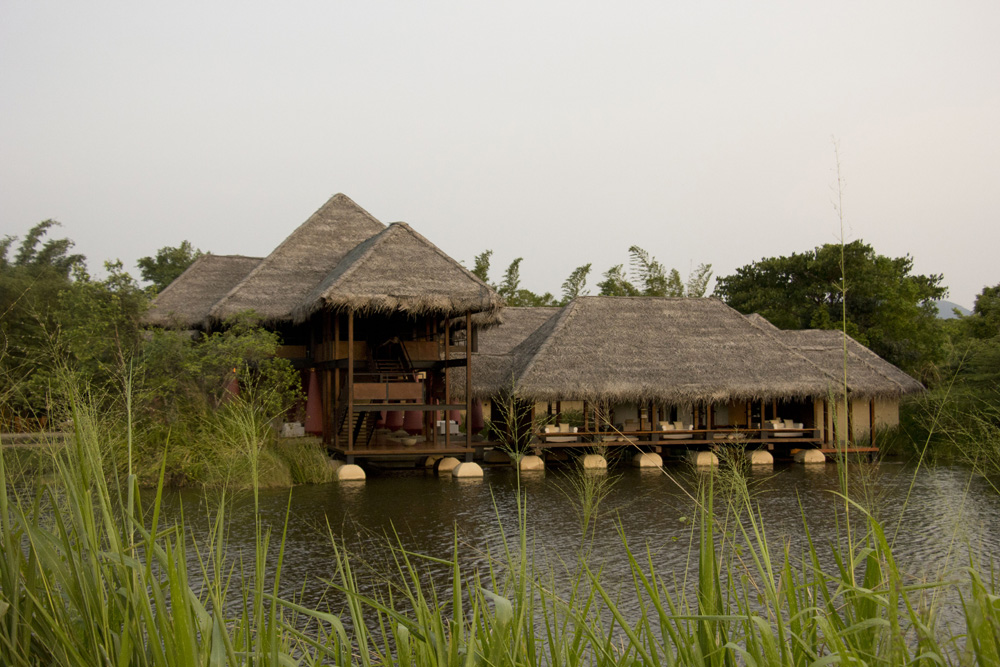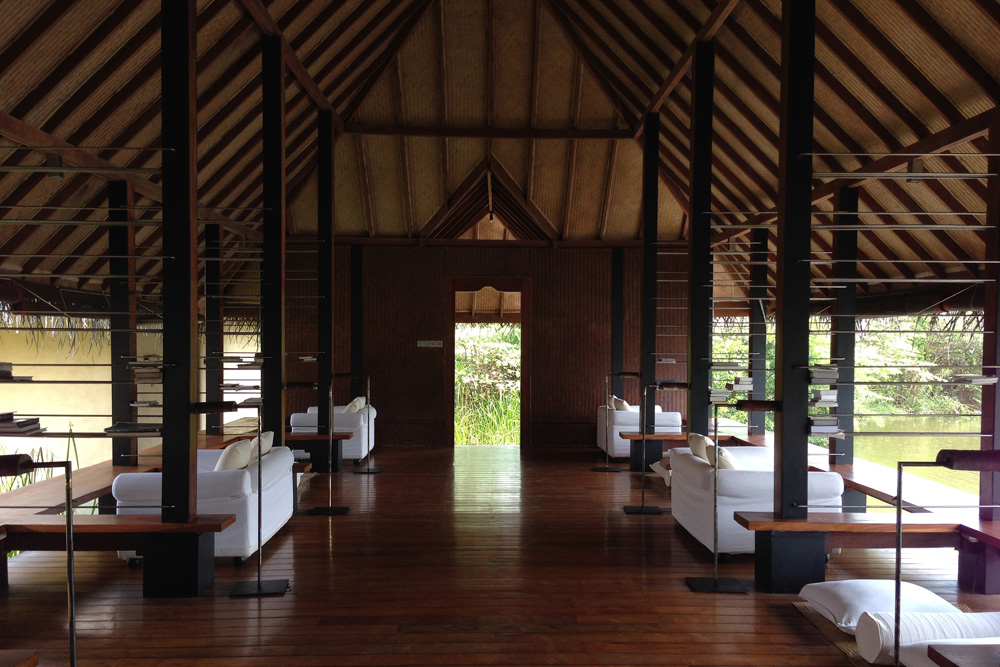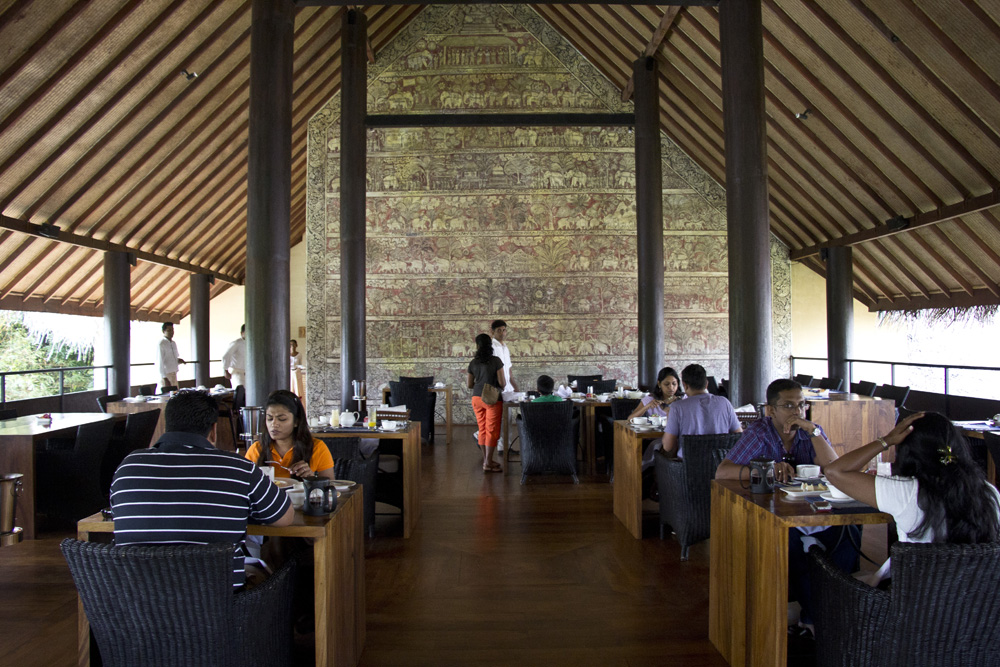 After our breakfast, we wandered around the property a little before heading to our villa, or "dwelling" as they are called here. The beautiful tropical and cultural details of the resort's grounds gave me pangs of excitement that we were finally in Sri Lanka.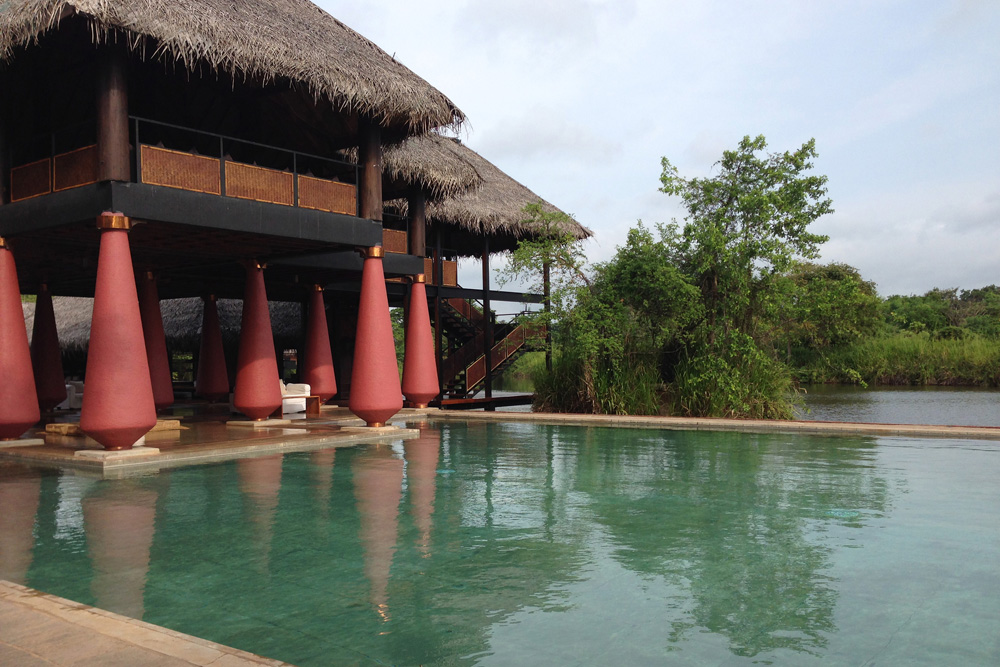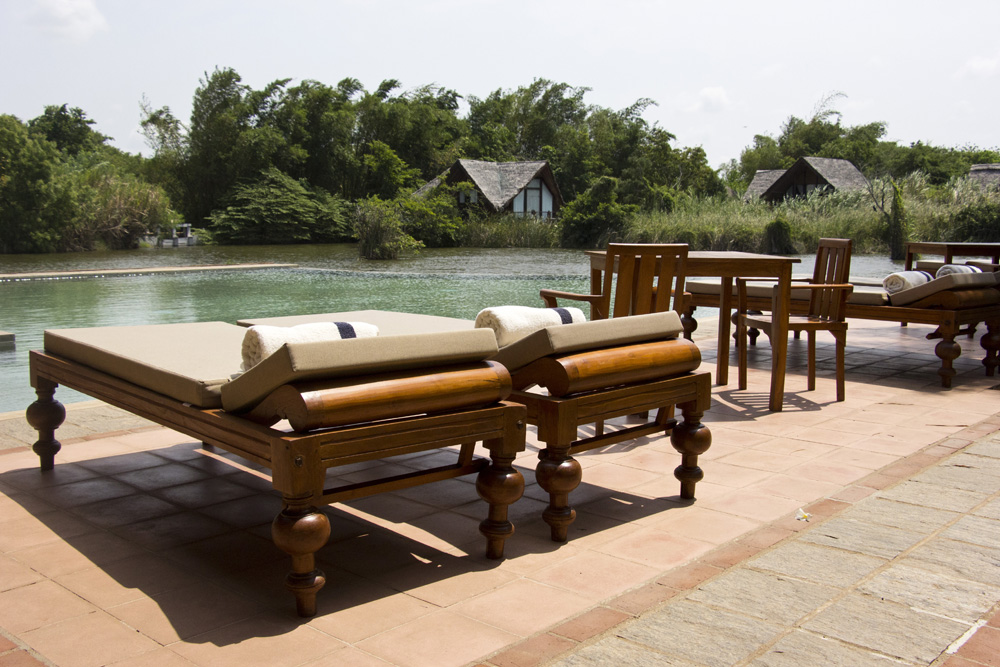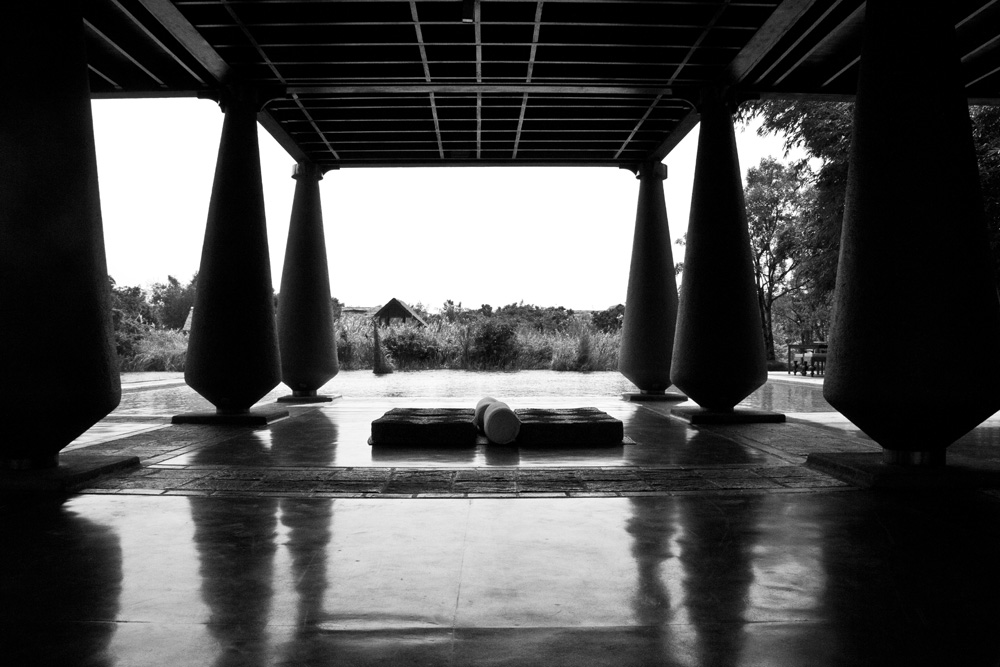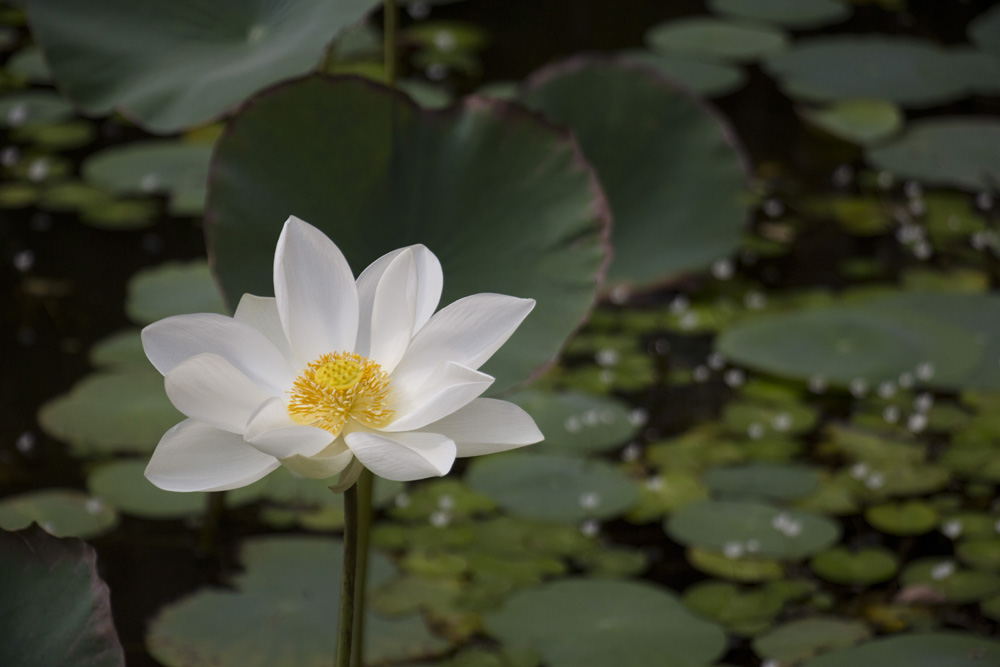 Vil Uyana's dwellings are equally as beautiful as the grounds. There are five locations that accommodate different budgets, group sizes and styles.
The most economical is a garden dwelling, which is shrouded in trees and bamboos on the outskirts of the grounds. Moving up you can stay in the forest, the marsh, or the rice paddies that surround the center yet still feel secluded and natural. The most glamorous ones though are perched over of the water of the resort's lake and are extra close to the main building for easy access to dining, the infinity pool, and the library.
But don't worry if your dwelling isn't in spitting distance of the lobby – many have their own private plunge pools so you won't need to wander back to the main pool every time you need to cool off.
Our dwelling was set on stilts over an impossibly green rice paddy, and as we arrived just at the start of the off-season, we received a heavily discounted rate. And a whole lot of privacy. We didn't see single guest walking around the rice bridges our entire stay – the rice paddy was all ours.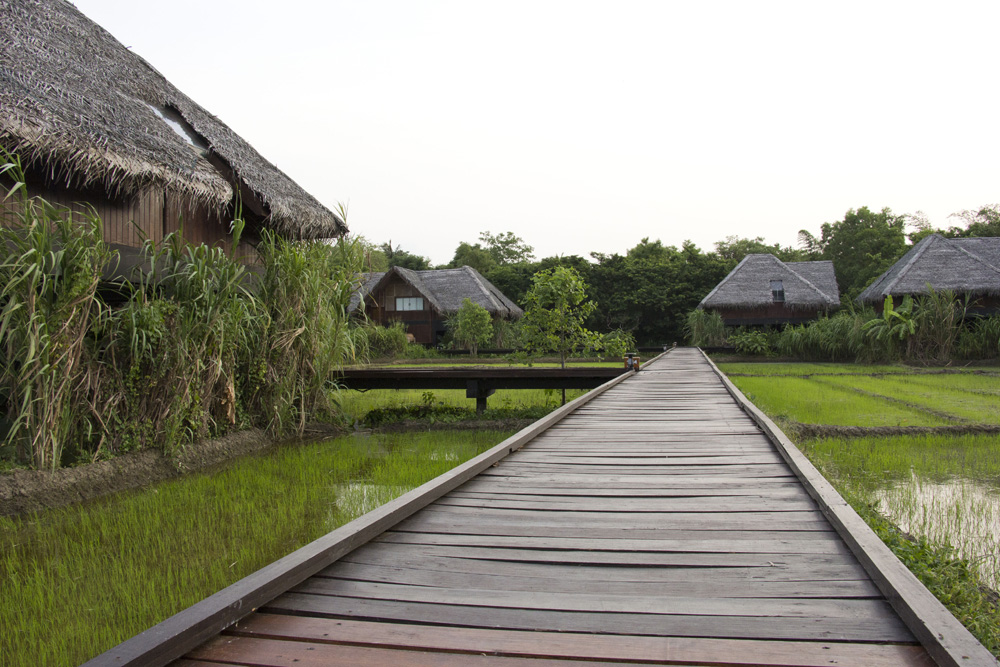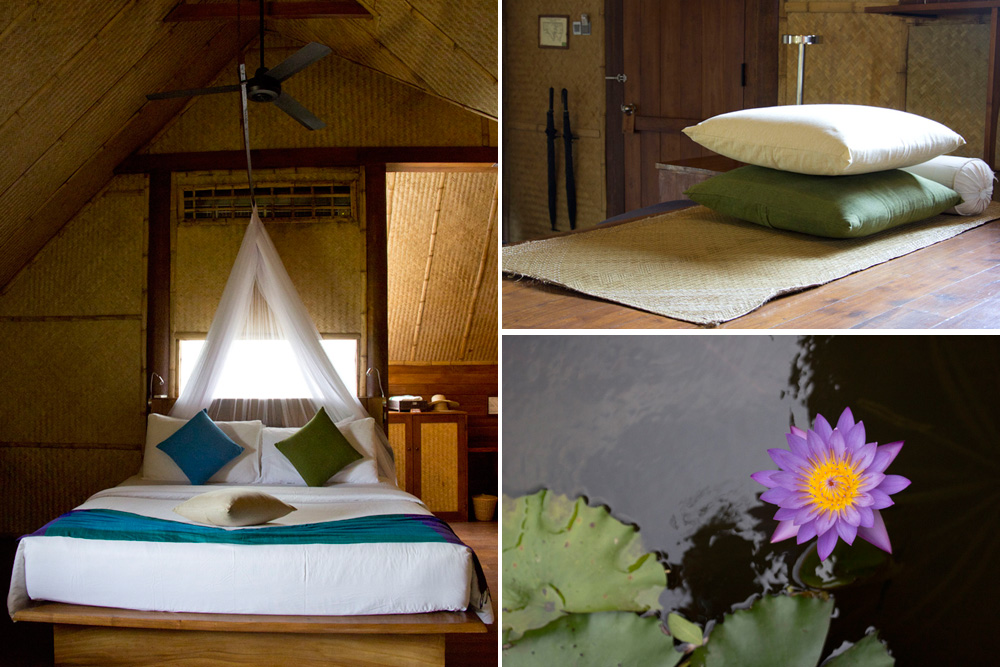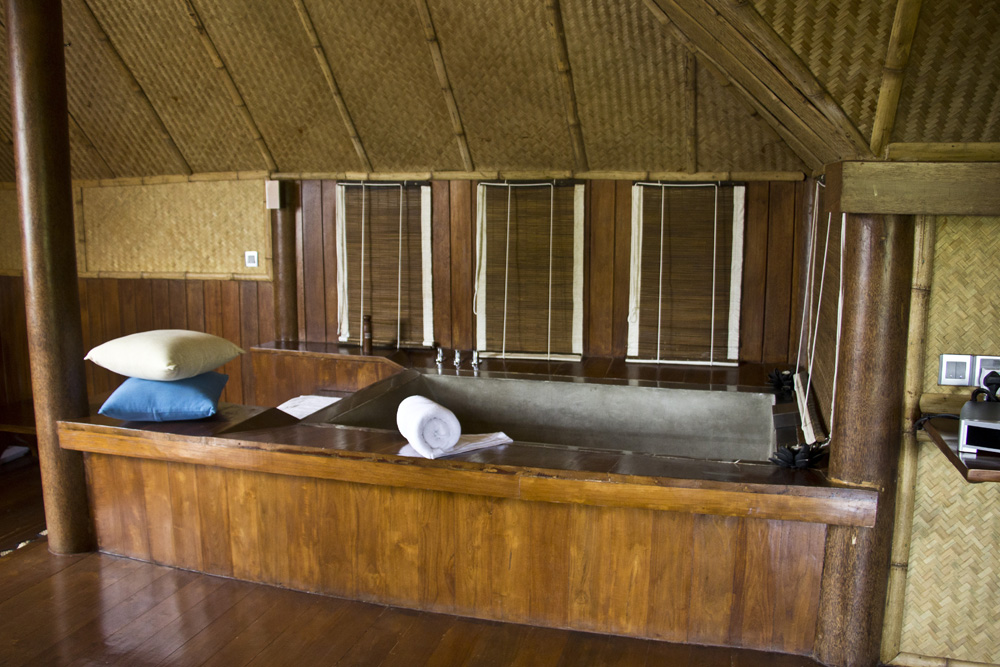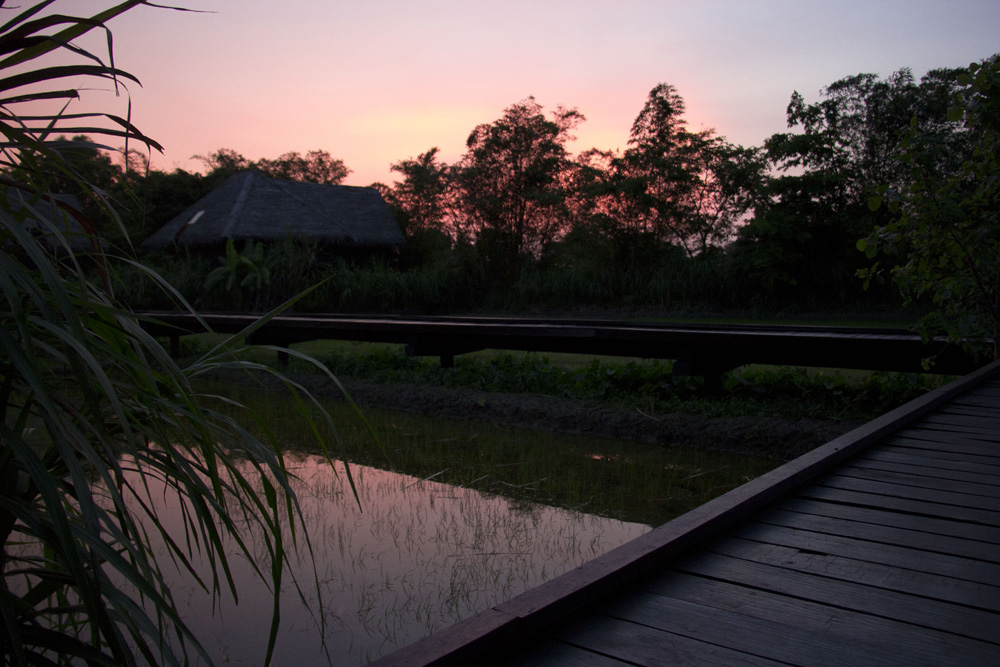 Though we only had two days to enjoy the spoils of Vil Uyana's eco-luxury, we took full advantage. The day we arrived, we never left.  We went back and forth between lounging at the main pool and lounging at our private pool. We read in the library with a tall Lion beer and indulged in delicious local dishes in the open-air dining room. Our resort day was such a blessing as the ten and a half hour time difference was BRUTAL to over come. Our second day was spent running around the region: we climbed Sigiriya and hung out with elephants at Minneriya National Park. Having a comfortable place to return to was a treat for us normally very frugal travelers.
When we left the resort 48-hours after we'd first arrived, we felt refreshed and ready for an adventure. Our plush and indulgent stay had helped us overcome travel fatigue and (some) jet lag, as well as introduced us to the country we had traveled so far to explore.
And though I'm not sure I'll be lucky enough to return to Sri Lanka to experience the Vil Uyana again soon, I know I will remember the way it made me feel every time I look back at our trip.
---
Check out the Jetwing Vil Uyana's official site for more info. Prices for dwellings depend on the time of year.
---