One of the most important, helpful, and impactful items I carry with me when I travel is a SteriPEN.
In general, I am not a fan of buying travel gadgets or gear. I find that the things I already own will work for me while I'm on the road. I am, however, a HUGE fan of this one piece of travel gear. And that's partly because it's not a travel version of something I already have- it is its own thing.
Not only will the SteriPEN keep you healthily hydrated and keep your trip budget in control, but it is also one of the best and easiest ways to travel responsibly.
I first discovered the SteriPEN in 2010 when I was researching my 12 day trek to Everest Base Camp. Hiking that many miles requires a considerable amount of water, and using water straight out of the ground – even in wild natural places like the Himalayas – isn't a good idea for our stomachs or immune systems. Buying bottled water in the Himalayas (that was most likely carried up from Kathmandu on the back of a local porter) was unbelievably expensive and the plastic had no where to go but onto the ground and into the water system. I found that unacceptable.  The SteriPEN solved my problem – I could treat my own water from local sources and drink from my reusable bottle ONLY.
It was awesome. And using the pen was so easy. It's as simple as mixing a cocktail.
The SteriPEN eliminates bacteria and amoebas in dirty water using UV light. To use the pen,  press the 'ON' button so the pen glows blue. Swirl the pen around in your water until it shuts itself off (about 2 minutes). When it's off, you'll know that all the dangerous swimming things that could make you sick have been destroyed. And if you need to filter your water for particles and dirt, you can also use the handy filter that comes along with the pen. It really couldn't be easier.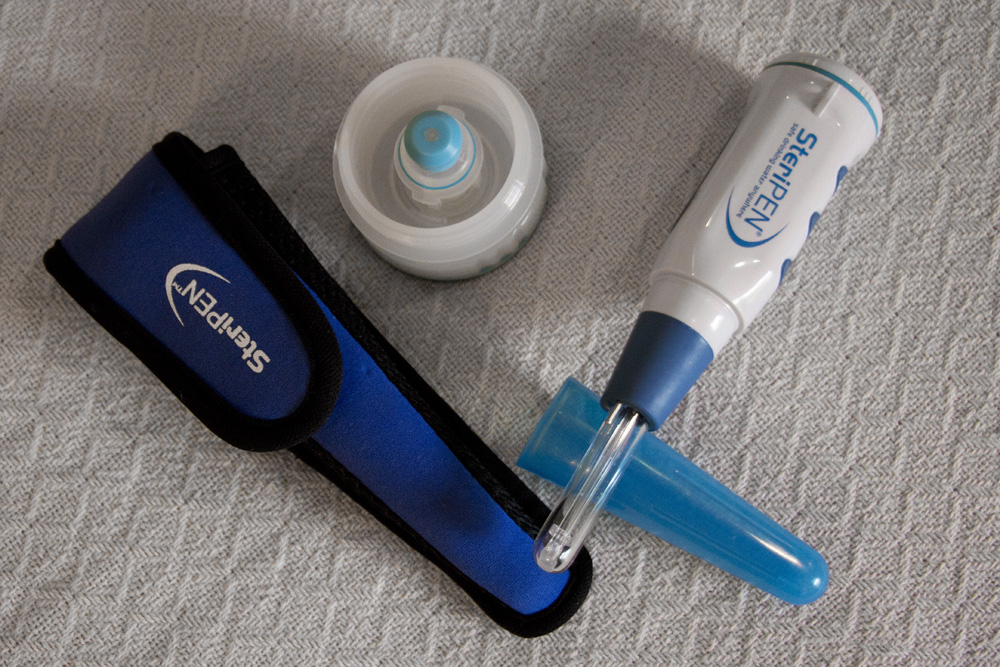 I take my SteriPEN on all my travels where clean water is not accessible without bottles (so like, not to visit Mom and Dad, but I definitely took it to places like Sri Lanka and India). It's always been useful and never been a waste of space. And I've always felt good not wasting my money on plastic.
And I'm writing this purely because I believe in the SteriPEN both as a travel tool and as a way to improve the state of our environment.
Think about all of the plastic bottles you would use on a short 4-day trip to Mexico. You cannot drink tap water in Mexico, so you'll probably plan to just buy bottled water. Ideally, you'd buy the large bottles and jugs to fill up your own reusable water bottle that you brought from home to keep costs and the amount of plastic in check. Hopefully. If not, you will be using twice or three times the number of small bottles. Either way, you are consuming plastic and putting it right in the trash when it is no longer useful, never to be thought about again. And in most places, you can't bank on a recycling program.
My guess is that Matt and I would at least go through at least two 2-liter bottles of water a day on that trip to Mexico. (we drink a lot of water) That's two tall plastic containers in the trash. EIGHT LARGE BOTTLES MINIMUM. That's in addition of course to the trash we've generated from eating snacks and soda/juice. It all adds up. And this is just for two people on a short 4-day adventure. Imagine what those numbers look like industry wide.
In some places, landfills are brimming with non-compostable plastic waste. In some places, trash is strewn everywhere. In some places the only solution there is to dealing with the trash problem is to burn it. While that solves the "where to put it" problem it creates the "now we get to breathe it in" problem. Plastic is not good for us or the planet and it smells terrible as it burns. I've seen trash burn extensively in Nepal and India and I'm sure it's happening in many more places.
There are even communities getting together to promote the use of SteriPENs and limit the use of plastic among travelers. Check out Travelers Against Plastic.
The bottom line is that buying countless plastic bottles on the road should be a practice of the past. It's easy to avoid plastic in places where clean water is easily available, but with a SteriPEN, it doesn't have to be hard when it's not. All you need is a flick of the wrist.
---
THIS is the SteriPEN model I have used for the past four years (SteriPEN Classic), though I'm sure the newer ones are even smaller and more efficient.
---