I really enjoyed my time in Marrakech. And no, I did not spend the *entire* trip lost in the souks hunting for scarves. (Though I may have brought home a couple to add to my scarves-of-the-world collection)
Outside of the central medina area of the city, there are a lot of historical and modern things to see that can all be done easily on foot. Instead of joining a tour, we put together a one-day walking tour starting at the Saadian Tombs, ending in Djemaa El Fna, and wandering in and out of some of Marrakech's most interesting sights in between. Our pace was easy and refreshing, but just a note that I would have happily added on a visit to Bahia Palace and Majorelle Gardens to our tour before heading home. I regret not seeing either.

My One-Day Walking Tour of Marrakech
From our riad, Riad Libitibito, we walked through the souks and across Djemaa El Fna. In the early morning, many of the shops are still closed and the alleyways empty. I love that morning feeling before the world is fully awake…
We were headed to The Saadian Tombs, which are located within the Kasbah. (here is our Saadian Tombs experience) A Kasbah is similar to a medina, but originally meant as the living area for a religious leader (or caliph). It has high pink walls, with no windows, that dwarf the buildings of the medina. Inside the Kasbah is also the Kasbah Mosque and its impressively tiled minaret tower. The Kasbah walls maybe crumbling but the grandeur remains.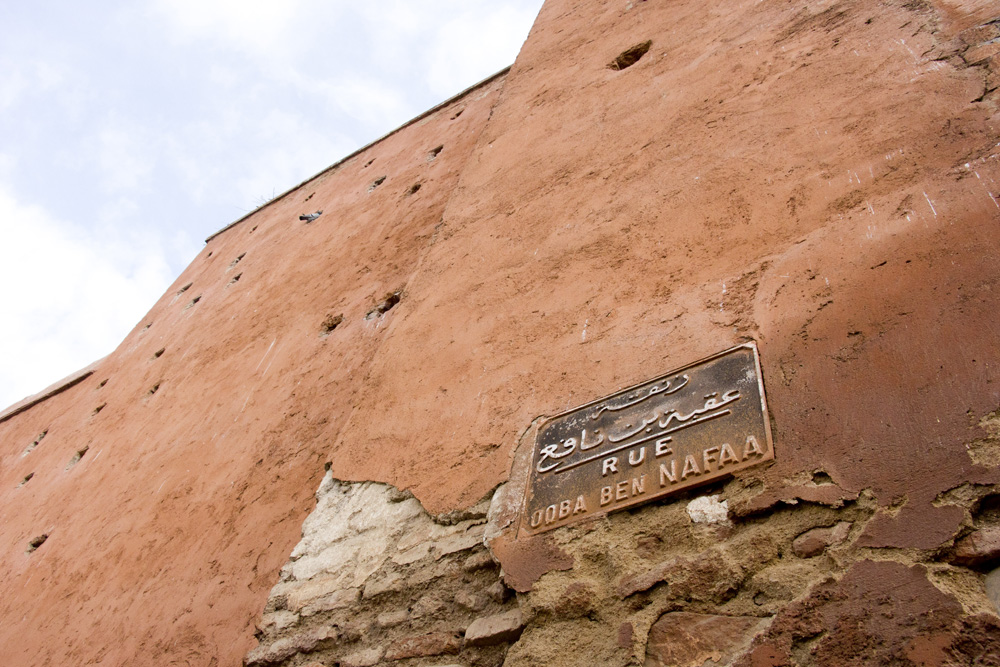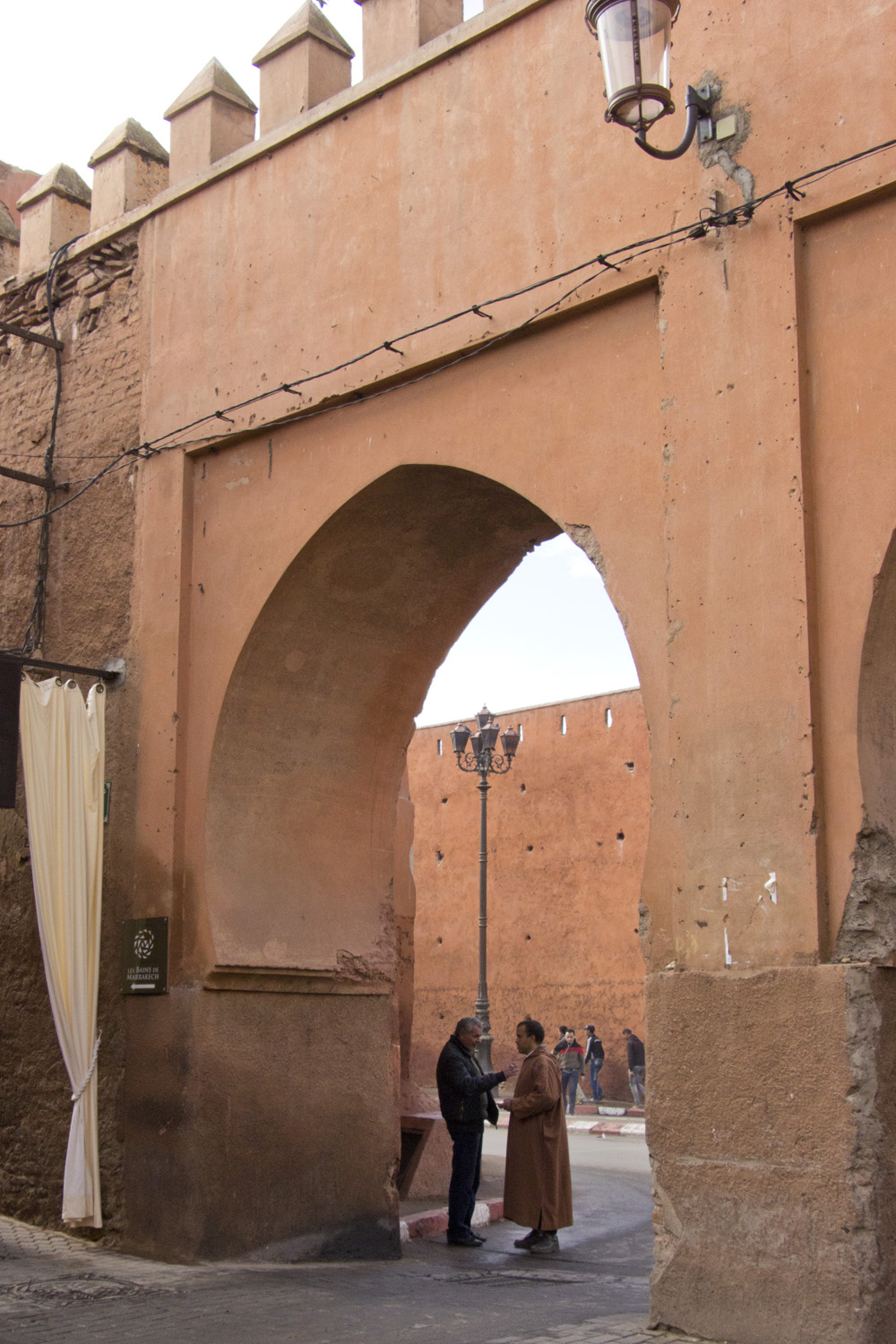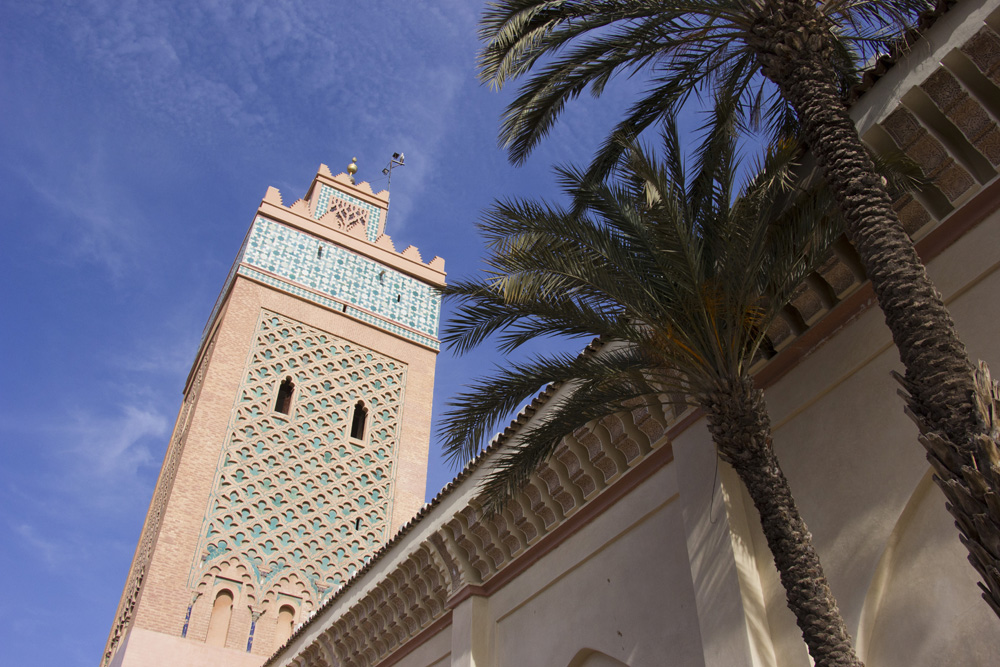 Close to the Saadian Tombs on the opposite side of the Kasbah is El Badi Palace. Once a Sultan's palace in the 16th century, it is now a ruin, stripped of its Italian marble and Sudanese gold in the 17th century by a subsequent ruler. As the name suggests (El Badi translates to 'The Incomparable'), the palace was ornate and grand and was truly a PALACE. It contained sunken gardens, pools, hundreds of rooms, and probably similar detail work as the Saadian Tombs. Now, it is a skeleton of walls and corridors and orange tree gardens.
I wonder what it must have looked like before it was destroyed… The bones are so beautiful and views of the surrounding city so vast, it must have been a sight to see in its peak.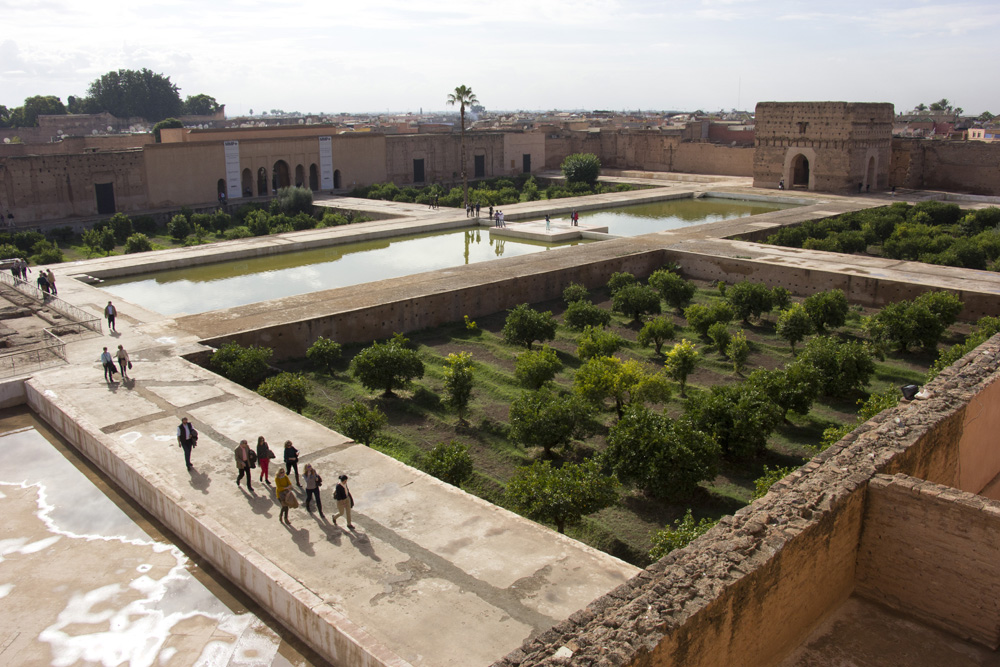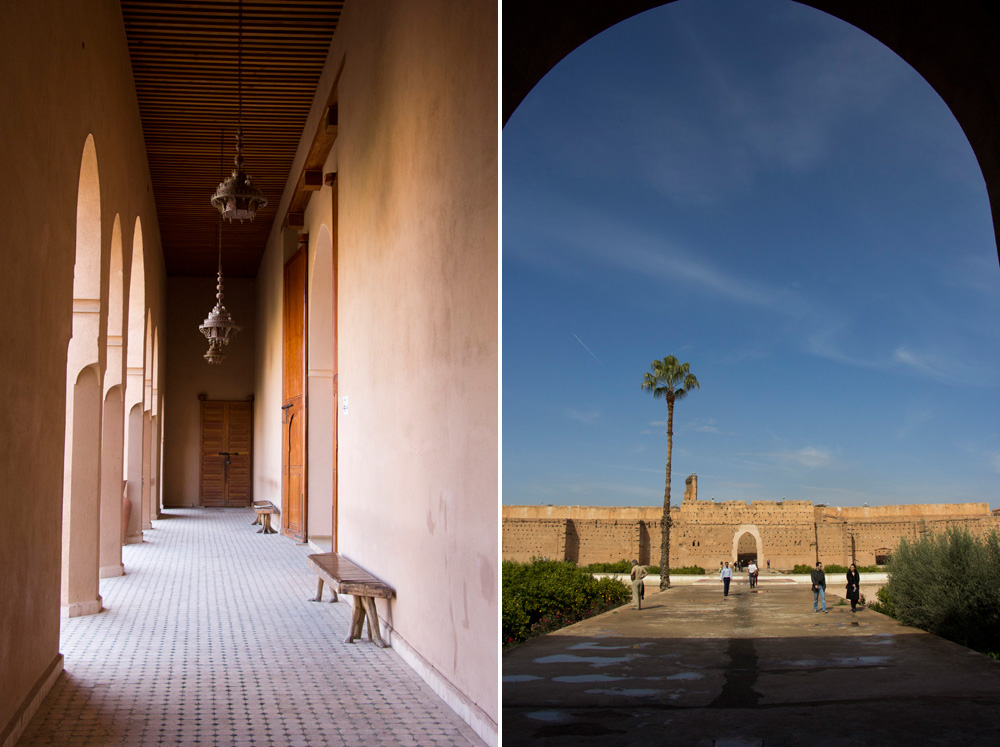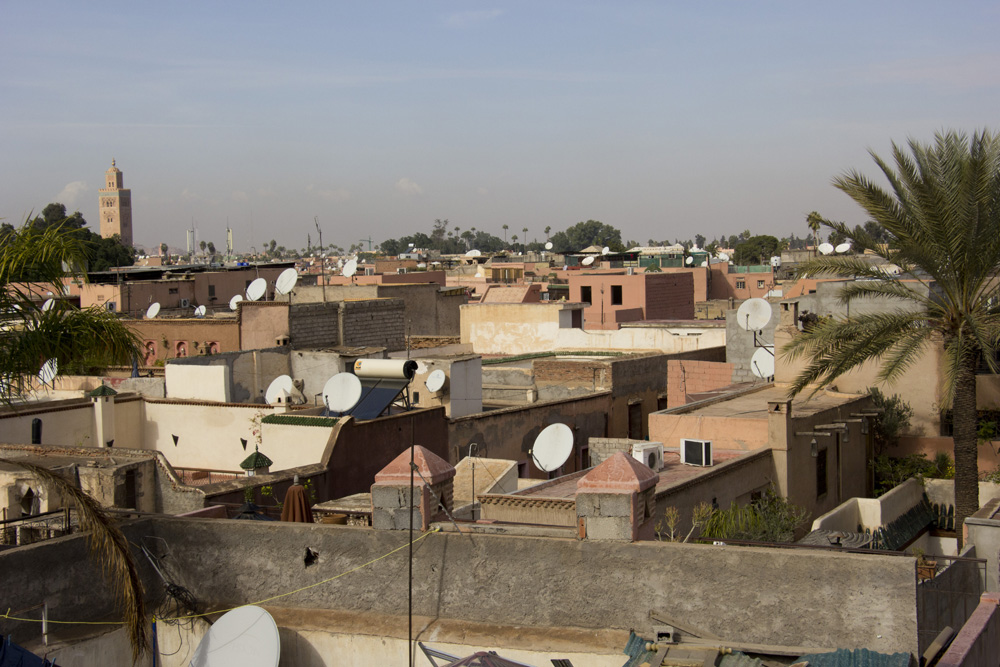 From here, another walk through the medina – through other alleyways and new-to-me souks. For lunch, I feasted on couscous and vegetable tagine, mint tea, and orange juice. (Read all about Moroccan food here!)
And then, the Koutoubia Mosque. This impossible to miss mosque as it's a landmark in Marrakech and the largest mosque in the city. It was built in the 1100s – twice. The first iteration was not aligned with Mecca well enough, so they decided to build another. Despite their efforts, this one was *also* not aligned with Mecca, but they decided to keep the structure anyway. The sandstone mosque has a 253-foot-tall minaret that can be seen from all over the city as most buildings are no taller than a palm tree.
Its location next to Djemaa El Fna and along the main thoroughfare, Avenue Mohammed V, makes it an easy stop on a walking tour of Marrakech.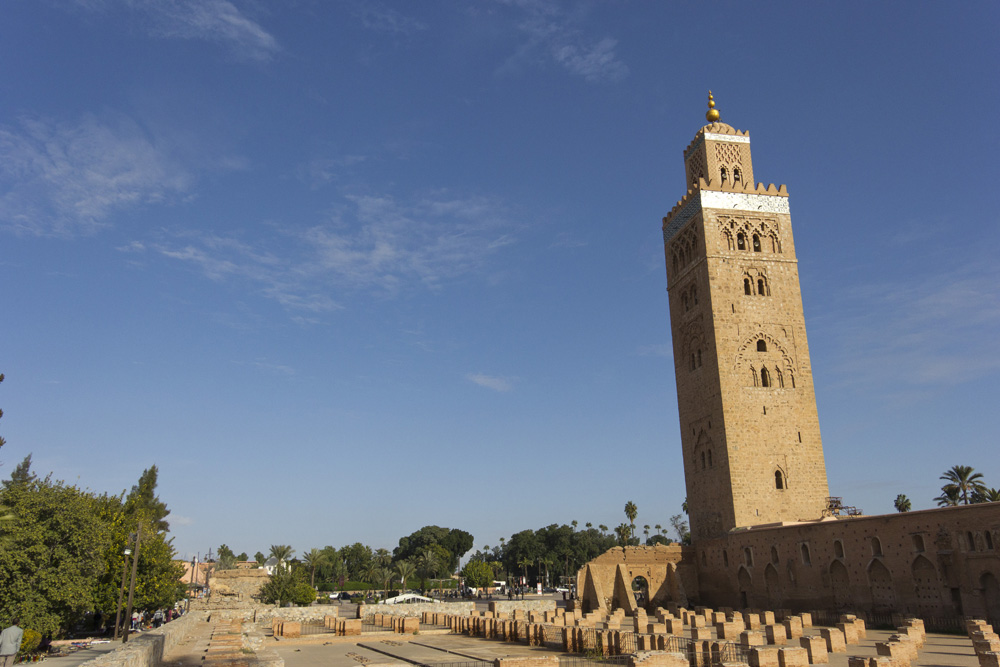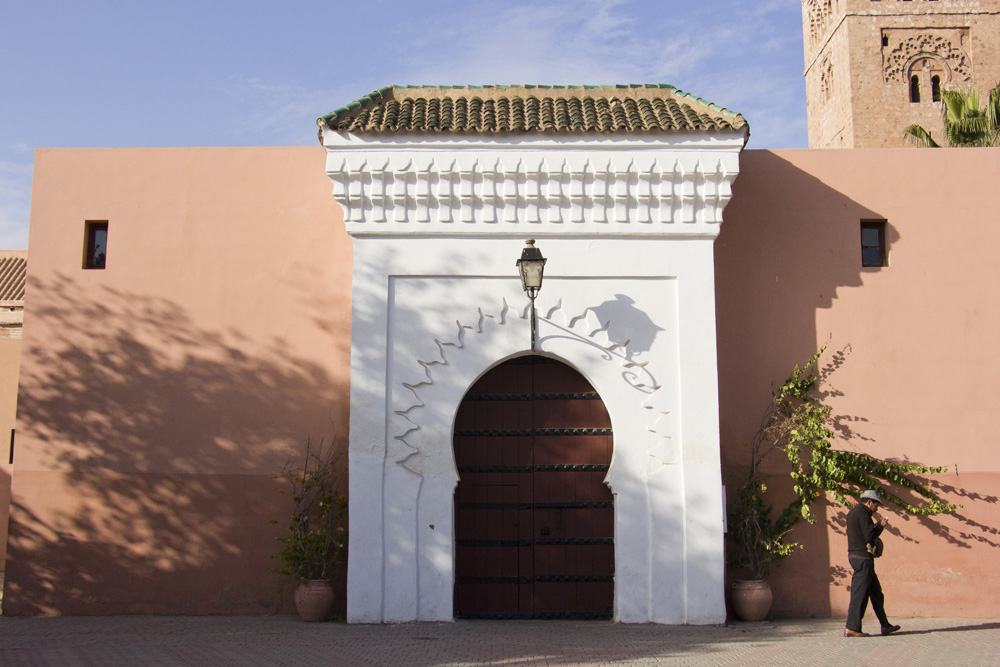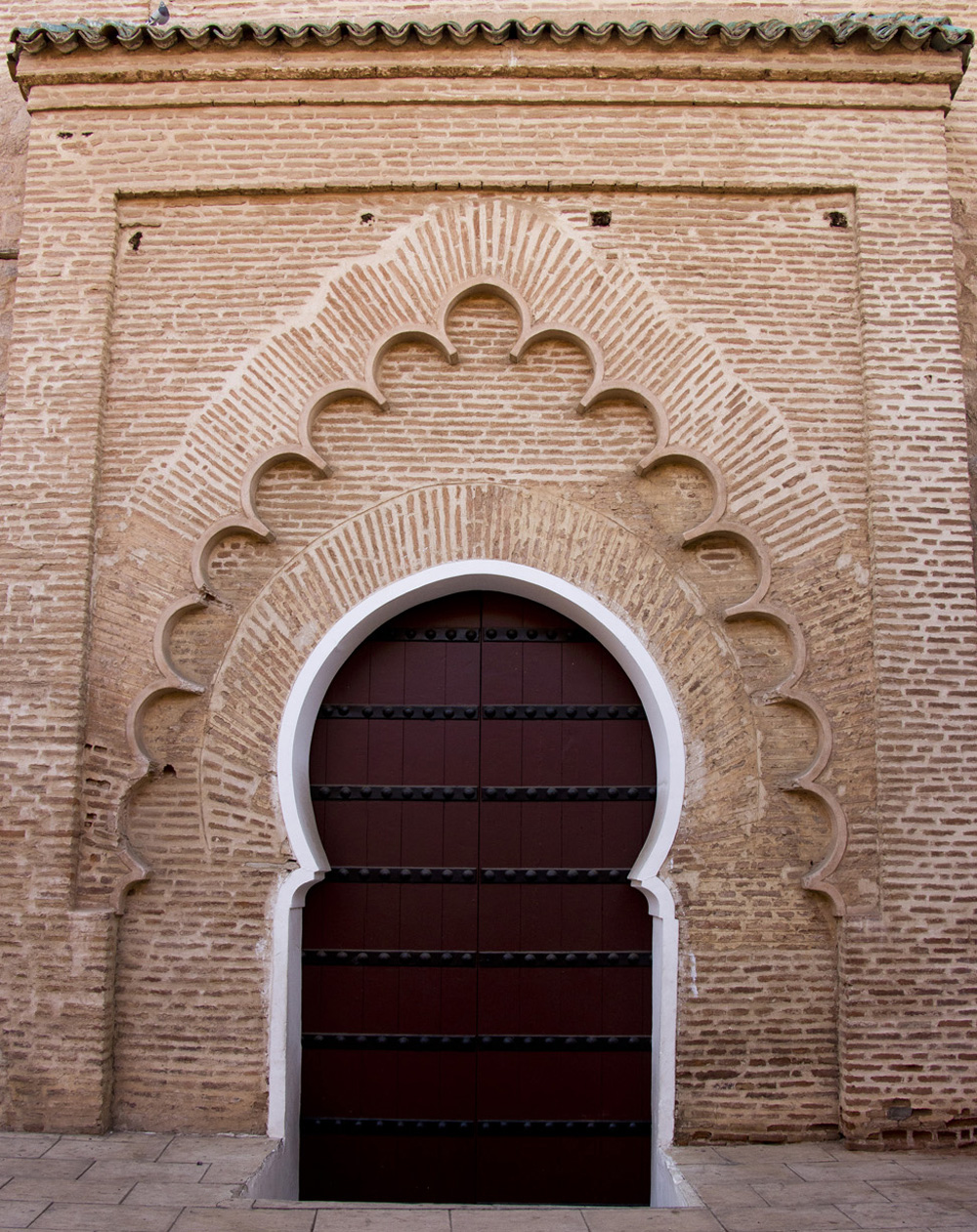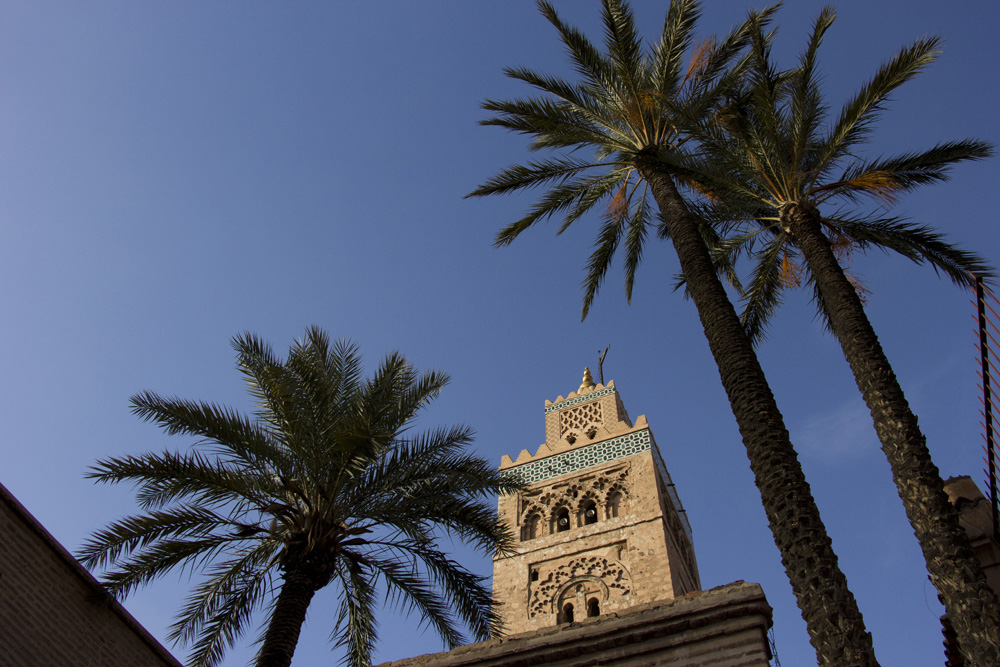 A short walk along Avenue Muhammed V will lead you to the Ensemble Artisanal, a beautifully designed shopping center where artisans create and sell their wares on site. It is somewhat reminiscent of an American outdoor shopping center, though much smaller and much calmer. This is a great place to see the same things you'll see in the souk without the chaos and pressure. Another bonus? Most prices are fixed here.
Aside from the beautiful things on display, I particularly loved the bright blue accents amongst the pale pink-peach walls. I also really loved the lack of bargaining. It made my shopping experience much more enjoyable.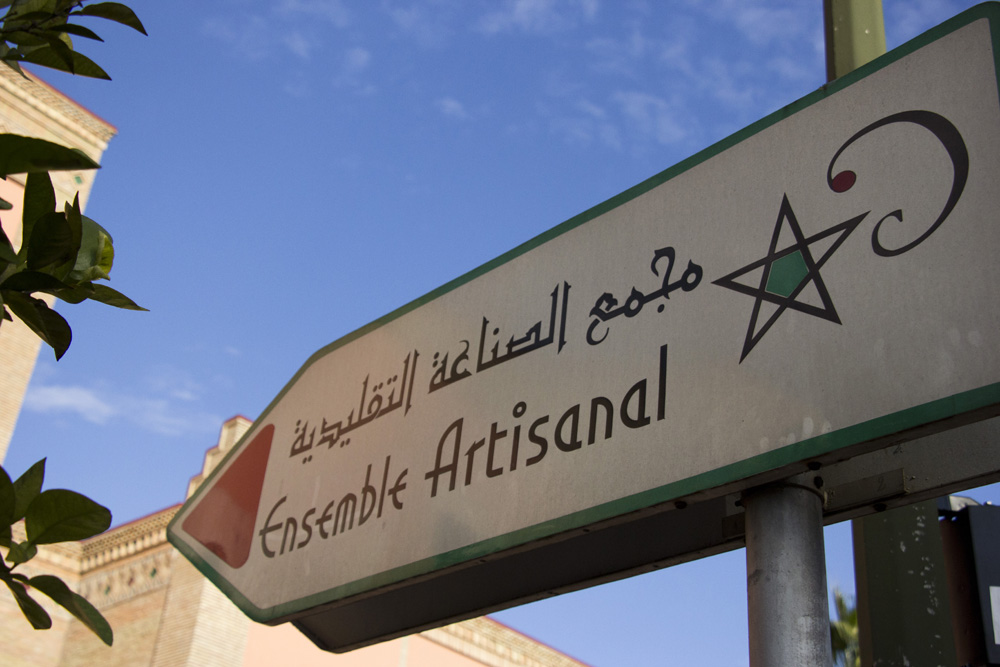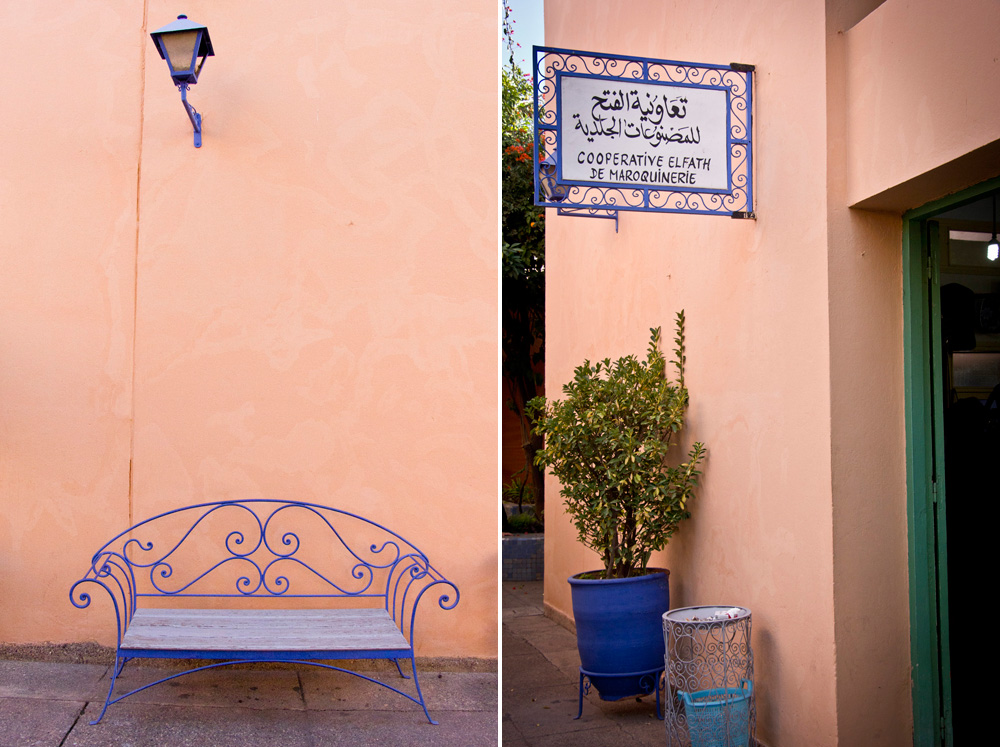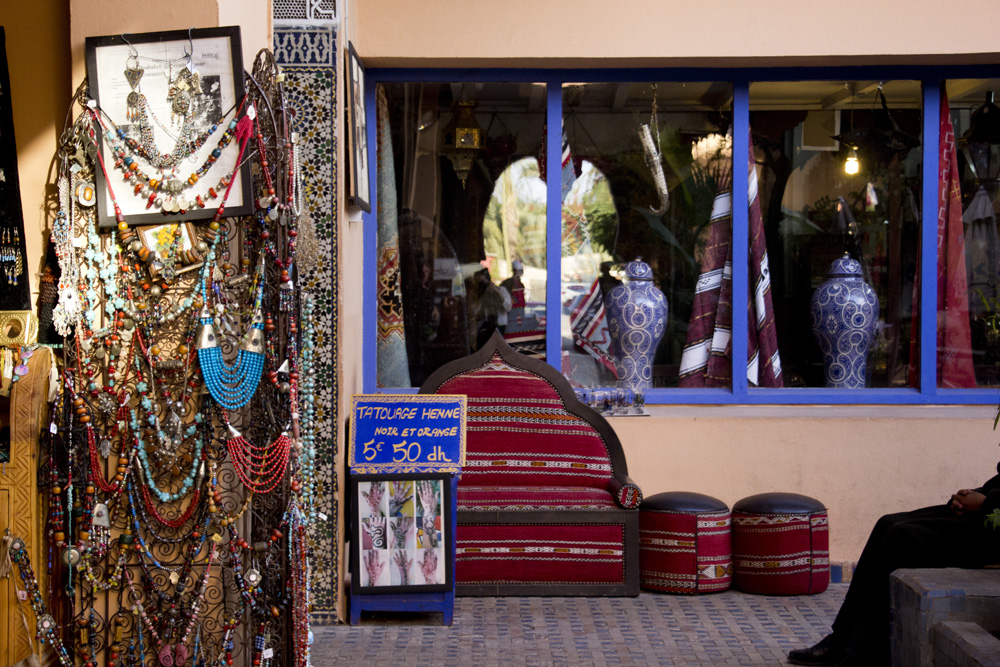 Before heading back to Djemaa El Fna and off into the souks to hunt for more scarves, we stopped for a rest at Cyber Park. Sure, I wanted to check my email and post things on Instagram. And yes, it was a nice day to sit in the park. But honestly, where else have you seen an entire park DEDICATED to the use of the internet while you sit amongst olive trees and manicured bougainvillea?? Nowhere.
If you didn't bring your smartphone or tablet or laptop with you, the people of Cyber Park have installed computer kiosks around the park so you can hop online. There are tables and benches and low walls everywhere so you can settle into the peaceful surroundings of the park as your stalk your friends on Facebook. It's a unique place.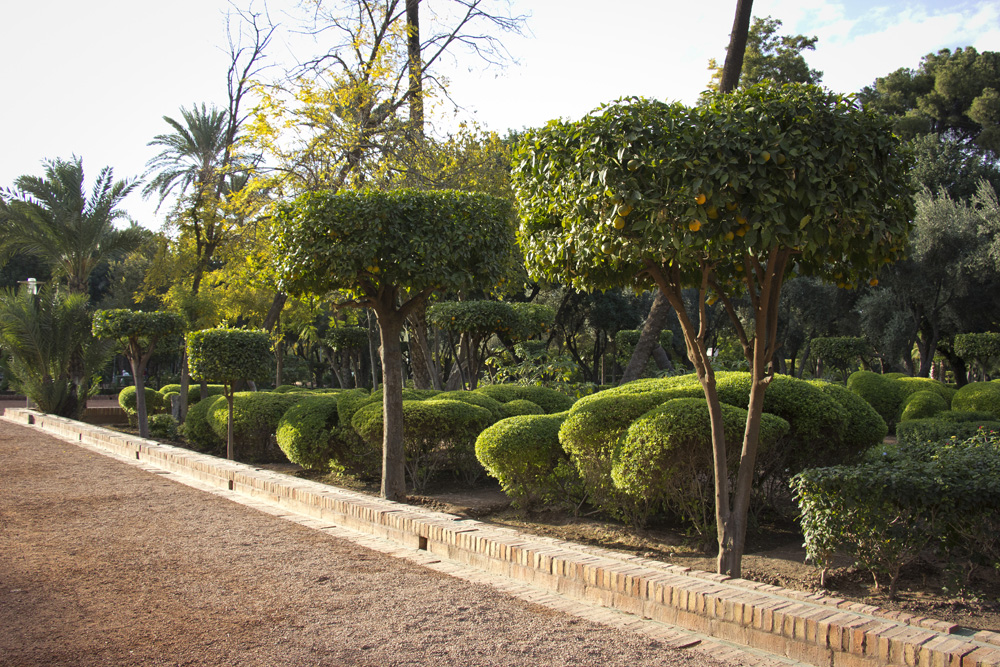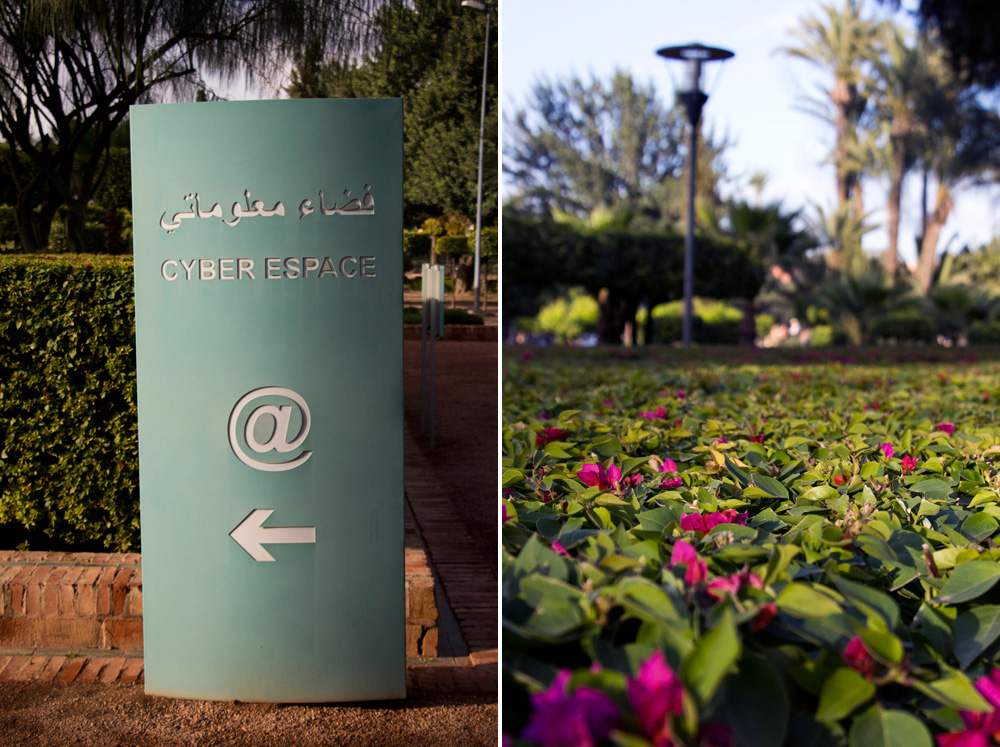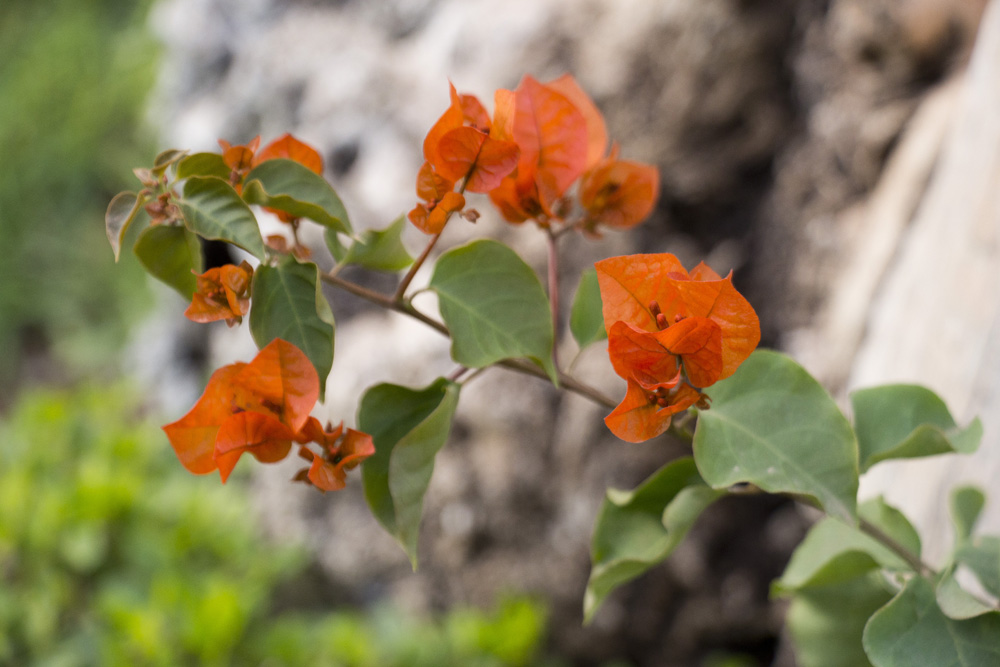 The pace of this walking tour was slow and easy, though making your way through the medina can be crowded and/or frustrating if you get lost. Like I said, adding on Jardin Majorelle and Bahia Palace would fit in just fine. Don't make the same mistake I did and miss out on them completely!
What do you think of this walking tour of Marrakech?
---
Check it out: TravelShus' Interactive Guide to Marrakech
---