My first step off the number 19 bus at Place de Foucauld in Marrakech was into unknown chaos. With my backpack on my back, I felt weighed down amongst the the crowds of quick-moving jalabas and colorful headscarves. Gleaming horse carriages were lined up along the edge of a meticulously manicured park while hints of magnificent tiled minaret towers peaked out from behind the fronds of tall date palms. We walked towards clearing in the trees into a vast square, pulsing with movement and ardor. Snakes, monkeys, cars, food carts, juice stands. That's right, snakes. We'd just arrived in the cultural center of Marrakech: Djemaa el Fna.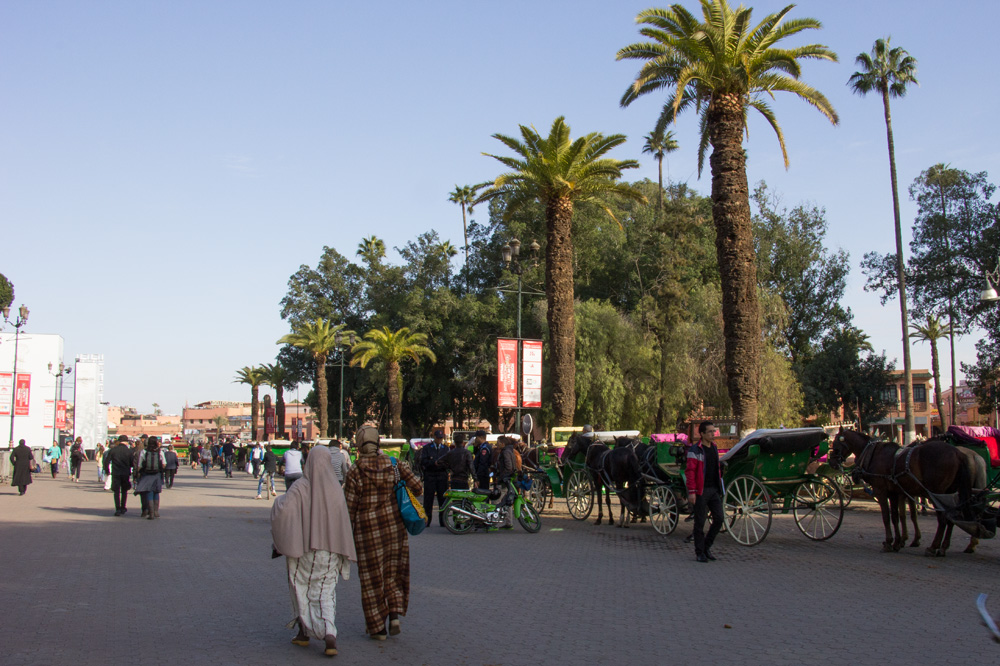 Though this trip to Morocco was my first time on the African continent, the chaotic energy of Marrakech felt familiar. The discomfort of being completely unaware of the rituals and traditions and daily routines existing around me is oddly comfortable. In fact, it's the exact the reason I travel.
Our first order of business in Marrakech was to locate the riad we'd booked for our stay (A riad is a traditional house with an interior courtyard or garden). Ours was located in the notoriously complicated maze of the old city medina. This area of the city is a mix of souqs, hotels, restaurants, and shops amongst narrow streets arranged with seemingly no rhyme or reason. And just to make it fun for first time visitors, there are very few street signs and most maps do not display every street that actually exists. Yay! We set off on the hunt, with one probably inaccurate map and a general idea of the right direction, into a maze of alleyways and souqs to find the proverbial needle in a haystack.
Now, I am good with direction – really good. I have an eerie photographic memory that usually helps me find my way around places I barely know with considerable accuracy. But here, all bets were off. My talents were useless.  Main streets looked like side streets, and side streets looked like dark passageways. This also when we discovered that French language is more important to know here than English or Arabic. The French language is sort of my enemy.
Was this our turn?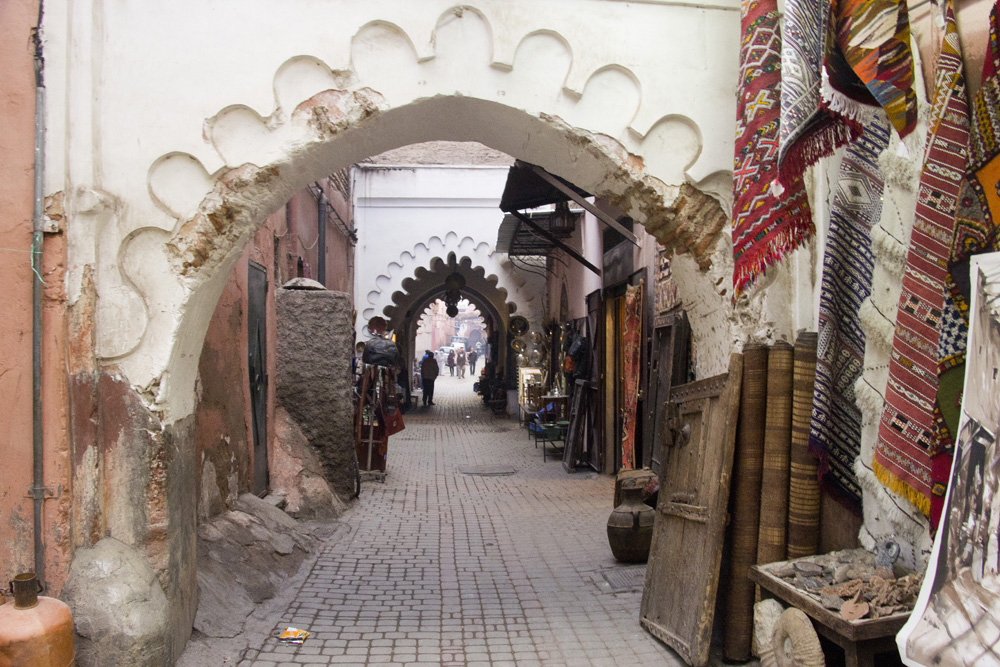 Or this one?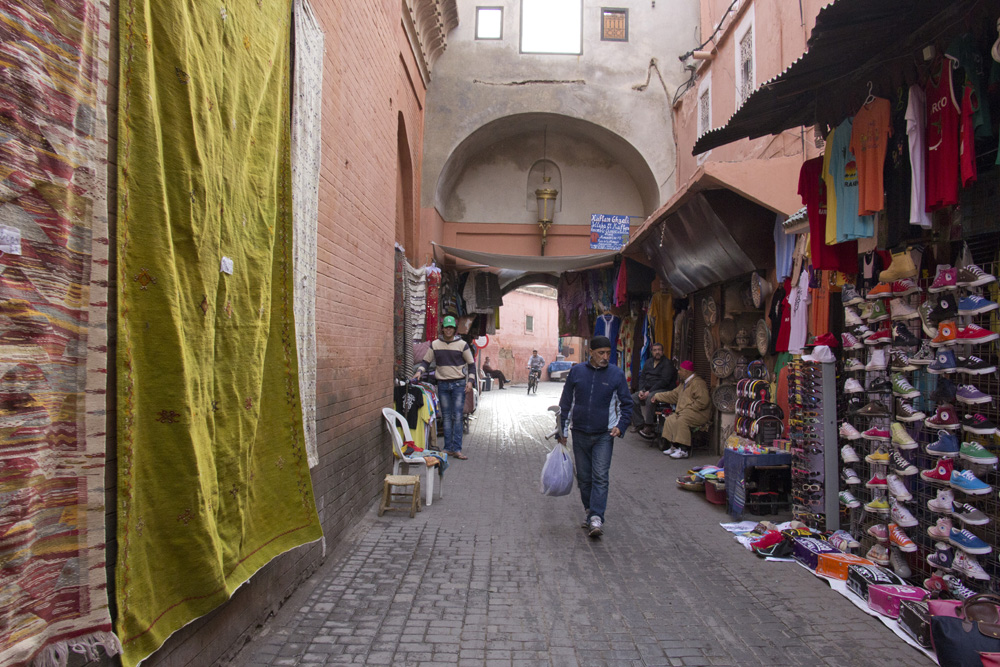 Oh wait, no definitely not that one… but this one seems promising…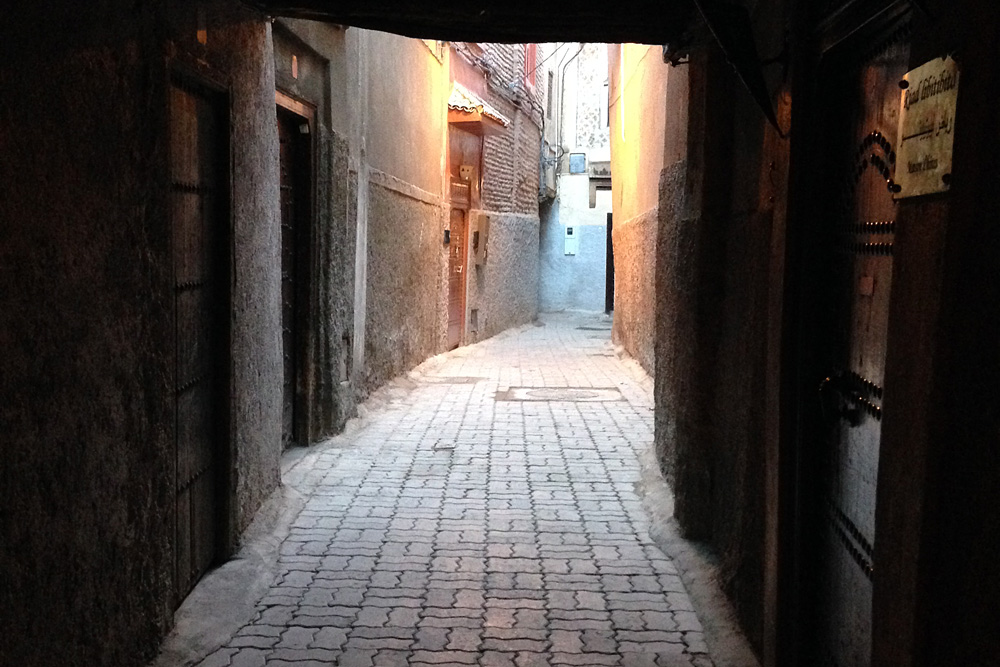 Through a mixture of totally wrong turns, friendly Spanish-speaking shop owners (!), lucky guesses, and eventually one compassionate local man, we eventually found Riad Libitibito. Yes, we may have paid our local friend a one US dollar fee to help us find the infuriatingly hidden doorway of the riad, but the journey had ended. An hour and half later. Fresh off a 14-hour journey from home. With 12 kilos of stuff on my back. My comfort in the unknown had just fled the coop. Get this pack off of me.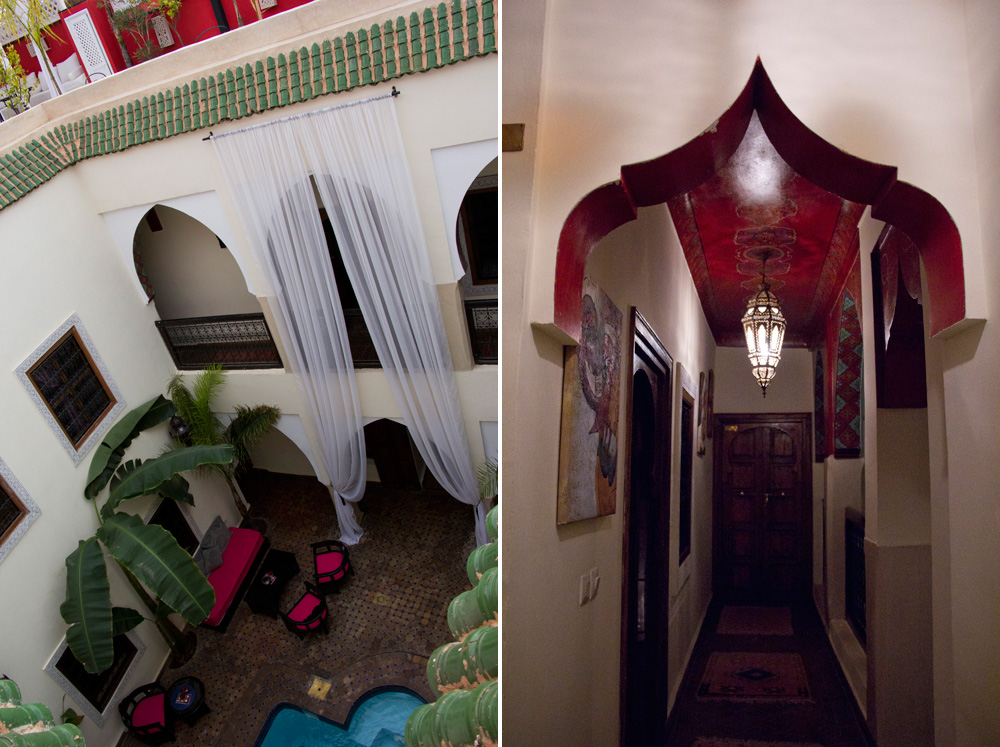 Despite the frustration, I couldn't wait to get back out into the mess to explore the souqs and experience nighttime in the square. But our first stop, before the food stalls and before the drum circles, would be a rooftop cafe above Djemaa El Fna. Though this is beyond touristy, it would be a good way to introduce ourselves formally to Morocco.
There are tons of rooftop cafes on the square, so we just picked one that seemed to have a nice view of the action and a welcoming look. And just as we sat down to our much-needed espressos, the sultry melody of the evening call to prayer came over the loud speaker of nearly every mosque in Marrakech. The soothing song of devotion and prayer accompanied the blue and orange hues streaking across the sky as the sun set. The sharp fluorescent lights of the food stalls grew stronger until the night came and the square came to life even more so than before.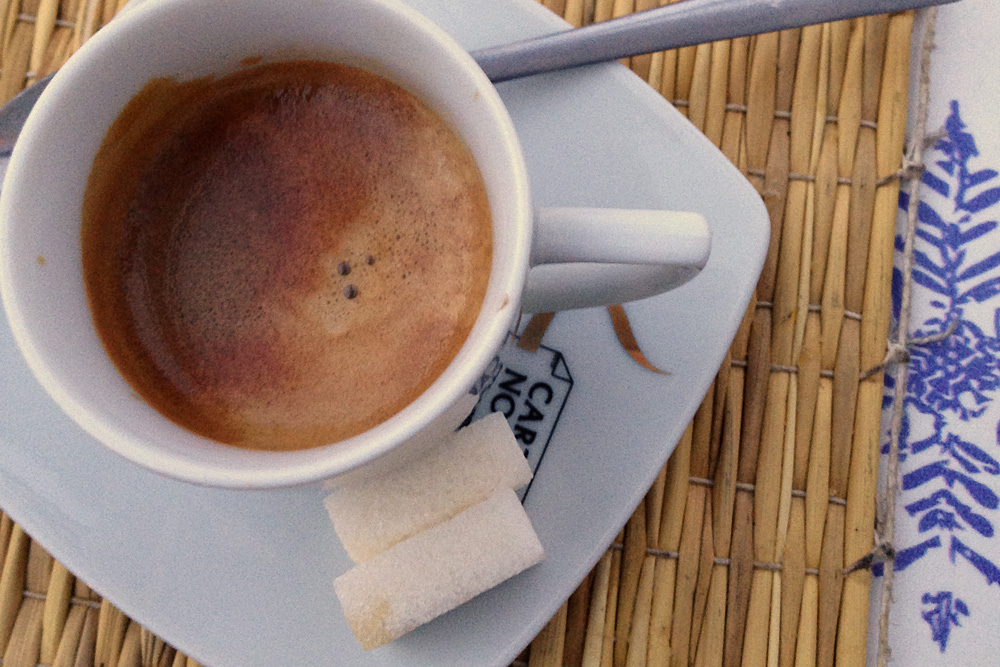 That comfort I find in chaos? It had just crept back into my good graces.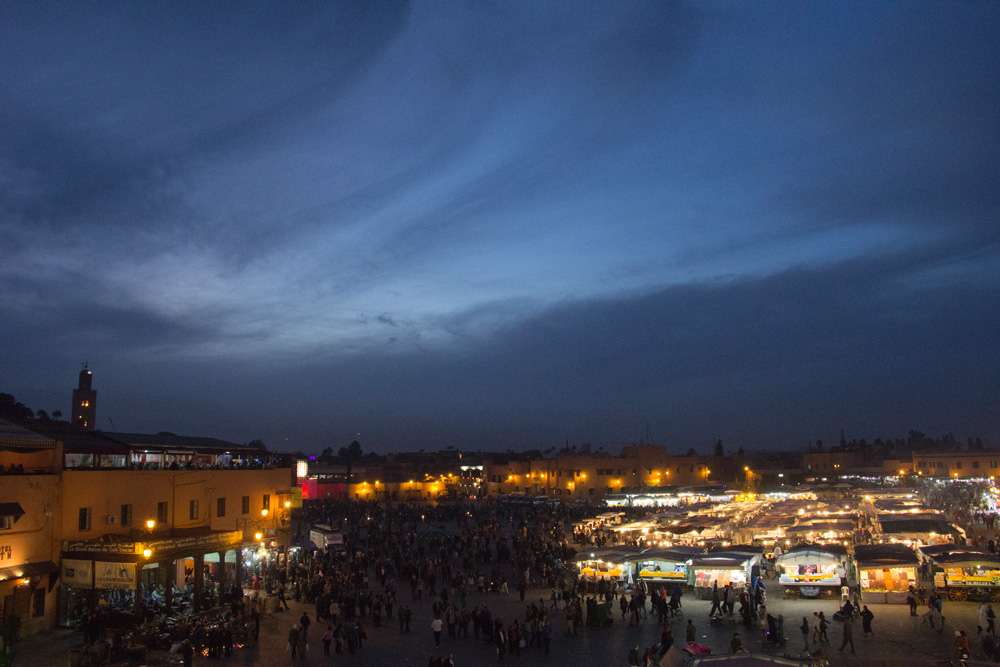 A Few Tips if you are headed to Marrakech:
* The public bus #19 is the best and cheapest way to get to the medina. Unless you have the driver take you straight to your hotel, a car will be more money than you need to spend. You can find the bus outside the airport on the curb all the way to the left side. It costs about 30Dh one way, 50 Dh roundtrip. If you do take a taxi, you can grab a taxi in the car park for about 50Dh.
* Brush up on your French. English will do you basically no good here. Spanish is even easier to speak here than English.
* Most medina maps are not accurate so make sure to remember landmarks instead of street names. Once you get the hang of it, it will be a lot easier to navigate than you think. Have faith!
[divider type="thin"]
Check it out: TravelShus' Interactive Guide to Marrakech
[divider type="thin"]