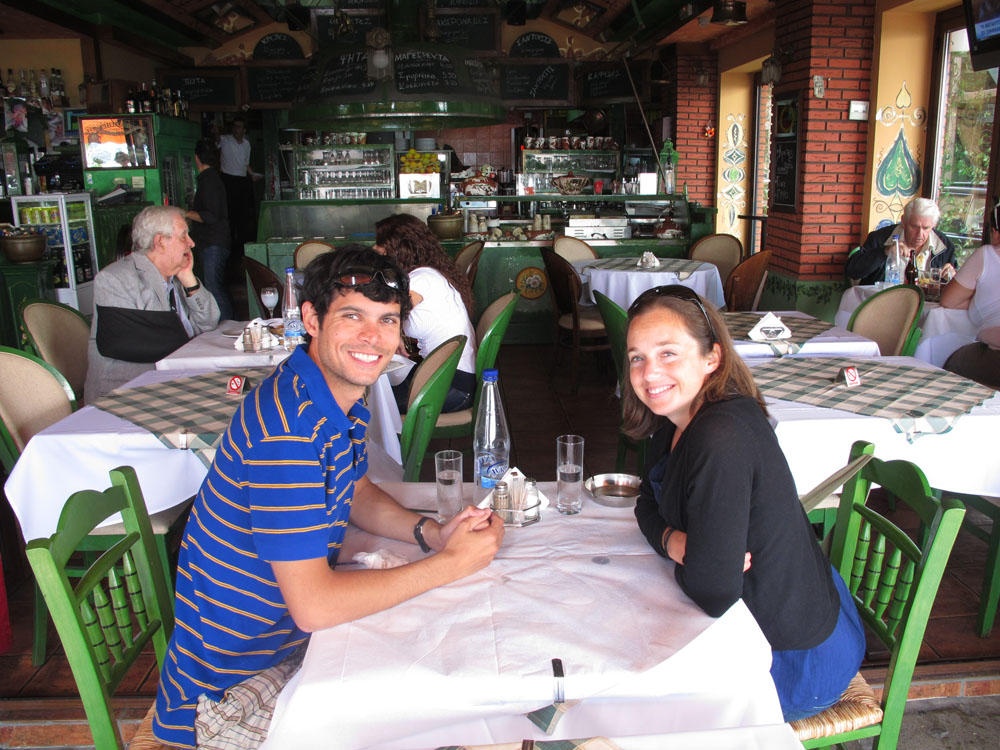 Greek cuisine has a little something for everyone. There's plenty of vegetables, plenty of meats, plenty of dairy, and plenty of seafood. Depending on what you like to eat, you'll find dishes that highlight the local flavors of Greece in a unique way. Because of this, it was easy for both Matt and I find dishes we loved (and that he could eat) while allowing us to explore separate paths. I took the vegetable and dairy path, he took the meat path.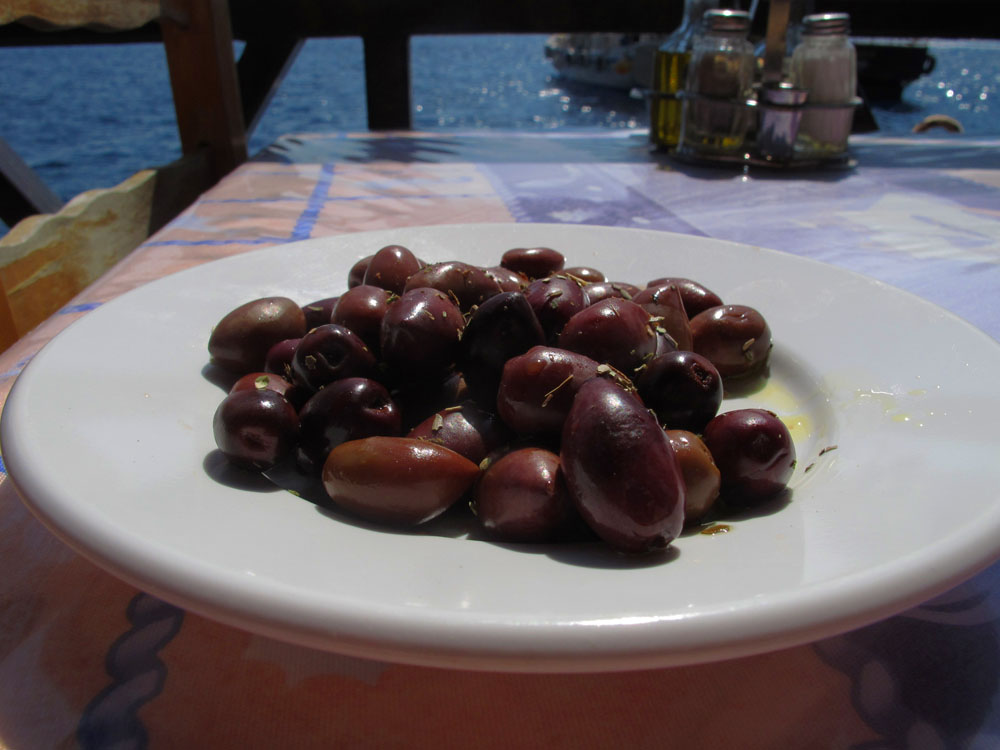 The best part of Greek cuisine, in my personal opinion, is meze. Snacks. Small plates of delicious things that come in groups and compliment your drinks. What could be better than that. (who needs a big dinner when you've filled yourself happily with 900 small bites? not me!) Since this was my favorite part of Greek cuisine, I have to show you all of the delicious meze that became staples for me.
Tzatziki
A quintessential Greek dish. Fresh strained yogurt with cucumbers, garlic, olive oil, lemon, salt, and pepper. Served with hunks of freshly baked bread. A refreshingly cool and healthy snack on either a hot day on the coast or even on a damp day up north. It was on our table at every meal and always the first thing to disappear. It's even started to pop up regularly at my table in New York -I was given a recipe in Athens, practiced it diligently in our Athens kitchen, and ended up with a new favorite.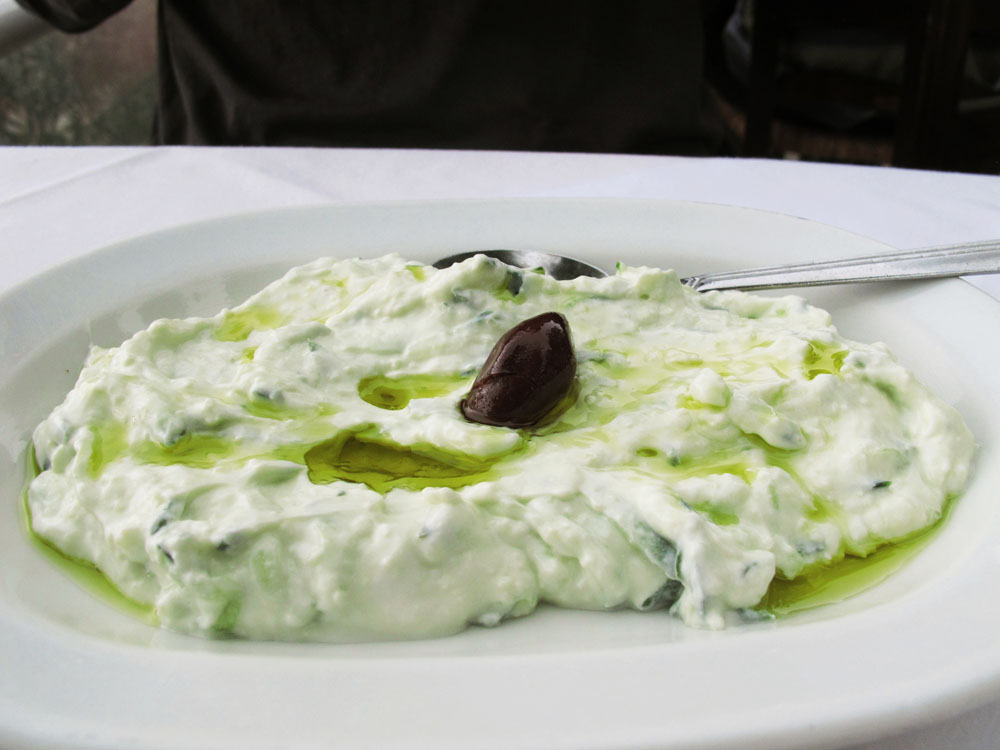 Sauteed Greens
Greens of any kind, really. Tasty, with a splash of lemon juice and a sprinkle of salt. A nice way to cut the fat of any fried meze plate.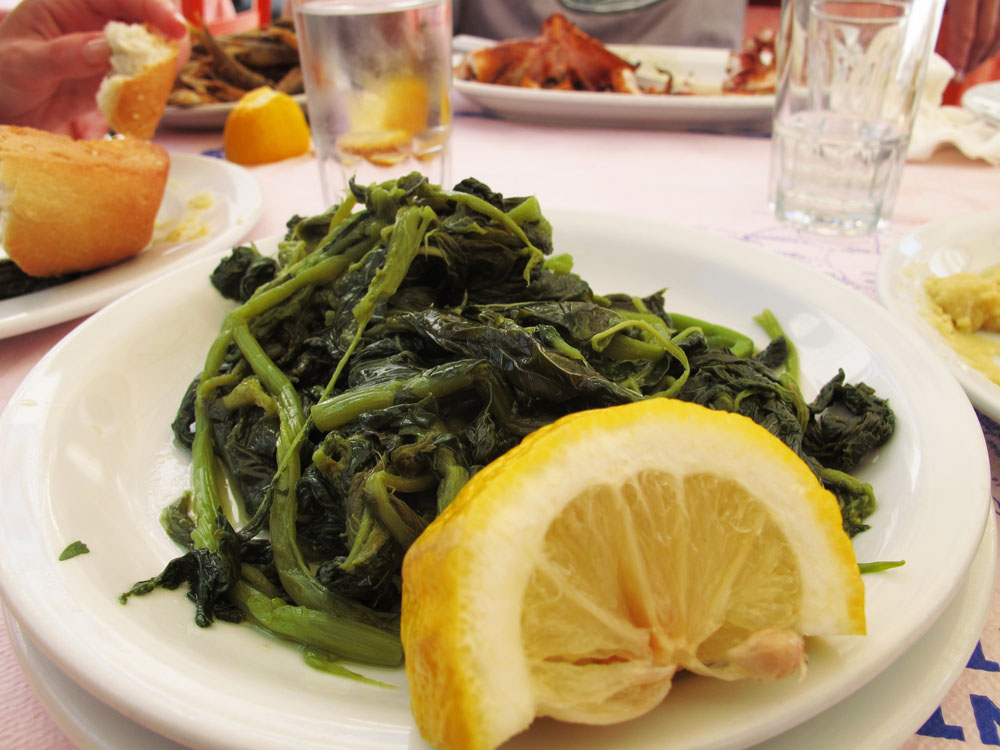 Piperies Gemistes me Feta
Peppers stuffed with cheeses. We had these in a few times and they were always slightly different, depending on the region. In Thessaloniki, the peppers were small and served in piles, stuffed with thick feta cheese and sprinkled with parsley. In Athens, the cheese was mixed with yogurt and sprinkled with dill. (below) In Crete, they were broiled to have a golden crust.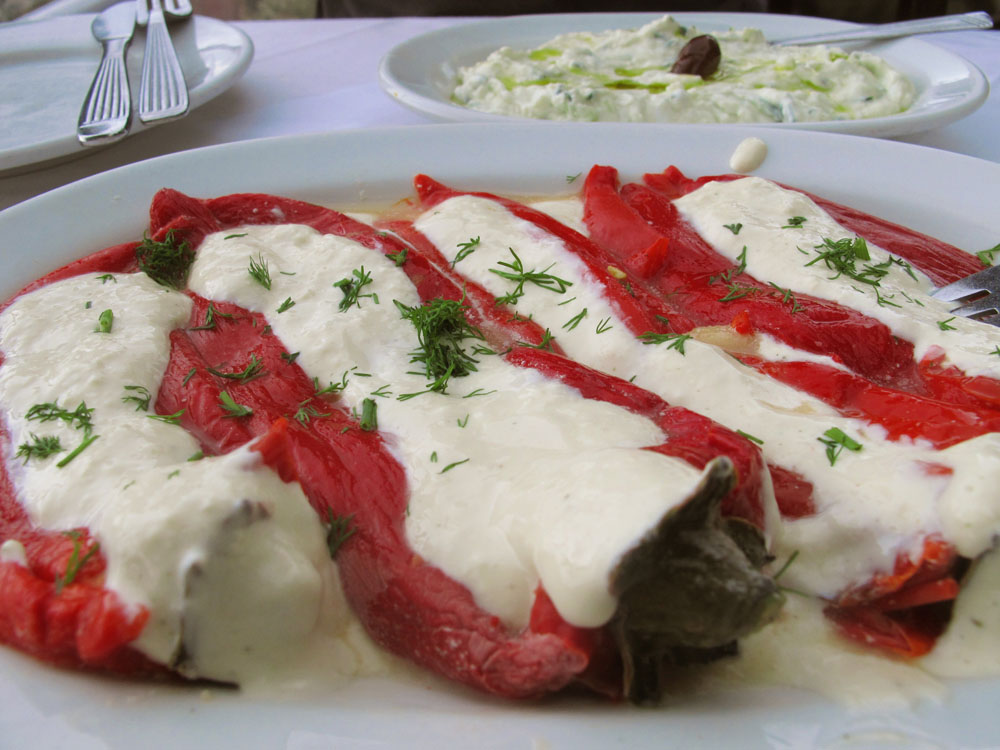 Fava
Pureed Split Peas were always a lunch staple for me. Served with herbs, shallots, olive oil and salt, spoonful after spoonful on pieces of warm bread were a perfect light meal.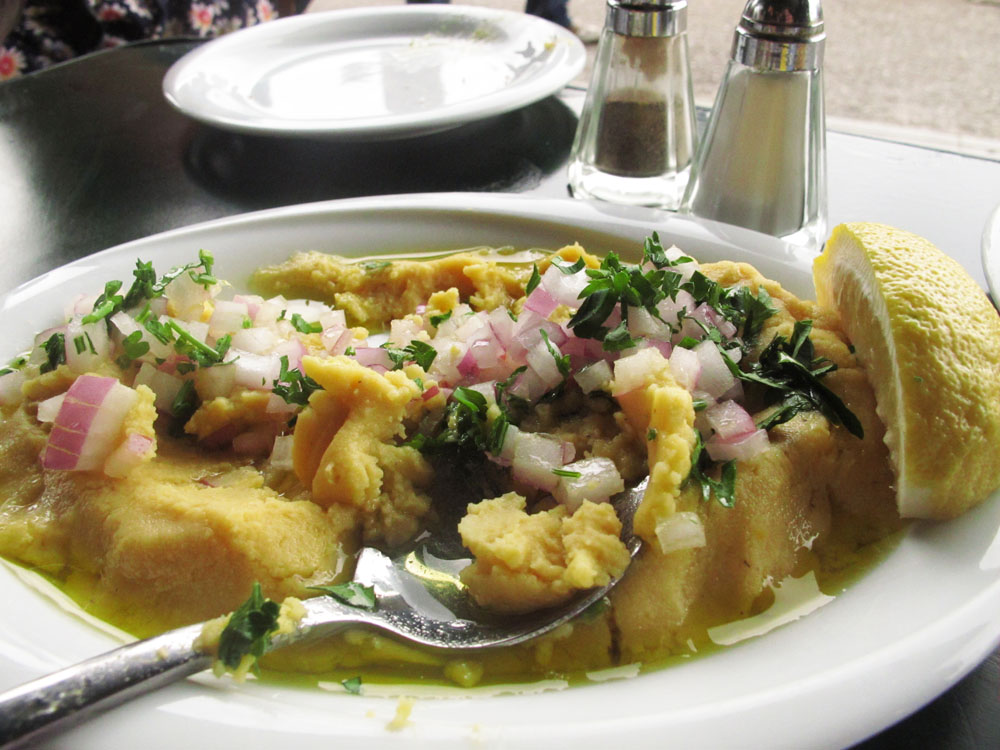 Marithes Tiganites
I don't think I ever got to eat these myself, but they sure are pretty.  Fried smelts are fairly popular as a meze since they are bite size, fresh, and crispy. The day we ordered these I was a little sick, so I did not partake. My brother in law Paul downed the whole plate, happily, at a pretty little seaside taverna in Santorini. Well, maybe not all of the heads, but definitely all of the bodies.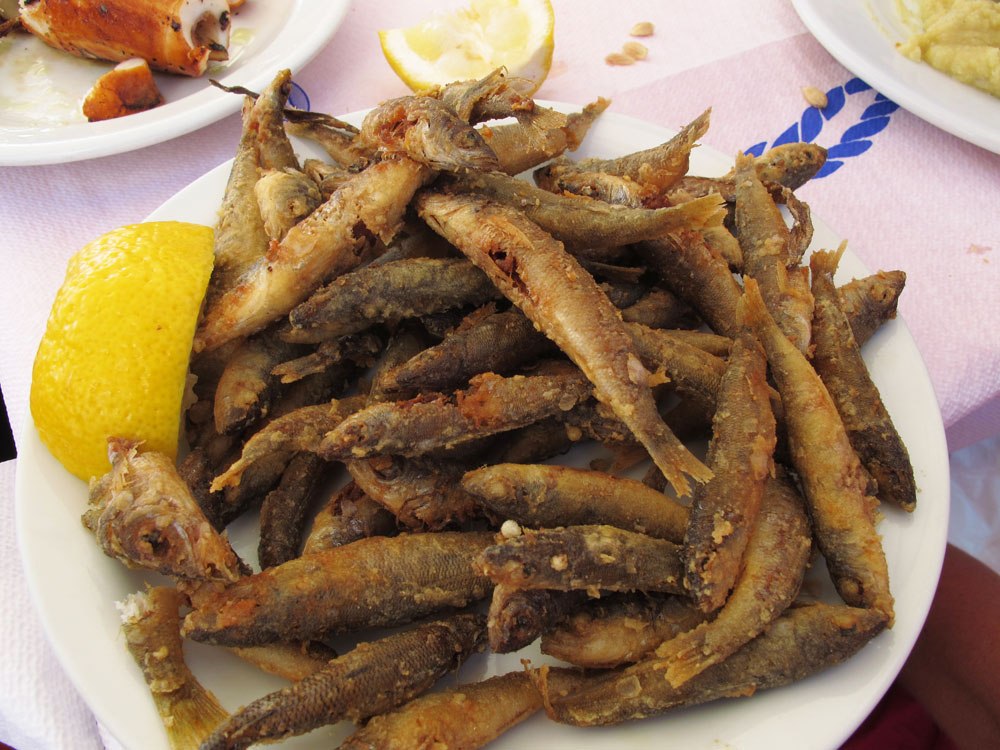 Vegetables
Thinly sliced eggplant and squashes, roasted red peppers, olives, pink (odd) tzatziki. Fresh foods with a crispy bite, smothered in shaved local cheese and lemon juice. A crispy meze snack enjoyed with my parents, halfway between Iraklio and Chania at a beachside taverna.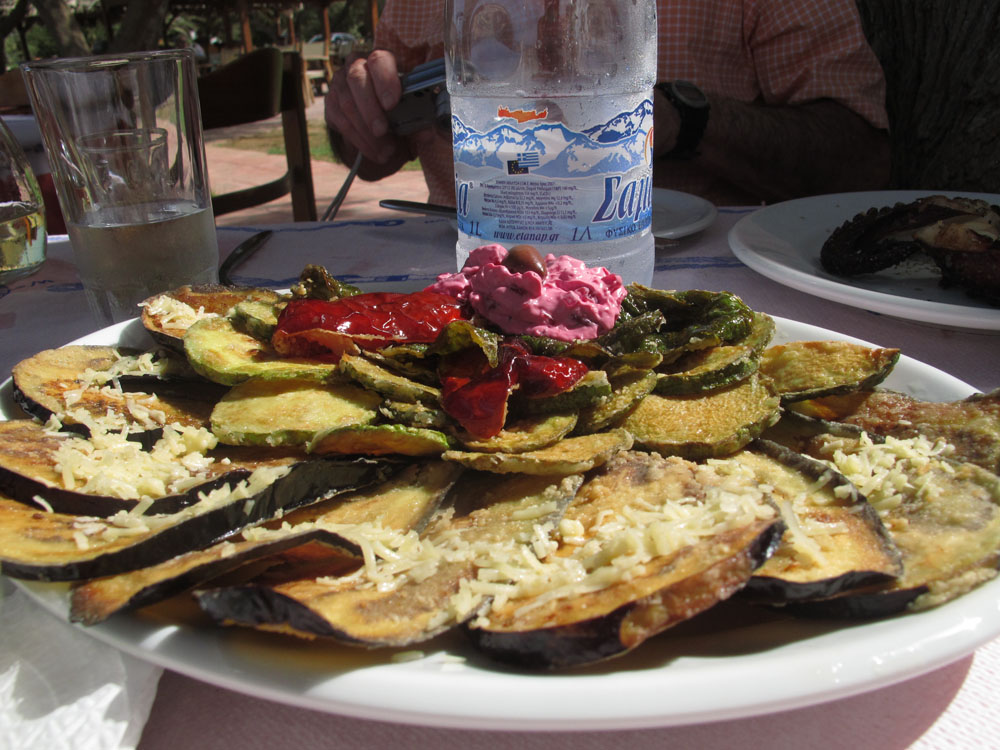 Not all Greek food is served meze-style though. There are many dishes that are meant to be eaten as an entree and meant to be more filling and substantial. Matt could not survive on meze alone – we would have had to order two of everything, plus more, in order for him to feel satisfied. We wouldn't want to have missed out on all amazing chicken and meat dishes either.
Chicken Souvlaki
This was a fast favorite of Matt's. For good reason too. Anyone who knows him knows that if you hand him a plate of chicken and rice, prepared any way, he'll be happy. Souvlaki made him a happy guy, especially with the added benefits of grilled peppers and roasted potatoes.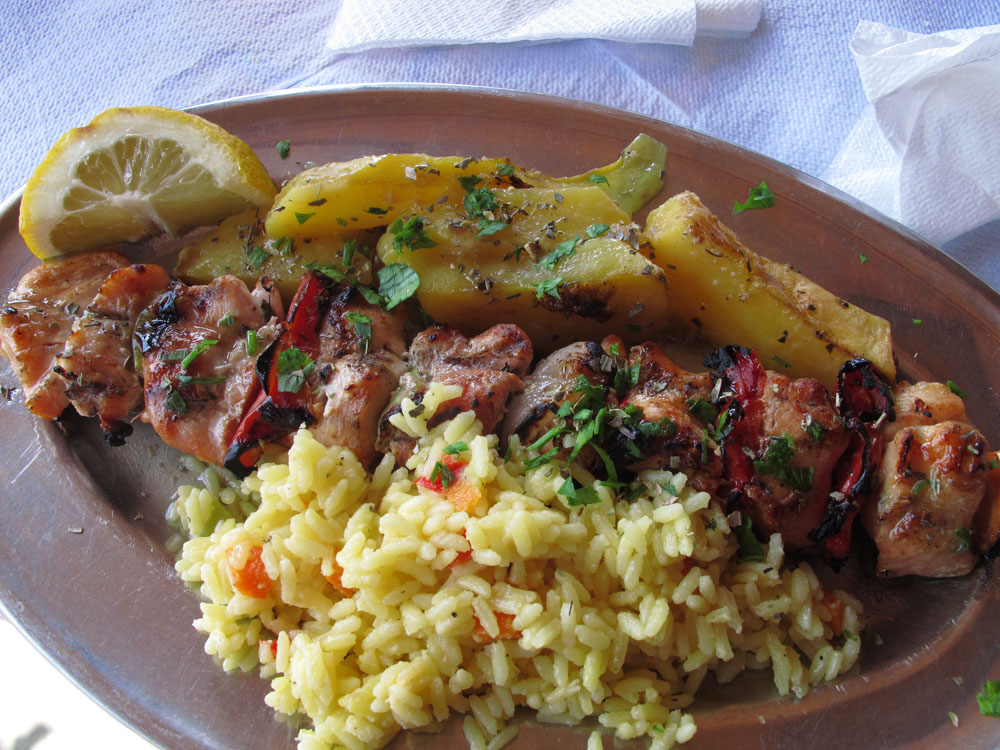 Keftedes
mmmmm…. Keftedes are meatballs made with mint and cinnamon, smothered in tomato sauce and fresh cheese. A favorite in northern Greece, we enjoyed this dish on chilly nights in Thessaloniki. The mint and spices added a unique flavor that neither of us had tasted before in a savory dish. This became a favorite entree of mine on a cool night. It was the only thing I wanted instead of a mess of meze.

Moussaka and Pasticcio
Another quintessential Greek dish. Layers of thinly sliced eggplant, a hearty gravy of minced meat, and a crispy browned top layer of creamy bechamel, all baked together with spices. This is was Matt's staple dish in our five weeks of Greece. It was second only to its cousin, Pasticcio. It was one or the other, every night. Pasticcio is a similar baked dish with mince meat and bechamel, but swaps out the eggplant for noodles. Both dishes are popular throughout the Mediterranean and are favorites amongst tourists and locals alike. I was happy Matt found these dishes he enjoyed so much. It left my to my own devices, ordering plate after plate of meze instead of an entree.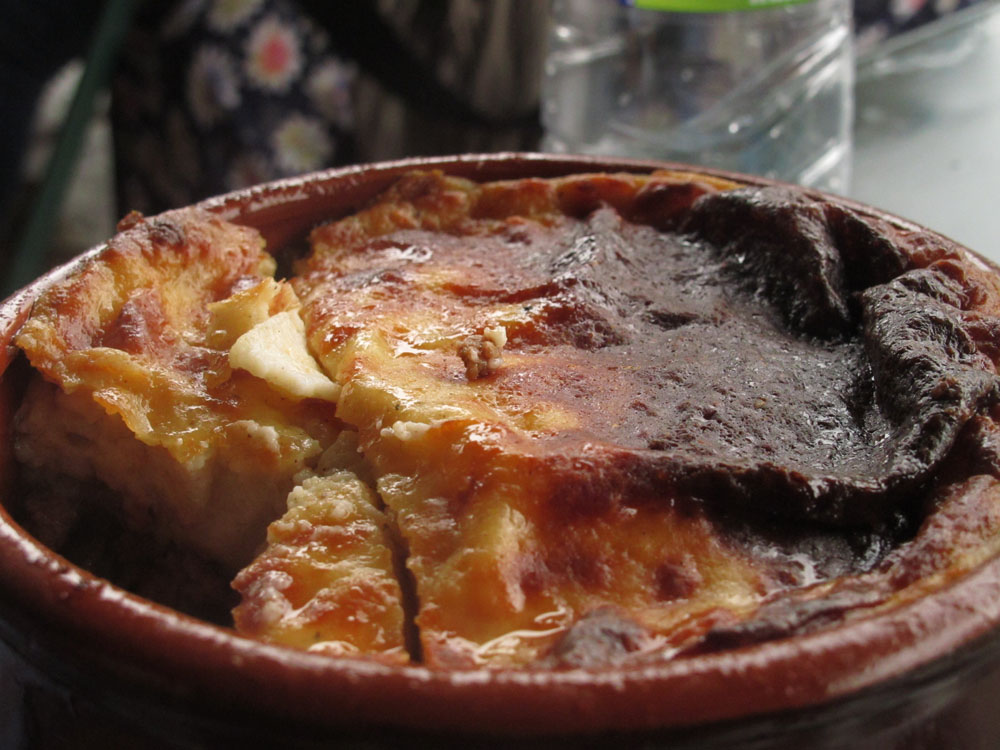 I did, however, find a few things I loved aside from meze and keftedes.
Greek Salad
Greek salad was a big one for me – crispy fresh vegetables with tangy feta, sprinkled with oregano. No Lettuce! If there's lettuce, then it's not a true Greek salad.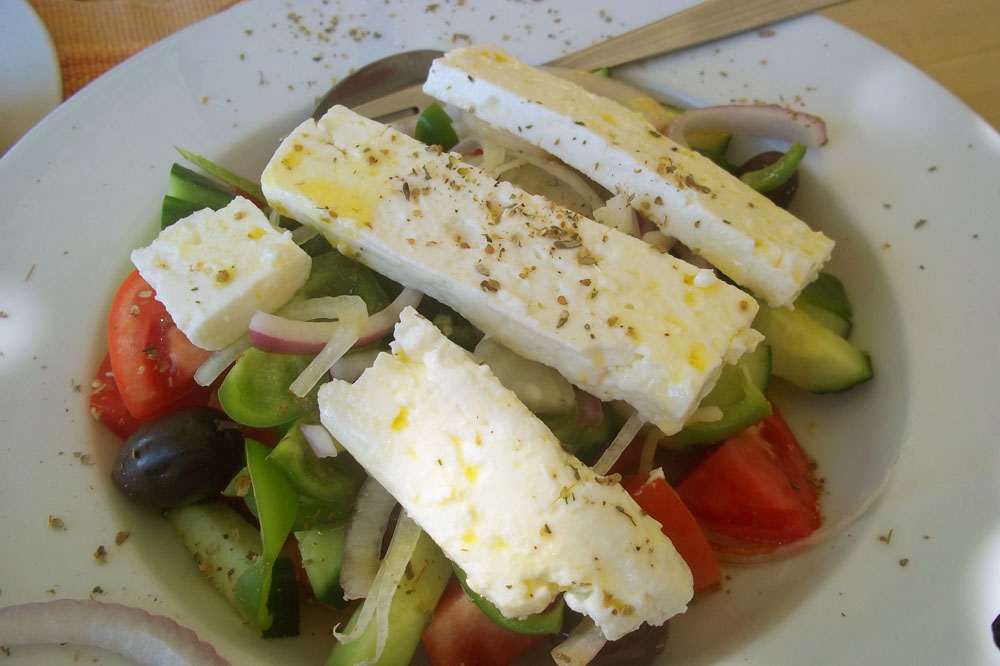 Gyros
A gyro is always a great quick snack or lunch, available at restaurants, small stalls or street carts. Served in Greece with french fries, onions, and tomatoes, gyros filled the empty void that tacos left in my heart. I seriously love me some tacos. And now I love me some gyros. Especially these in the photo below- created at a gyro stall Thessaloniki rated as having the best gyros in the city.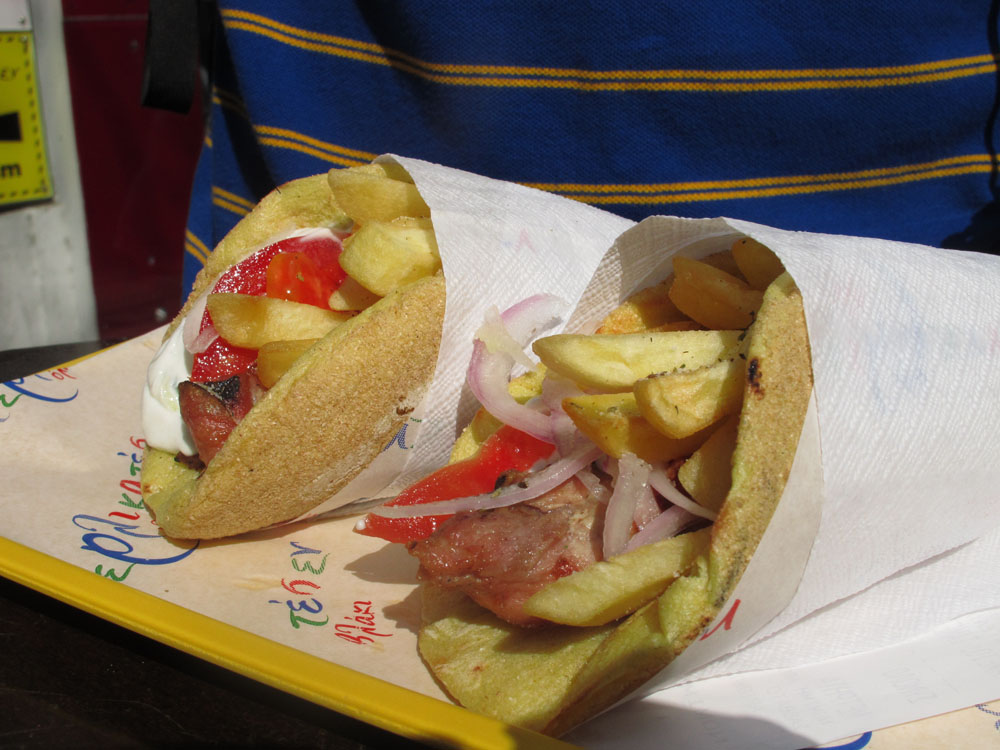 Breakfast
Breakfast in Greece was not something we typically went out to a restaurant to eat. We were either lucky enough to have something at our hotel (which was typical western breakfast fare – eggs, breads, juices, fruits, meat, cheese, etc) or we would make breakfast in our kitchen with items from the markets. When Melanie, Matt's sister, and her husband came to visit us in Santorini and Milos, the four of us would pitch in and create a breakfast feast. We would then eat quietly in the sun, staring out over the Aegean. Typically, our breakfasts included yogurt with fruit and honey, scrambled eggs, grilled bread with local butter, coffee, and juice. When I look at this photo,I cry – its too beautiful and it was too delicious.
There were so many other dishes I wanted to try in Greece – I barely scratched the surface of seafood, and I could have eaten about a thousand more meze plates before leaving. The dishes we loved, thankfully, have been easy to find in New York and hopefully will be easy enough for me to create in my own kitchen. Though I can't ever create a view over the Santorini caldera in Brooklyn, I hope the flavor of Greek honey will bring me back to Oia. And the flavor of minted meatballs will bring me back to a rainy night in Thessaloniki. And maybe some day, a plane will actually bring me back so I can try some of those little fishies. Heads and all.