Nepal was a really great food destination for us. Not only is the local food pretty much all food-allergy-friendly, but there were many dishes to choose from. Regardless of where we were – either deep in the Himalayas or in the backpacker ghetto of Kathmandu -there was always something delicious to eat or something beautiful to look at.
The main staple food of Nepal is Dal Bhat, which is a simple plate of white rice, usually basmati, and lentils, cooked in a broth with vegetables and spices. The dal is served in a bowl, which is then poured over the rice. A more complex version of this staple meal is the Nepali Set, which usually adds on a small portion of Tarkari, mild vegetable curry, to the standard Dal Bhat. On our trek to Everest Base Camp, we tried to stick to eating dal bhat as much as possible. Our guides sang praises about the dish and how it has given Nepali guides and Sherpas the energy they need to work in the Himalayas for generations. If it is good enough for them, it was certainly good enough  for us. Dal Bhat for lunch and Dal Bhat for dinner.
Outside of this standard dish, there are plenty other delicious Nepali foods that impressed us. Momos, a steamed dumpling filled with vegetables and spices, are a great snack when shared in the afternoon, and make a great lunch for one. Served with a mild tomato-based sauce, they are a distant cousin to gyoza and wontons. (Momos are wonderfully lacking sesame and nuts too) In addition, samosas, tandoori cooking, and Tibetan bread are also excellent options.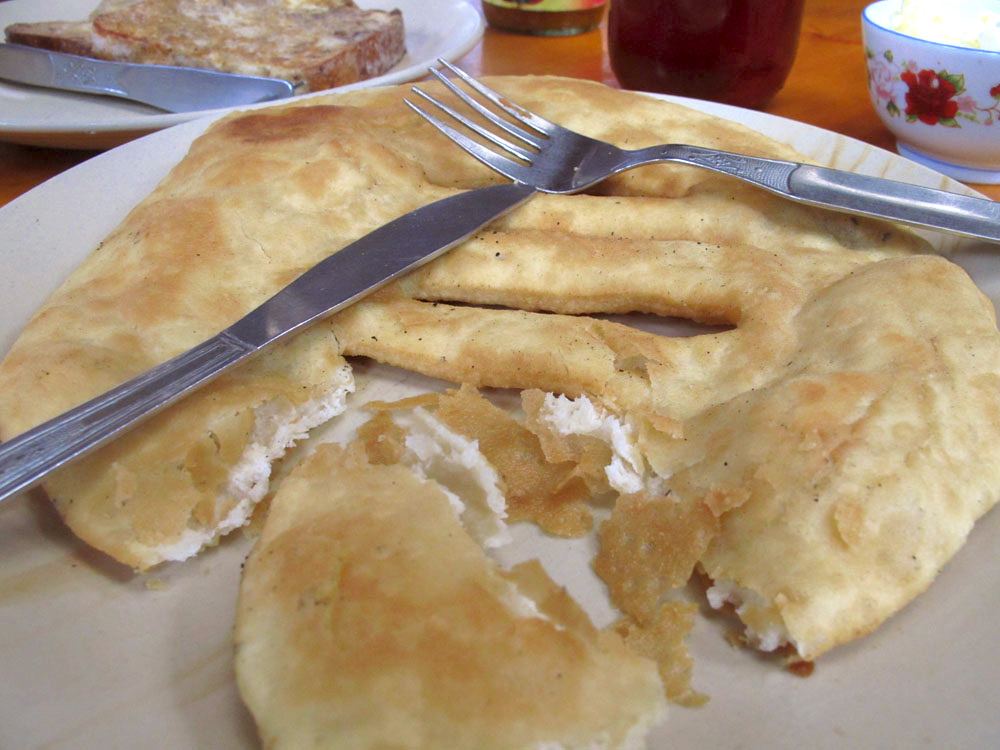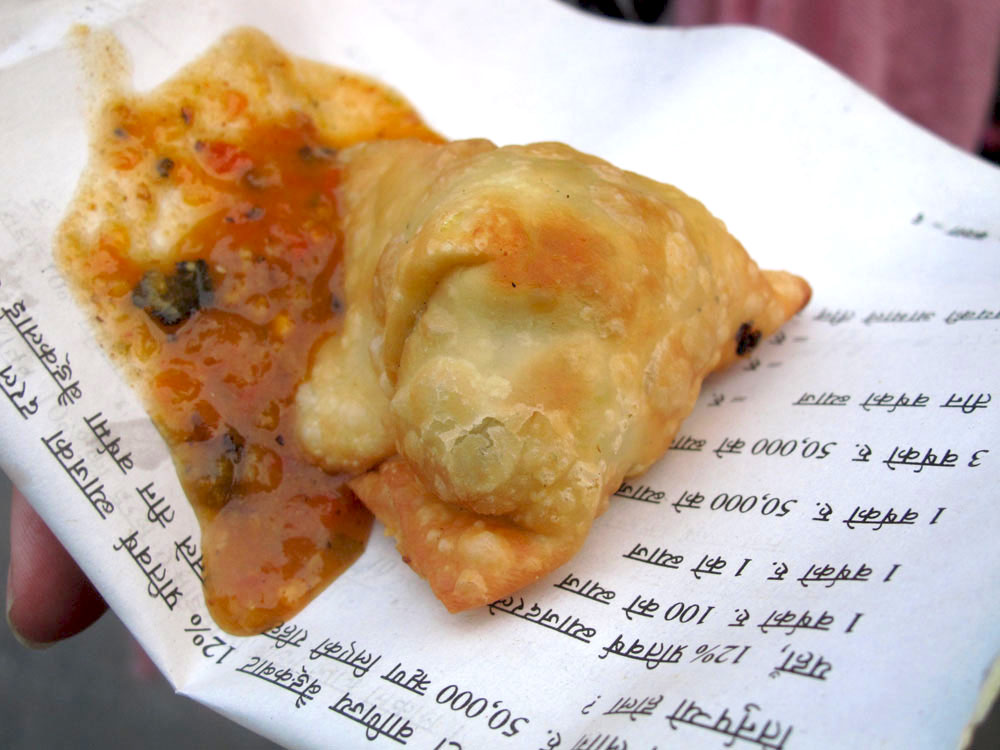 Nepali cuisine does not involve bread (or toast, much to my dismay, since im a toast addict), but it does have chapati and papads. I have to be honest, if you can't have a nice piece of sourdough with some sweet butter, a chapati will satisfy a craving for something soft and chewy. And if you can't have a toasted piece of crusty baguette, then a dry papad will give you a nice crunch. I'm not saying I'm giving up toast or anything, but I am saying that sometimes when I think back to sunset happy hours with papads or warm vegetable curries with piles of hot chapatis on the side, I yearn a little for Nepal.
Another favorite of ours were banana lassis. A lassi is an amazing yogurt-y healthful version of a smoothie. Fresh local yogurt is blended with fruits and cardamom and served with cinnamon. Our favorite lassi, banana and sweet masala, came from our yoga retreat. During our 3 day stay at the Sadhana Yoga Center in Pokhara, we ate such fresh and flavorful versions of all these foods, I sometimes think I would suffer through another yoga class just for another meal. Their lassis were the most memorable of all – a perfect morning treat after meditation, served alongside muesli,yogurt, and more bananas. Sadly, no pictures of this awesomeness.
On a typical morning in Pokhara, we would wake up when the sun warmed up our room and head down the street to a Tibetan restaurant. Pokhara's street are lined with Tibetan restaurants, which only have a few small tables and a few over head lights. Most of them are part of a family home, which belongs to a Tibetan family who fled from Tibet during the early 1960s. The families serve everything from western breakfasts, to Nepali favorites, to Thugpa and other Tibetan meals.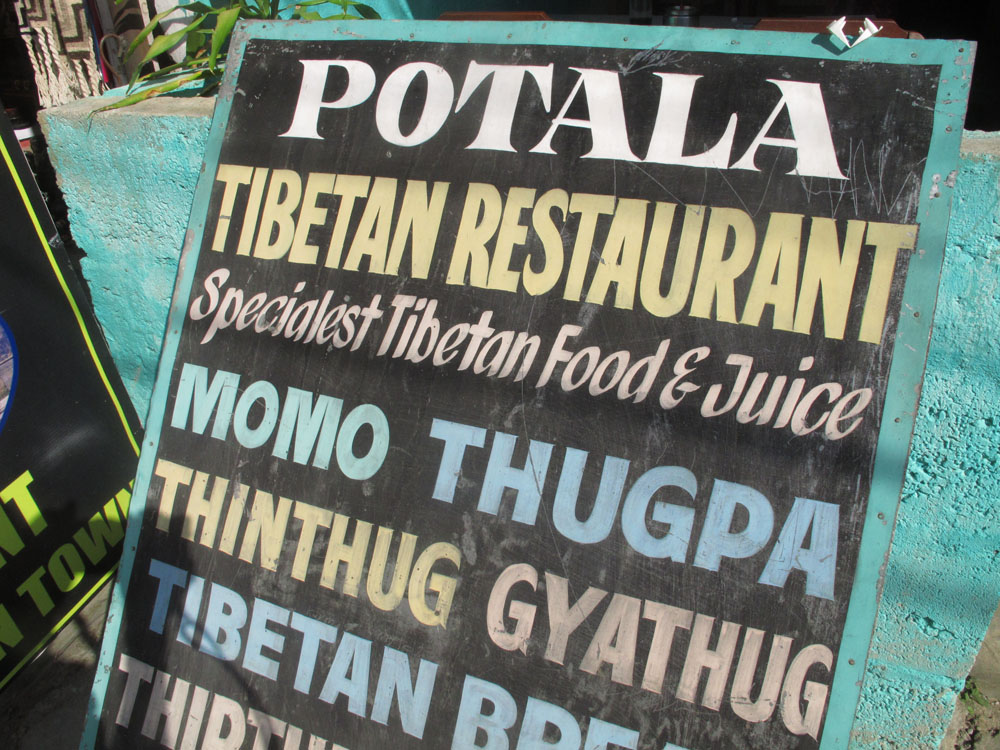 In addition to all of this delicious Nepali food, there were also great opportunities for Western food. With so many travelers passing through Kathmandu and Pokhara to trek in the Himalayas, a lot of foreigners have stayed to open up restaurants. Locals have also learned how to perfect western favorites. For a nice break once in a while, we would indulge in some pizza. Our favorite was at the Fire and Ice Pizzeria in the Thamel area of Kathmandu.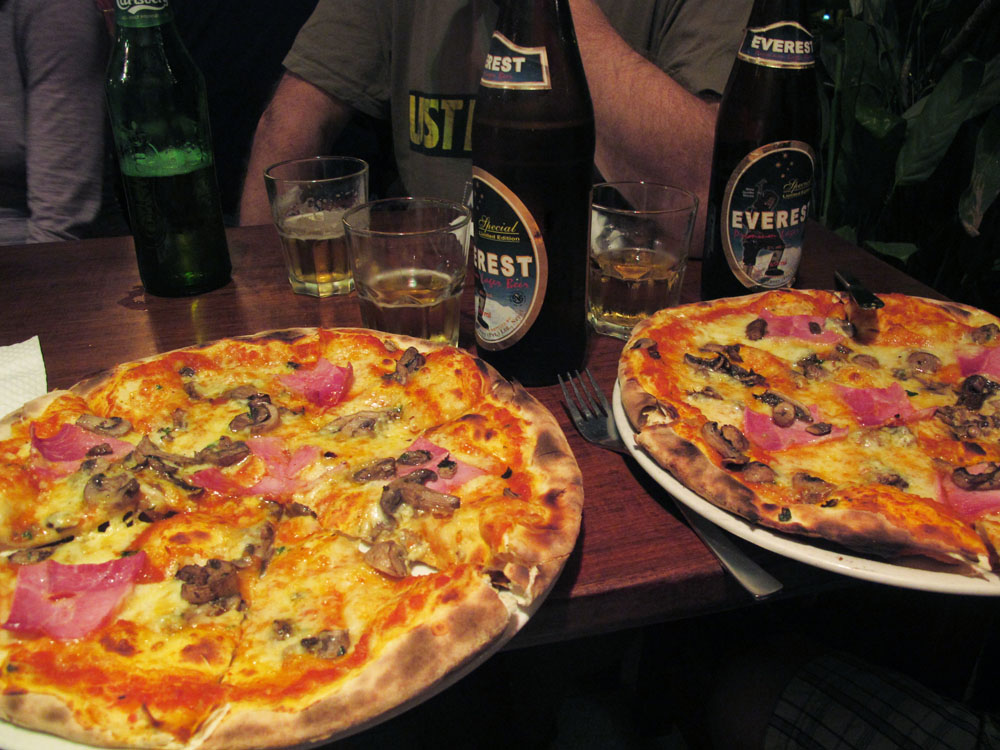 Looking back at The Trip, Nepal was definitely the most interesting place we had the opportunity to eat local cuisine freely. We appreciated it immensely at the time, but appreciate it even more now since we traveled on into places where it was not so easy.