Since I'm a market-aholic, my travels to Nicaragua would not have been complete without a trip to a market. While San Juan del Sur and Ometepe were amazing, they proved fruitless in the market department.
Our next and final stop in Nicaragua was Granada – Nicaragua's most famous colonial city. Its picturesque parks and colonial cathedrals are located approximately half way between Managua and San Juan del Sur, and is a perfect stop on the way back to the airport after a stay on Ometepe Island. This was our last chance to visit a market.
You can imagine my excitement when I found out that Granada's central market was huge. And awesome. And easy to get to from our centrally located hostel.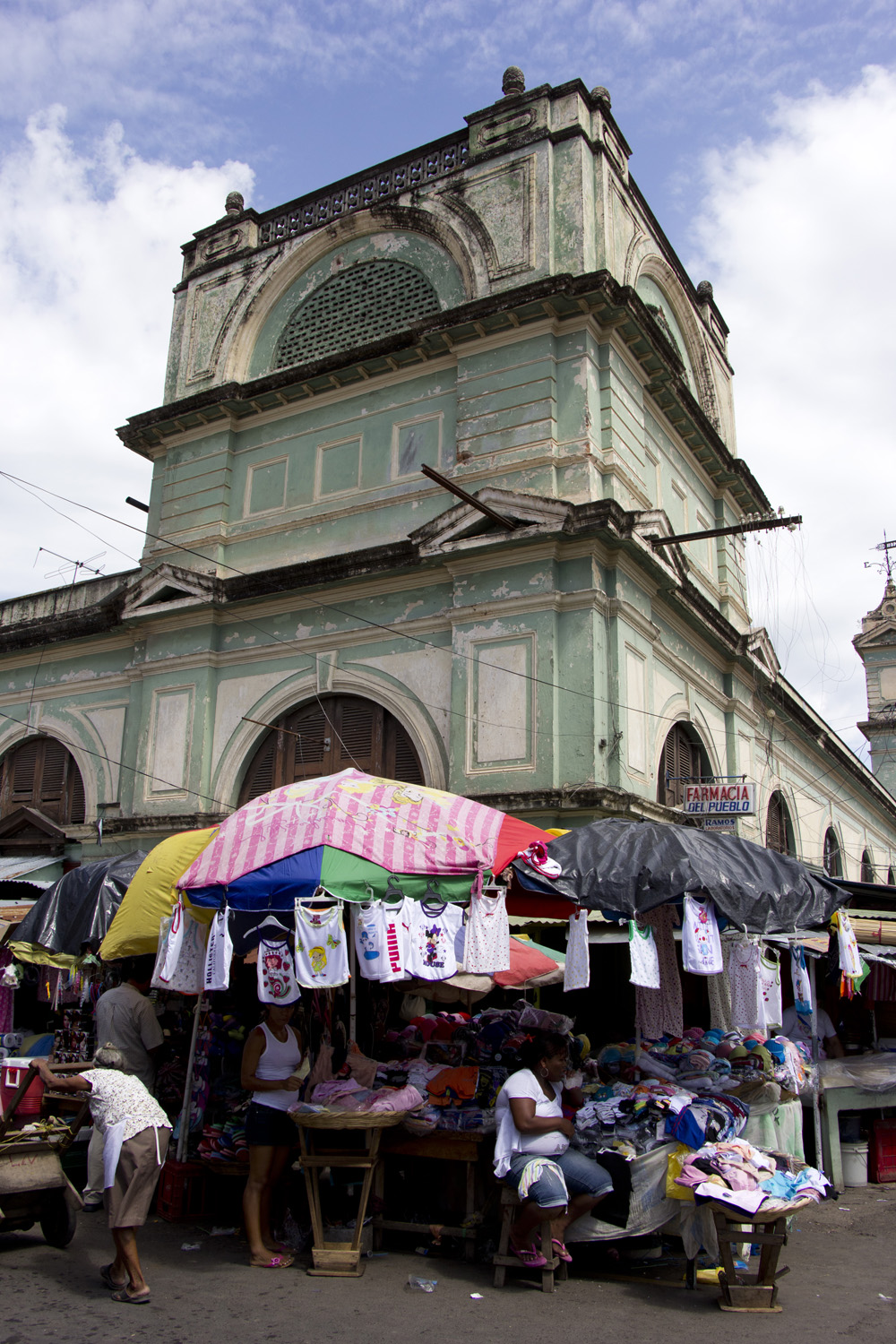 The outside facade of Granada's market building may be faded, stained, and yearning for love, but the tattered paint shows it's importance to the city. This place has been feeding this city's people for generations. Farmers from around the region bring their goods to market here in this historic building. And while it is not a good place for tourist goods and artisan wares, its an amazing place for local needs and, well, good food.
Since the market started, it has slow outgrown the confines of it's worn green building. Stalls offering trinkets, clothing, and household staples have sprouted up outside and now extend into the streets surrounding the market. Overall, it can look overwhelming, but the experience is worth it.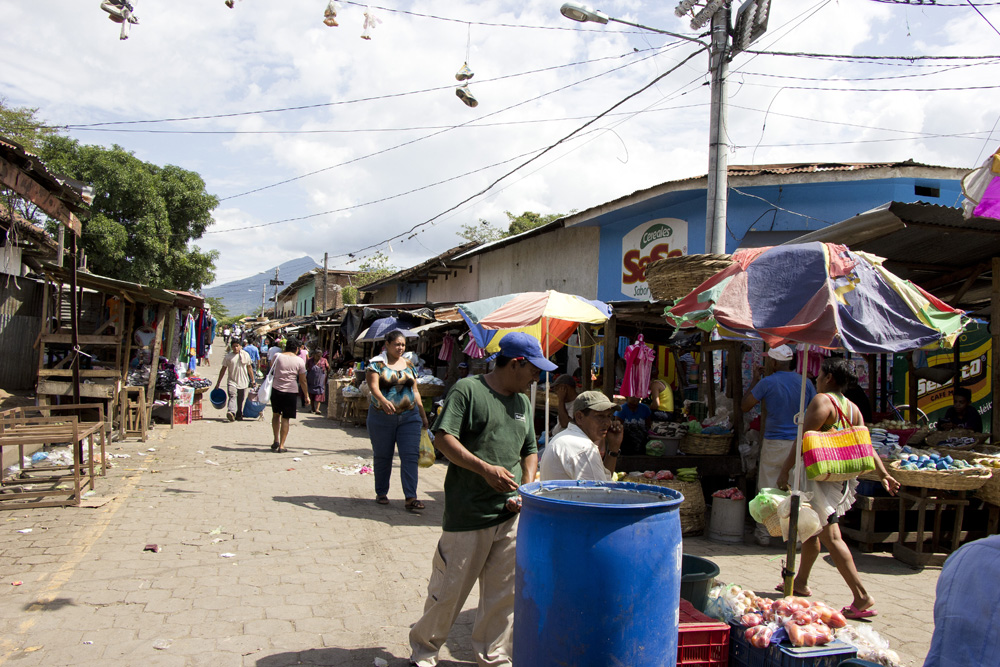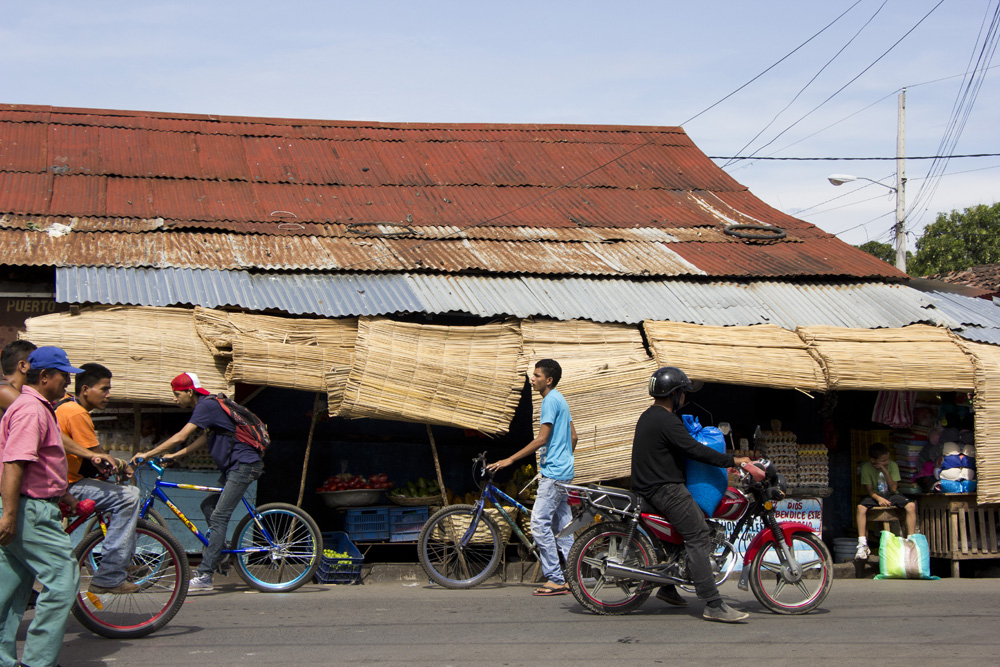 Once we ventured inside, I realized that this market is exactly the kind of market I love. A Central American version of the Spice Bazaar in Istanbul or the Jean Talon Marche in Montreal, or the Beringharjo Market in Yogyakarta. Beautiful displays, chaotic alleyways, piles of goods overflowing their containers, random things for sale like clothes and old phone chargers, hot food being made to order… and mountains of fresh food in some of the most tantalizing colors. I was in heaven. (Matt, however, almost passed out as the 110F heat and near 100% humidity swirled stagnantly around him in the crowded alleyways. So maybe remember to bring some water with you if you go.)
But for me, all I could think about was the sweet scent of fresh cut mangoes hanging in the air as we walked through aisles of fruits and vegetables, meats and sauces, chili sauces and soups.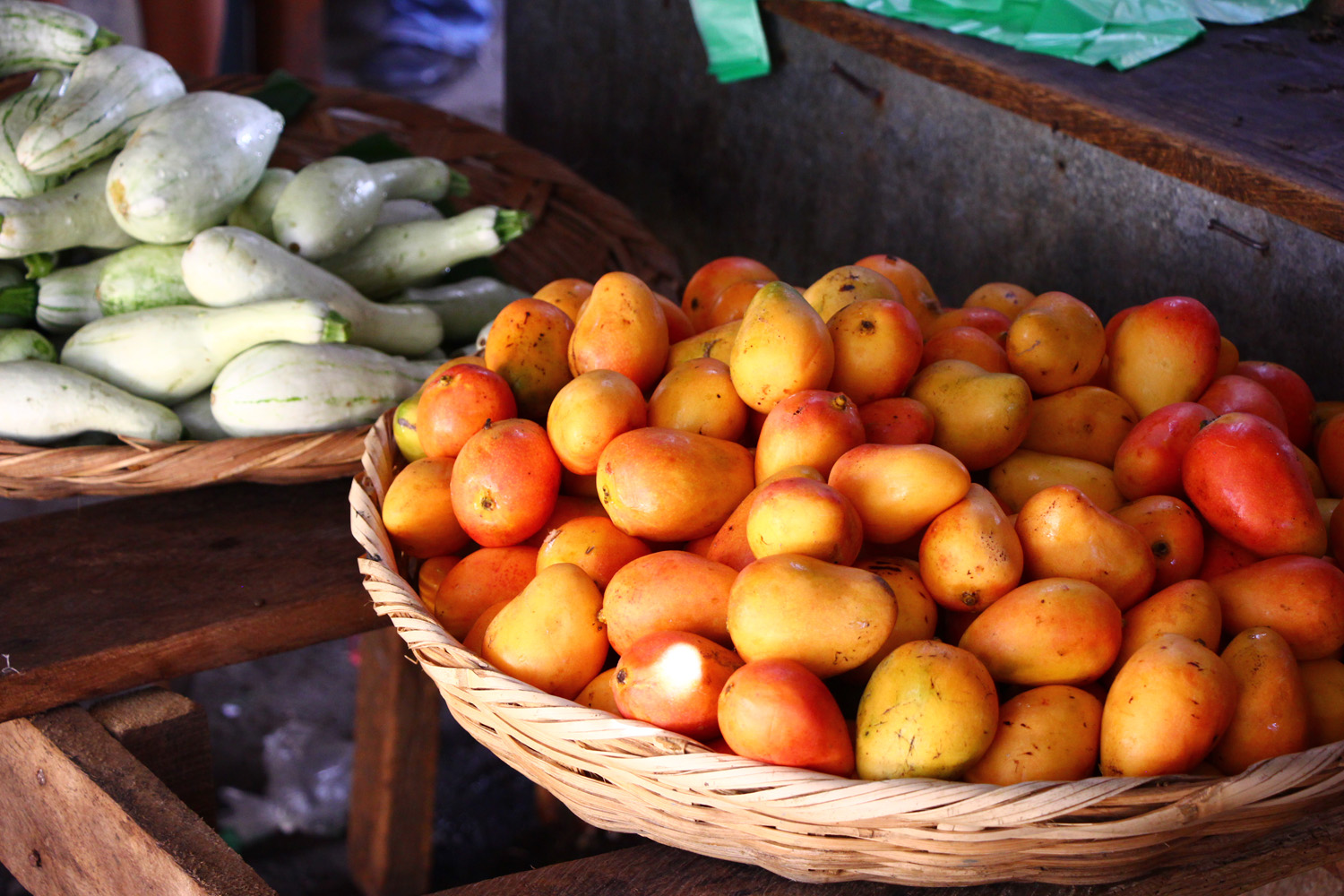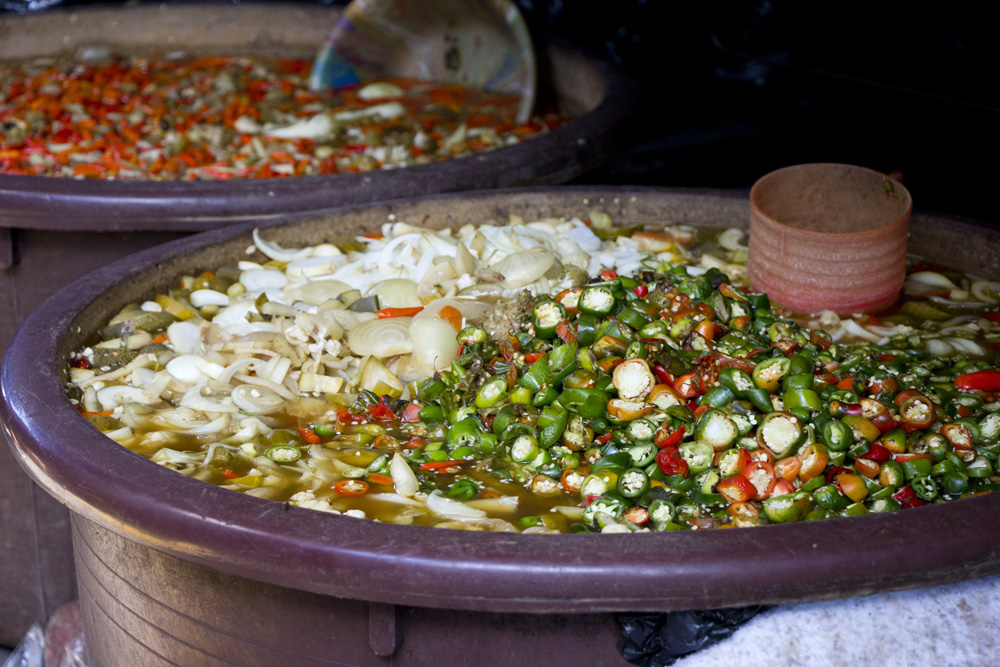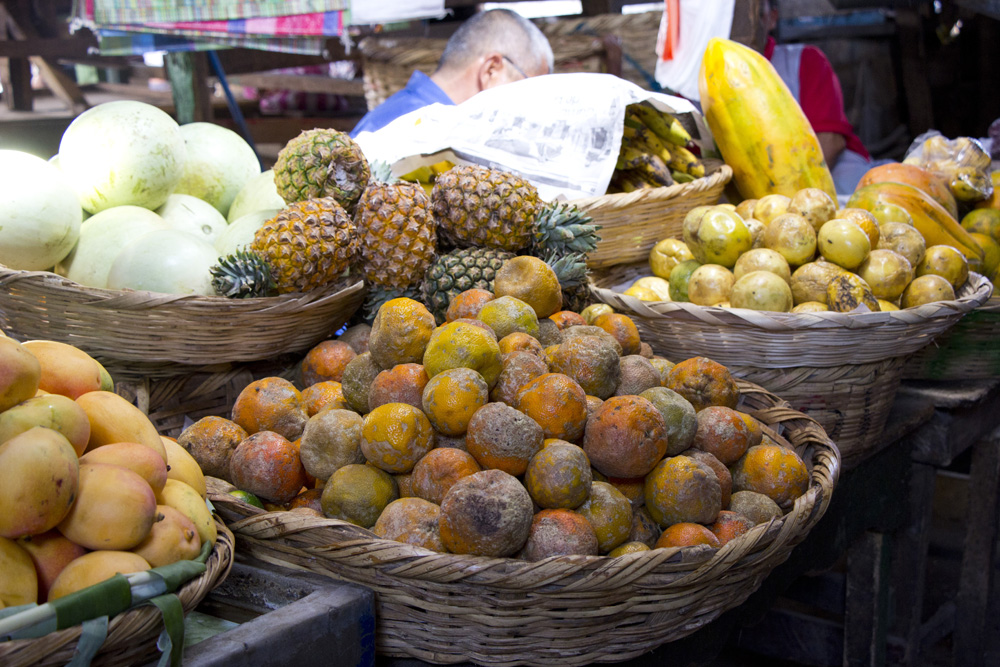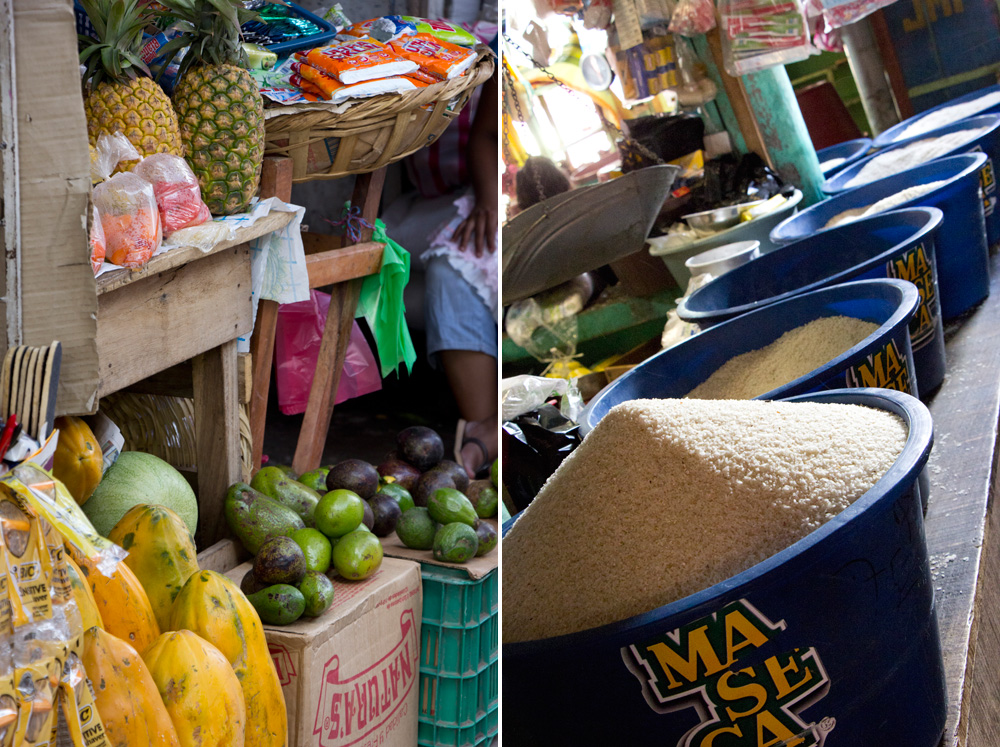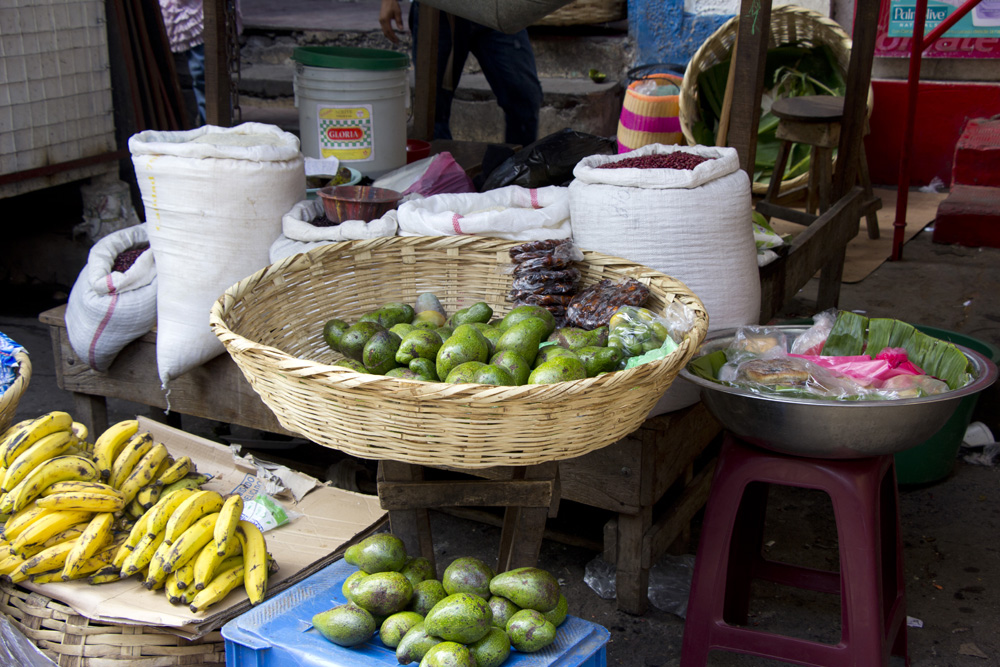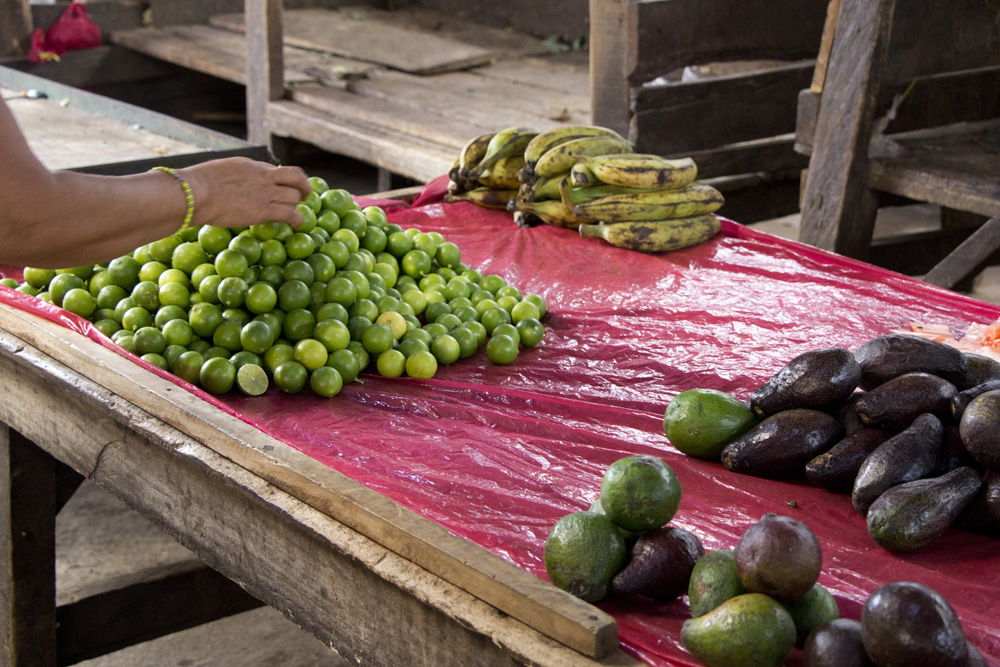 And buckets and sacks of rice and beans. Two of the best things about this area of the world.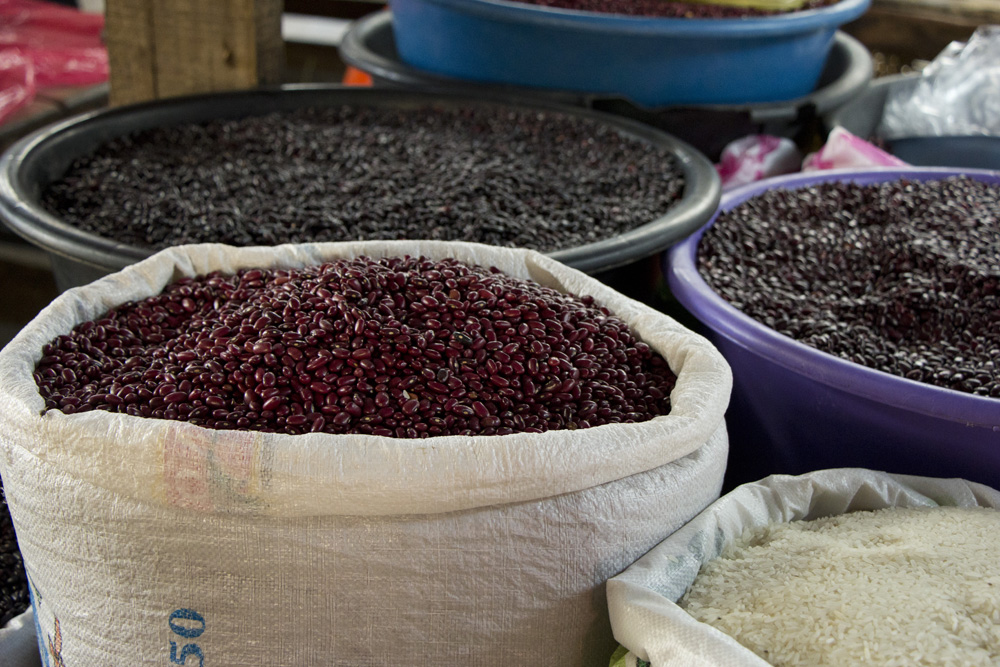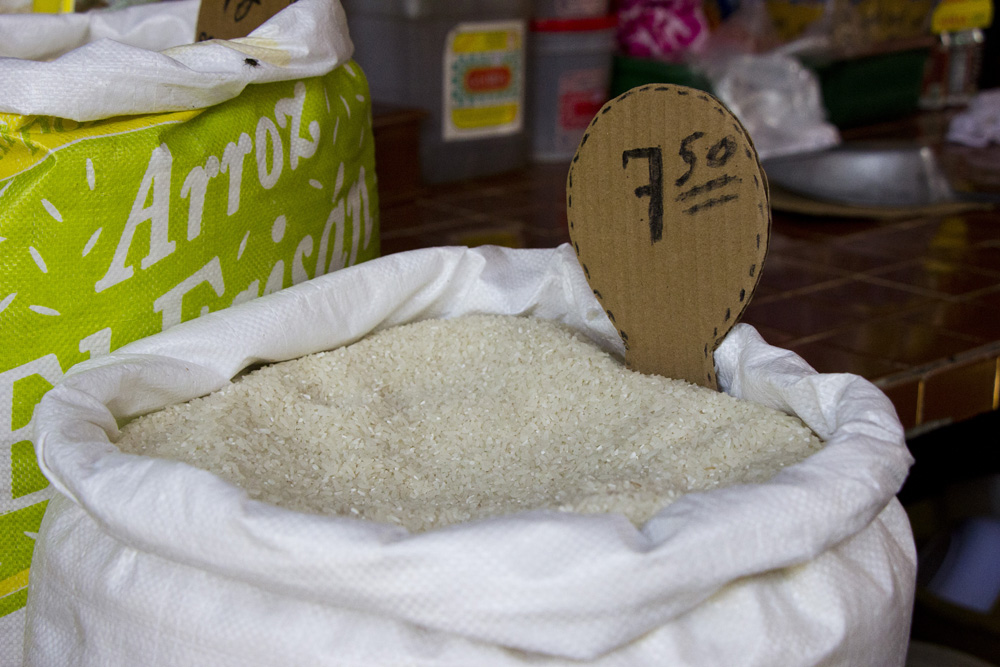 I've waxed poetic many times on TravelShus about coffee, coffee tours, coffee tastings, and coffee as a cultural bridge, so it's only fitting that I mention that coffee was widely available at this market. Also, another Central American staple made an appearance – Cacao.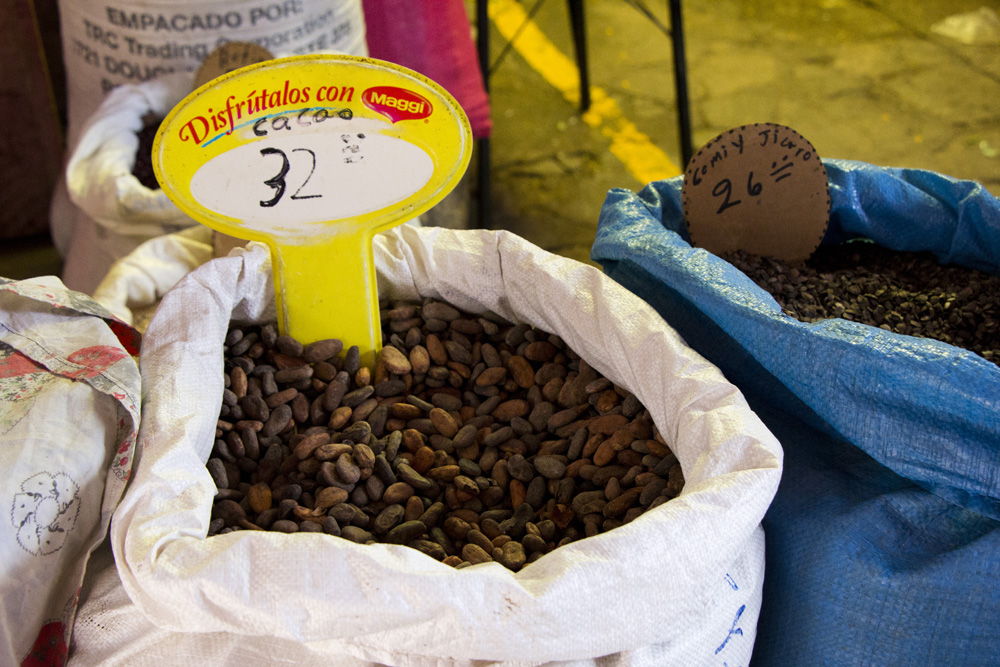 One of the things I love about countries like Nicaragua are plastic bags full of delicious liquid. It's not hard to find a plastic sandwich size bag of a refreshing beverage at a street cart in the courtyard in town or of soup at a small market. At this gigantic market though, plastic bags full of soups, sauces, and pastes were everywhere, either stacked in bins or displayed like Christmas ornaments in long chains overhead.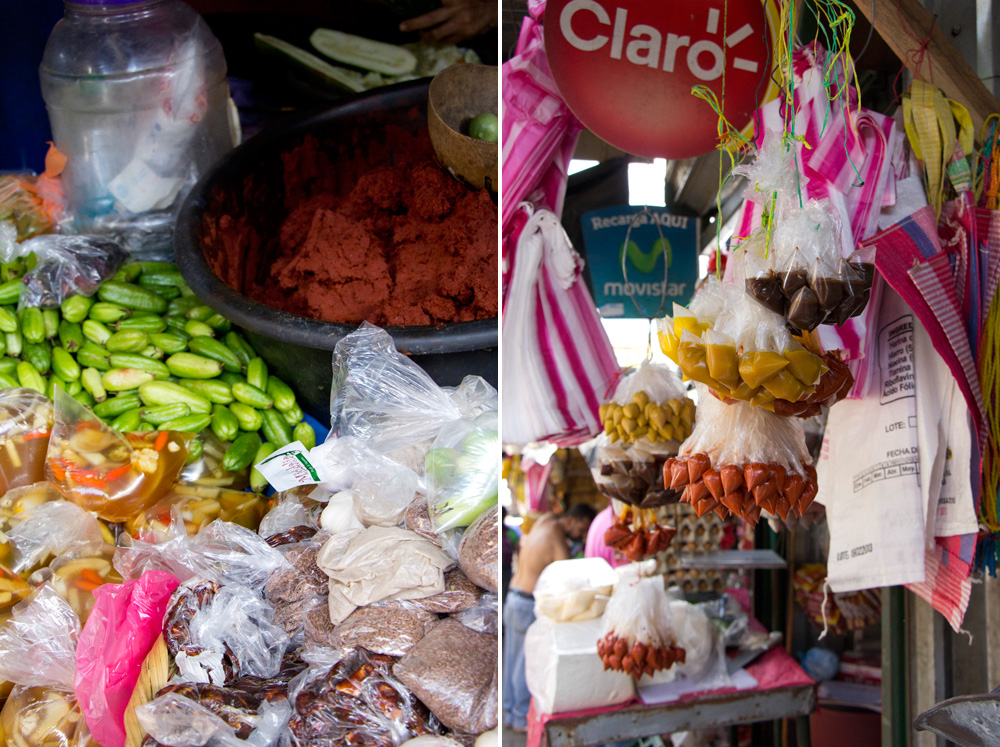 Aside from the wonderful array of colorful foods and oddities at the market, the people at each stall stuck in my mind. Their warmth and kindness to a white (and very sweaty) traveler wielding an obnoxious camera might have been met with anger in other places. Here, it was welcomed. The smiles came from all corners, even in the stifling heat of the market alleys.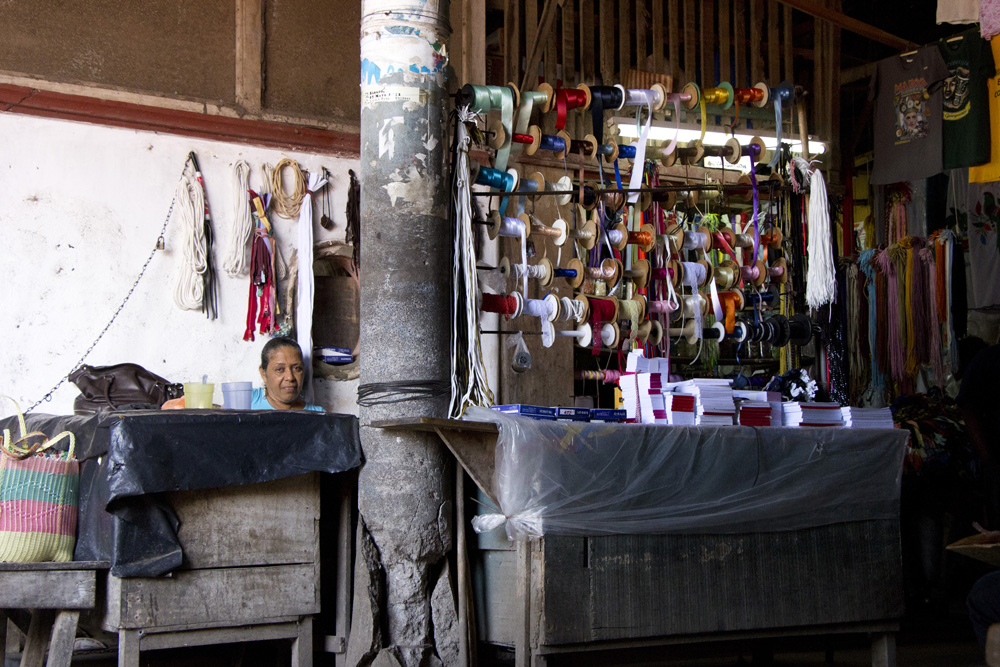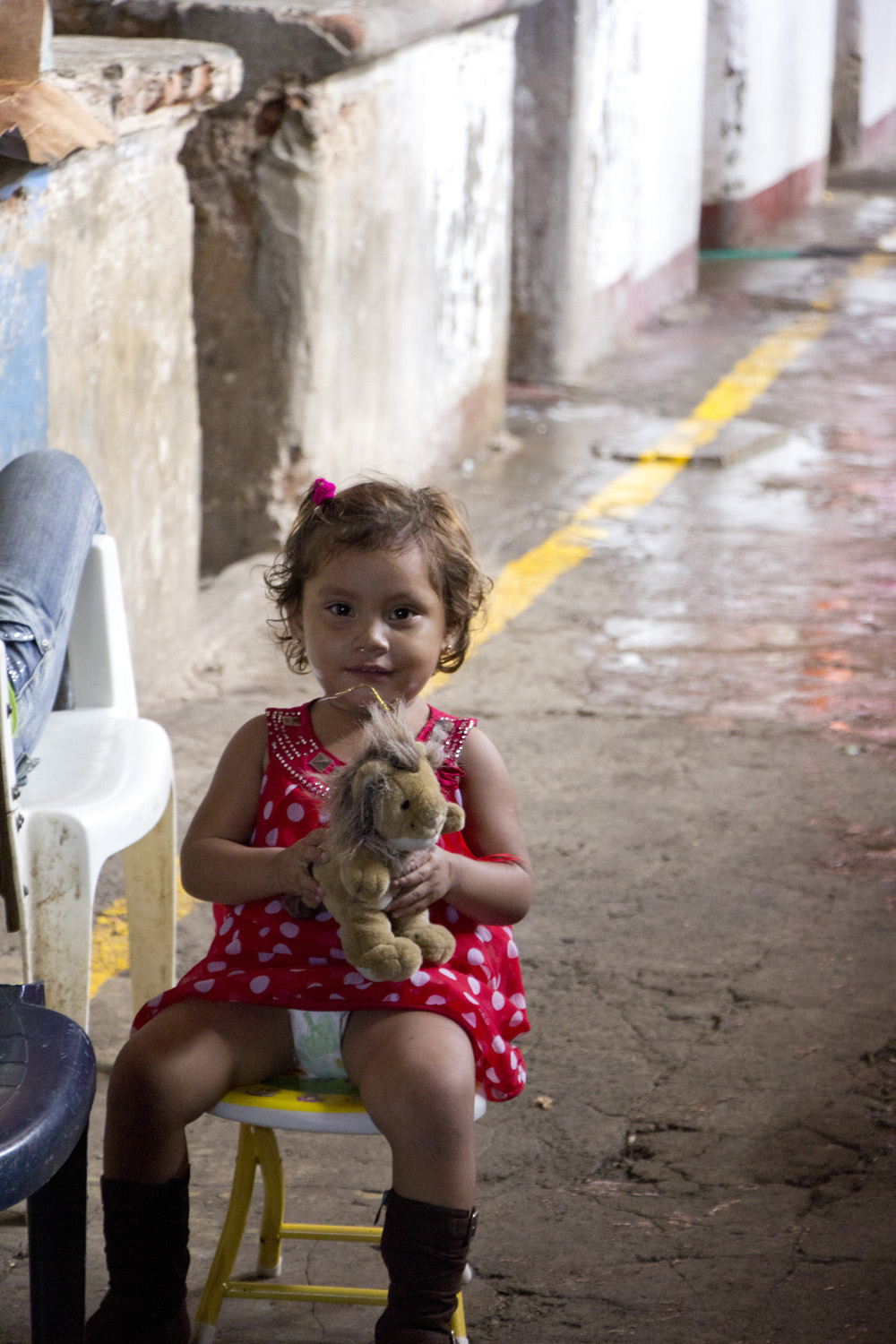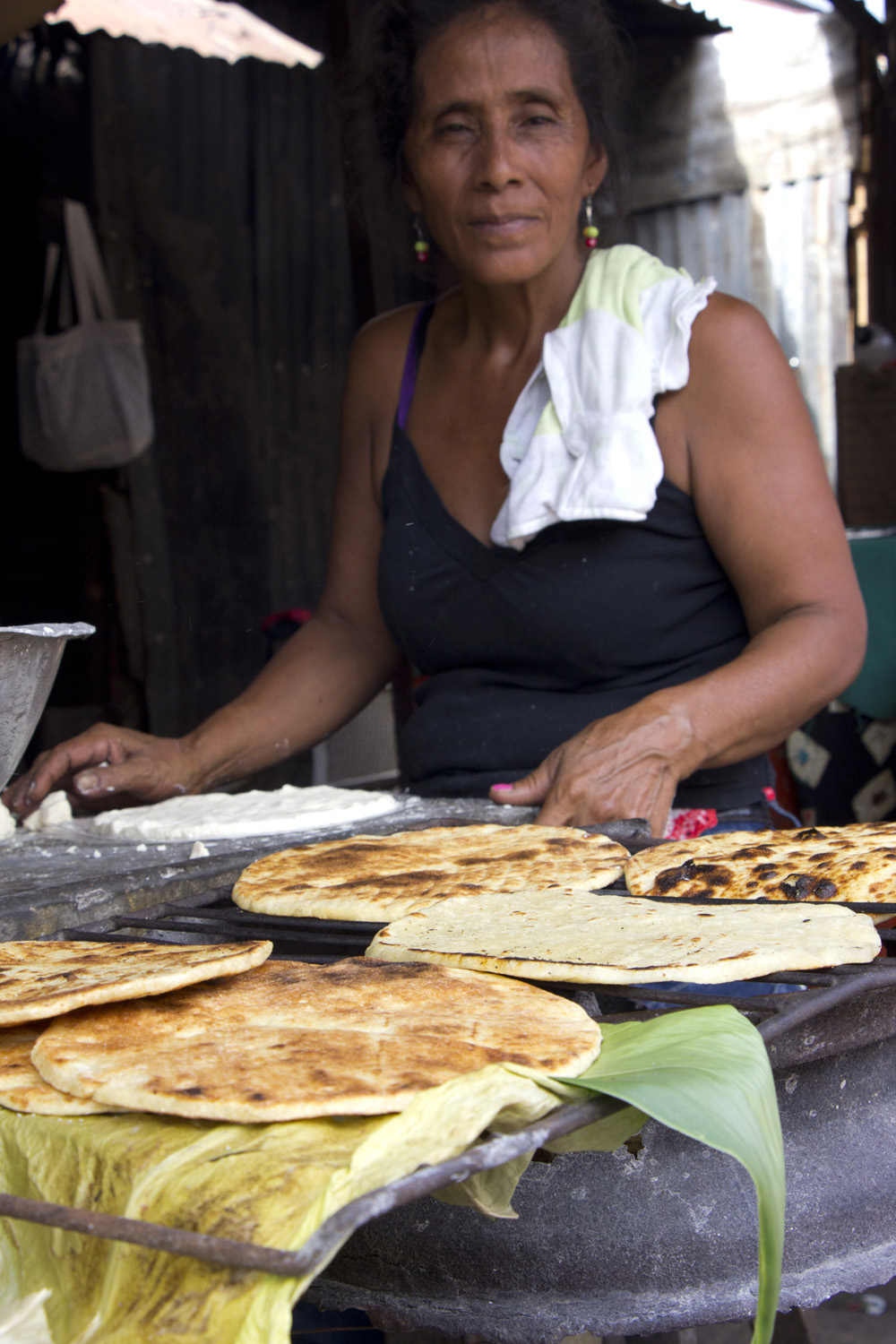 All in all, the Granada Central Market was an awesome market experience – one my favorites. And while the heat inside was definitely oppressive and hard to take, the maze of food and trinkets was an important step in understanding the culture and day to day life of Granada.
Our time here was short and sweet – only a mere 24 hours. But the market was a perfect hearty introduction to one of Nicaragua's most beautiful cities.