When we booked our cottage in the mountains of Gran Canaria, I knew nothing about the nearby town Santa Brigida. It was big enough that I figured we'd find restaurants and grocery stores – both of which we'd need for our three day stay. But it was small enough to feel like a random Gran Canarian mountain town should feel. That is, it's a town of people who live there and not of tourists. I'm not sure we saw another traveler during our entire stay here.
After checking into our cottage, we headed straight for the town center, where we wandered the streets to get a feel for our new mountain home. The colorful buildings and sweeping valley views enchanted us despite the clouds and fog that cloaked the island that day.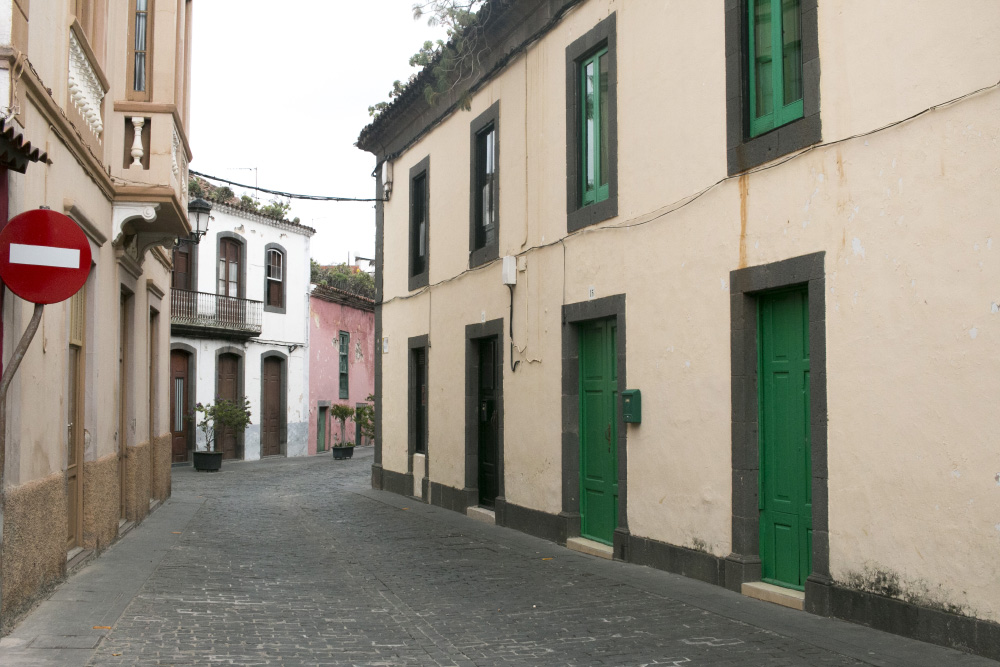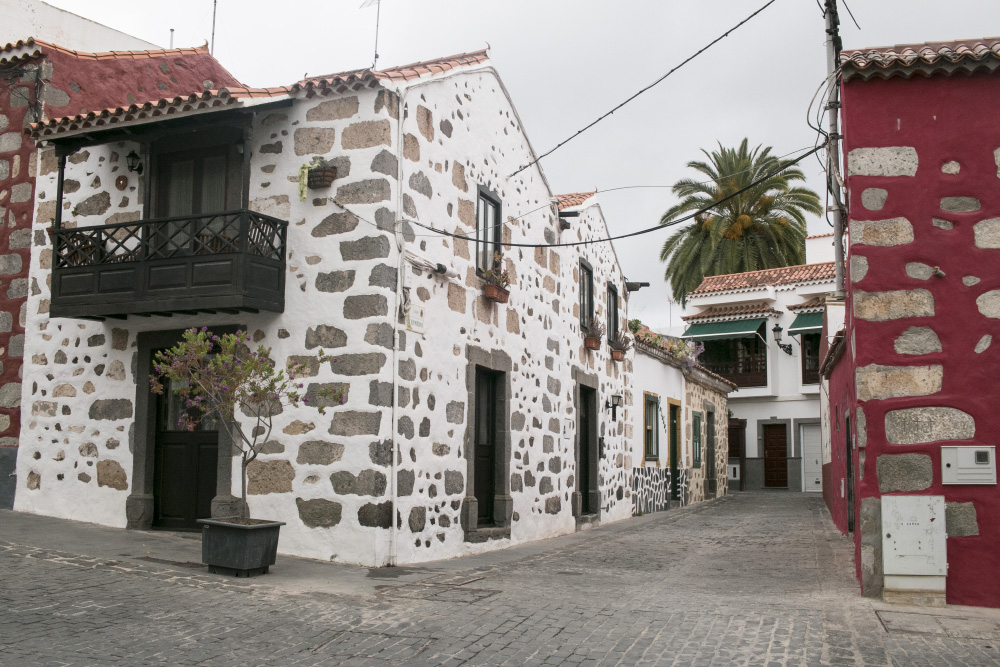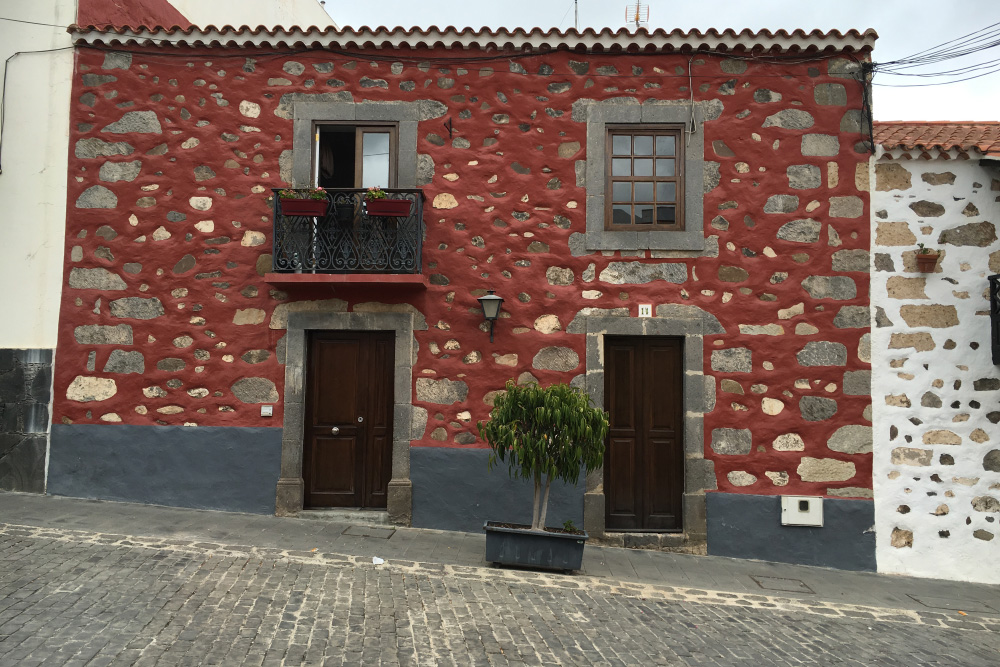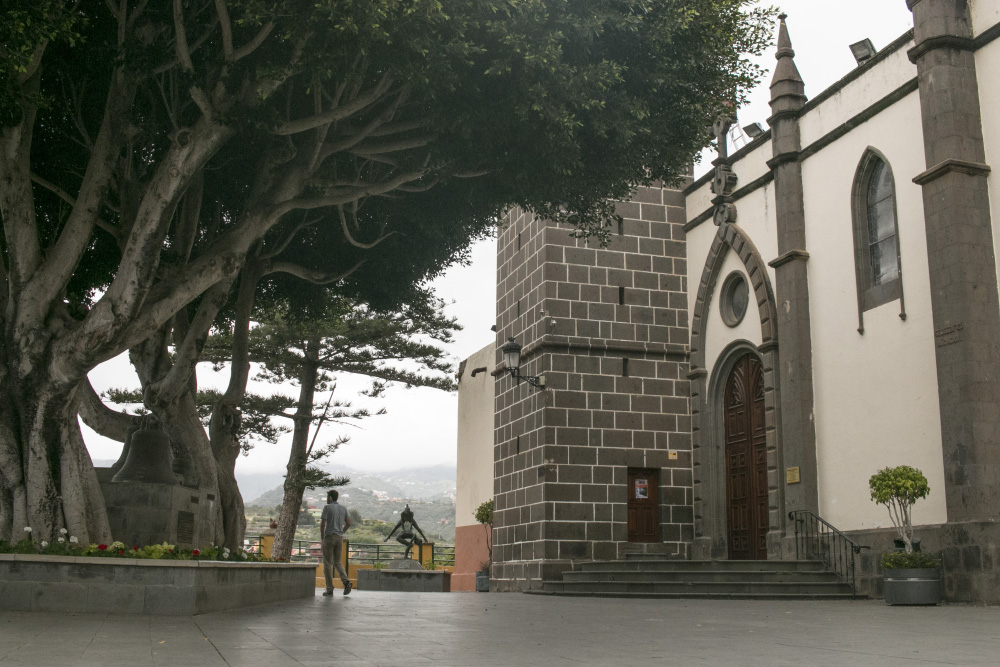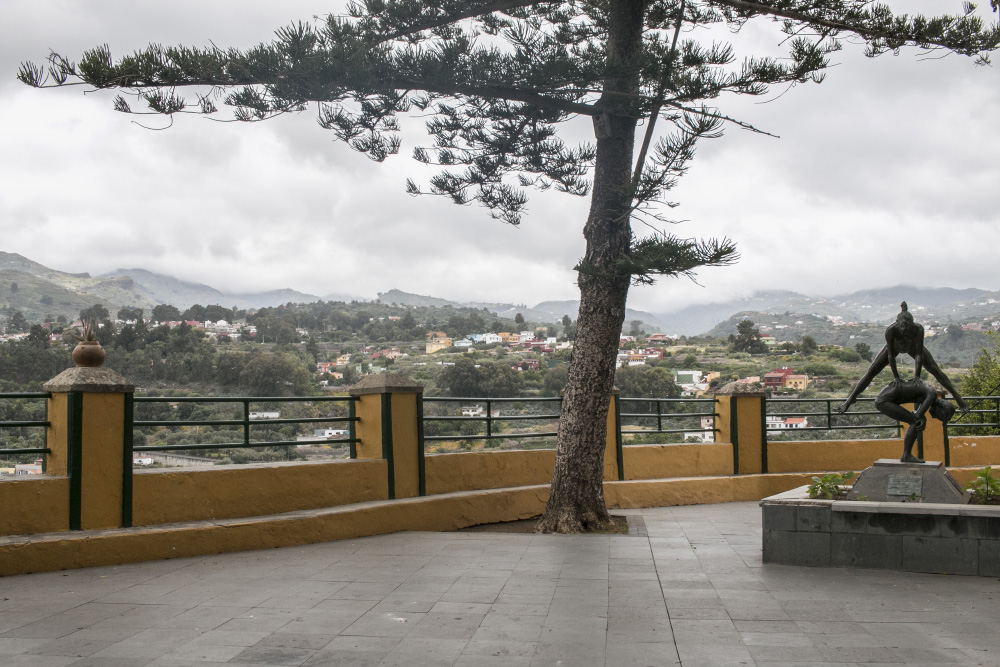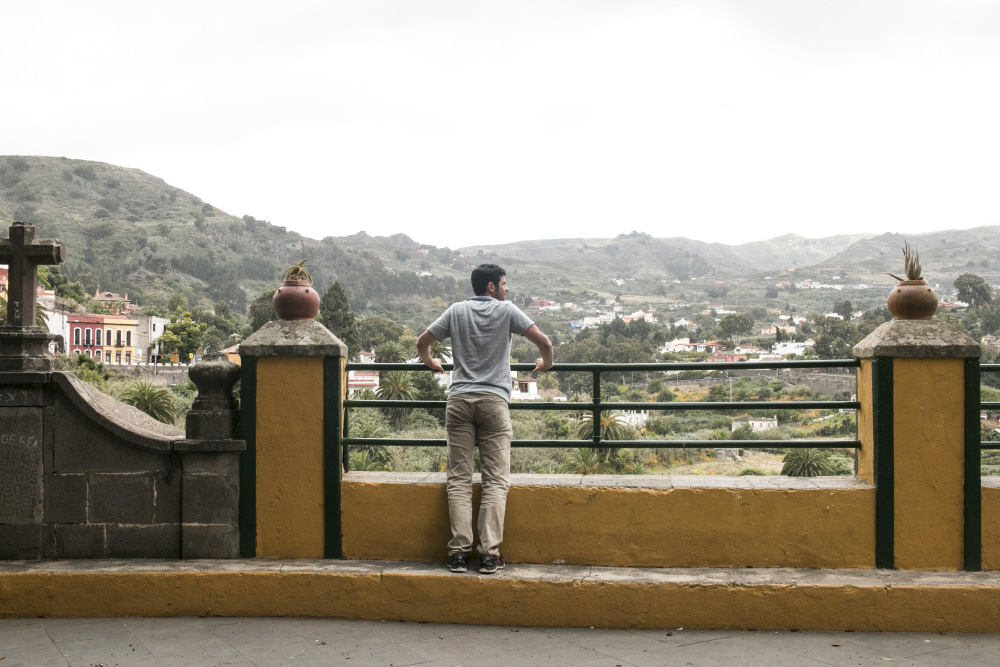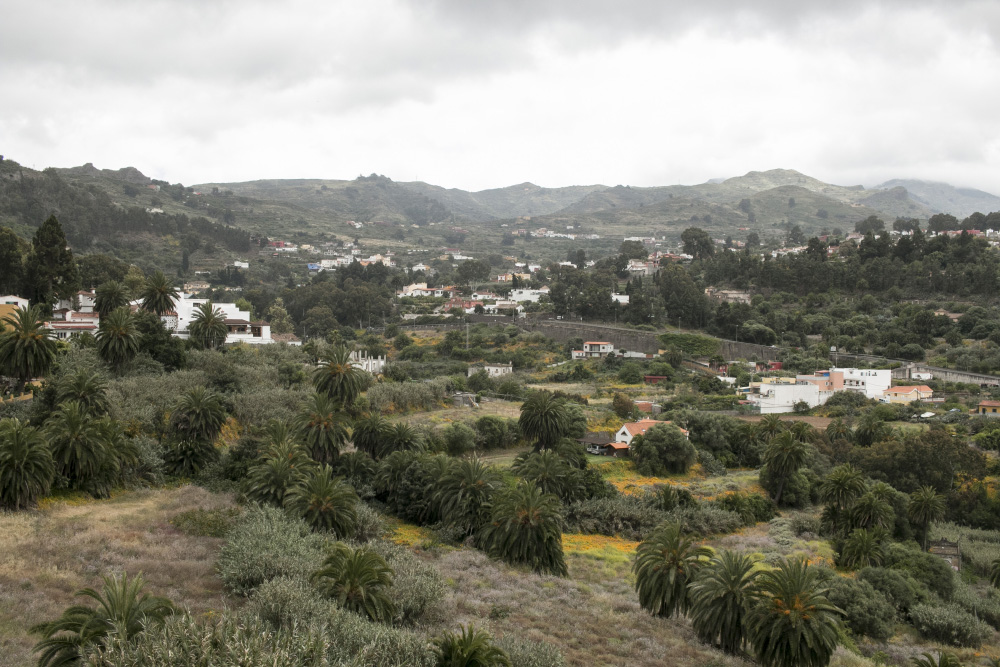 Because we arrived during the quiet hours of afternoon siesta, most of the stores and restaurants were closed. We had just flown in from Fuerteventura and the baby was hungry (ok we were all hungry but it's so easy to blame it on the baby), so we diligently tracked down the one restaurant still serving food – and it was serving not just any food, but two of my favorite dishes in the Canary Islands.
Pimientos de padron (dish #1) is hands down my favorite Spanish dish in general, so I have to order them anywhere in the world they are on the menu. Papas Arrugadas (dish #2), on the other hand, are a Canary Island specialty and I had never tried them before this trip.
Papas Arrugadas are creamy potatoes boiled in saltwater so the skin wrinkles and is coated with a super fine layer of salt (the translation of the dish's name is actually Wrinkled Potatoes). The potatoes are then served warm with a sauce called mojo, which can either be red or green.  Thick with garlic and cumin and herbs, the mojos are what make this dish so good and so unique. Think of mojo as a version of chimichurri, but just a little bit different. Every time we saw papas arrugadas on the menu, we'd order them. They are definitely a new favorite for all three of us.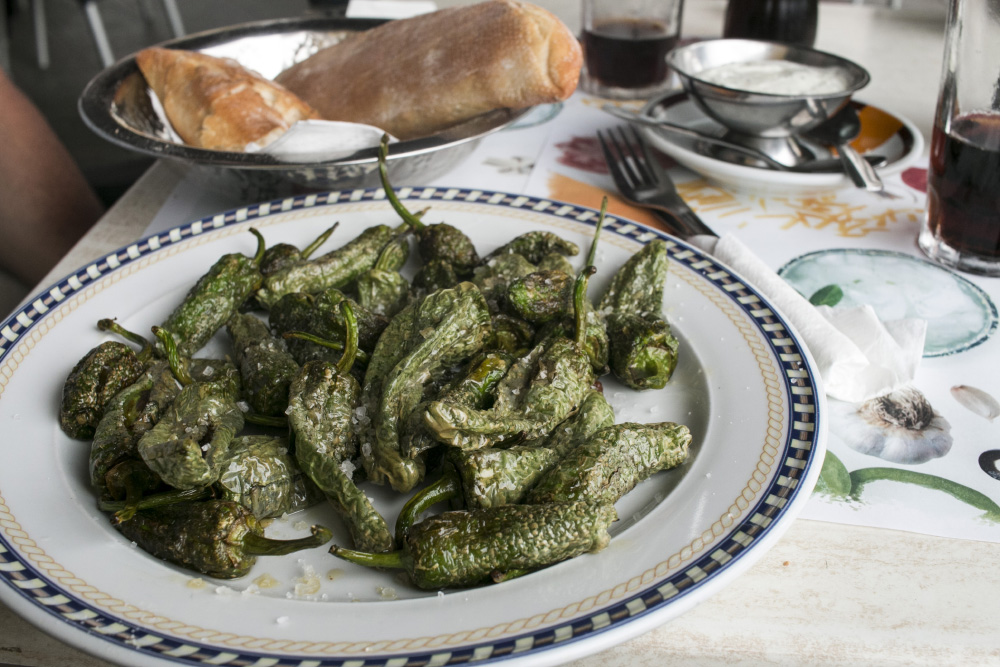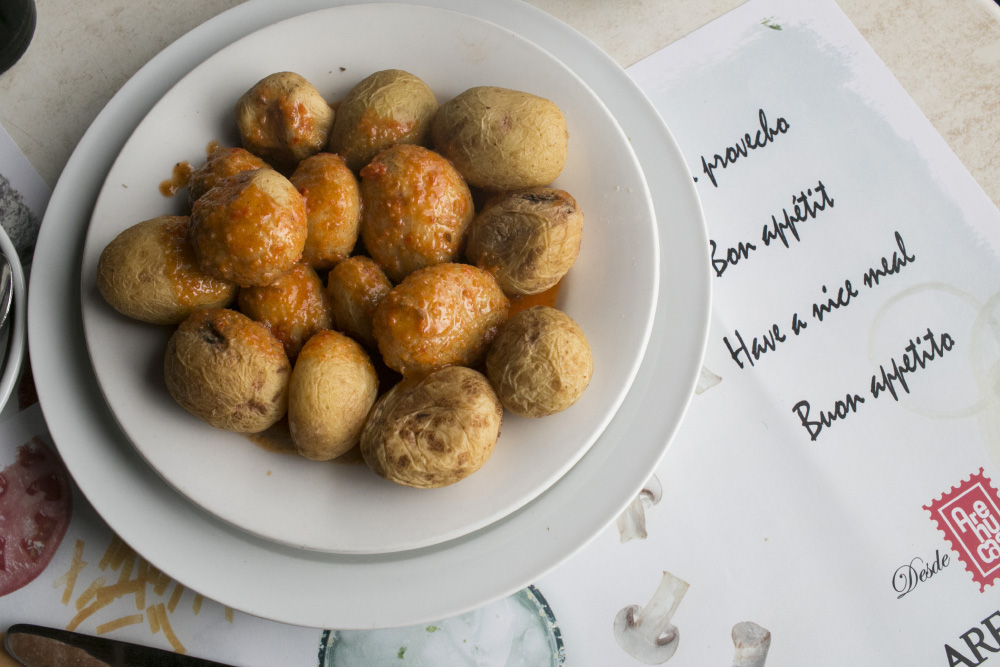 We loved our stay outside Santa Brigida and would go back in a heartbeat if we found ourselves in the Canary Islands again. If only for another bite of papas arrugadas…
---
OFF-SEASON TRAVEL TIP: Mornings, nights, and cloudy days can get chilly in the mountains despite extremely sunny and hot days down on the southern beaches. Don't forget to pack some layers so you don't freeze your face off on a rain day in Santa Brigida.
---