Our rescue pup Cambodia is not a fan of swimming. Merely the suggestion of submerging her in water sends her running in the opposite direction, ears back, desperately seeking a hiding spot. Every time I need to bathe her, I see the unhappiness and resignation in her eyes. And this summer, I saw the same uneasiness when we strapped on her life jacket and brought her into the Delaware River for a swim lesson. I know it doesn't sound like a terrible situcation, but I really want her to come around – if for no other reason than to keep her cool throughout the humid New York summers.
When we rescued her, we knew we might discover issues like this. When you rescue a dog, you need to accept that you will never know everything about their past. There may be fears, there may be bad habits, there may be a lack of training. But part of loving them is being committed to helping them work on these issues so they can become happier and more balanced versions of themselves. Bodie lived eight months of her life before we met her, and we will never know if something happened to her during that time that caused her to be afraid of water. She could have had a traumatic swimming experience or perhaps there was an incident with a hose. Or maybe she never was exposed to large bodies of water and the idea is now scary. But aside from the water in her water bowl, this dog is NOT into it.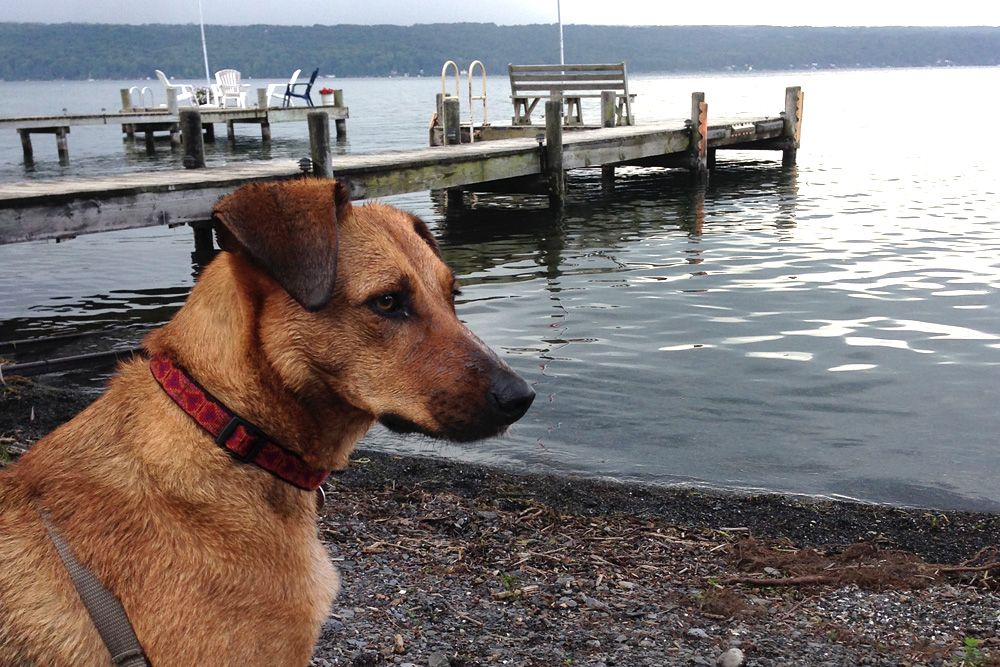 In an effort to help her become a more confident dog, we made teaching her to swim a priority this summer. Our first attempt in the Delaware River in the Pocono Mountains was not as successful as hoped but was a good start. Her next challenge would be to swim the waters of Lake Cayuga on a family trip up to Ithaca.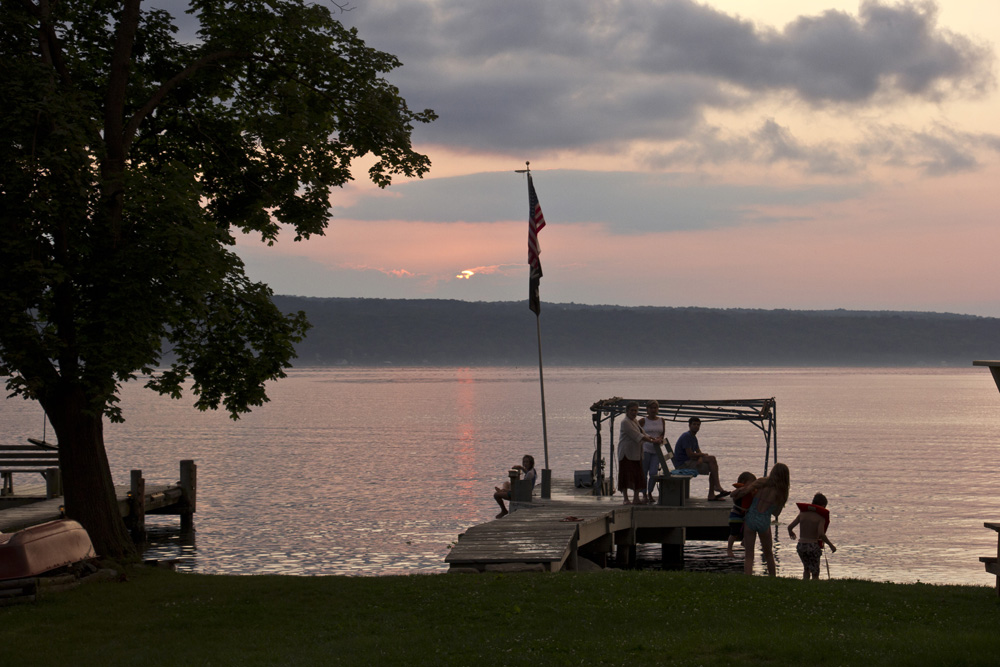 I love visiting Ithaca at all times of the year, but the summertime is probably the most fun. Everything is green, the cold lake water feels refreshing, and the farmer's market is exploding with delicious things to eat. My most favorite part are the late evening sunsets – something that's best seen from the eastern and southern sides of the lake.
Bodie loved staying at the HomeAway rental house that we chose. It was located in Lansing, a town on the eastern shore of the lake with prime sunset views. Though she had to be tethered when she was outside as her recall skills are good enough just yet to be off leash in an unfenced area, she spent her time happily squirrel hunting, laying the sun, and sniffing all of the plants and flowers for evidence of the presence of cats.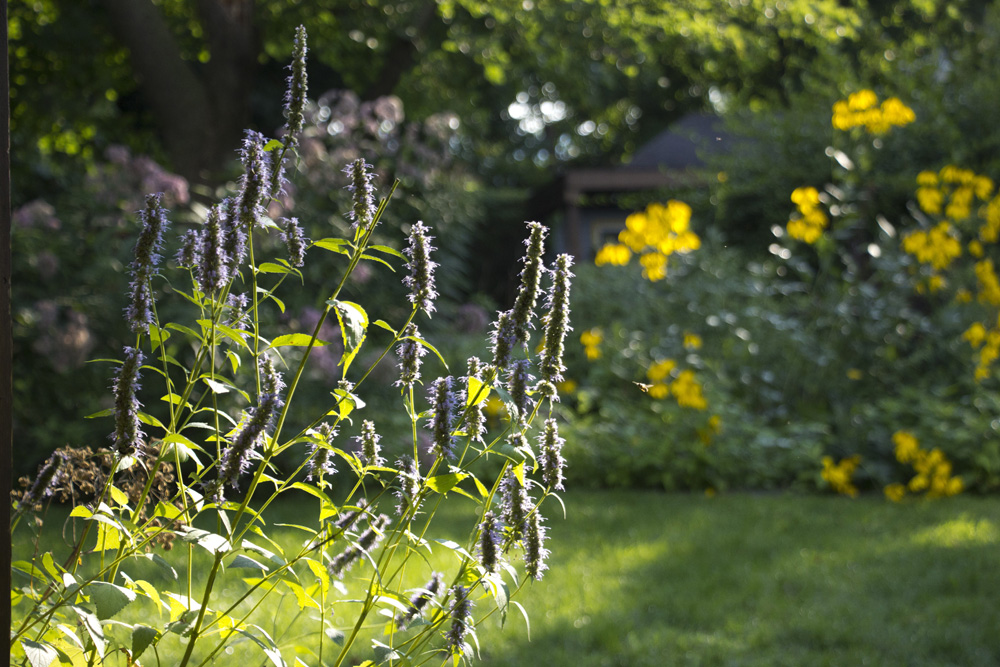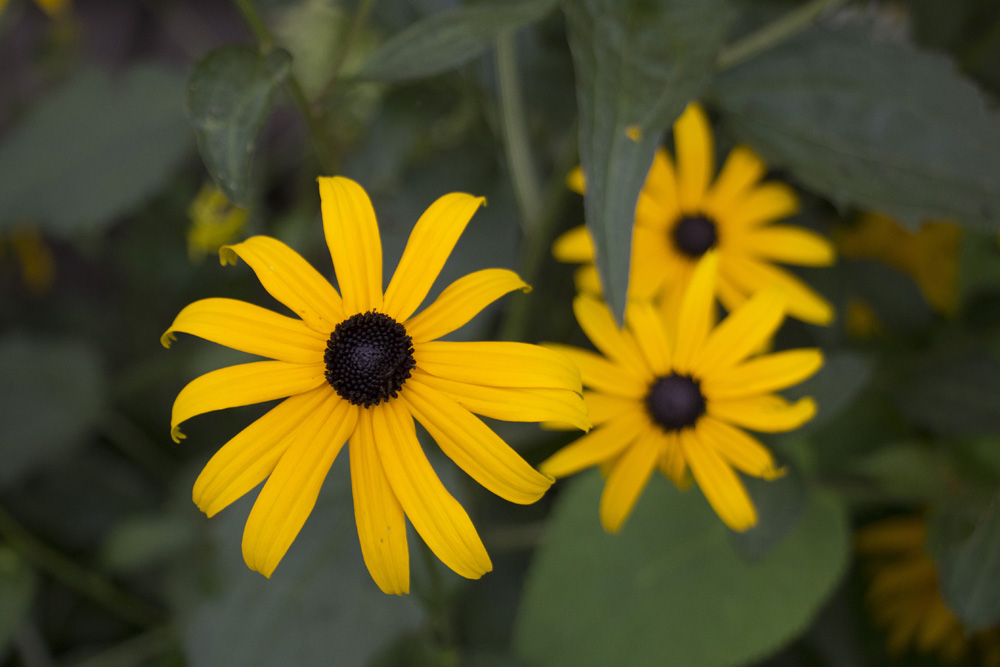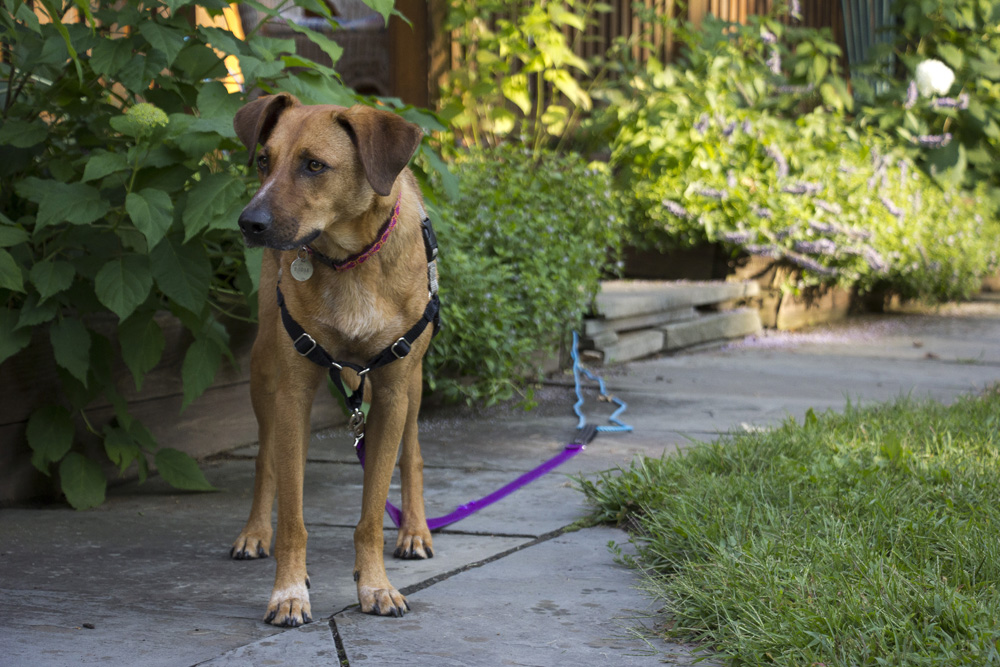 The house was just a short little hop to the water's edge, where a pebbled beach met up with a thick green lawn. The humble wooden dock was clearly made for cannonball diving in addition to just boats. It was a picture perfect place for a summer family vacation. And for swim lessons.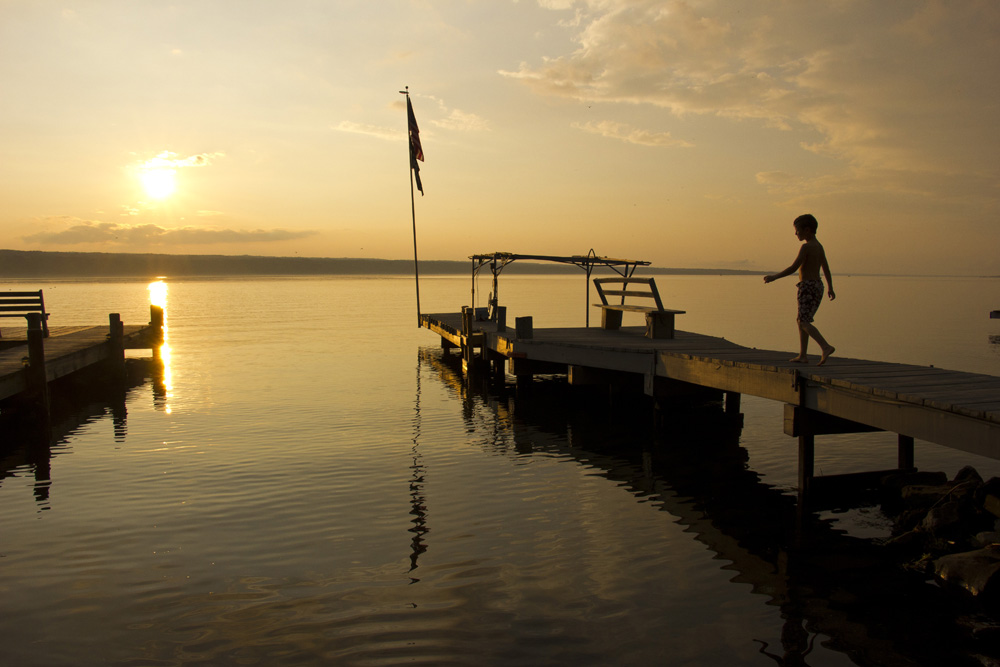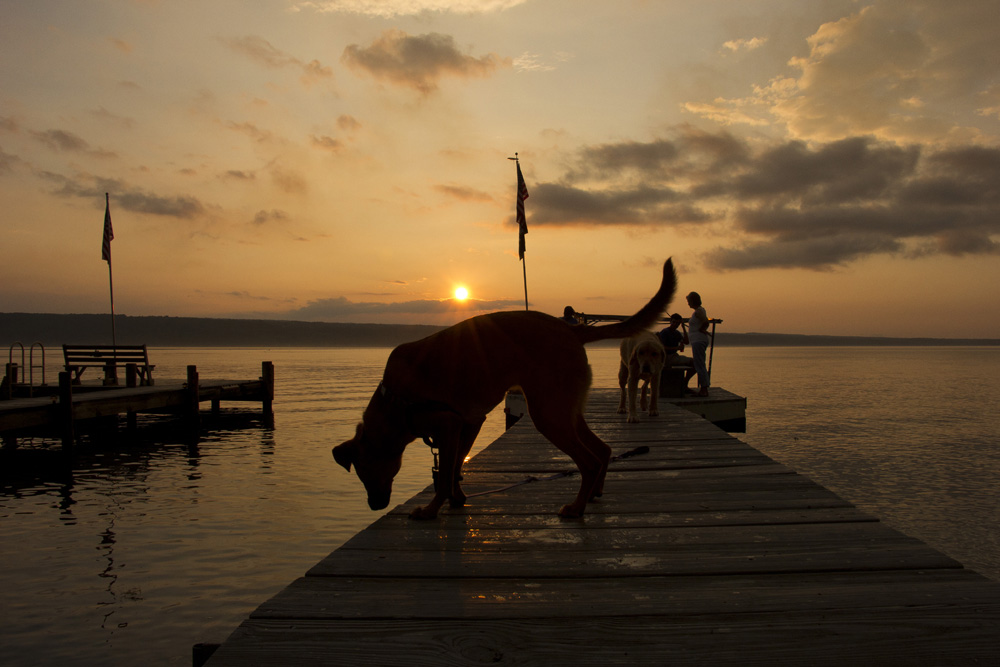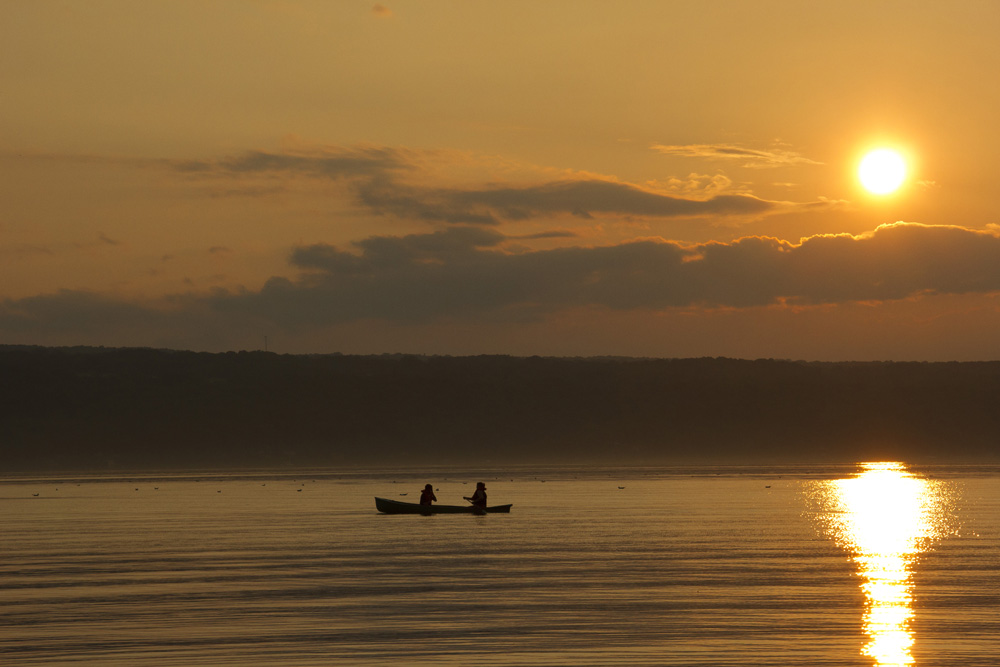 How to Teach a Dog to Swim
Though I am not a dog trainer and I've got a lot to learn still about my own pup, I learned ALOT this summer about teaching a timid dog to swim. Here are some of my best tips. They've helped us make great strides.
Always make swimming a positive thing, not torture. Use a soothing voice, treats, and let them discover the water for themselves at a slow pace.
Instead of throwing them in, lead them in gradually on their own accord. Use treats to have them go a little further each time.
Praise them with words and attention when they've done something well. Boosting their confidence will help them feel more secure in the water.
Know when enough is enough. Learning is hard work, and a tired or distracted dog does not want to work.
As the weather is getting colder now, swim lessons are likely done for the year. (Unless we find a dog-friendly indoor pool.) But I know that once we start again next summer, she will be a little more confident and little less fearful.
FOR YOUR VIEWING PLEASURE:
Bodie models her Outward Hound life jacket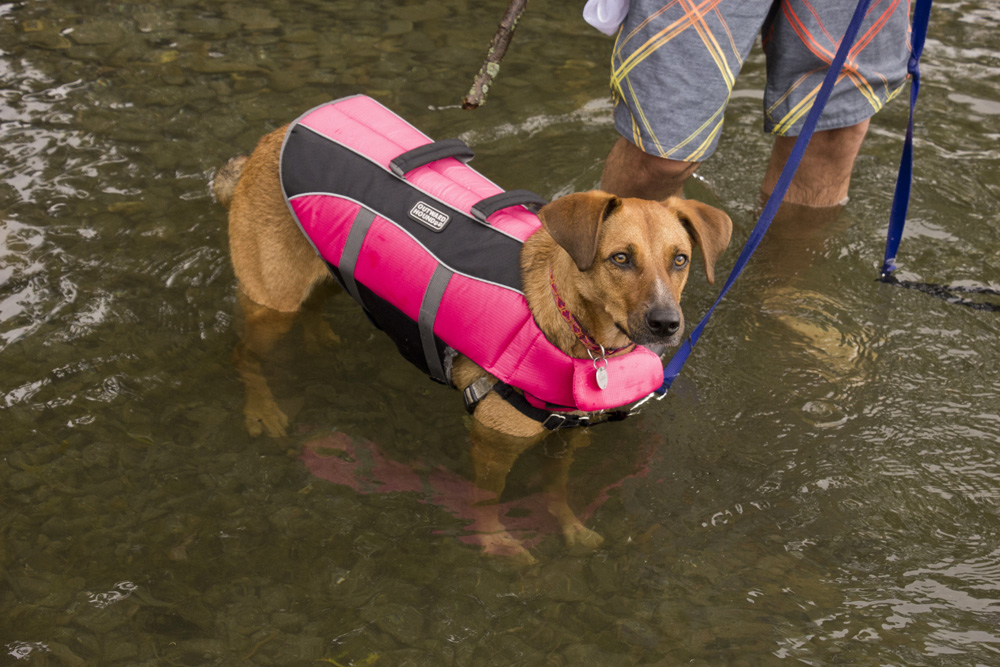 Bodie's gives her best "I'm not sure I like this" face as we help her get her sea legs.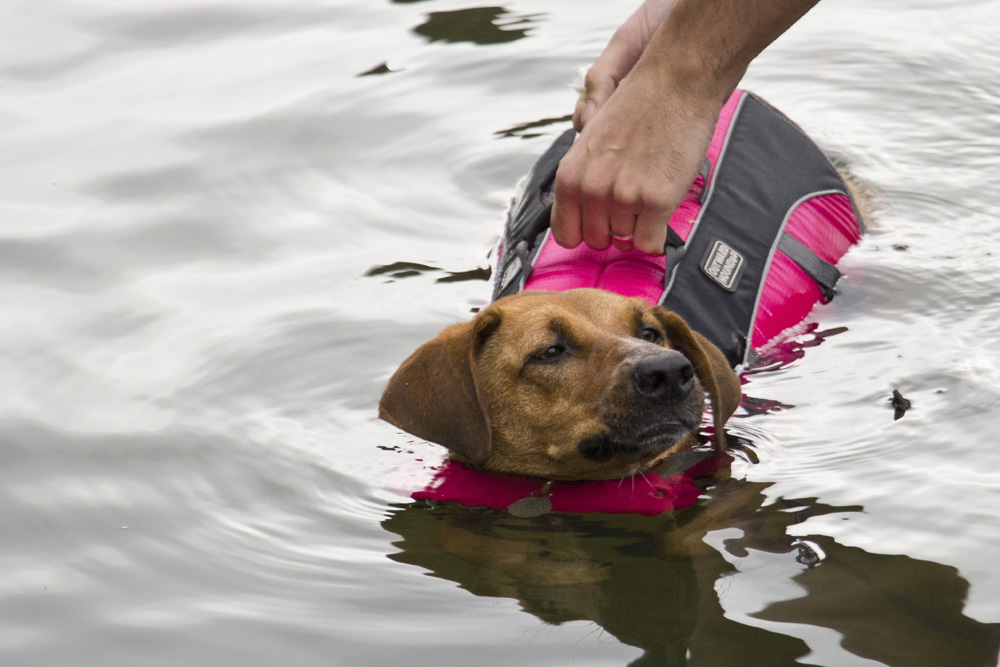 Do you have any more tips on how to help fearful dogs learn how to swim?
---
 If you are considering adopting a pup in the northeast, click here for more info about Badass Brooklyn Animal Rescue! Or join their Facebook page to meet some dogs currently available for adoption.
---