In every direction I looked, I saw blue. Blue-tinted cliffs disappeared along the hazy horizon. The steel-blue sky was cloudless and the sea was a deep shade of navy, though it glittered with a metallic shine.
I was standing at an overlook along the Amalfi Coast Highway in Southern Italy. Halfway through a road trip along a rather terrifying and wiggly coastal road, I stopped to take in the view. I had never seen anything like it.

Visiting the Amalfi Coast and seeing this explosion of blue was a highlight of most recent trip to Italy. Yes, I know. I have waxed poetic on this blog about how much I loved Rome. I did. Rome is an amazing city. It's picturesque, it's romantic, and it's the home of Cacio e Pepe – my most favorite pasta dish out of all of the pastas. (Seriously, check it out.) But there is something wonderful about the Italian coast as well.
I grew up only an hour's drive from the Pacific Ocean and I currently live 20 minutes from the Atlantic. Being near an ocean feels natural to me. And while I seriously love the mountains, the coast truly makes me feel free, healthy, and motivated. So it shouldn't be a surprise that in addition to visiting Rome, we decided to road trip the Amalfi Coast highway. Our drive started at Central Station in Naples and meanadered along the dizzying roads through Sorrento, Positano, Amalfi, and Ravello.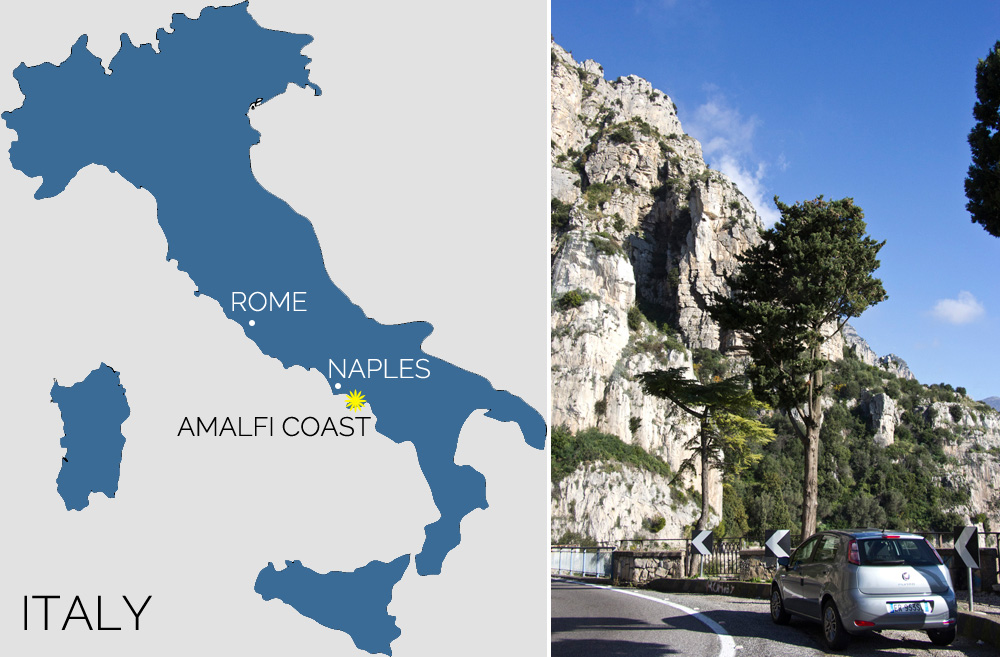 The start of the Amalfi Coast (officially just beyond Sorrento) is about a 30-minute drive south of Naples, which in turn is just over an hour by train from Termini Station in Rome. It's easy to group Rome, Naples, and Amalfi into one visit. Transit is relatively straight forward, and you'll get a good mix of local cultures, history, cuisines, and environments.
With that, I'm kicking off my coverage of the Amalfi Coast with a short list of the things that made this part of Italy such a great destination. Hopefully you agree.
Stunning Sea Views
Basically anytime you have your eyes open when you are here, you will see something amazing. Colorful cascading buildings in Positano. Mountains for miles in three directions (hopefully it's obvious why it's three). Layers of cliffs in the distance. Vineyards and lemon groves on steep inclines. It's definitely not ugly.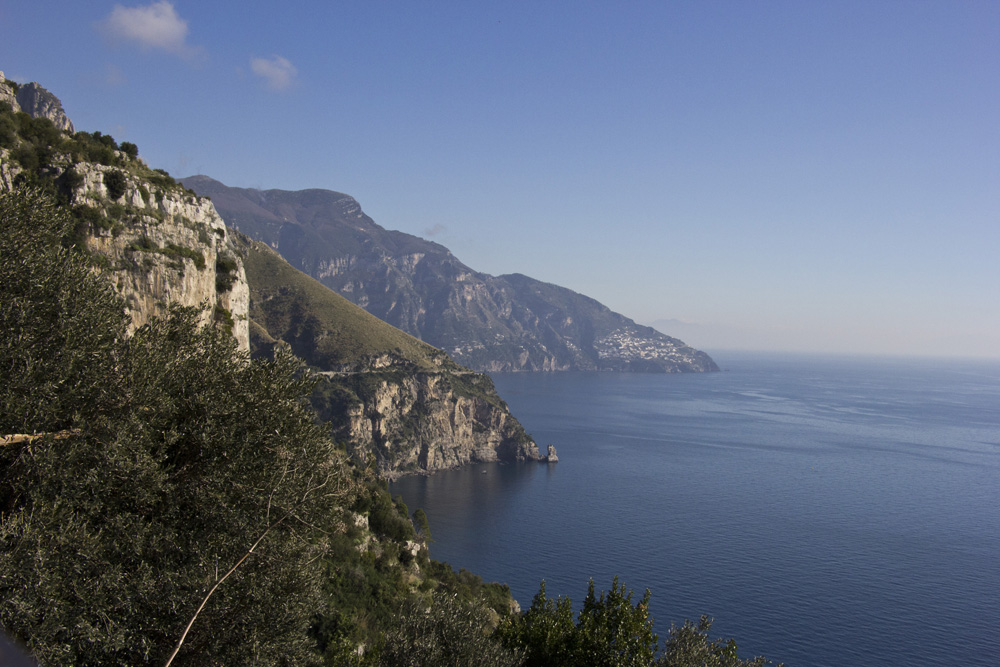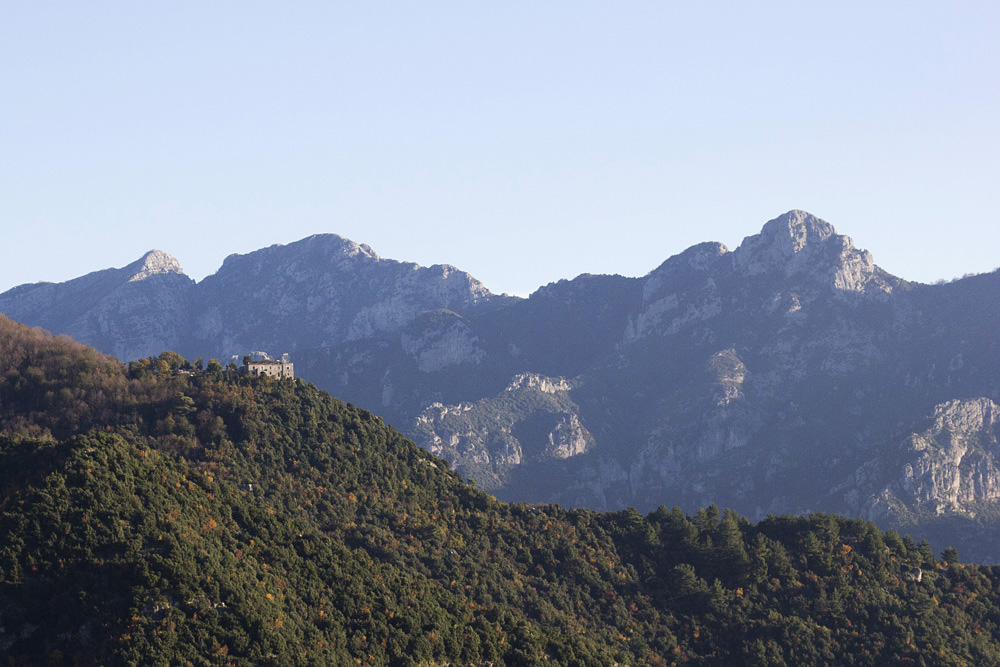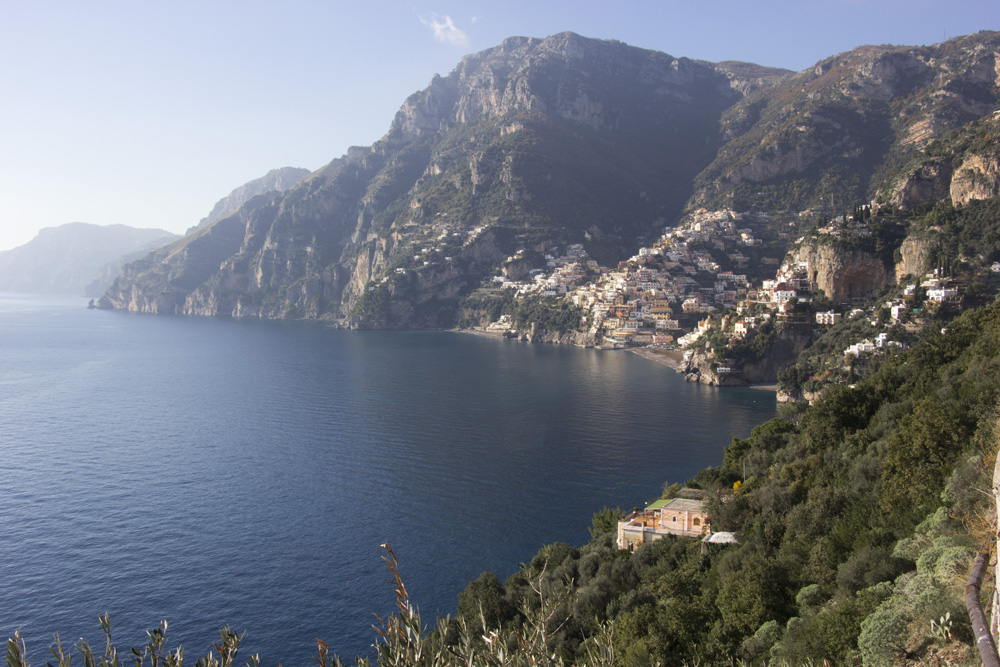 A little Adventure
When I was a kid, my family traveled to Maui on vacation. My parents booked us van tour to Hana along the Hana Highway, a beautiful coastal drive that is well know for having minimal guard rails, impossibly narrow lanes, and harrowing curves. My mother is terrified of roads like this but booked the trip anyway. For essentially the entire journey to Hana and back, she was white knuckled and panicked and possibly may have screamed a few times. I'd never seen her so worried, though my own nervousness about the road made me understand her fear. It was a memorable experience clearly as I am bringing it up here nearly 20 years later.
My mother would have HATED the Amalfi Coast Highway. Instead of trying to explain why myself, I'll let John Steinbeck describe what it's like to drive along this road. This an excerpt from his piece "Positano," published in 1953 in Harper's Bazaar.
"Flaming like a meteor we hit the coast, a road, high, high above the blue sea, that hooked and corkscrewed on the edge of nothing, a road carefully designed to be a little narrower than two cars side by side. And on this road, the buses, the trucks, the motor scooters and the assorted livestock. We didn't see much of the road. In the back seat my wife and I lay clutched in each other's arms, weeping hysterically, while in the front seat Signor Bassano gestured with both hands and happilly instructed us: "Ina da terd sieglo da Hamperor Hamgousternos coming tru wit Leeegeceons". (Our car hit and killed a chicken.)"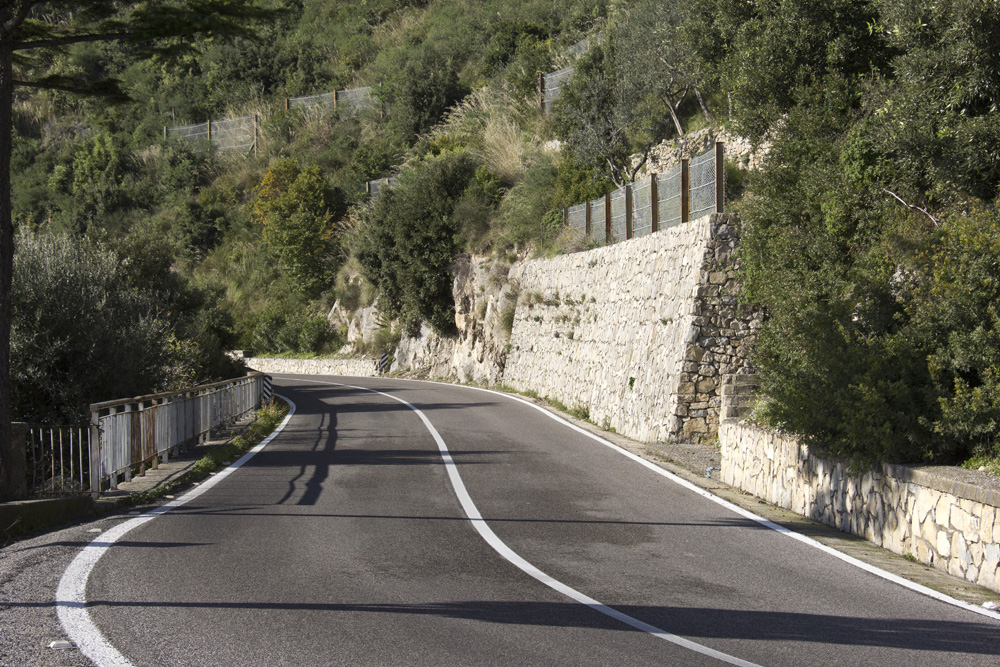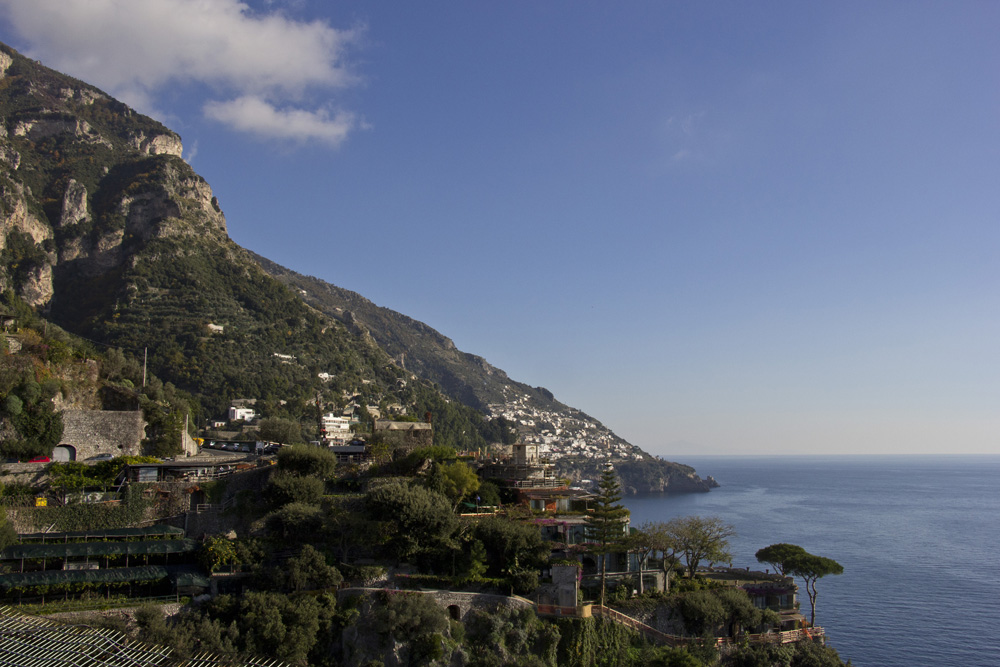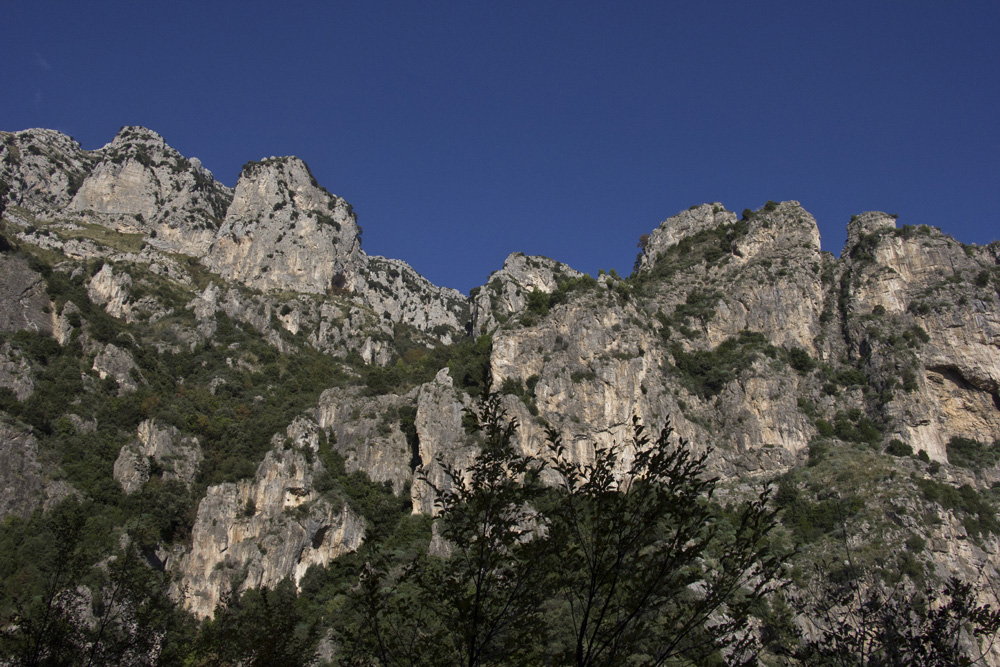 The Food
Food is a hyper-local and hyper-seasonal thing in Italy. What is eaten in Rome is different from what's eaten in Bologna which is different from what's eaten in Naples. Some regions are known for dishes, some are known for ingredients. They are all unique.
In Campania, it's all about the mozzarella. And when you visit Campania (the region that includes both Naples and Amalfi), you must eat as much mozzarella as possible – this is where it comes from.  And it tastes better than anything I've found in the US.
This salad was a perfect way to enjoy it: along side roasted red sweet peppers, olives, basil, and capers.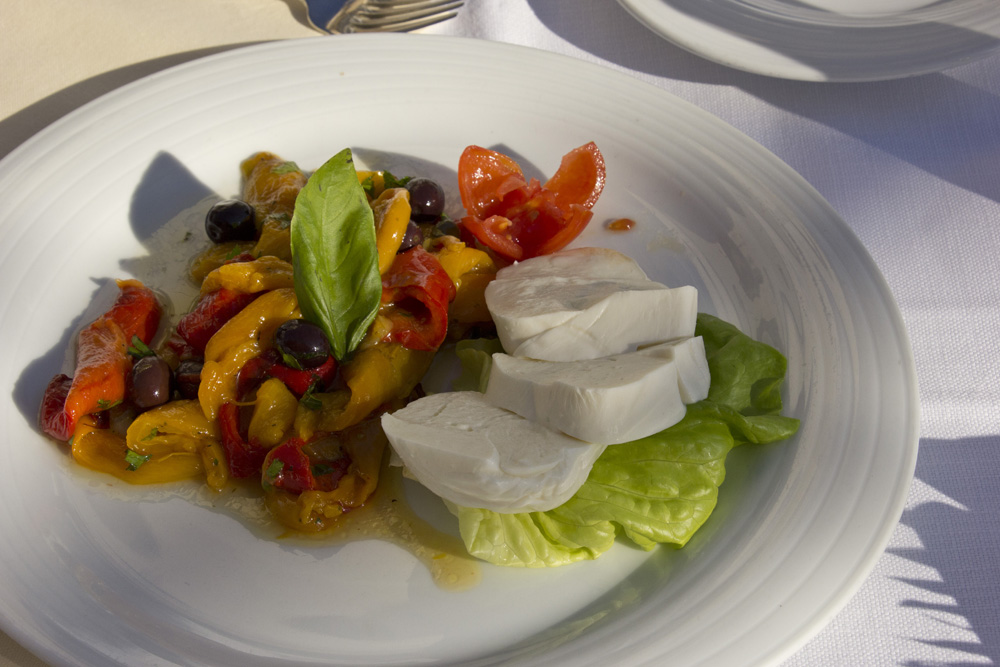 And then there's seafood. It's the Amalfi COAST people.
I don't eat seafood very often as its a food allergy we have to worry about, but I make exceptions for a meal here and there when it's really good. Spaghetti with Clams is an easy regional favorite and was a perfect choice for my indulgence.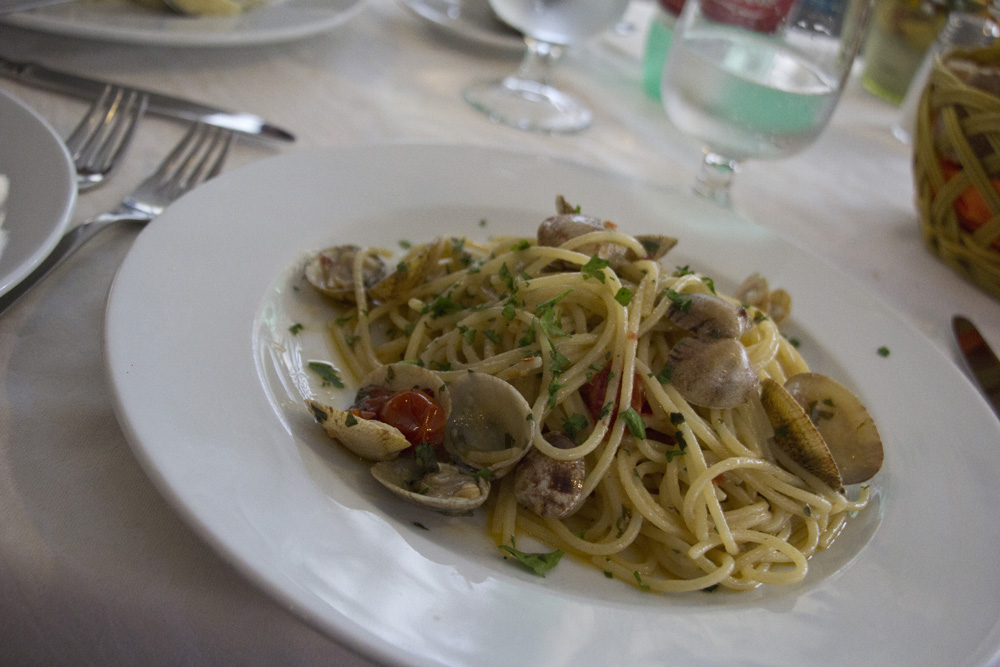 The Amalfi Coast is also famous for its lemons, thanks to the volcanic rich soil Mt Vesuvius gives the area. Those lemons are used in a many local dishes and sweets, as well as in Limoncello. Limoncello is essentially grain alcohol infused with lemon peel. The resulting liquor is a little sweet, a little sharp from the citrus, and very strong . (It's also alarmingly yellow) It's something you have to try when you visit.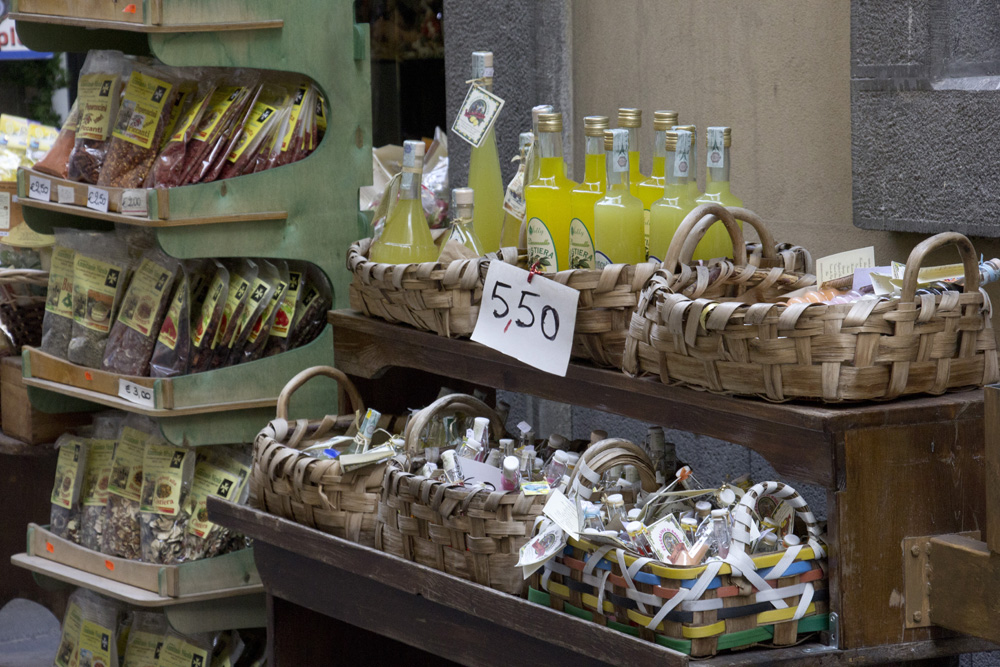 Bougainvillea
I think I have an obsession with spotting bougainvillea on my travels. I just love the casual feel of it and the bright colors it comes in. And it somehow always knows exactly how to grow to be as photogenic as possible.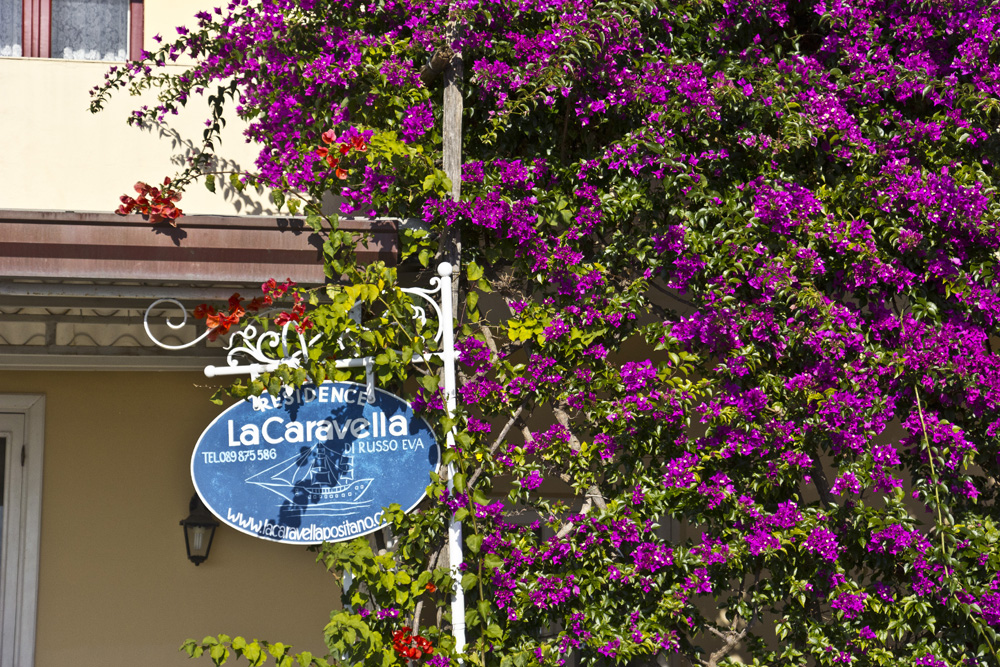 Historic Villas
The mountaintop town of Ravello has two historic villas built in both the 11th and 13th centuries by powerful families – Villa Cimbrone and Villa Rufolo. Both have manicured gardens and beautiful architecture as well as sweeping views of the surrounding mountains and the  sea.
VILLA RUFOLO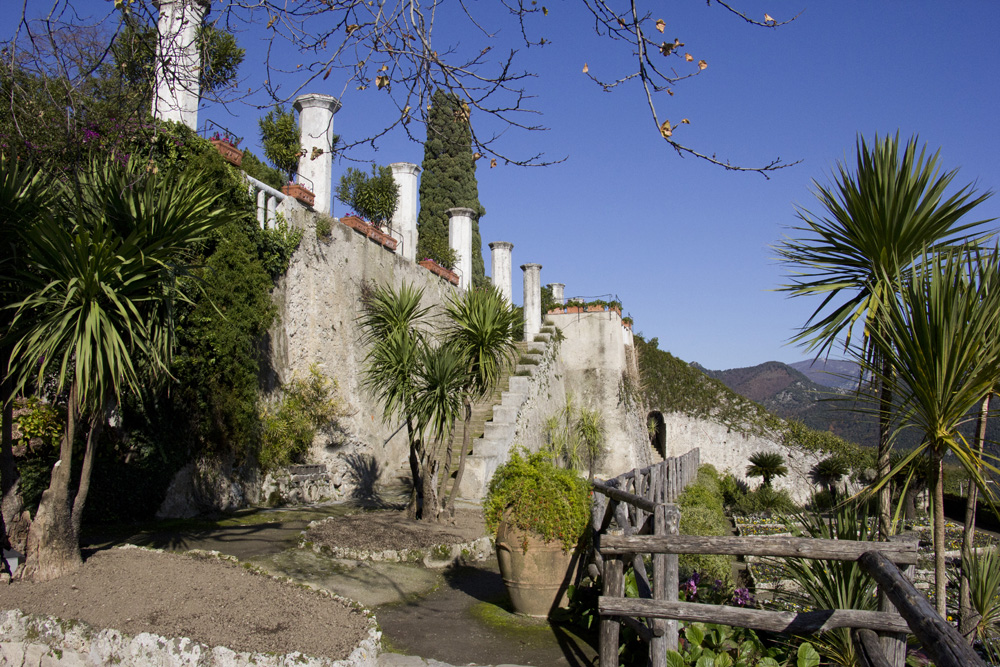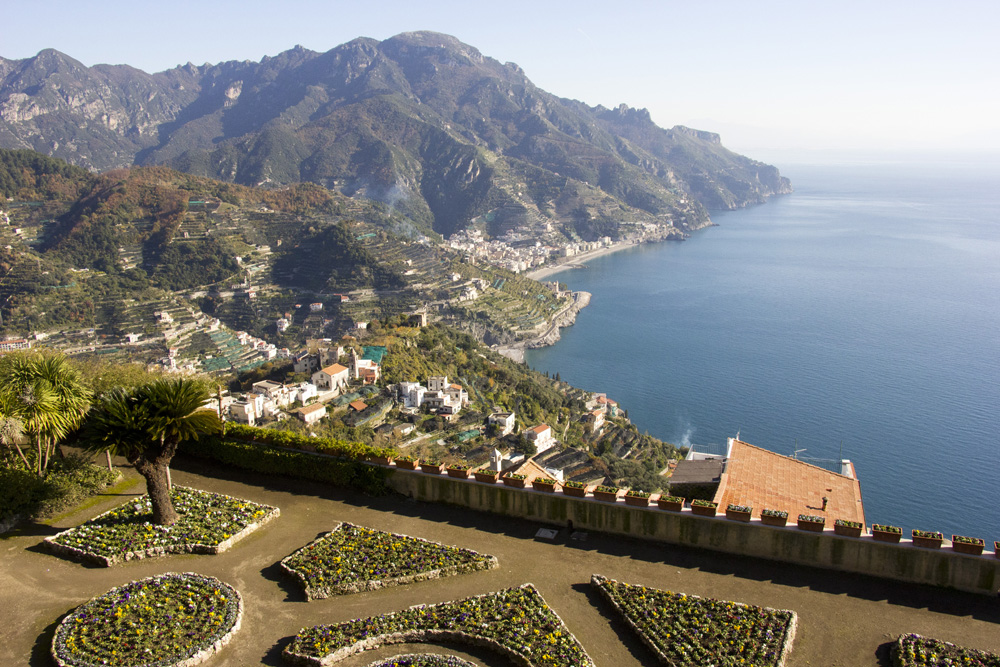 VILLA CIMBRONE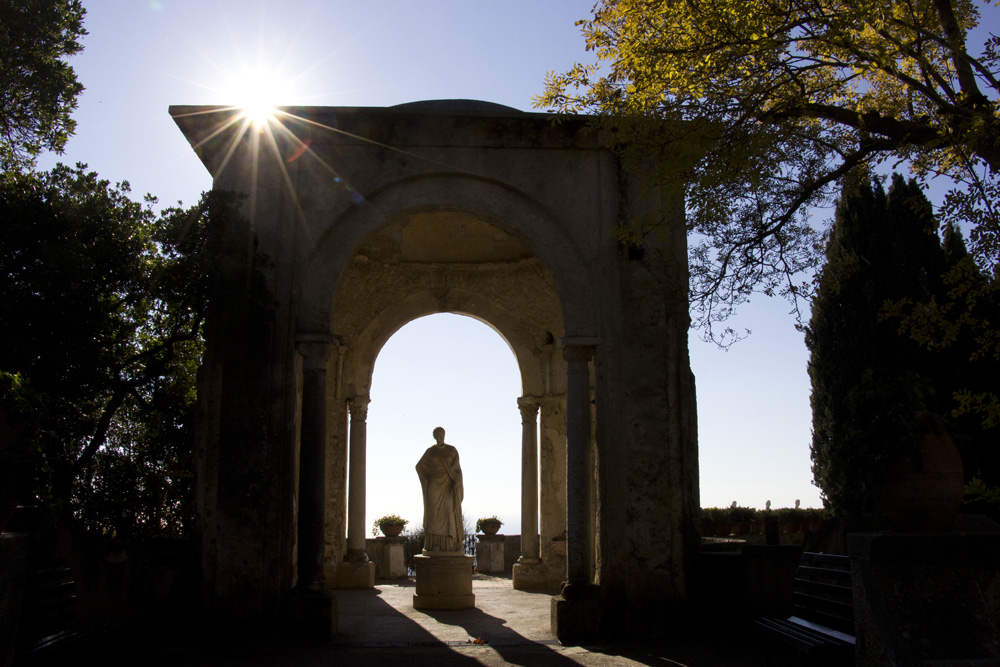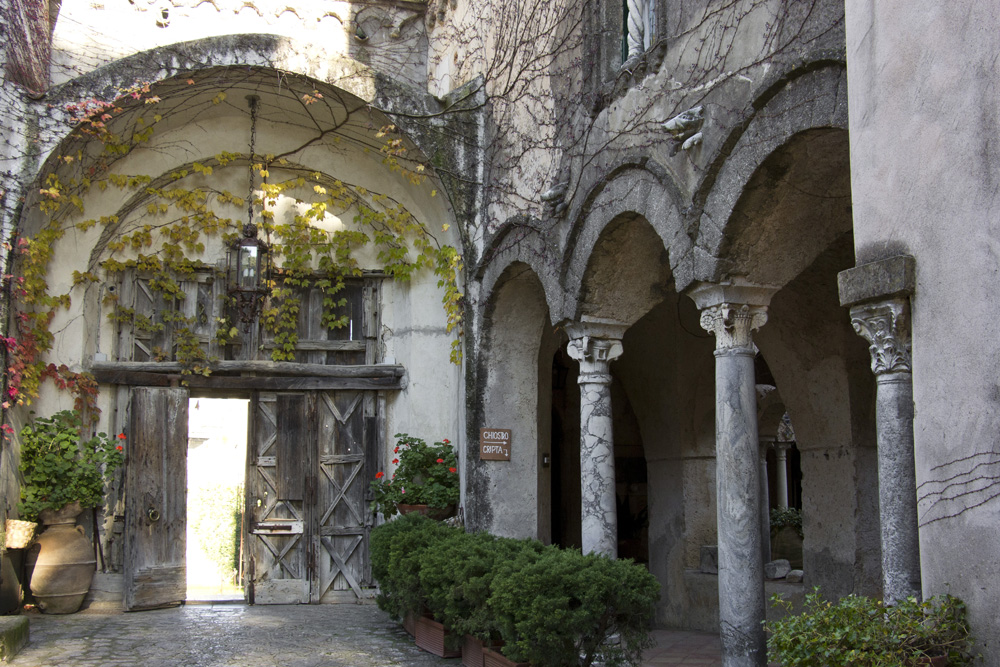 Mamma Agata's Cooking School
Visiting this cooking school, located in a beautiful home on a cliff in Ravello, was my favorite moment on my Amalfi Coast road trip hands down. I met Chiara Lima, one of the masterminds behind Mamma Agata's Cooking School, as part of a project I was working on for a magazine (Check out the article here). Since speaking with her about local culture, heritage, health, and cuisine, I have been inspired me to take my cooking to the next level and to spend more time in the kitchen with Matt, cooking together.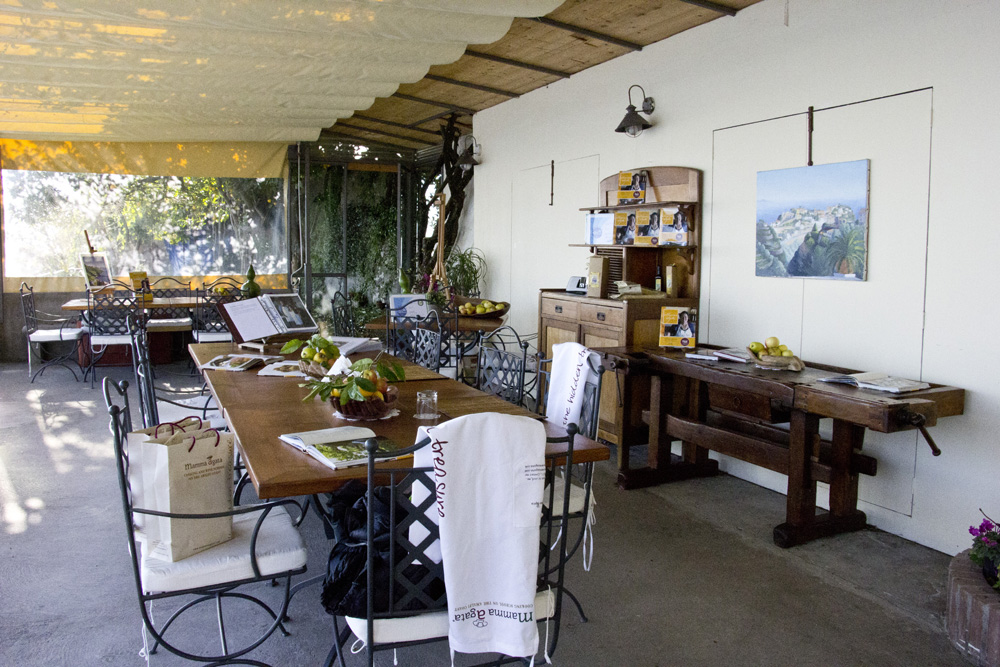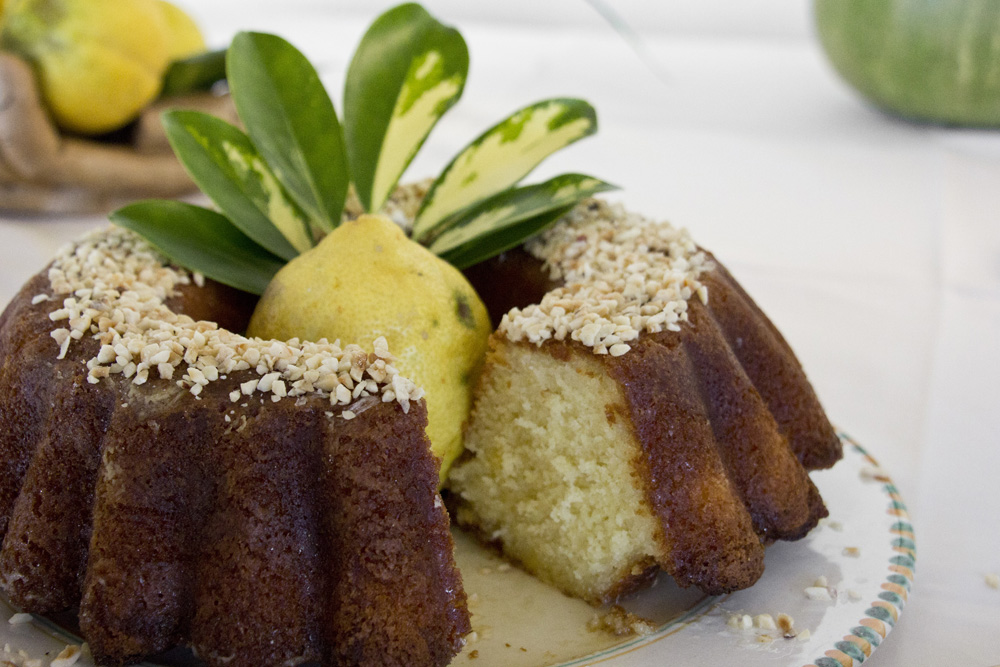 ---
Have you visited the Amalfi Coast? What did you love most about your trip?
---