One of my most favorite things to do when traveling is rent an apartment.
While I love the charm and sense of community of guesthouses, and I do enjoy the spoils of the occasional luxury hotel, renting an apartment is one of my favorite ways to experience a new place and experience local life. I can shop at the farmers market or grocery store and experiment with local ingredients in the kitchen. I can choose to stay in a neighborhood far away from the tourist centers. And while there may not be a staff of friendly people to chat with on a moments notice at my rental, I get to see a side of my destination that hotels and guesthouses simply cannot offer. In fact, some of my favorite memories from The Trip were of out rented apartments – specifically those in Buenos Aires and Hong Kong…
When I started thinking about our trip to Italy, I knew that renting an apartment for our four days in Rome was the way to go. Not only would it allow us to indulge in the fruits and veggies at the Campo de Fiori market (OMG the market!), but it would also allow us to stay right in the middle of one of Rome's most enjoyable and picturesque neighborhoods – Trastevere. Hidden on a cobblestone street not too far from both the Tiber River and Piazza Santa Maria, was our humble one bedroom apartment. (found on AirBnB.)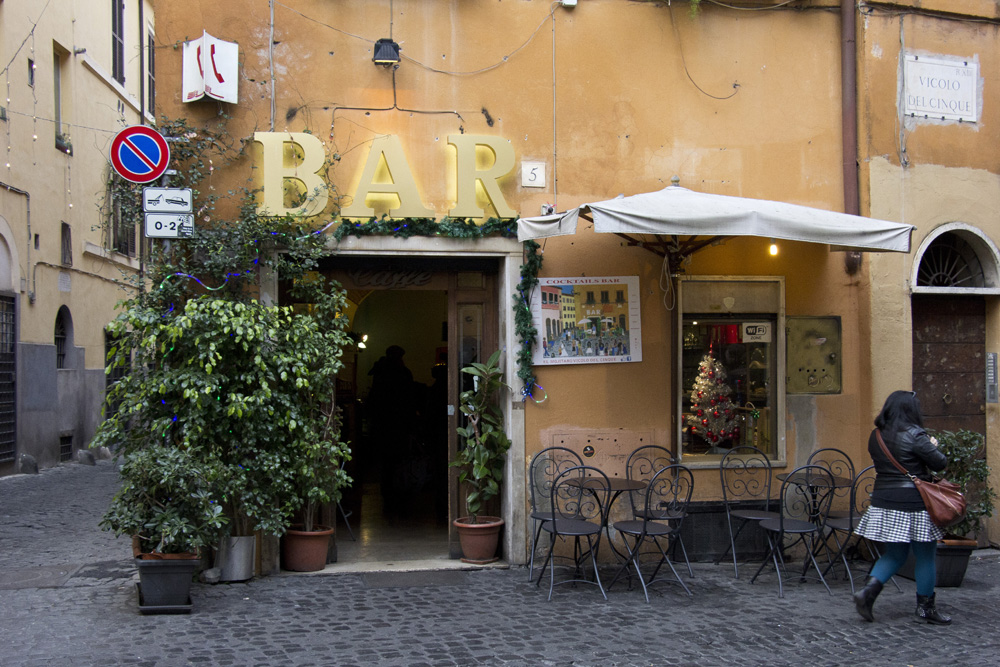 The Trastevere neighborhood sits on the west side of the Tiber River (the same side as Vatican City). Its characteristic narrow maze-like streets and low architecture make it stand out from most of Rome, whose grand buildings and ancient ruins are mostly on the opposite river bank. Aside from being popular amongst artists, Trastevere is known to have some of the city's best bars and restaurants and several big universities.
The photo above is of Vicolo de Bologna – this was our street. It's exactly the kind of street I was hoping to call home. Quiet, lined with apartments and tiny shops. There were potted plants and ivy placed just so, to add contrast to the pinks and peaches of the buildings. Almost every building had an old painted door fitted with an enormous lock that looked medieval and unbreakable. Vespas and compact Euro-style cars were parked haphazardly along the sides of every cobblestone street. It felt like a scene right out of a movie.
The apartment we stayed in was on the third floor and looked out on a courtyard. The decor was modern and everything was clean. We had what we needed: a comfortable bed, a working kitchen, and hot water that was actually hot – not just kind of hot. (such a treat when traveling in cold weather!) There was even an up-to-date city guide book on the entryway table that we used for maps and information.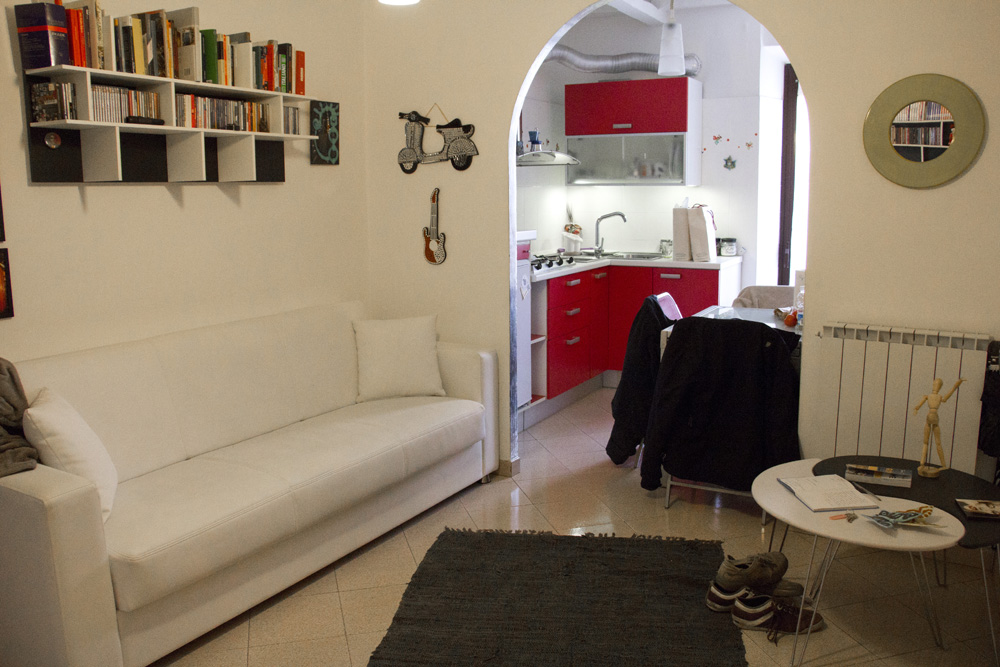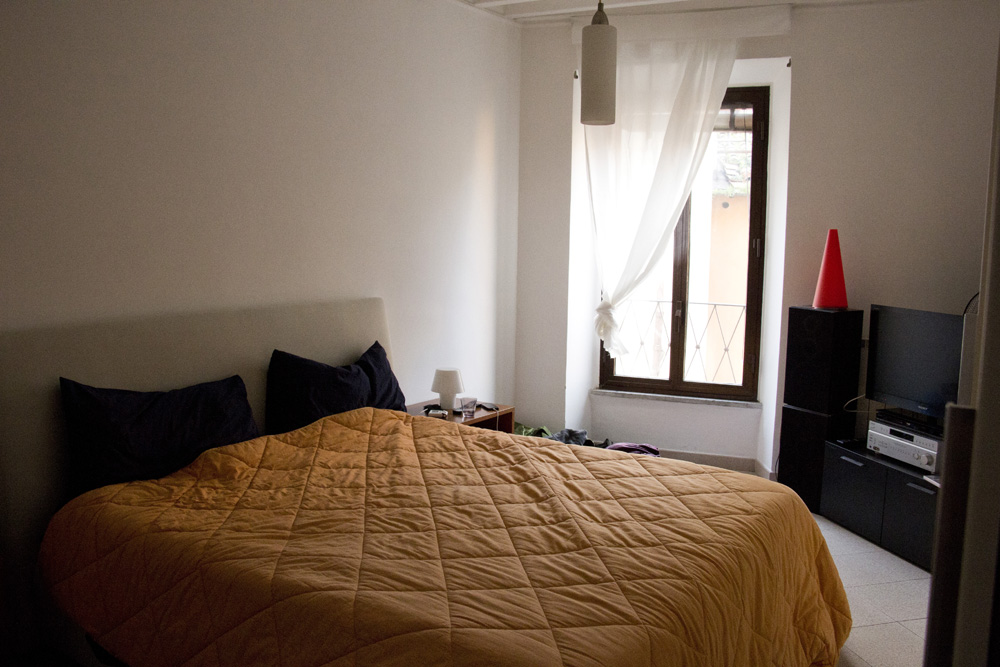 Being in the heart of this quaint area of town was perfect for early morning strolls with my camera.
Every day, I would wake up just a little bit earlier than normal (which is already stupidly early, thanks to my early-rising puppy back at home), have a small breakfast of salumi and cheese, and then head out to wander the streets before they came to life. The early sunlight would stream into the city with softness. And it seemed like everywhere I looked was a perfectly arranged still life ready for its close-up. I'd stop at store windows to marvels at the selection of cheeses. I'd stroll passed just-opening coffee bars where the scent of roasting beans spilled out the front door. It was an intoxicated place to live, if only for a few days.
In a weird but not-so-weird way, I felt like I was in an Roman version of Brooklyn, my home – only I had traded trees-lined streets for ivy-lined archways and brownstones for crumbling peach stucco.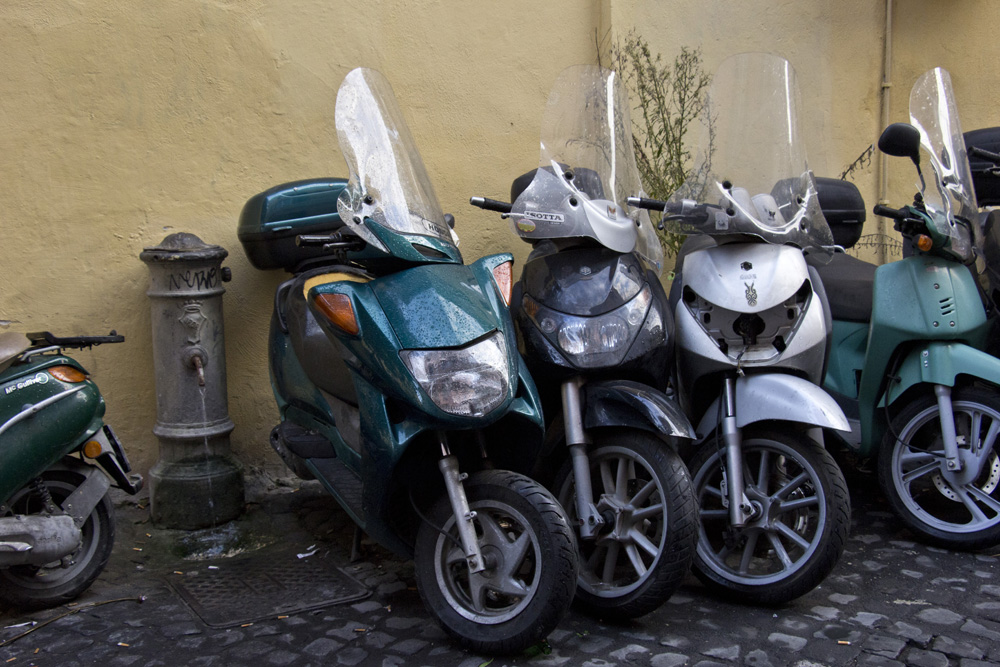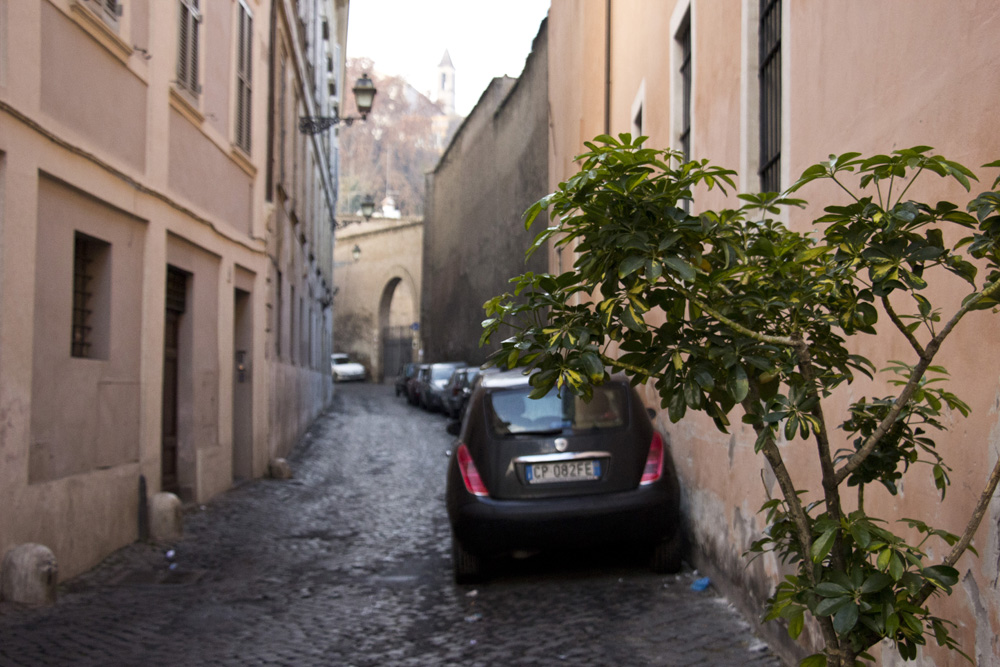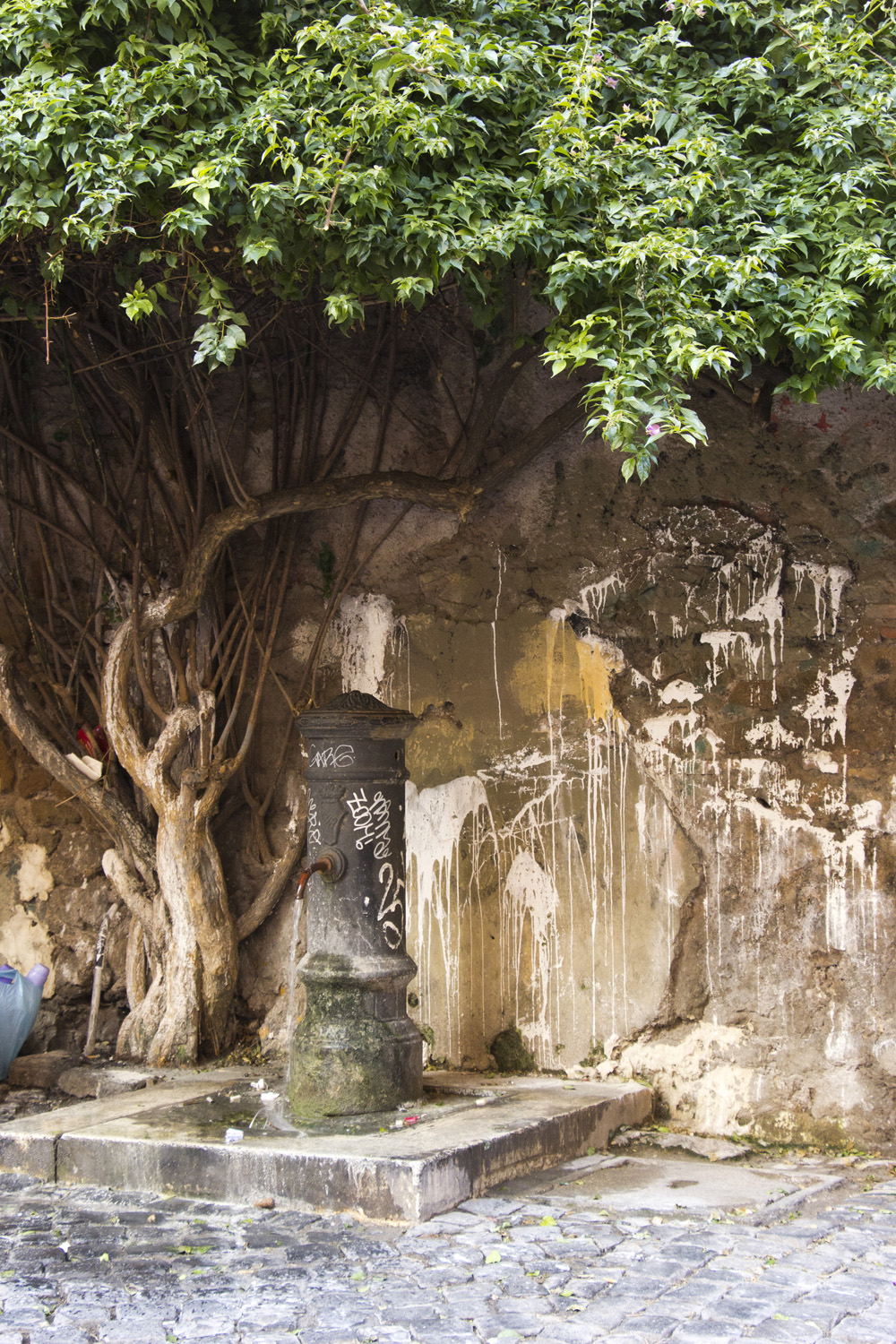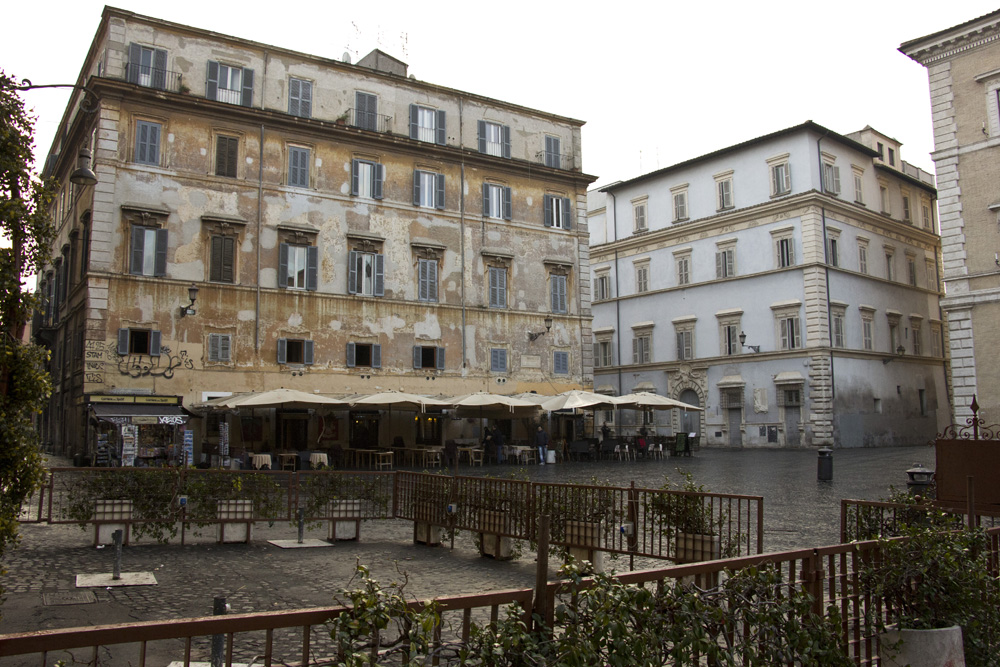 Trastevere also has easy access to fantastic food and nightlife. Each evening we would visit a new restaurant (always only a short walk away from the apartment) in hopes of finding the best cacio e pepe and the richest carbonara. More on the food later of course! After dinner we'd wander home slowly, passing boisterous bars spilling over with people, as well as quiet restaurants with a only few dimly lit tables.  While I enjoyed several late-night drinks, the best part was definitely the late-night gelato. Even in the cold December air, it was a treat to enjoy a Zabaione flavored gelato while walking home on 500 year old cobblestones.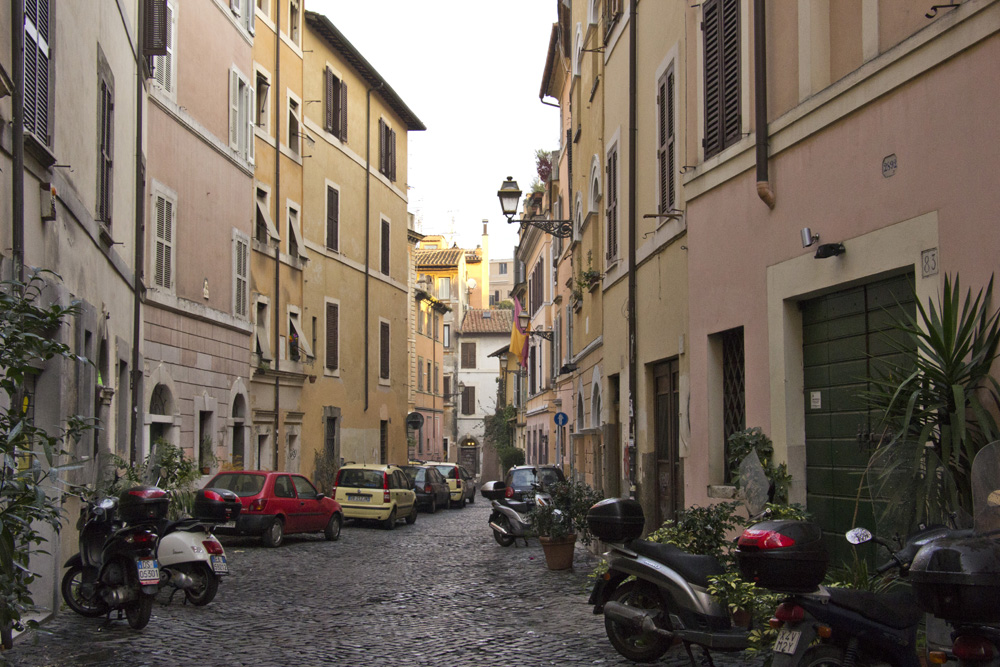 Overall, my experience in Trastevere was one of my favorite apartment experiences I've had on the road. Choosing a local style of accommodation allowed us to stay in an area mostly free of tour groups and away from the major sites. And on our last night in Italy at an osteria in our neighborhood, we had one of the best Italian meals we've ever had. It was such a small and local place, we would have possibly never known about it had it not been for our location.
These are the kinds of experiences that make travel come alive…
---
I highly recommend an apartment rental in Rome. Airbnb has a great selection of places around city and specifically in Trastevere.
---