Before coming to Nicaragua, I heard a lot of horror stories about the ferry ride from the mainland to the island of Ometepe. Stormy skies, stomach-wrenching waves, unnerving movement, dinky boats.  All things one loves when transiting over a large body of watercontaining bull sharks. Rawr. (This blog post I read pre-trip was particularly frightening)
Nonetheless, Ometepe is an island of fantasy travel – one which we were adamant on visiting. So, horrible boat ride or not, we were going.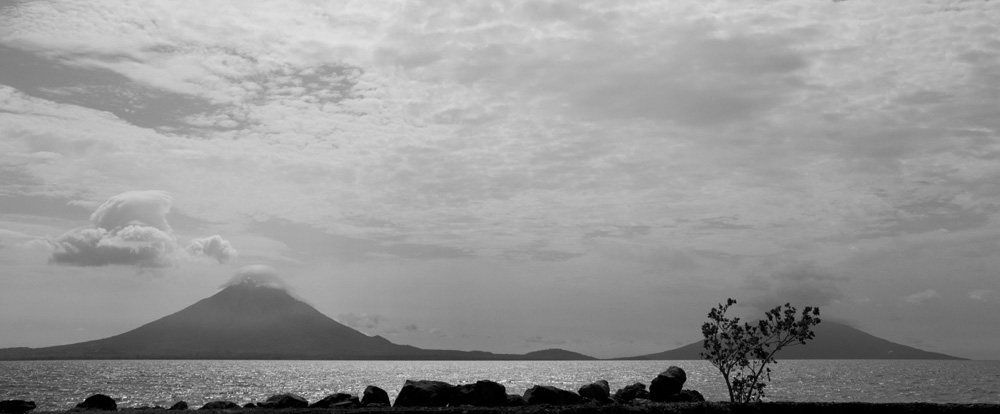 A little background…
Ometepe is an isolated island in the middle of Central America's biggest lake, Lake Nicaragua. Dual volcanoes are its most famous feature, with Volcán Concepción being perfectly conical and active and the smaller Volcán Maderas being dormant. In 2010, Ometepe was named a UNESCO Biosphere Preserve due to its rich environment and wildlife, as well as its historical and archeological importance.
The island is still mostly undeveloped and only recently was the main road even fully paved. Moyogalpa is the biggest town (though still very small and quiet by normal town standards), though Santo Domingo and Santa Cruz are also popular with travelers. Life is simpler and slower here – a breath of fresh tropical air from Nicaragua's crowded cities.
Bonus: a super cool photo of Ometepe from space.
–
Our journey to Ometepe started in San Juan del Sur. Ferries to the island leave from the small town San Jorge on the southwestern shore of the lake – a short distance from San Juan. In lieu of riding the notoriously slow local bus to nearby hub city Rivas and then swapping to a San Jorge taxi, we opted for a direct colectivo – a shared public taxi that is commonplace throughout Latin America. Our bags were dropped safely in the trunk of a completely full sedan and we were both shoved not so safely into the front seat, me in Matt's lap. The ride was rather tight and bumpy for both of us, but got us to the dock in a short 45 minutes and for little more than $15.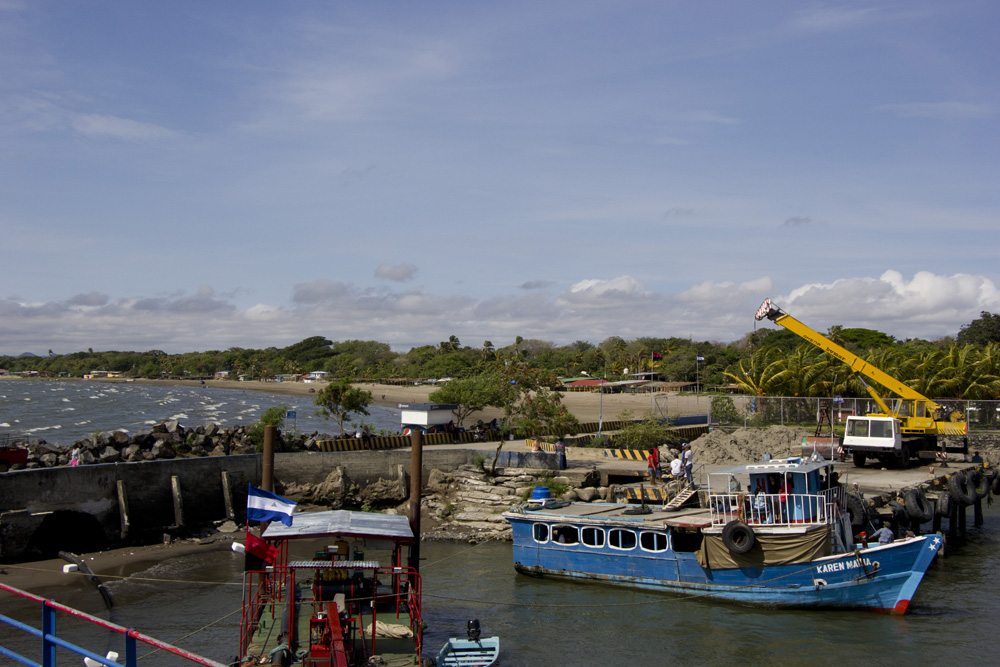 The dock in San Jorge looked less like a dock than an outcrop with ferries attached. Tied to the rocks were one large and rather sturdy looking car ferry as well as two smaller boats that looked ill equipped to handle a possibly rough passage out to Ometepe.  Going into the trip knowing the that the water and weather were somewhat unpredictable, you can be sure we opted for the sturdy looking car ferry.
(You should do this too to avoid a horrible lake experience. This schedule here outlines the launch times of ferries versus the boats.)
I failed miserably at taking a photo of our ferry from the exterior in order to show off it's sturdiness, but rest assured it had enough space and heft to have three floors, several bathrooms, and plenty of Mother's Day decorations. Surely a vessel that could withstand these treacherous shark infested lake waters.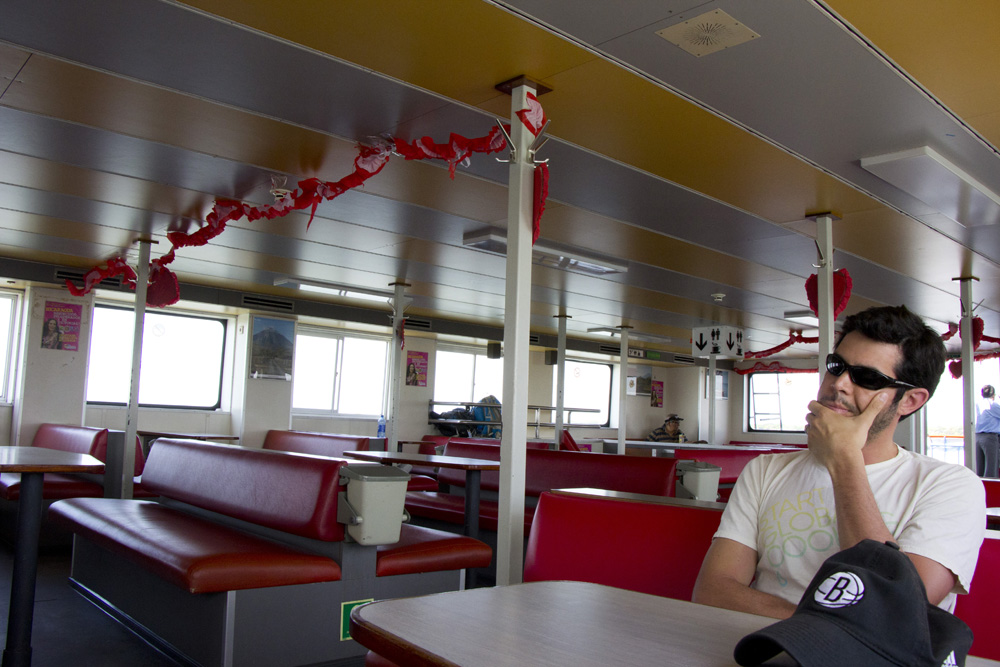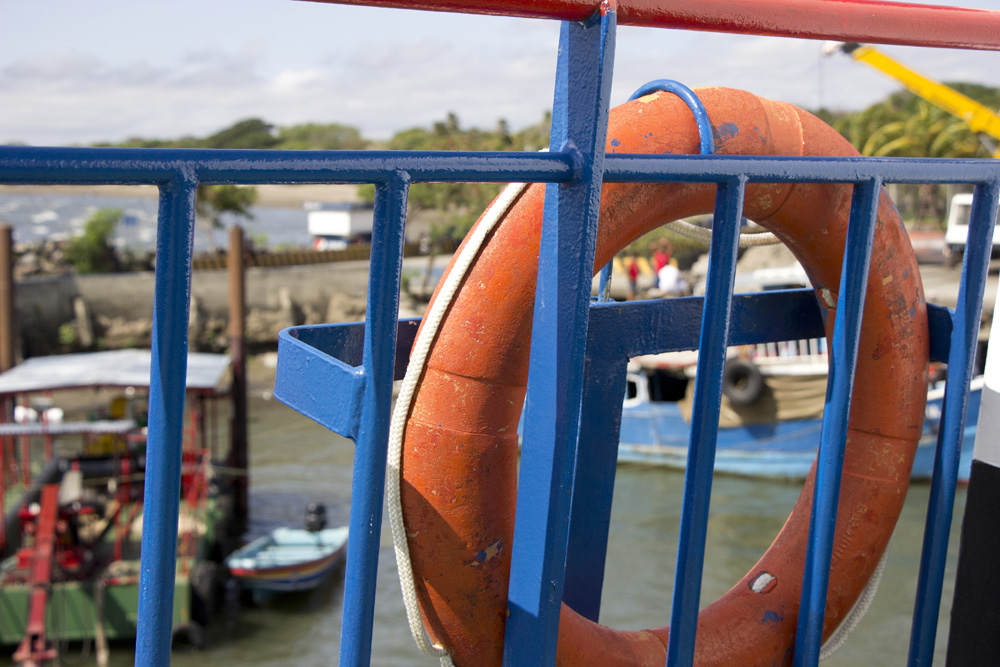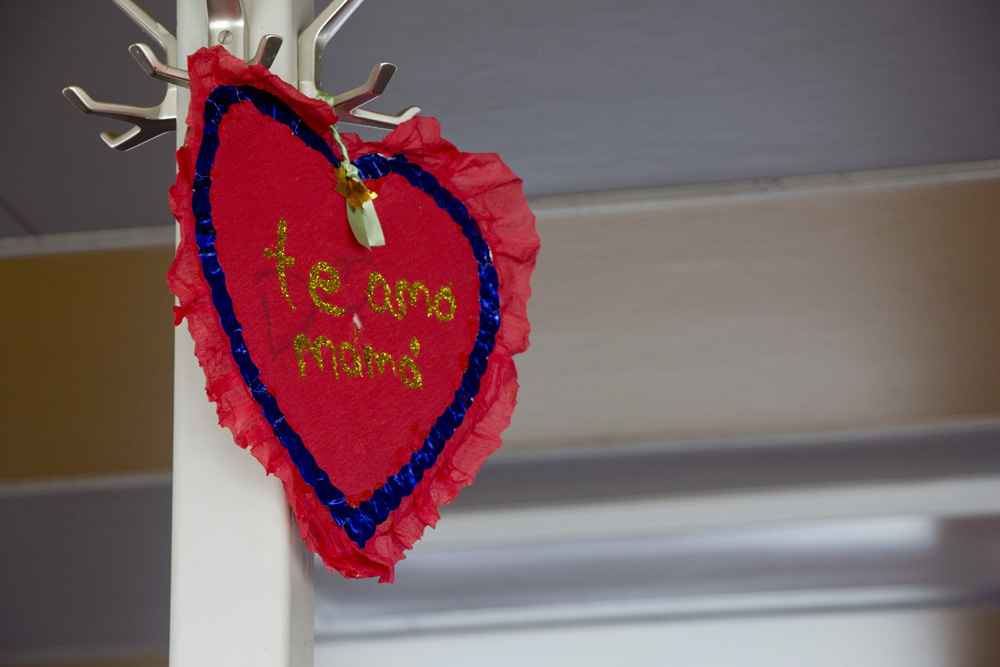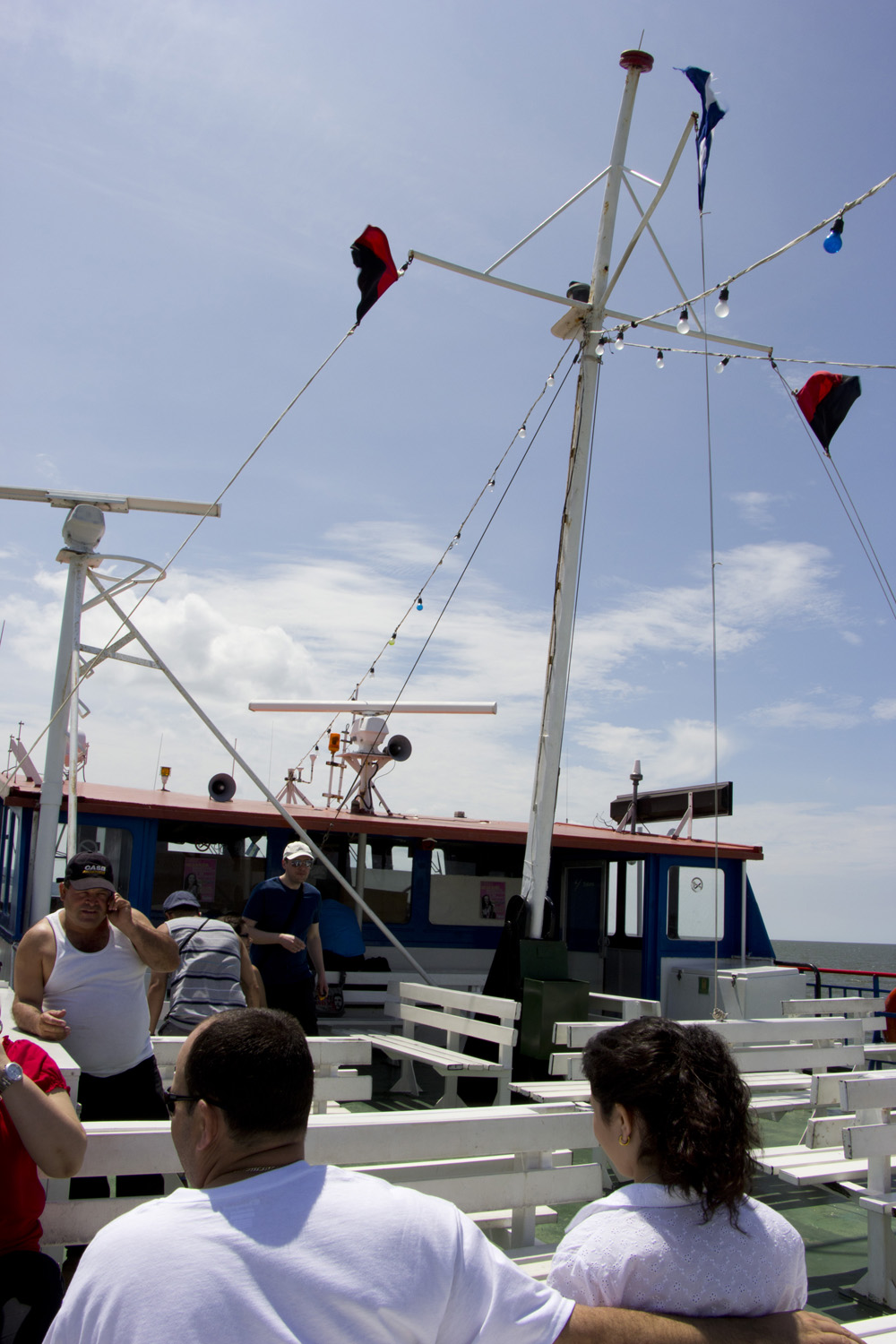 The ride started off quietly as we left the shores of the mainland. We chugged away into the lake, the sun high above, with winds whipping my hair around on the top deck. I laid back on my backpack and watched the volcanoes drift closer as the mainland slid idly away.
The ride was rather, well, smooth.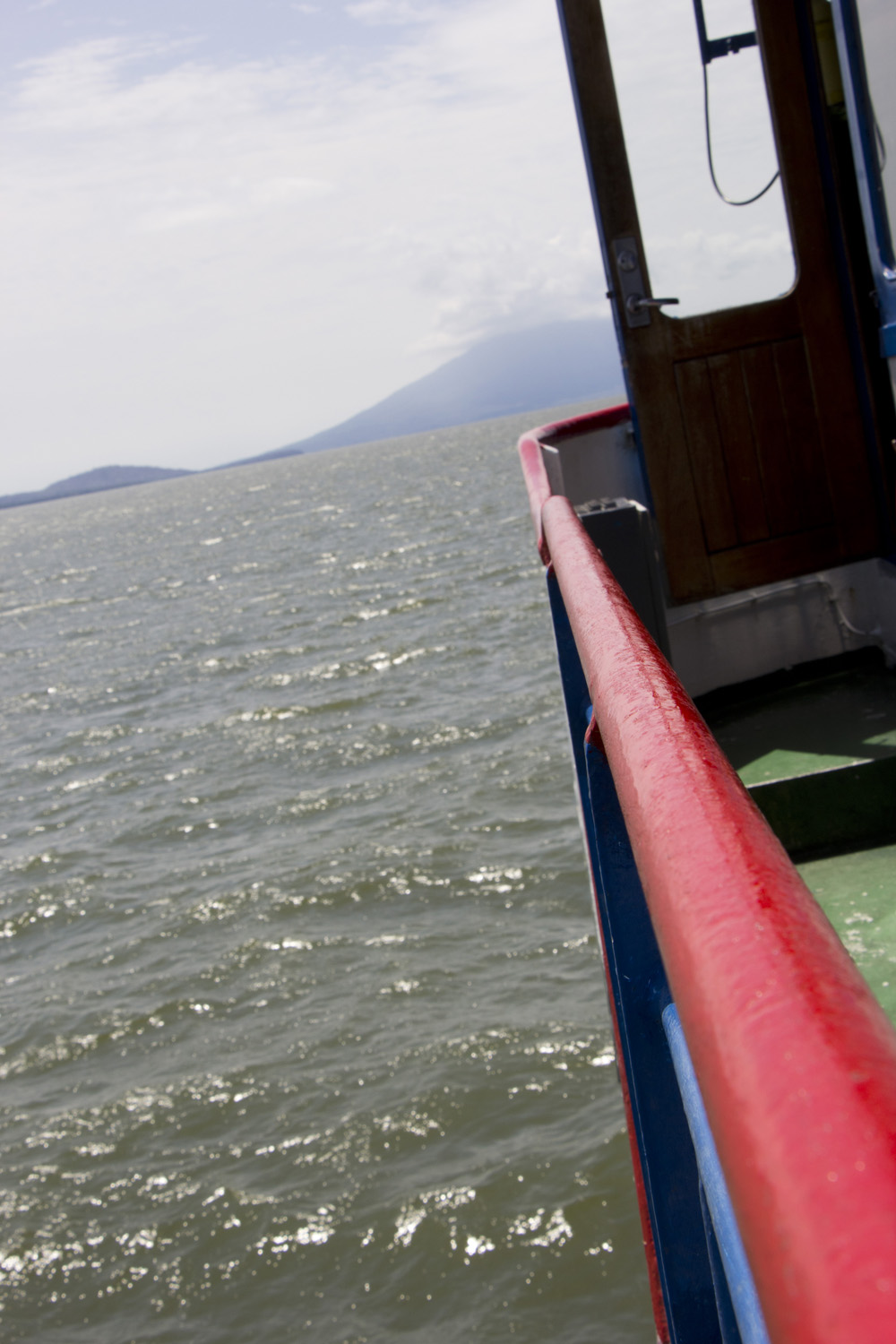 I expected the water to get rougher when we reached the open water at least. I'd fall over while walking around the decks taking photos.  Sharks would hurl themselves in the air looking for a fresh piece meat. Maybe I'd throw up a little? Ok, maybe not the shark thing.
But none of it happened. My ferry sputtered along smoothly and the weather remained calm all the way to San Jose on the southern shores of Ometepe. We must have sailed on a lucky day in a lucky vessel. Clearly, this journey is as unpredictable as they say.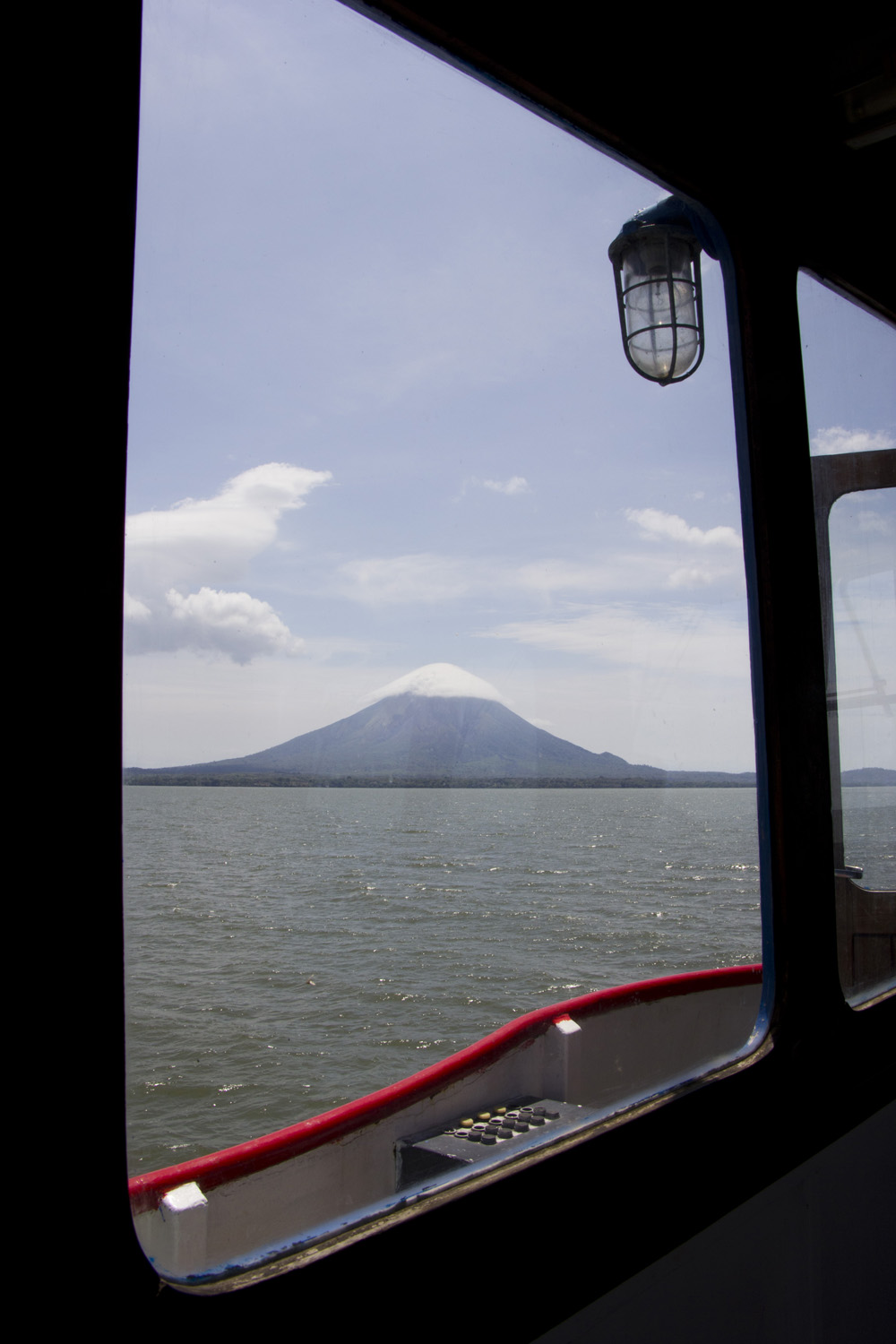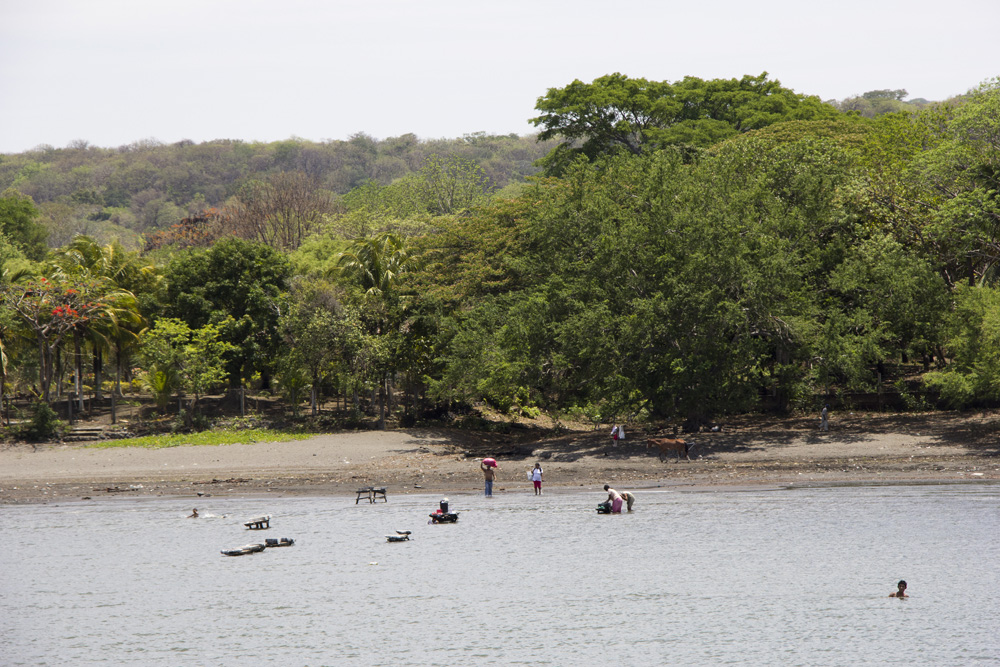 After an hour and a half of sunny smooth sailing, our ferry pulled up at another "dock." This outcrop of rocks was dotted with vans and trucks awaiting our arrival. On either side, local beaches were speckled with swimmers and families. Unrestrained horses lapped fresh lake water. Behind the dock, a soaring volcano rising into the sky and disappearing in a tuft of cotton. Concepción.
We'd arrived. Unscathed. Not a bull shark in sight.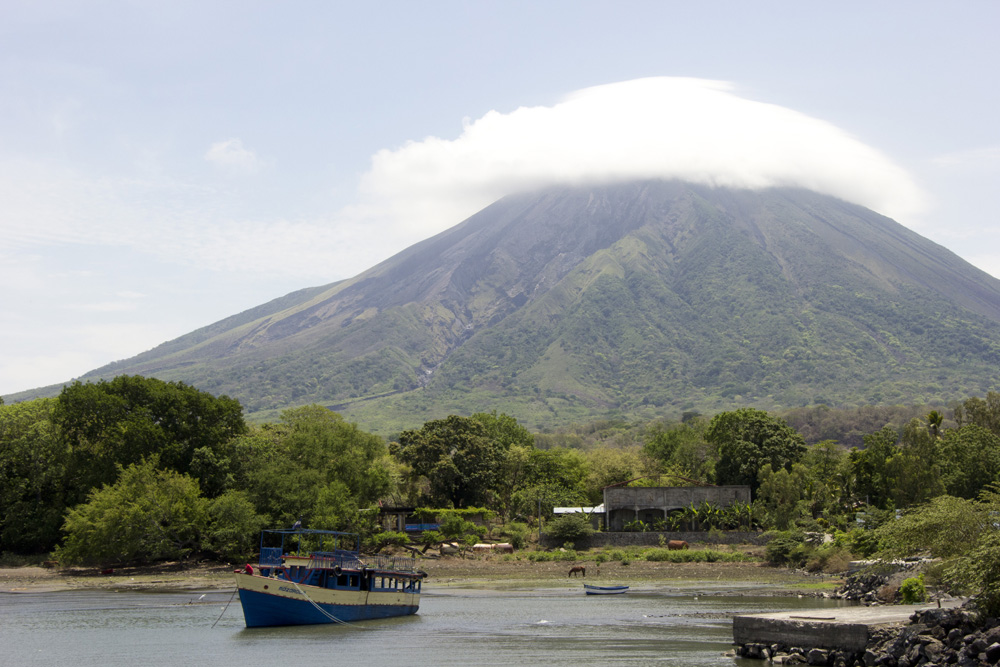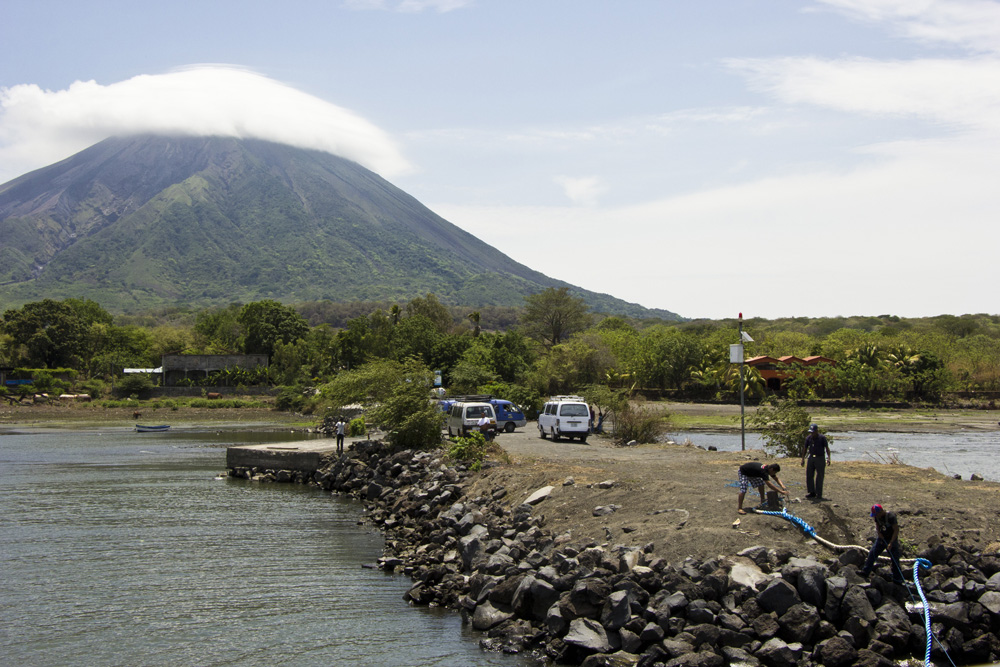 ---
Check it out: TravelShus' Interactive Guide to Nicaragua
---