One of the most important parts of exploring another country for me is indulging in the local drinks. (I'm talking about the fun ones here, just to be clear) This is especially true since we cannot indulge in all local food, due to Matt's food allergies. Food and drink are both the most common threads that bring people together around the world, and as so much local cuisine is off limits when food allergies are involved, beverages can sometimes be heavy hitters in the cultural education of your stomach.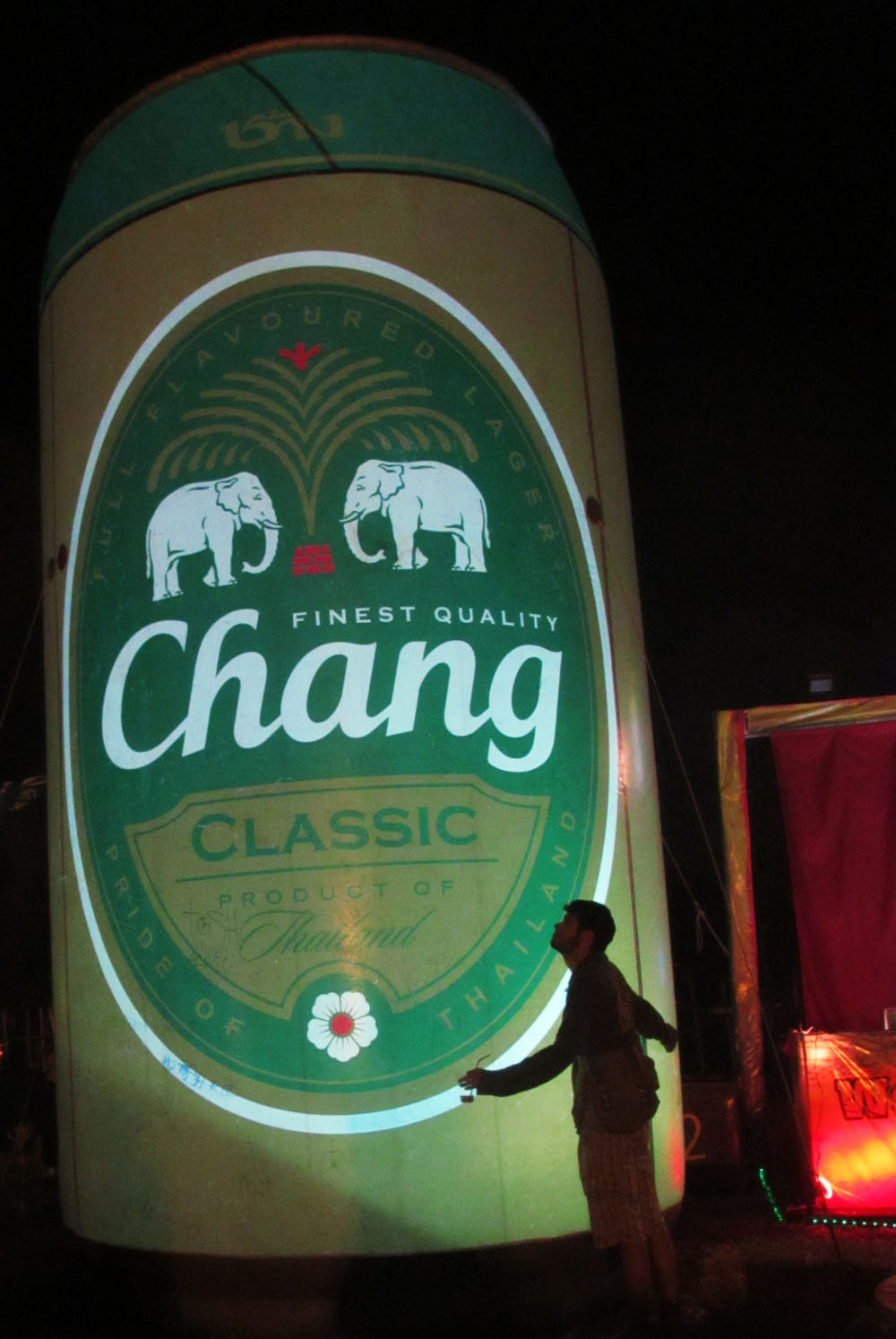 Local adult beverages are important indicators of land, climate, culture, and customs. Some countries are located on perfect latitudes for grape growing, which makes wine making an important part of the economy and daily life. Beer and spirits are generally made in most countries around the world, whether made in the home or commercially. Inversely, there are many countries that are governed by religious entities which outlaw alcoholic beverages all together. Most of the middle eastern countries are dry, which automatically creates a cultural deviation. Other things, like sticky sweet tea and khat are popular in the place of alcohol.
I'm a big wino, and Matt's drink of choice is whiskey. We definitely enjoy a night out, as well as a good afternoon sundowner or a brunch time treat. When traveling, we try to get the most out of travel drinking, not just a good time. Though, often the two go hand in hand, no? Well, they ought to.
I'll start in my own backyard. I grew up in the San Francisco Bay Area, about an hour or so outside the Napa Valley. (which might explain my magnetic pull towards wine). In the United States, California and Oregon have become known on an international level as some of the best wines in the world. The Napa Valley isn't exactly traveling for me, since I grew up there, but it is nice to see it through my husband's eyes (NY native) when I take him home to mom and dad.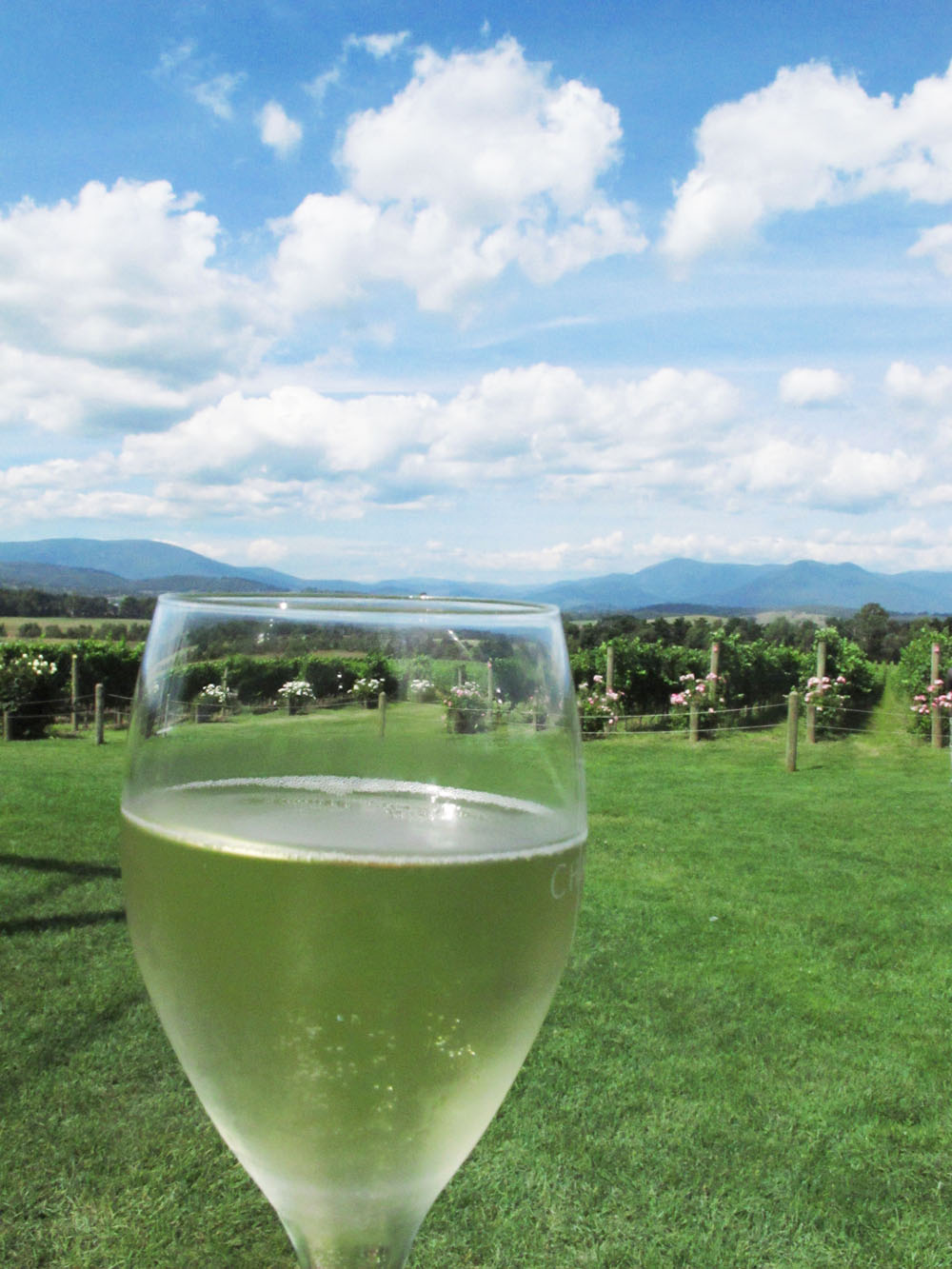 Nothing fits with the humid air in Indonesia more than a frozen drink. Though often a little more on the expensive side than a bottle of the local beer Bintang or a shot of Arak, sometimes you gotta live up to the stereotypes of a tropical paradise and grab yourself something with a straw or a paper umbrella. This one, a frozen basil lychee martini, was particularly awesome as a sundowner on a very humid day at the Jeeva Klui Resort on Lombok.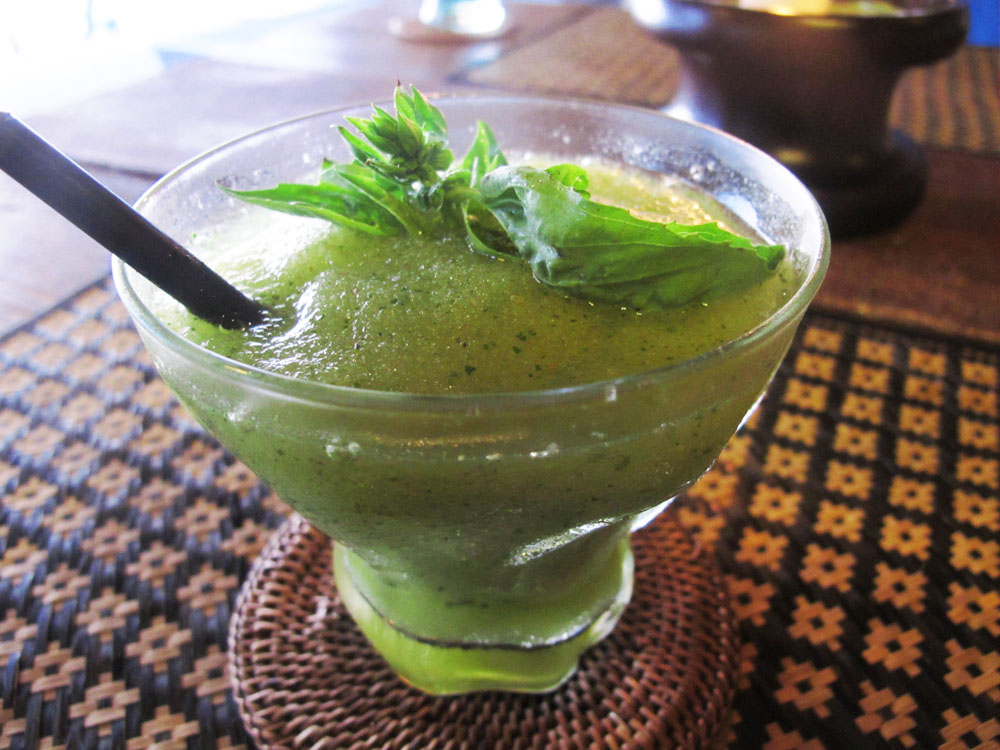 Australia is famous for its Shiraz, Cabernet Sauvignon, and very very drunken young gap-year travelers. Therefore, you must realize coming in to the country that Australians drink a ton and so will you. Being the wine snoot I am, we had to visit a few wineries – we went on two tours around the Yarra Valley and the Barossa Valley. At the end of the day in the Barossa, we bought a bottle of wine made from the oldest Cabernet grapes in Australia, and some of the oldest in the world. This is a special occasion kind of wine. I haven't had the pleasure of drinking this bottle yet as we are waiting for the right time, but I can say that at the tasting, it was quite delicious.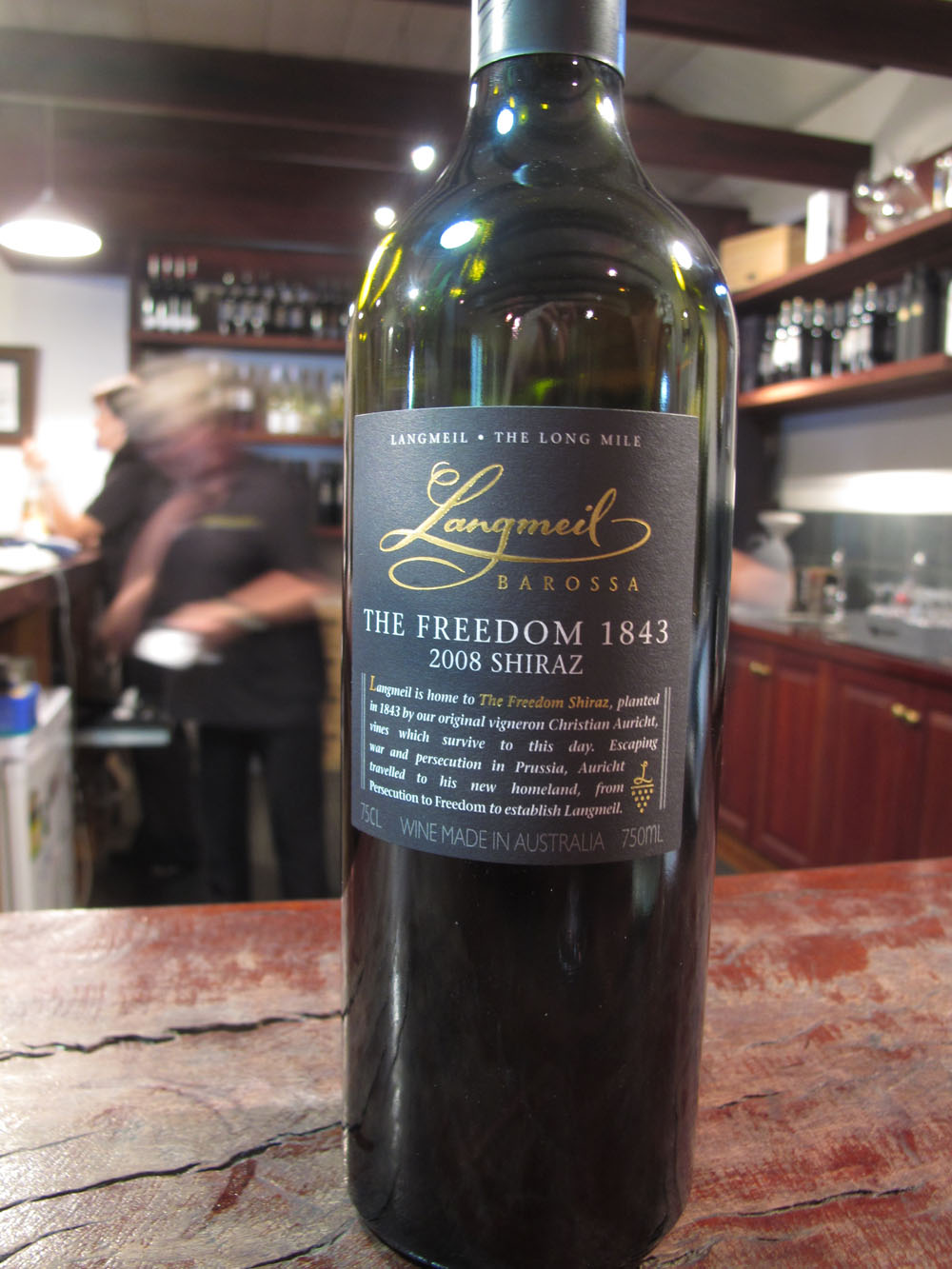 Nepal is host to a few popular beer labels – Everest, Nepal Ice, and Ghorka. Everest was the best of the three (Nepal Ice is pretty horrendous to be honest) and made an appearance nearly everyday at our happy hour table or dinner table. It was generally about USD$2 for a large bottle and went nicely with Nepalese curries and lentil papads. (Here shown at a happy hour on a rooftop in Bhaktapur).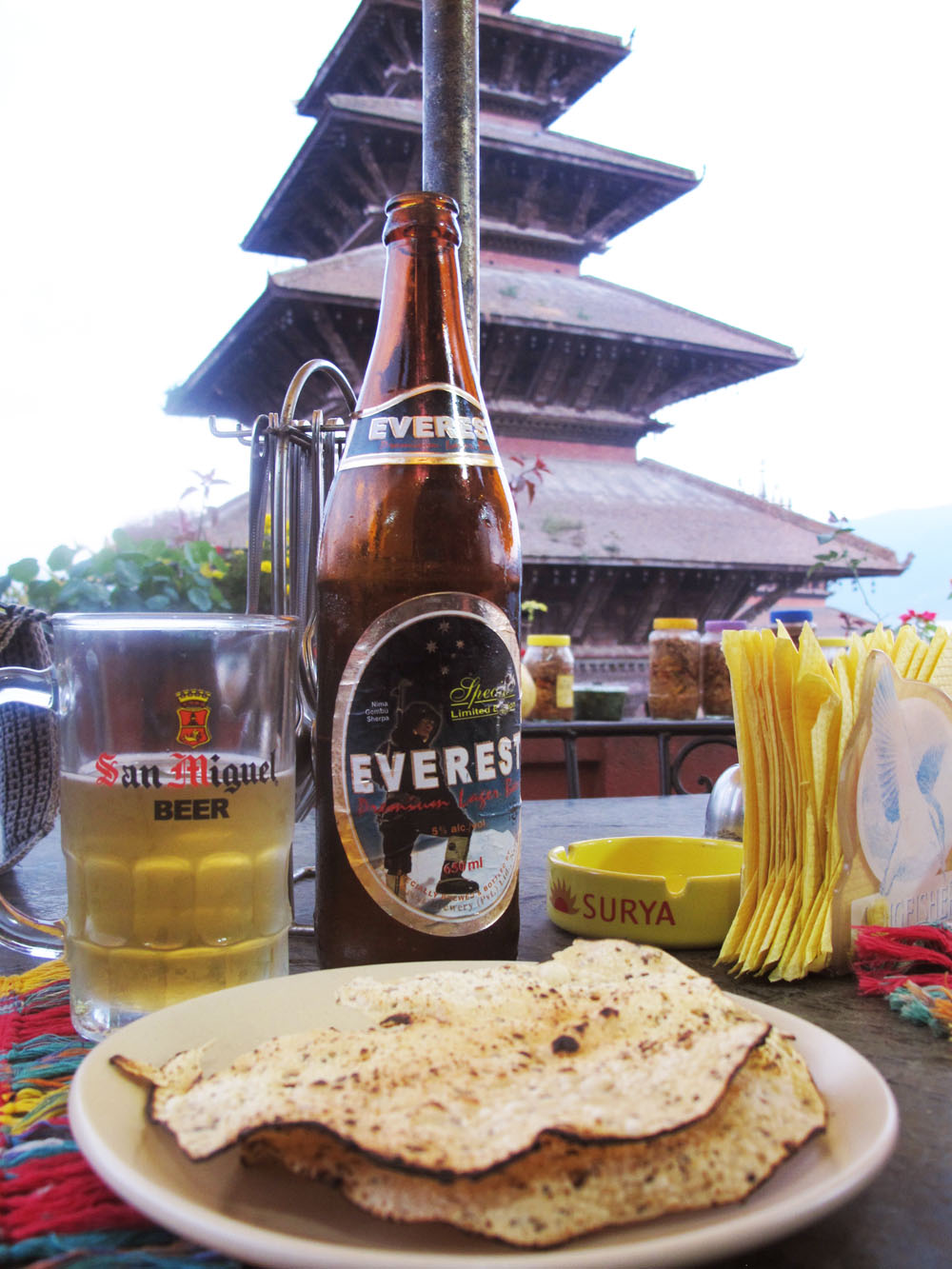 Argentina is clearly wine country. Argentinian Malbec has quickly become my go-to red wine when faced with a choice at the liquor store. However, whence in Argentina for a long period of time, one cannot drink wine everyday. It's just not possible. That's why there's Quilmes! Really really big ones. It's definitely not a close second to Malbec by any means, but it will suffice at a bar or club when wine is just not gonna work.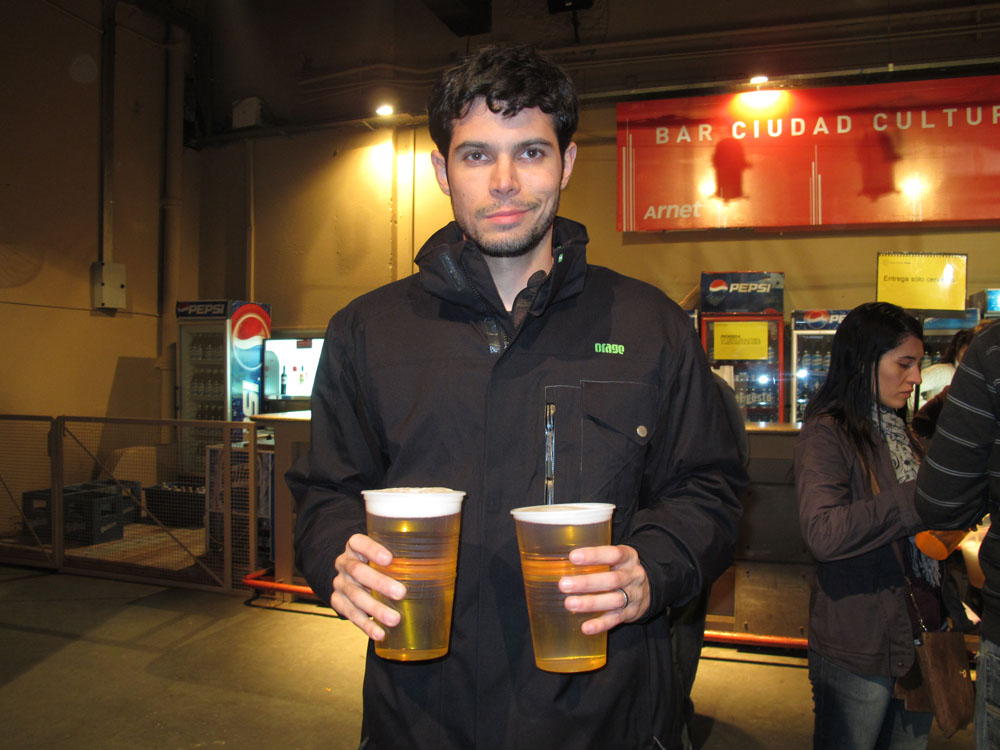 In Cambodia, we spent a couple of days volunteering at a school. At the end of each day, we would head back into Siem Reap and go out to one of the western/local restaurants for some Matt-friendly food and beverages. Nothing like 50 cent beers, $2 Yaeger shots, and free popcorn to end the day.
Thailand invented a horrible horrible thing called buckets. It is exactly what it sounds like it is. A bucket. Full of booze. They fill them with ice, alcohol, and whatever else – juice, soda, water, energy drinks, etc. In principle, buckets are bad things as they have furthered the annoying-already partying scene in Southeast Asia. Partying is now a central point of interest for all those young gap year kids from Australia on the Banana Pancake Trail. Sometimes partying overshadows the importance of seeing the land and learning the cultures of the region for this group. It's also horrible as these things are just plain gross. One can't possibly drink the whole thing before it gets warm. Warm vodka on a Thai Beach? Blegh. But it is cheap. ($5 for the bucket of ice, 92 straws, a flask of alcohol, a soda, and another mixer) And they are easy to share when you are on a budget and want to see what a full moon party is all about. Honestly, it's not as bad as I'm making it look in this photo.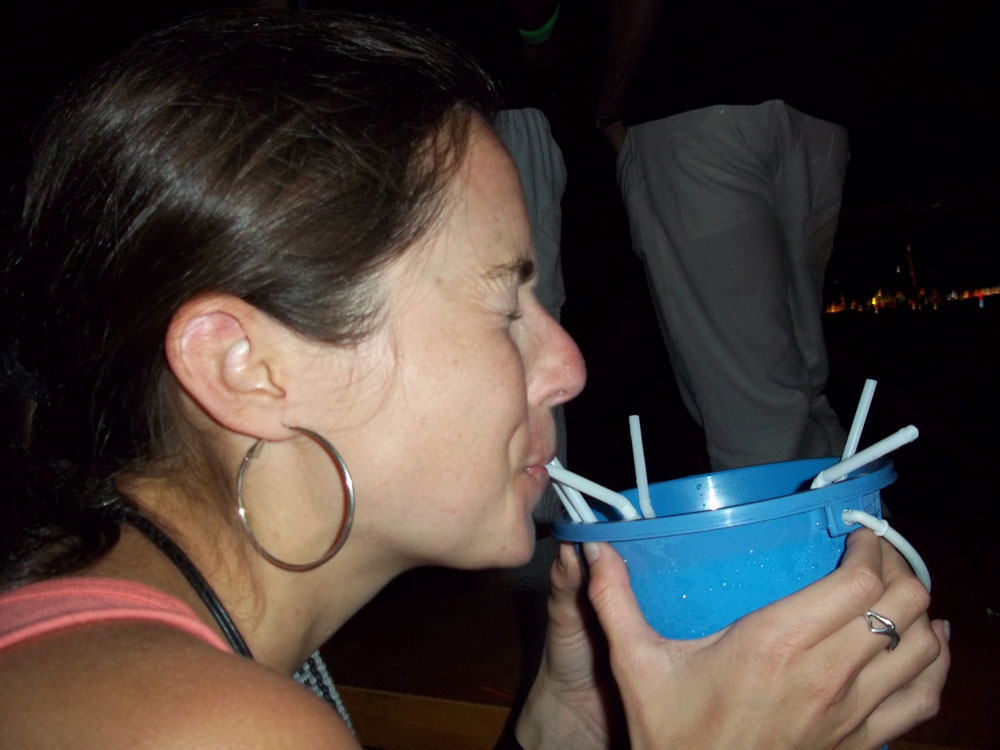 I am a fan of dark beer. Stouts and Porters have characteristic flavors of chocolate and coffee and butterscotch that I love in a savory drink. Kiwi lagers and ales abound and are excellent in their own right, but nothing tops a New Zealand dark beer.(opinion. let's not start a fight.) There were so many different breweries making some of the best tasting dark beer I've ever had. Monteith's, Mac's, Speight's…. The only problem is that they are general lower in alcohol than dark beers from other countries. But when they taste this good, who cares? And when you are small like me, lower alcohol percentage just means you can drink more of it without falling over.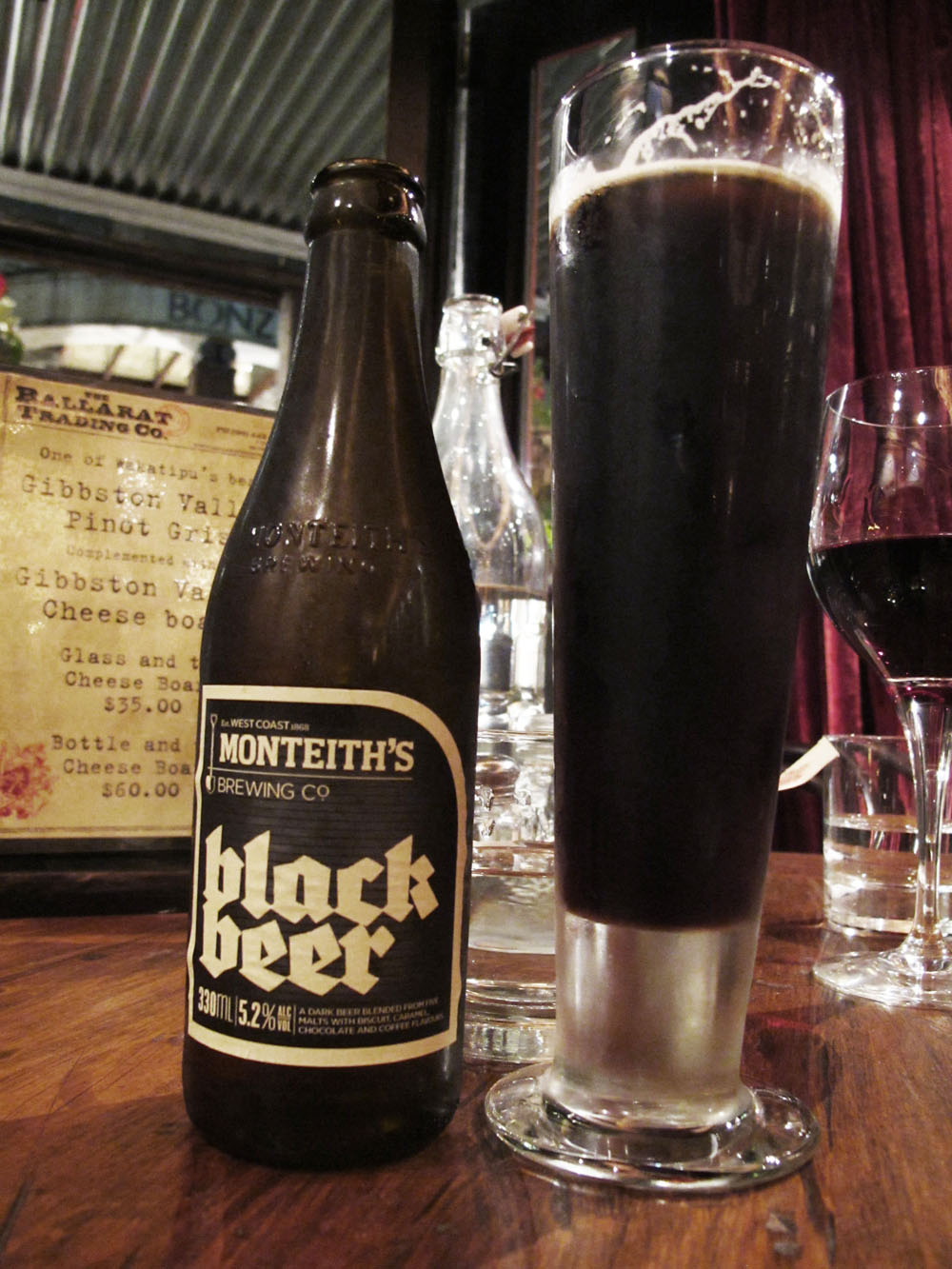 Aaaaand Greece. It is where I discovered my drink. I love me a lychee martini. Red bull vodka is a good choice on the right kind of night. But I really don't like most standard mixed drinks. (unless there's an umbrella or a paper sail in it of course!) When Matt's drinking his bourbon/whiskey/scotch on the rocks, I have to settle for a beer or open a bottle of wine that invariably will not get finished and will be banished to the refrigerator as cooking wine. I've always thought it would be nice to have an easy drink and now I've got one. Ouzo, the national drink of Greece, is a licorice flavored spirit that is commonly served over ice and cold water. Easy mixer, easy drink. Happy girl.