If there is one place to go in Marrakech to get a feel for its culture, history, and pace, it would be Djemaa El Fna.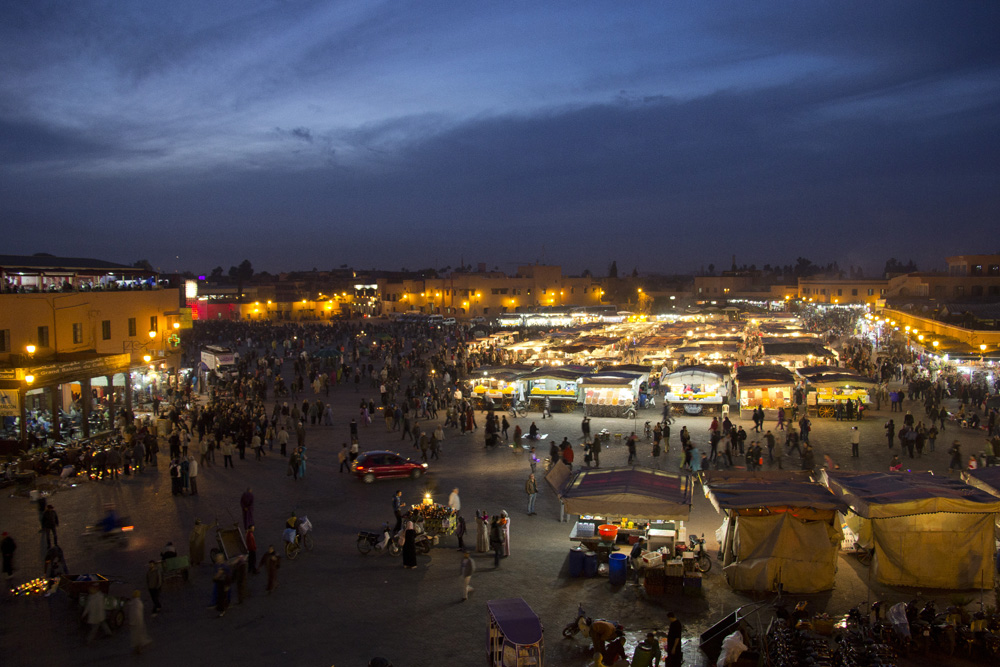 Djemaa El Fna (or Jemaa El Fna) is Marrakech's main square, which is located in the heart of the city's medina. A medina is a type of city section common in cities around North Africa. They are maze-like, with narrow streets and alleyways going every which direction. Historic sites and mosques are scattered around as well as souqs, shops, riads, and hamams. Medinas can be difficult to navigate (as I discovered firsthand – yay!), but are excellent for wandering and shopping.
The square is a wide open space where you can find all things uniquely – and stereotypically – Moroccan. Stalls selling dried fruit, orange juice vendors, monkey and snake charmers fill the blacktop by day. By night, an army of food stalls set up shop and serve some of Morocco's most iconic dishes. Souvenir stands and tourist restaurants line the edges of the square and archways lead into the souqs and maze of alleyways.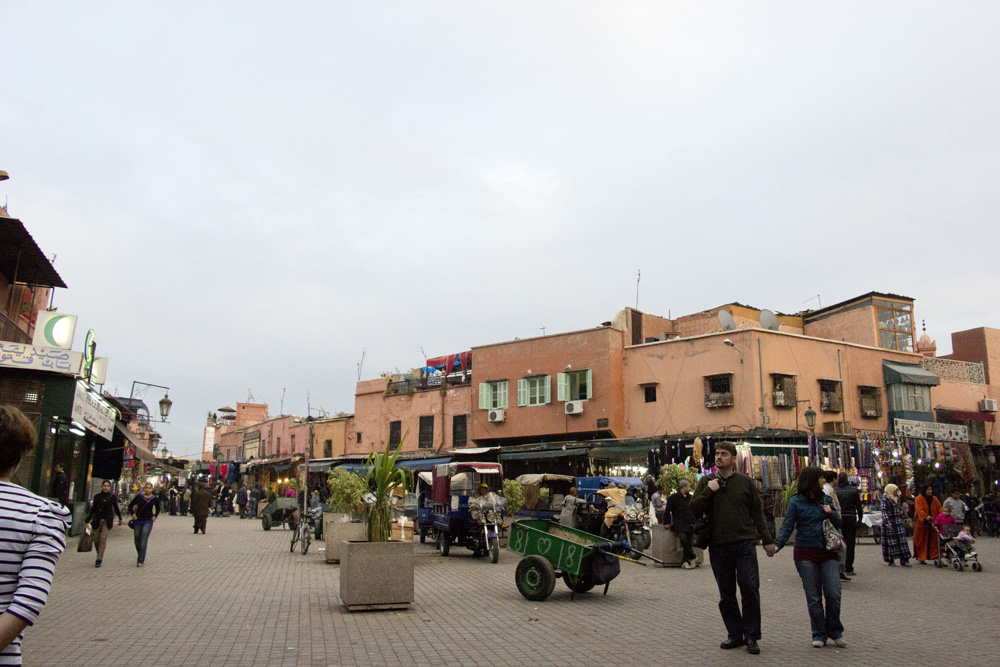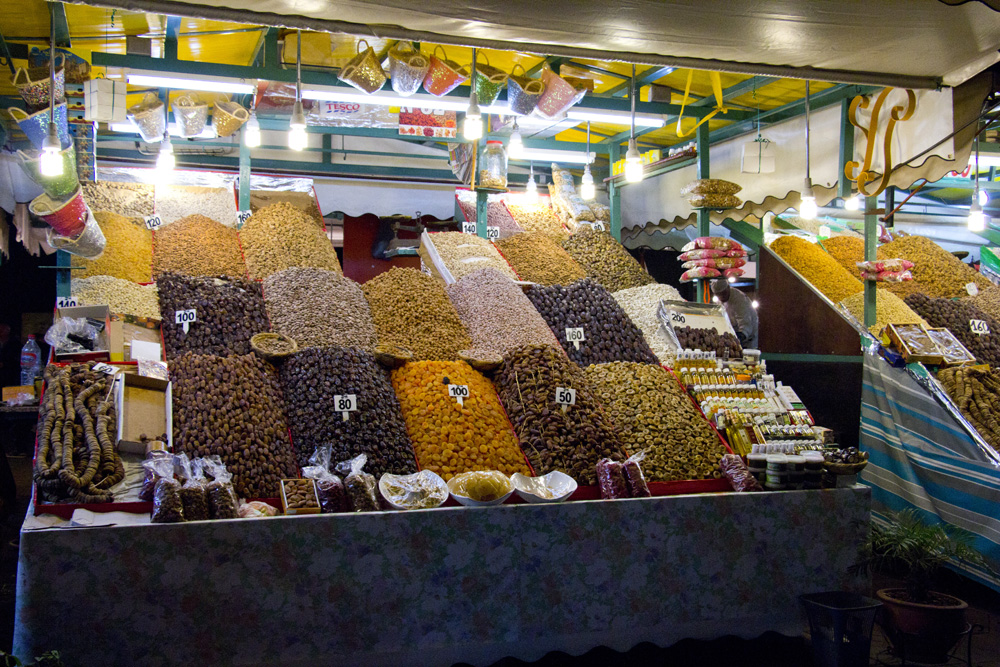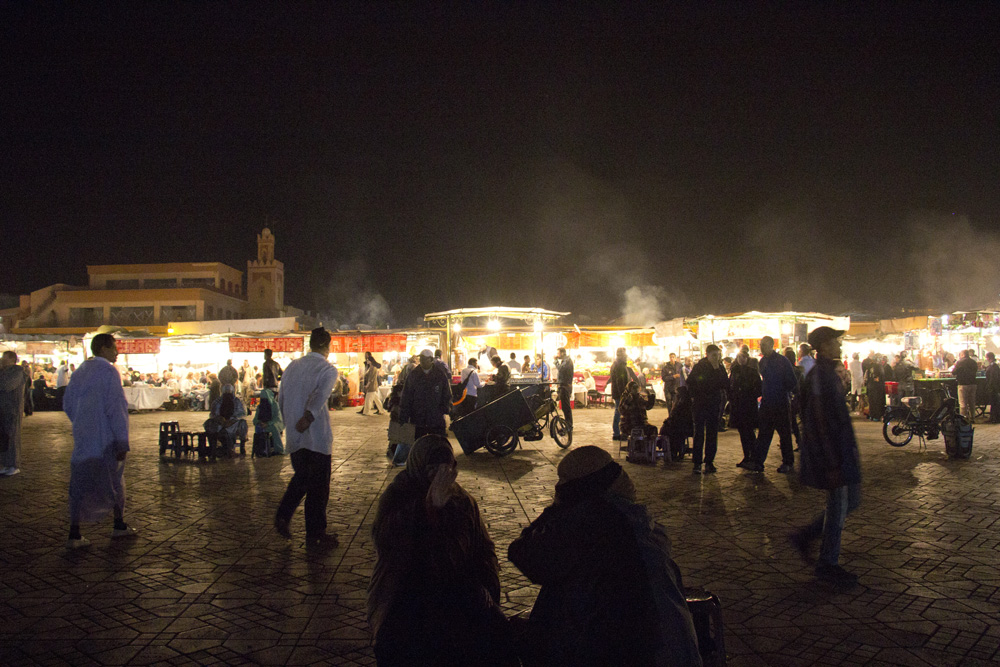 Sure, the square is not representative of every day life in Morocco – most of Marrakech's citizens don't live in the medina. Sure, it's packed with tourists trying to have a Moroccan experience. But for better or for worse, it is the epicenter of culture in this historic Berber city that dates back nearly 1000 years. It's an important place to visit in order to get to know Morocco.
So, what should you do in the square?
The square is packed with things to do and see. Here are the things I enjoyed most.
Disclaimer: You may notice that this list is missing anything to do with snakes and snake charmers. I do not like snakes. No, I do not. I try to stay as far away as possible from snakes. Snake charming, while exotic in nature, creeps me out.

DO: Walk around. Explore the shops and stalls. Buy a colorful scarf or a lantern. Get a henna tattoo from a local artist.
DO: Drink Morocco's signature sweet mint tea and orange juice! Both are amazing!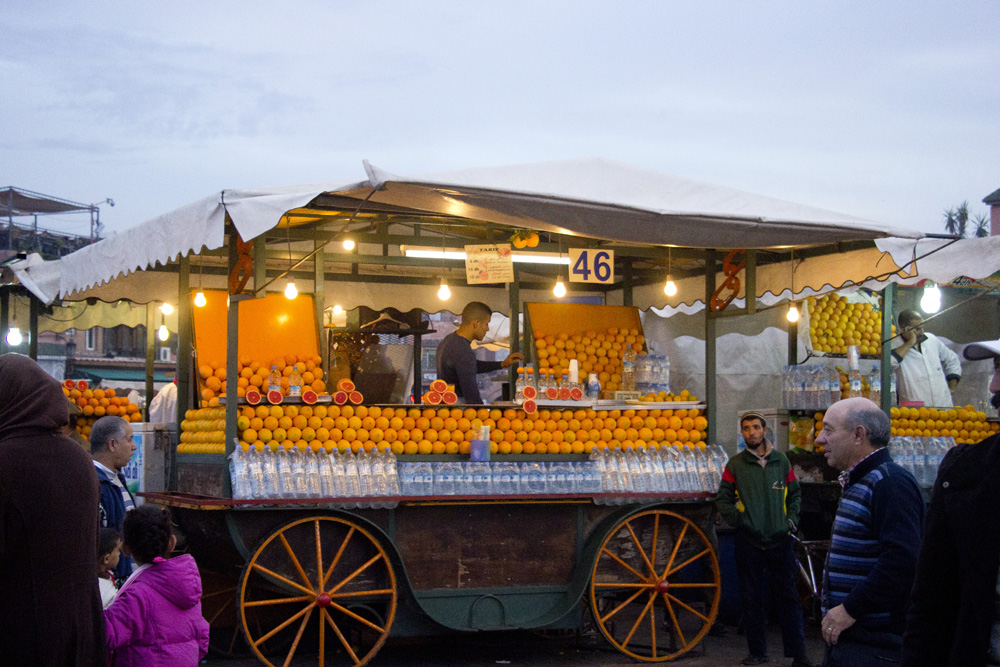 DO: Check out the performers in the various gatherings around the square. Some tell stories, some are magicians, some are dancers. Some may invite you to join in on a song with a drum or a tambourine. The words may be in only Berber and Arabic, but the music is hypnotic and creative.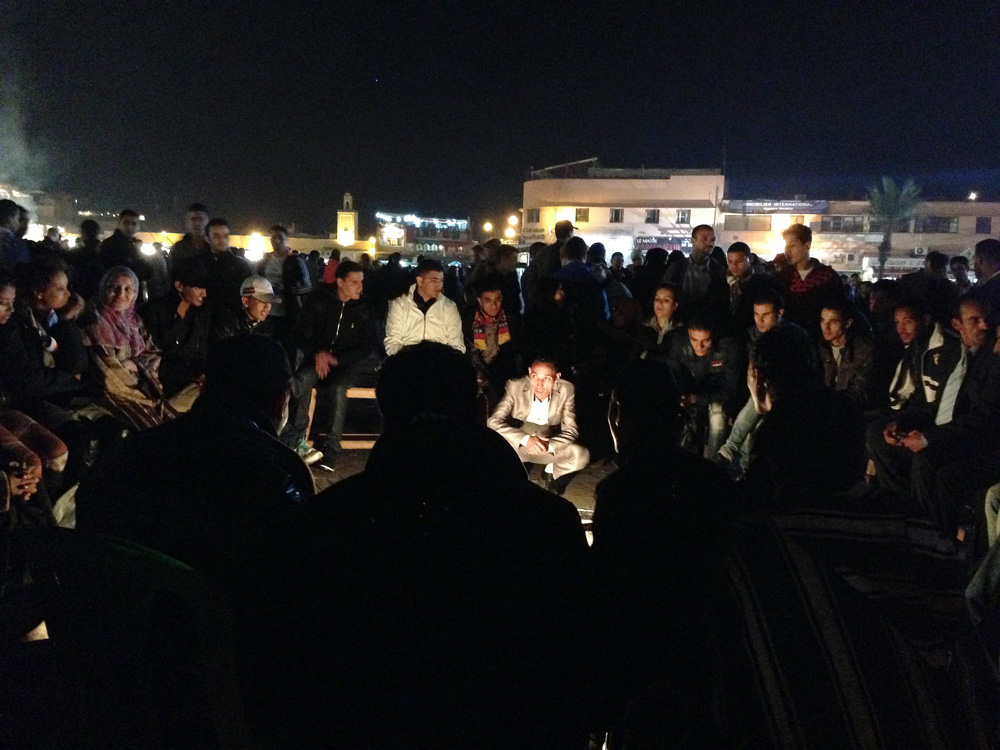 DO: Play games! There are a few games set up in the square like this bottle cap game. You get a long fishing pole with a string attached that has a ring at the end. The goal have to place the ring around a soda bottle cap. It may or may not be rigged. I also may or may not have sucked at playing the game. Either could be true of course but it was both fun and very hard.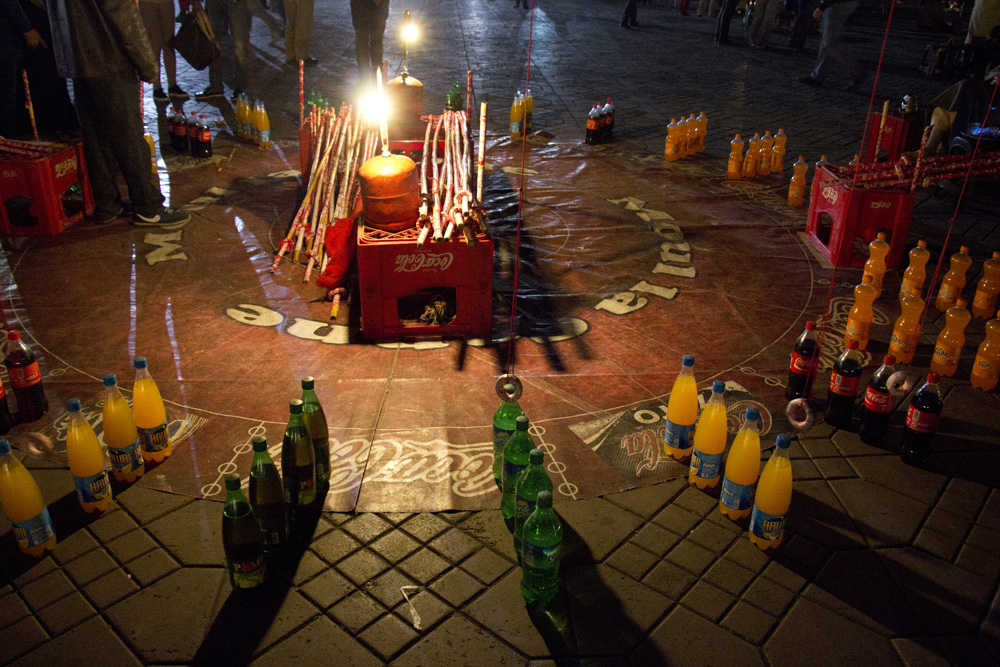 DO: (last but definitely not least) EAT! The stalls in the square make some of Marrakech's most important dishes. Yes, there are some that offer food that isn't 100% authentic and is made for tourist comfort, but there is alot of great stuff here to try. And if you are nervous about eating street food, it's ok to order a few things that sound easier. Like couscous instead of sheep's brain. I'm kinda with you on that choice.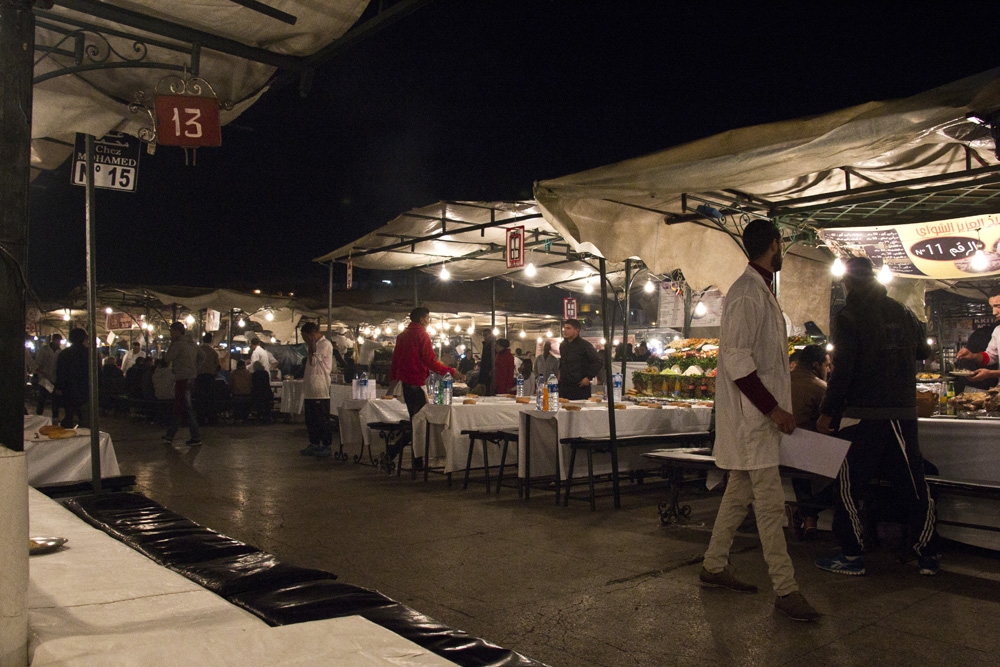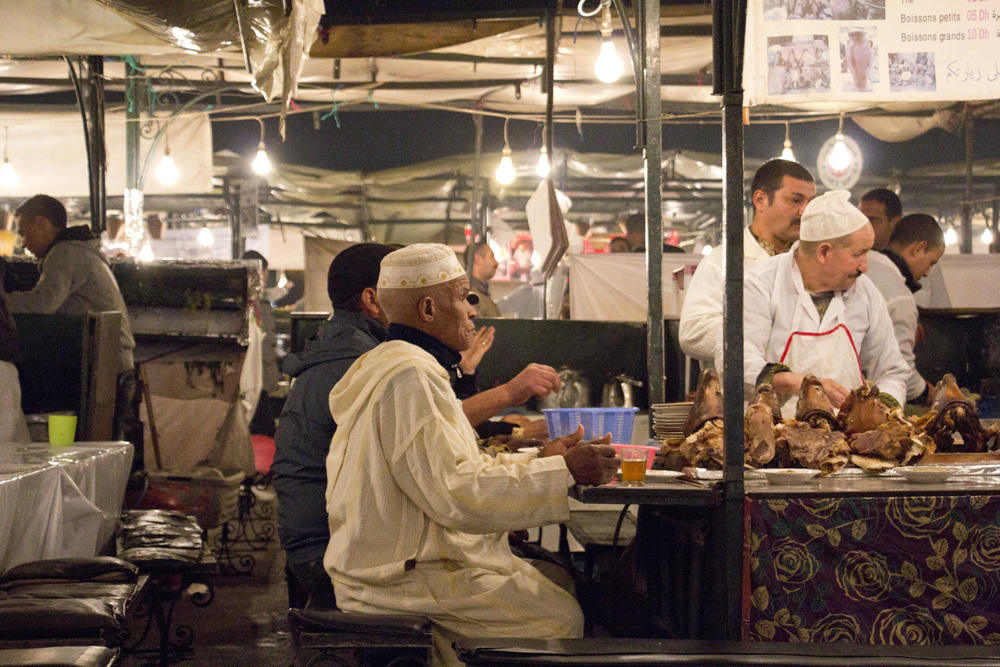 Whatever you choose to do, Djemaa El Fna is an experience. The cacophony of drum circles and the call to prayer build energy, and the scents of citrus and spices and cinnamon perfume the air. People from all over the city come here to sell, to buy, and to enjoy the night.
This is the place to be in Marrakech.
Tips for visiting Djemaa El Fna:
*Beware of scams!: While most people you will meet will not take advantage of your traveler-ness, some will. Be wary if you are offered a chance to hold snakes or monkeys as they will ask for money.
*Orange Juice: Don't worry about getting sick. Pick a vendor that is serving other patrons. Ask for a plastic cup and a plastic straw – you will be fine. This is THE BEST orange juice I have EVER had in my life, so don't pass it up!
*Street food: If you are worried about cleanliness with the food, stick to cooked things. Tagine, couscous, etc. Try the chile sauce – it's delicious. And you can always ask for fresh bread if you want (at stall 34, it was no problem). If you want to be really safe, bring your own utensils.
*Though touristy, head to one of the rooftop cafes around the square for a bird's eye view of the action. Even if you just grab a quick cup or tea or espresso, it is so worth it.
---
Check it out: TravelShus' Interactive Guide to Marrakech
---