Over the last few years, I've developed a crush.
A crush on something timeless and well-crafted and super tasty. I'm talking about wine. Not just a bottle of wine, but an entire winery that has consistently impressed me, bottle after bottle, with pleasing balanced flavors that make me stop after every sip and say "wow, that's good."
It all started with a half bottle of 2005 Merlot, and the obsession has only grown from there. Lately, it has been given the trademark Annie treatment: where I yell out to myself "Oh! They have ___!" every time I see it stocked in a shop or listed in a wine menu. I know, how professional of me. But it's really that exciting.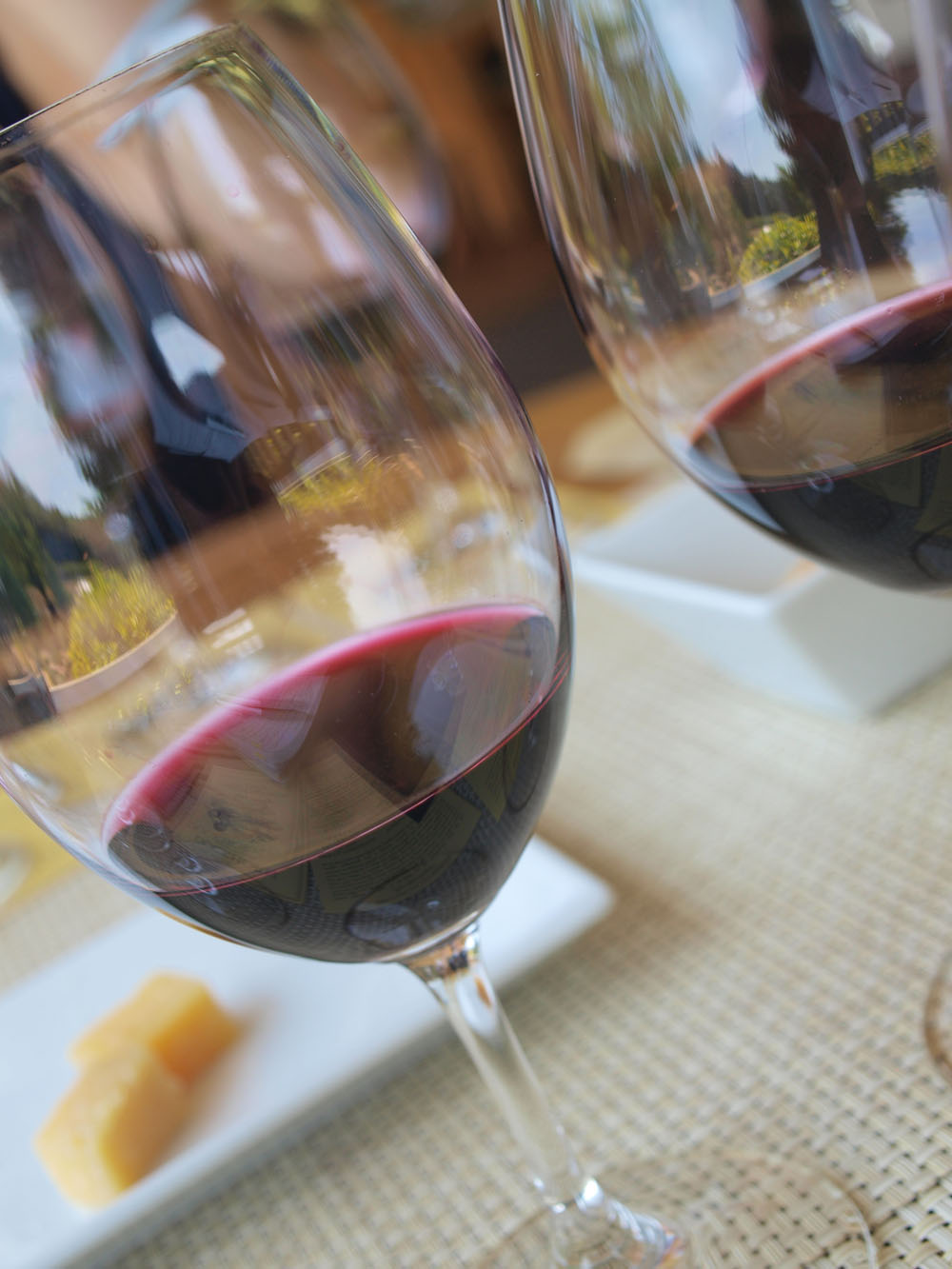 The winery I've been crushing on is Duckhorn Vineyards. The winery opened in 1976 in St. Helena, a town in the northern half of the Napa Valley. Dan and Margaret Duckhorn are well known for their Merlots, though after tasting more and more of their Cabernet Sauvignon and red blends, I feel like that could be about to change.
On my most recent trip back to California, I was lucky enough to have a day to drive up from the San Francisco Bay Area to visit my beloved Duckhorn. I grew up not to far away from the Napa Valley, and I always relish the chance to get away into wine country – especially in the summertime.
The drive up the St Helena highway is one of the best parts of a trip to Napa, as you'll pass countless produce stands, vineyards, wineries, and markets. In the distance – golden hills specked with oak trees soak in the California sunshine.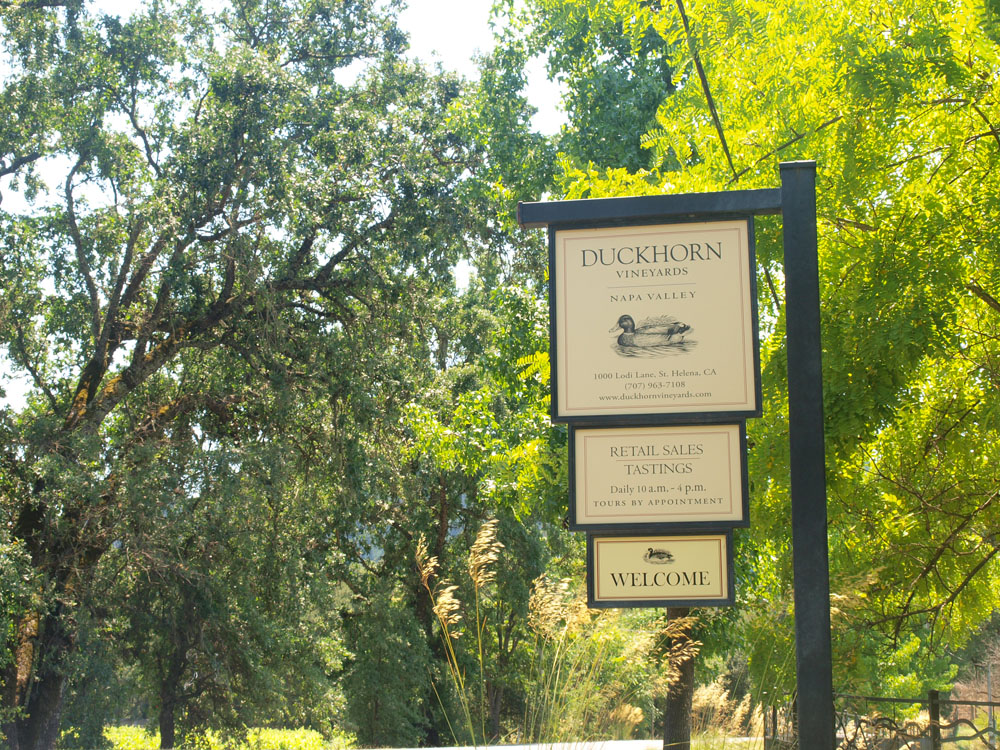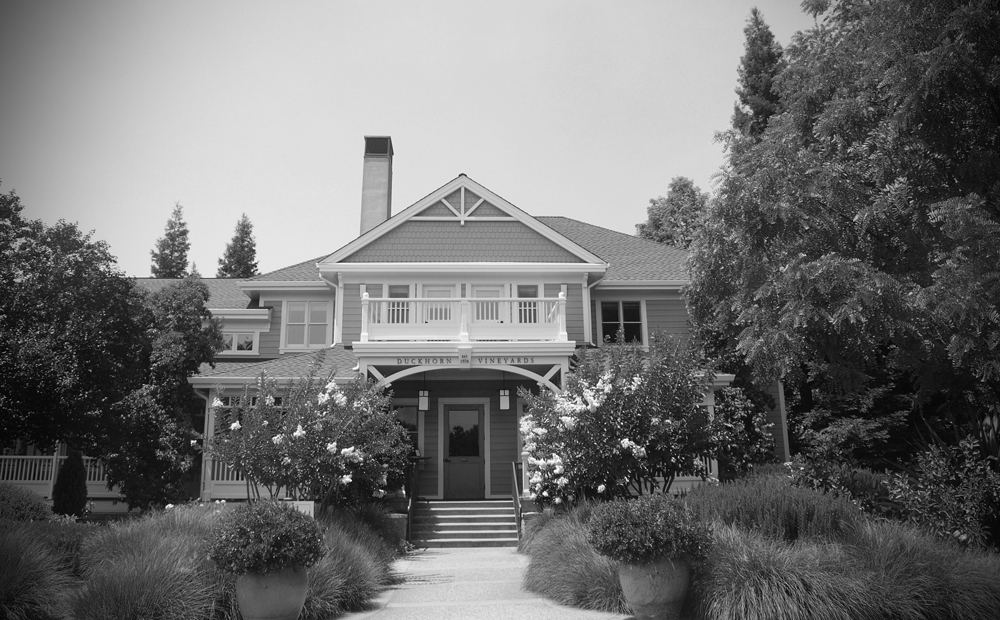 Tasting wine at Duckhorn starts at the Estate House, the vineyard's modern farmhouse is surrounded in rustic gardens and adorned inside with menus from esteemed dinners at the White House and other events where Duckhorn wine has been featured.
Once welcomed by the pleasant staff, we were escorted through the main tasting room out to the wrap-around porch. Our small tasting table overlooked the sun-soaked gardens and vineyards of Sauvignon Blanc and Semillon. A welcome glass of the 2011 Sauvignon Blanc was a grand opening to the parade of well-crafted Napa reds we were about to taste (not a connoisseur of parades in general, but this has to be the best parade ever). Locally made cheddar cheese accompanied our tasting, certainly a nice complement to our earlier lunch of soft farm cheese and fresh bread at the Oakville Grocery.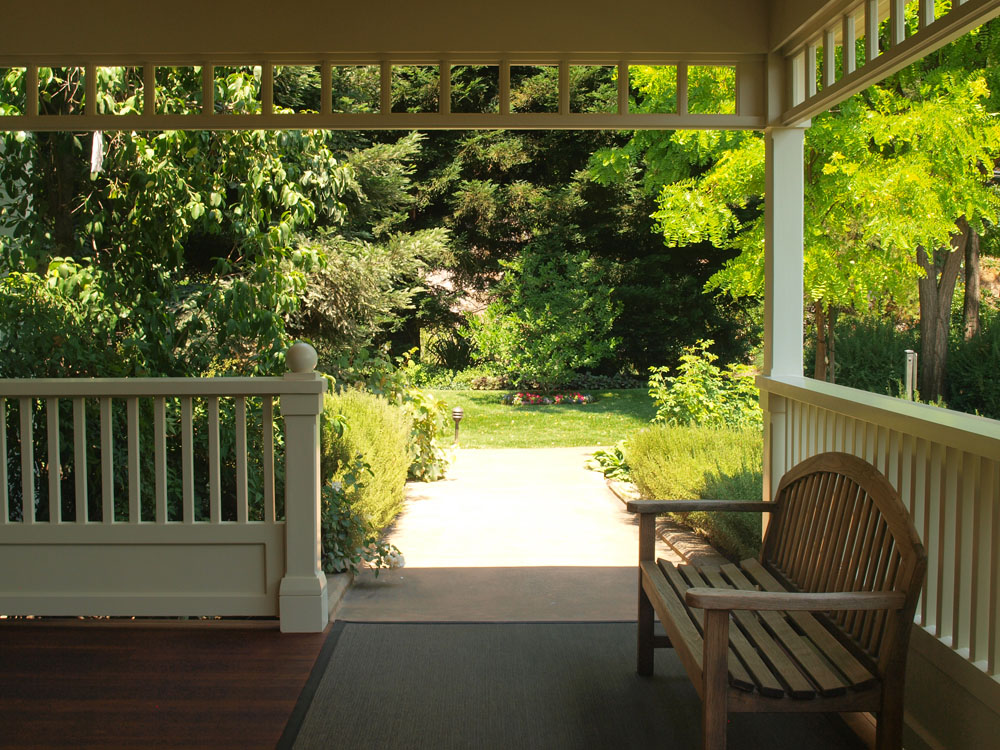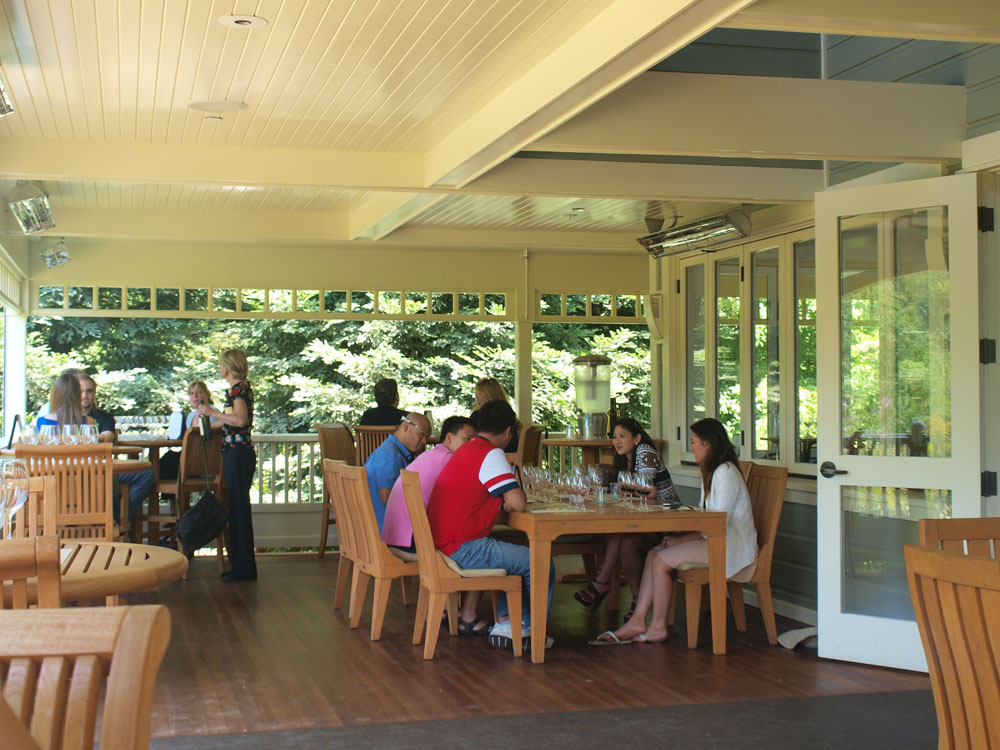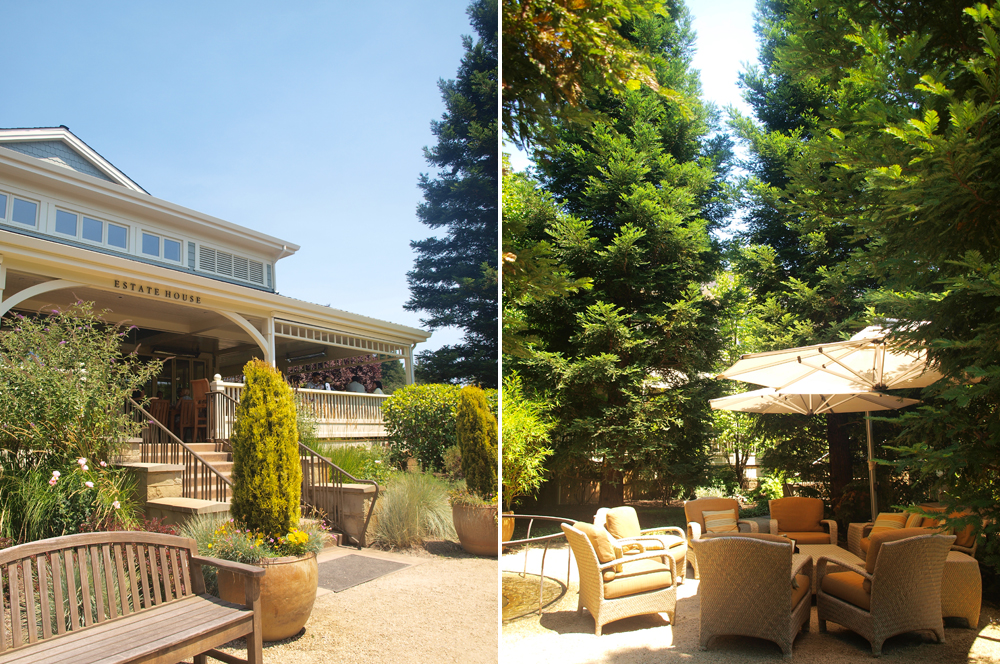 Each wine in the flight was more memorable than the next – starting with their signature and single-vineyard Merlots, moving on to signature and single-vineyard Cabernet Sauvignons, and finishing with their thoughtfully blended premier wine, The Discussion. This blend of primary grapes, along with Cabernet Franc and Petit Verdot, was exquisitely balanced with round berry flavors and nice tannin. It delighted me so much that I purchased a bottle to add to our (very small) cellar, to save for a special occasion. (Special occasions in our house often are nights we decide on travel destinations. A 1999 Opus One was uncorked upon our final decision to embark upon The Trip.)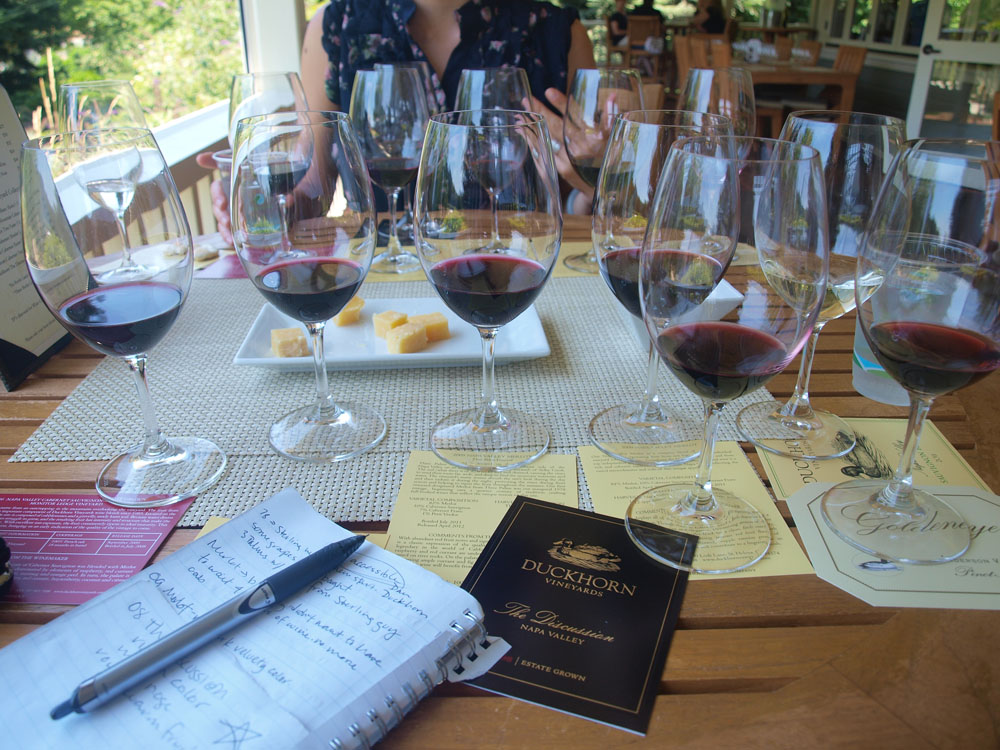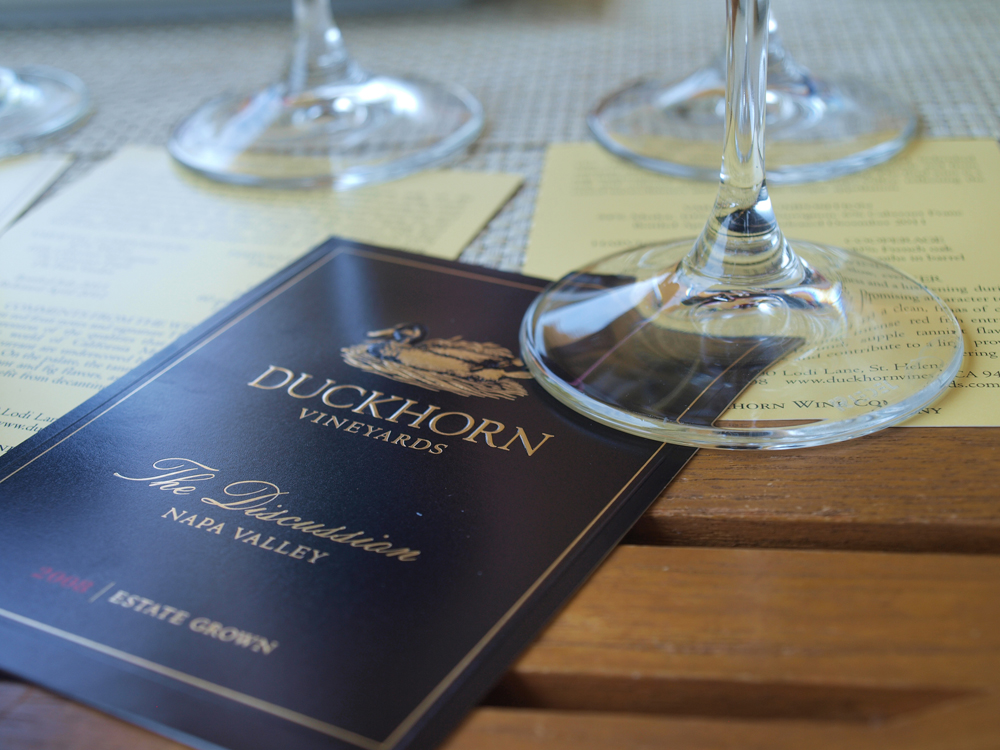 In addition to tasting the gamut of Duckhorn wines, we also sampled a 2009 Anderson Valley Pinot Noir from their sister label Goldeneye; slightly richer than most Pinot Noirs of its kind, the Goldeneye is full of red berry flavor with a balanced nose. For our walk in the vineyards around the Estate House, we enjoyed a Zinfandel, from further south in the Valley, under another Duckhorn label Paraduxx. This 2009 wine was velvety and brimming with dark berry and warm oaky flavors.
After saying goodbye to our tasting guide, we left for a walk around the property, Paraduxx in hand. Clearly a lot of effort is put into keeping Duckhorn looking its best. Sitting areas, covered patios, and cozy wooded corners pop up along the winding garden pathways, amongst tall redwood trees, flowers, and vines heavy with fruit.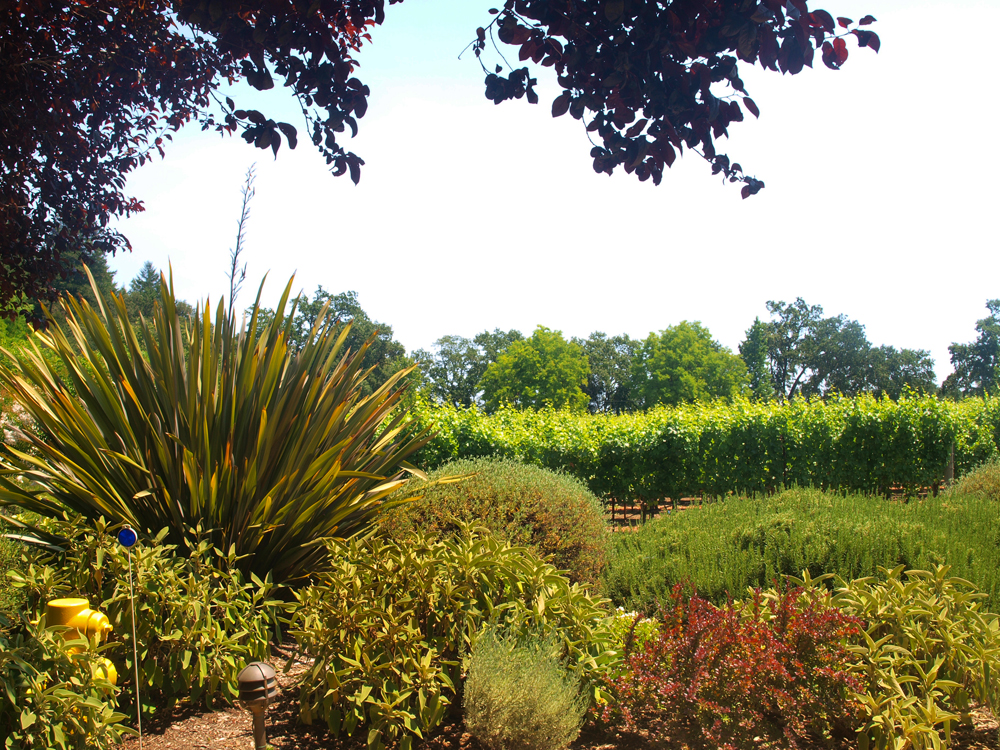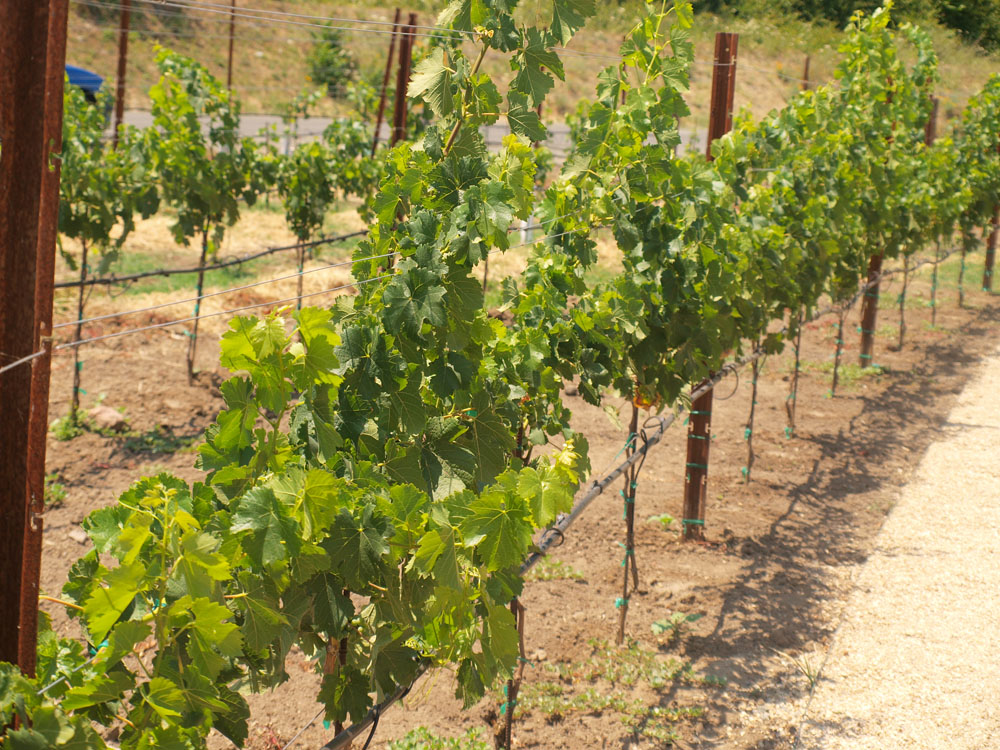 It was treat to have visited one of my favorite vintners, especially in my home state and on such a beautiful day. My expectations of the grounds and the wines were far exceeded. Though my personal connection made the afternoon even sweeter to experience and also to write about, Duckhorn is an ideal place to enjoy Napa as a wine lover, a local, or a traveler. Especially when the wine is this good.
[divider type="thin"]
To visit Duckhorn Vineyards, visit their website and make a reservation.