A trip to Las Vegas does not have to be all about gambling and drinking. Nor does it have to break the bank. In fact, there is much more to Las Vegas than galavanting around like Raoul Duke from Fear and Loathing. A weekend in Sin City can be relaxing and inexpensive, but still glamorous and exciting.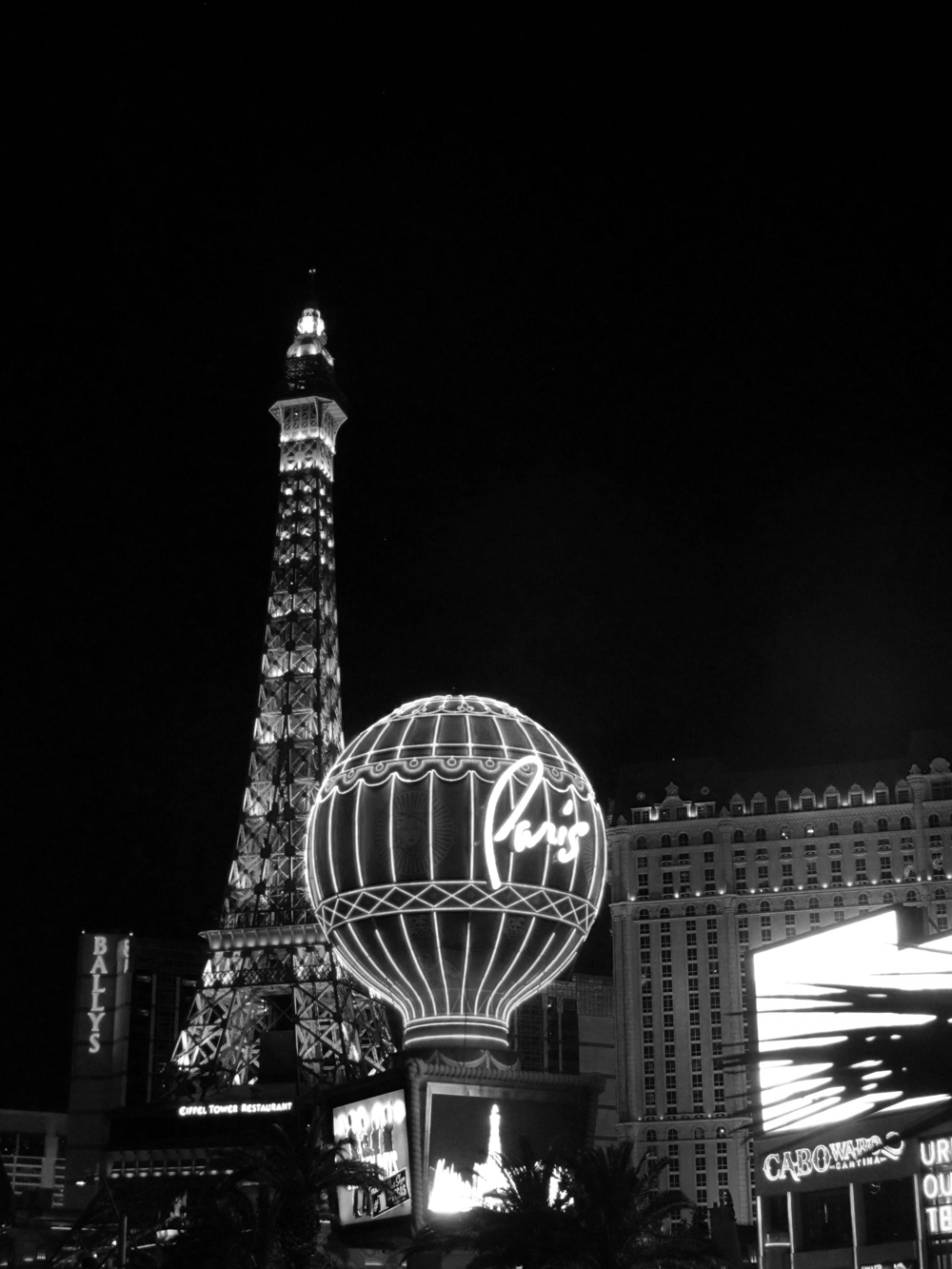 Most people go to Las Vegas to indulge – it's a fact. Drinking, late night clubs, and 24 hour casinos are the mainstays of Las Vegas activities. But most hotels, both on and off the strip, have gone to great lengths to ensure that there is more to do. In recent years, Las Vegas has become a hot spot for restauranteurs, performance art, art installation, and relaxation – but it might not be apparent at first glance. This is especially true as you still can't walk down the strip without being handed cards for the multitudes of escort services or hearing gaggles of inebriated men and women screaming as they celebrate their single lives.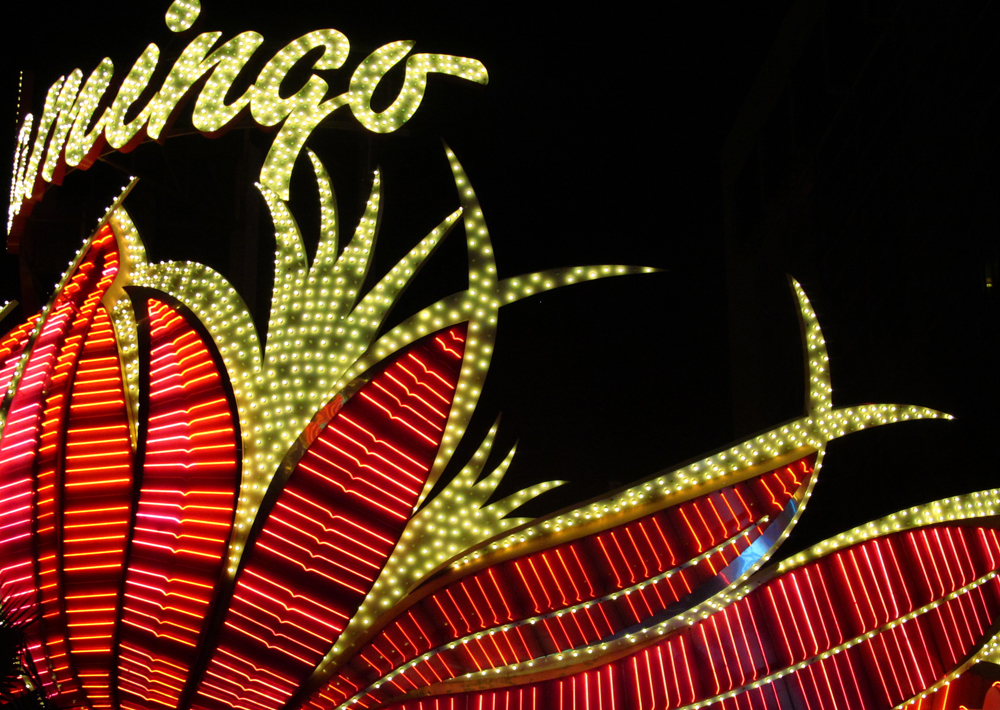 On a recent trip to Las Vegas, I explored many of the options outside of the typical fare. Here are a few of my tips to get you off of the casino floor and on your way towards a vacation that might be more your speed.
(Disclaimer – I am *not* into Vegas shows, therefore I did not, and most likely will not be going to a Vegas show to get away from the casinos. Even still, there are plenty of options besides a Vegas show for entertainment. )
1. Enjoy the desert weather by the pool.

The desert of the southwestern US is hot. And dry. And to those of us who live in places where winter is cold and rain is plentiful, a trip to the desert is a welcome change of pace. Most large Las Vegas hotels have started making a big deal about their pools, decking them out with bars, cafes, countless luxury lounge chairs, cabanas, wait-staff, pool toys, and barbeque areas. Though some are known for a party-like atmosphere (the pool at the Hard Rock Hotel, for example hosts parties almost 7 days a week including the famous Sunday afternoon party "Rehab") where others tend to be more relaxed. (The pool at the Bellagio is more of a serene upscale atmosphere, even on the weekends) If you are staying at a hotel with a pool, most likely your pool entrance will be free, but when going to another hotel's pool, you can be sure you'll need to pay. Which ever type of atmosphere you are after, pool time is one of the best parts of taking a trip to the desert – warm dry air and a limited amount of bugs to annoy you.
2. Take a trip down Las Vegas Boulevard to Fremont Street – the original LV strip.
The strip wasn't always the center of Las Vegas. Fremont Street was home to all of the the firsts – first hotel, first gaming license, first high-rise. The Golden Nugget was the first real hotel-casino, and is now one of the hotels of The Glitter Gulch, the nickname given to this old Las Vegas hotspot. Since the 90's, most of the Las Vegas action has been focused on The Strip, causing Fremont Street to become somewhat of a museum – with old standards like Binion's (original home to the World Series of Poker) and Fitzgerald's. Fremont St is also currently home to the nightly light show "The Fremont Street Experience," where music is synched to an impressive show of lights built into an archway over top of the Glitter Gulch.
Even if a music and light show is not your thing, a trip out to Fremont St is a unique step back in time.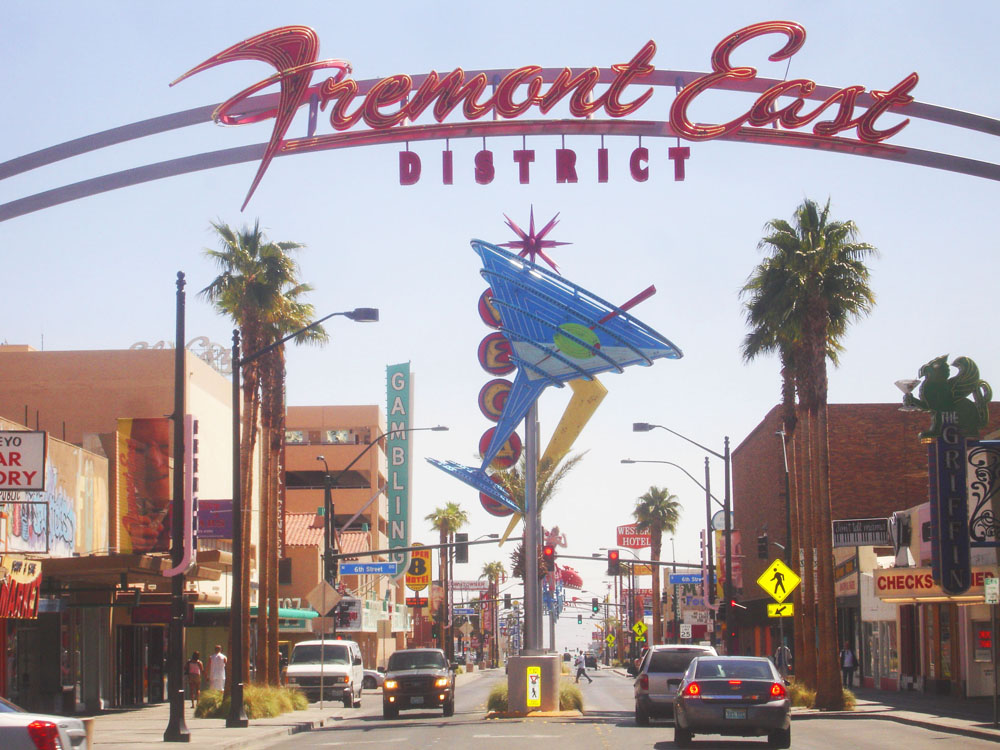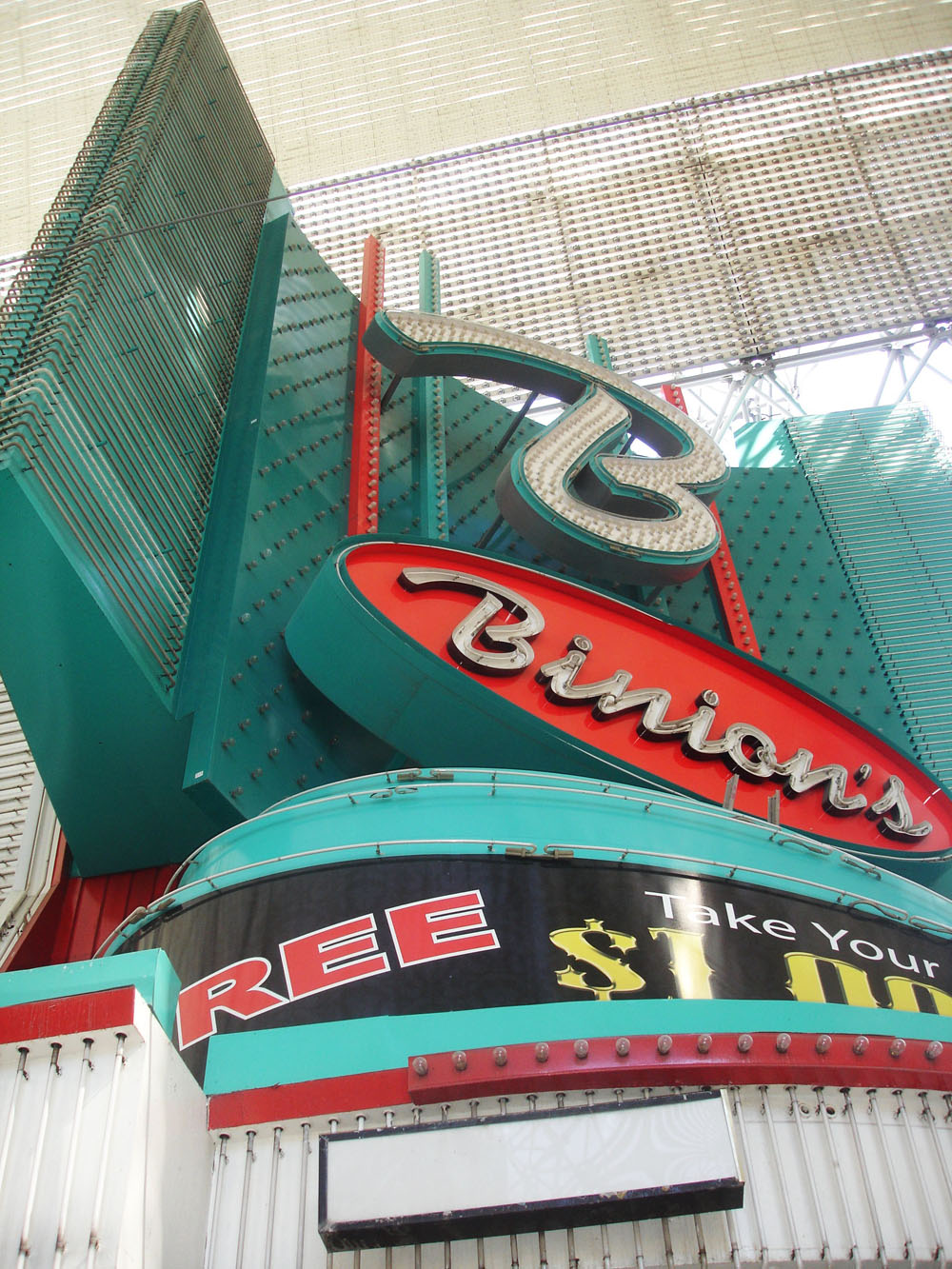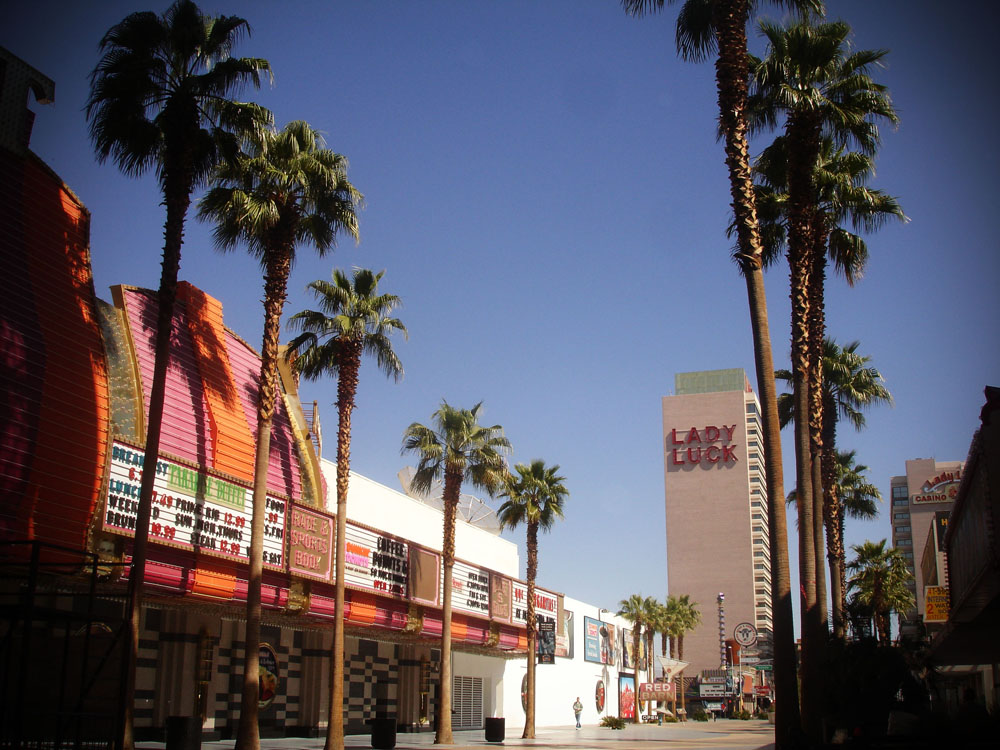 3. Check out one of the many Las Vegas art installations.
Within all of the biggest hotel-casinos on the Strip, there is some level of artistic presence. Whether it is out front in the form of a fountain display or fire show, or if it is inside in an art gallery or in the design of the hotel itself, there is a lot creativity that went into making Vegas what it is.
The Palazzo Hotel has daily performances of The Living Garden, which mixes nature, classical music, and choreography.
The Bellagio enlisted artist Chihuly to create a breathtaking colorful ceiling design in the lobby – definitely worth a trip to the hotel just for this.
The Venetian has many performers in The Grand Canal (their indoor remake of the Venetian canals and side-streets) that captivates shoppers and hotel guests alike with clowning, miming, and people-statues.
Both The Mirage and T.I. have elaborate performances involving fire, explosions, and pirates, in their strip-side real estate to entertain passers-by.
The most iconic art installation of them all is, of course, the Fountains at the Bellagio. (as seen in such ridiculously awesome movies as Oceans Eleven) Every 15 minutes, the fountains come alive with water blasts and lighting and "dance" to music. Granted, the chosen music can be somewhat cheesy and draws a huge crowd of tourists, it is still an striking water show and a Vegas must-see.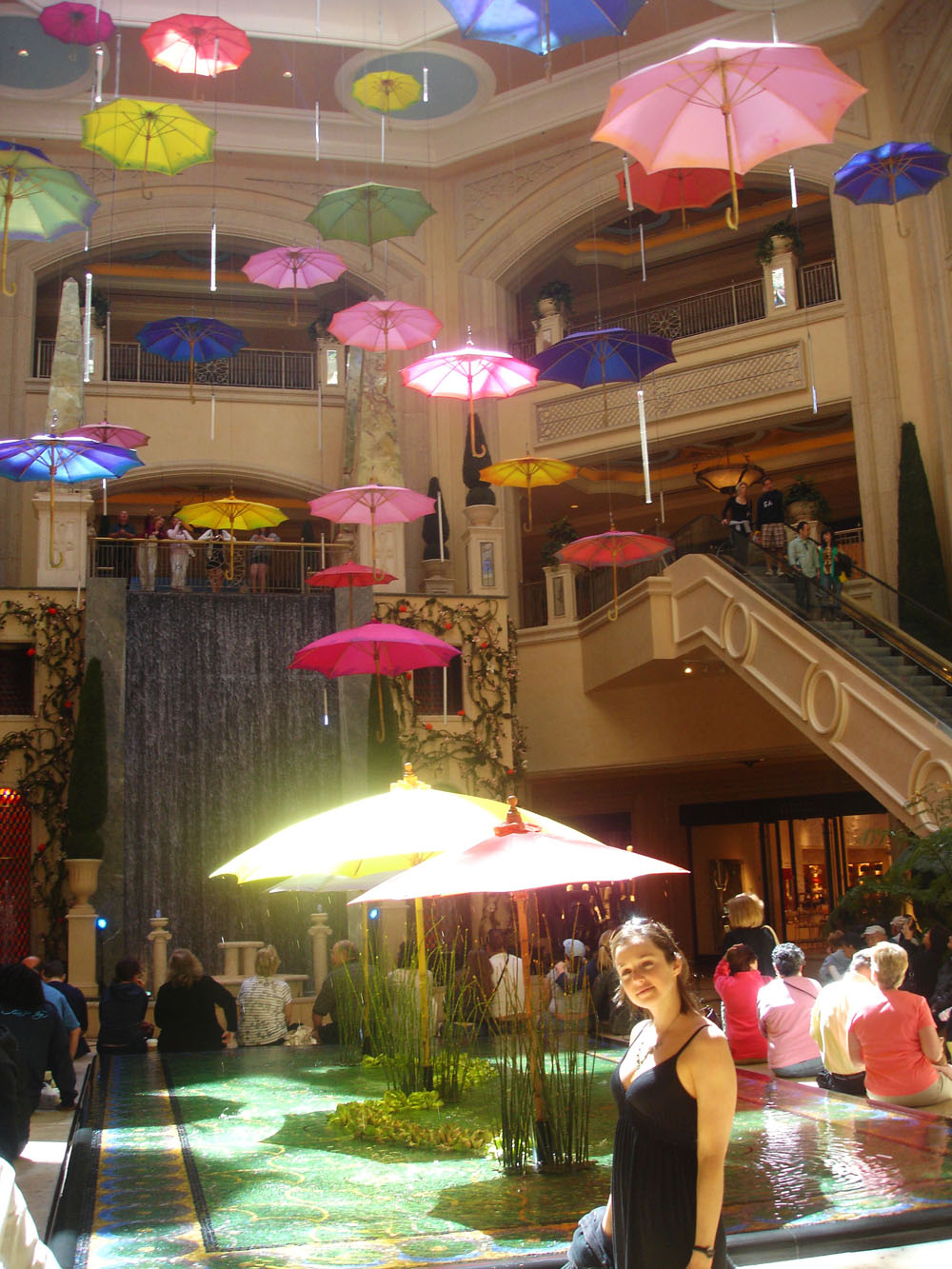 4. Indulge at one of the many moderately priced restaurants on The Strip.

Vegas has so many amazing restaurants, but not all of them are fancypants and uber-expensive. There are definitely plenty of those high-end options, and if couture cuisine is something you are after, you can eat light at one of the highly rated top quality restaurants such as Estiatorio Milos in the Cosmopolitan, Restaurant Guy Savoy at Caesar's Palace, and Wolfgang Puck's CUT at The Palazzo. Even getting an appetizer might be a bit on the pricey side, though, if you can even get a table.
Luckily, if these are not of interest, Vegas makes it easy to drop less money on some seriously good food.
BLT Burger in The Mirage dishes up some great burgers and casual fare for a reasonable price. (Classic burger for $12) BLT Burger
Otto in The Venetian gets you Mario Batali's amazing Italian food without rolling out the red carpet. (Penne Alla Norma  for $17) Enoteca Otto at The Venetian
Granted, unless you are eating off the strip or at a food court, most restaurants at the large Las Vegas hotels are not going to be traveler-cheap. But, for a splurge, the food will be worth it.
5. Go into the desert and take a hike.
When you are finally sick of all the shiny bright lights and pool side napping, strap on your hiking shoes, rent a car and head out into the desert. Only a 30-minute drive west of the Strip sits Red Rock Canyon, a National Conservation Area. The canyon is a horseshoe-shaped valley flanked with bright red rocks and tall textured mountains, and offers a scenic drive and multiple hiking/rock climbing options for an entrance fee of $10 per car. It's worth the trip if you are looking for a little nature and activity. It's also a beautiful place for a picnic and some photos. (More of my photos coming soon)