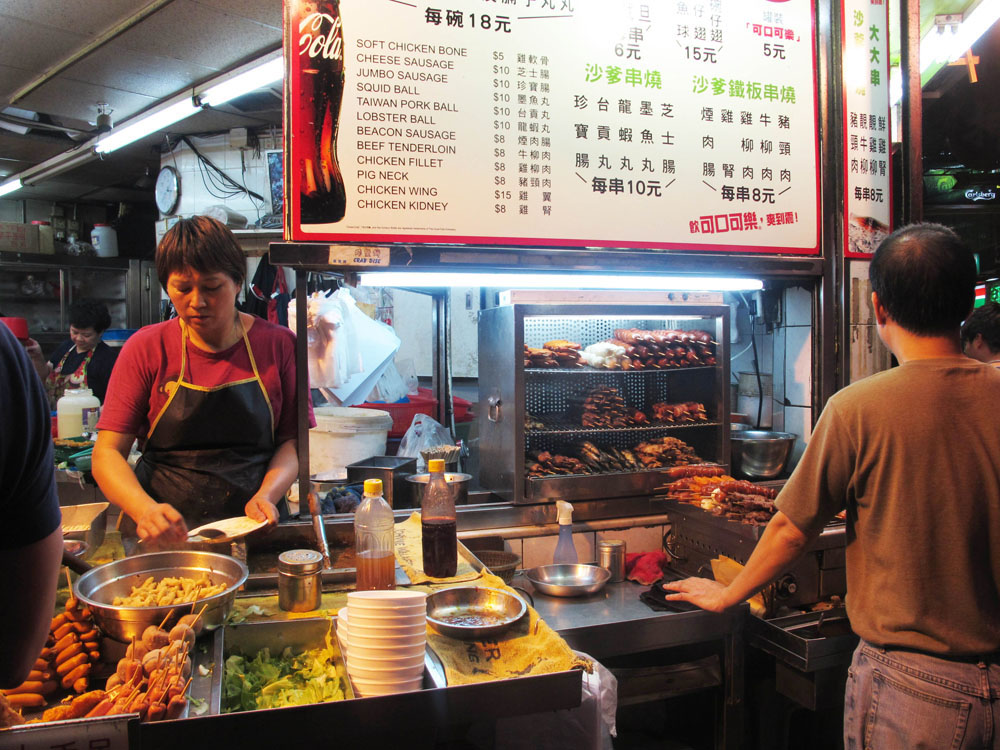 China, depending on whether you are talking about the Mainland or the special economic zones, was an  interesting culinary destination for us. We knew before even getting there that regardless of what our fellow travelers had said about food in Thailand or Indonesia, Mainland China would not be as easy for a westerner with western food needs. Thankfully, Hong Kong and Macau are exceptions to this rule. Hong Kong is a world city, with culinary representation from all corners of the globe. Macau, not unlike Vegas, is an adult playground which strives to offer all manners of indulgence. Including but not limited to McDonald's and fancy Portuguese cuisine.
As we had chosen to spend almost a month in Hong Kong, it was a blessing to have western food widely available. As for our time in Mainland China, eating was as difficult as expected. Meals were either eaten at our Hostel, Sim's Cozy Guesthouse, or at the McDonald's in Tianfu Square. Luckily, our hostel served up some good local options for me, and a local food stall nearby offered up some noodle-y snacks for me to try when out at night in the city with some traveler friends.
One of the first things I did after we touched down in Hong Kong (of course after laying in bed for three days to get over the stomach flu Nepal had given to us so kindly as a goodbye present) was eat some Cantonese dim sum. Dim Sum has become a serious San Francisco tradition, and thus it was a tradition for my family when I was growing up. Chrysanthemum tea, char siu baau, and steamed shrimp shumai are my favorite flavors of dim sum, and Hong Kong brought me face to face with my love of these dishes.  At my first Hong Kong dim sum, the below char siu baau (steamed pork bun) was the star.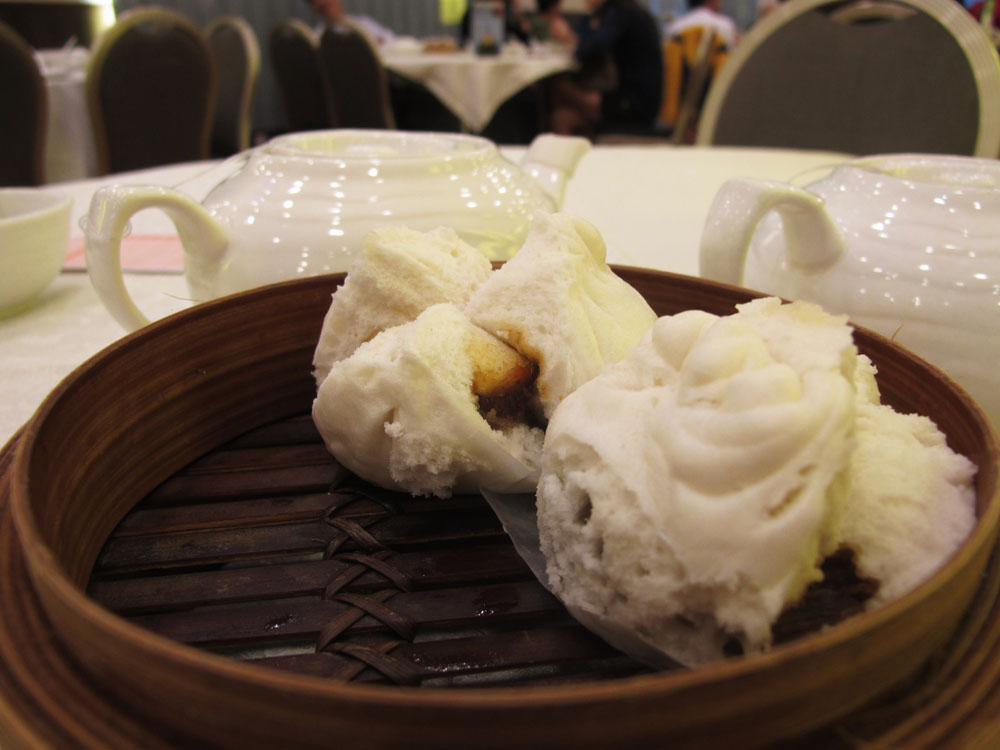 Beyond Dim Sum is Hong Kong street food. It's everywhere, and it smells amazing. It has become a large part of Chinese cuisine, if not the heart where the best flavors can be found. The people cooking at night markets and street carts are the soul of Chinese eating culture. Afternoon snacking and late night grazing is brought new levels when you choose from freshly stir fried meats, steamed dumplings, steaming hot bowls of noodles, and assorted balls. (made of fish of course) These stalls are either right on the street or set up inside pavilions. In both settings, there are tables and chairs where customers can sit and eat together. We weren't able to eat at many of these places, but the few opportunities I did get were very memorable.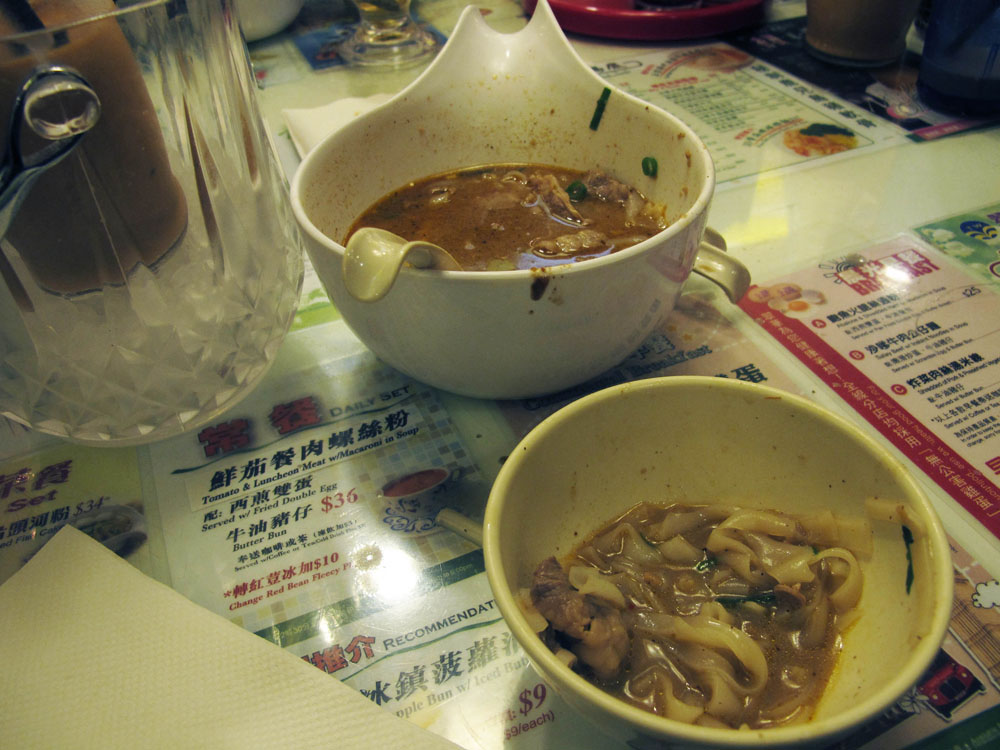 As we were restricted by time from visiting most places in Mainland China, our friends who live in Hong Kong brought Shanghai to us. On the dinner table. We sat at a table for six at a popular Saturday night Wan Chai haunt and enjoyed plate after plate for Shanghai-style cuisine. Pan fried pot stickers, fried wontons, noodle soup with delicate dumplings, stir fried long beans with pork, and of course, soup dumplings. Though I've studied chemistry and physics extensively, soup dumplings still boggle my mind. The soup is inside the dumpling, liquid and all. I imagine pure magic happening in the kitchen as my purse of warm salty broth is steamed inside a tiny pouch of dough. Matt, the good husband that he is, sat by and drank wine as we went happily dish by dish through our meal.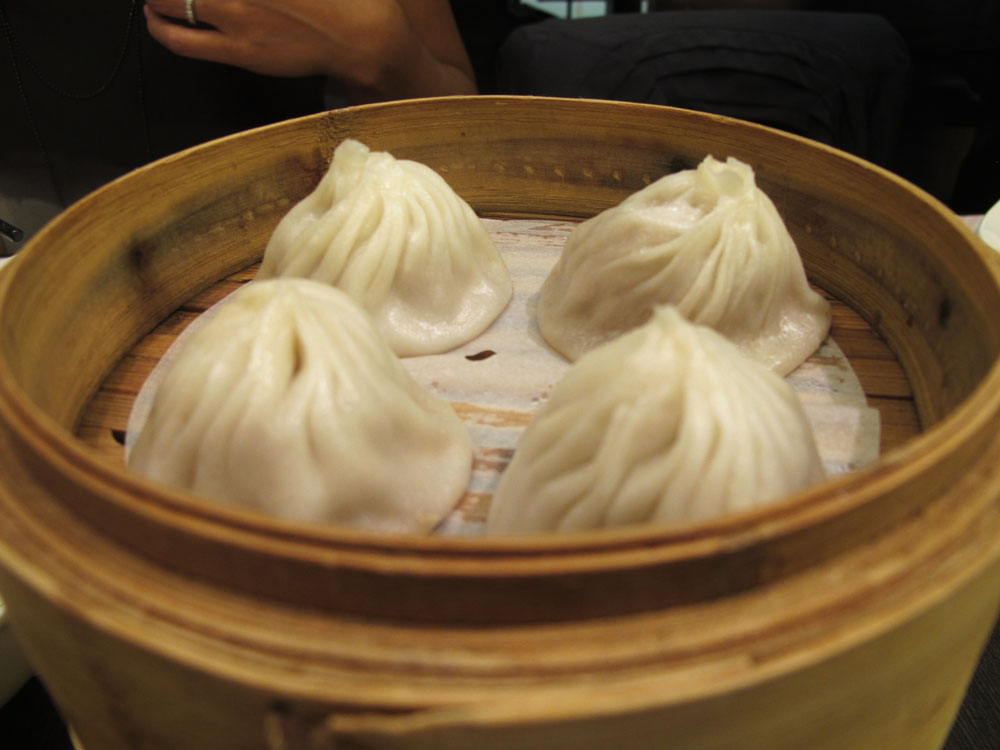 When on Mainland China in Chengdu and Zhuhai, our food experience needed a little more planning. Since our Chengdu hostel served both western and local dishes, I indulged in some contraband food while Matt safely enjoyed pasta and rice with bolognese right by my side. When out for the day in the city, we frequented American fast food restaurants, which normally would need no photography. Except for this. Its too amazing.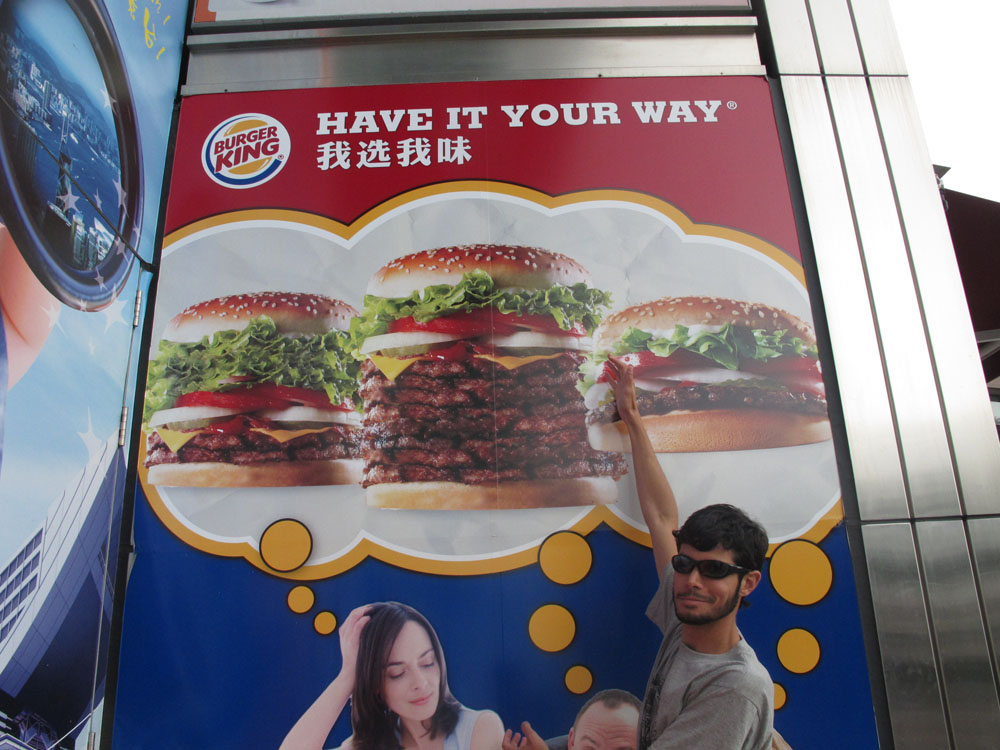 The most memorable choices at Sim's were tofu with ginger and scallion, and chicken with sesame. Both were served with tender steamed white rice and a beer. I enjoyed the simplicity of the dishes and focus on the few ingredients they contained. And I really really like tofu.
In general, I greatly enjoyed all of the dishes I was lucky enough to taste, but I left with a strong desire to taste more. On the other hand, I feel lucky enough to have even been able to visit China with my husband, considering the culinary circumstances. However, as I currently live in New York City, home to a huge Chinatown and plethora of traditional Chinese restaurants, I hope to continue my education in Chinese flavors here. There are so many dishes left to try.