It's now been well over a year since we got back from our trek to Everest Base Camp. Since then we've done a lot of things and been a lot of places, but if I close my eyes, I can still feel the cold winds up on the rocks around Dingboche and the satisfaction of sitting down on the Khumbu glacier, at the site of Everest Base Camp, with Matt and our fellow trekkers after ten days of walking.
Most of our 14-day trek through the Nepali Himalayas was through green valleys and rocky river beds. The trail led us from Lukla through Namche Bazaar, along mountain edges with stunning views of the Everest range in the Himalayas, over rivers and suspension bridges, and also through local villages. Some of it was difficult uphill hiking (locally called "Nepali flat"), some of it was steep downhill that makes your knees ache, and a tiny bit of it was flat. (what I call "actually flat") Where ever we were for the first eight days, it was beautiful terrain. We hiked with a relaxed time frame and with plenty of water and photography breaks. Other than a group-wide pandemic of a sinus plague (complete with hacking coughs AND runny noses), the trek was enjoyably doable. I even thought to myself at one point "this is pretty easy. Why do people think this is so hard"?
As most things history have told us, don't EVER say things like this until you finish the task at hand.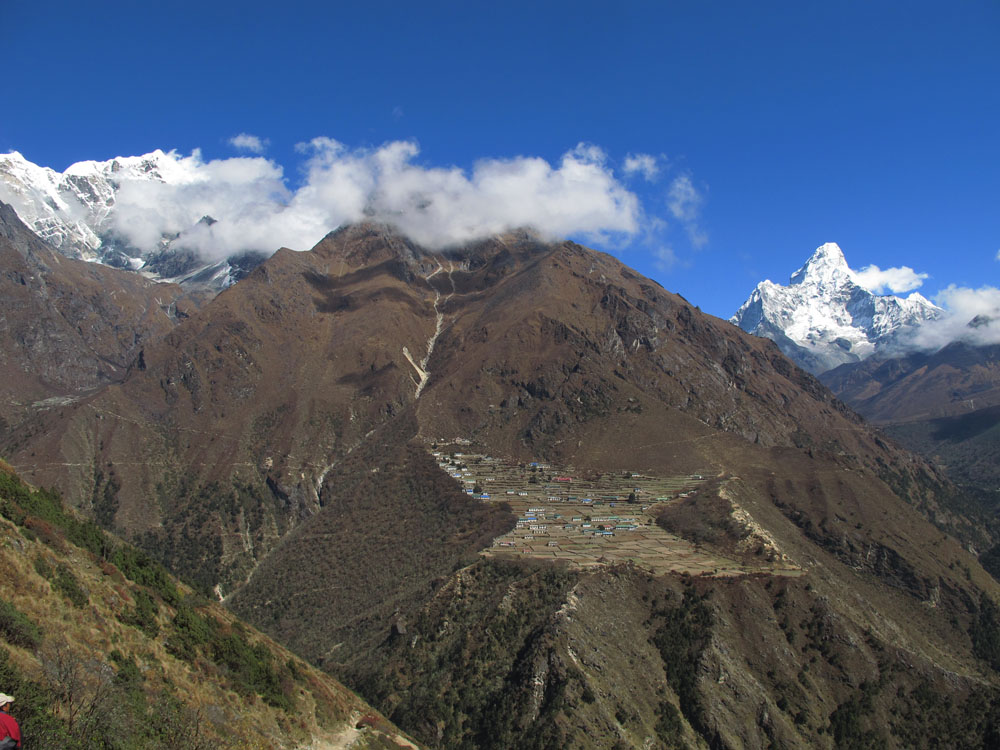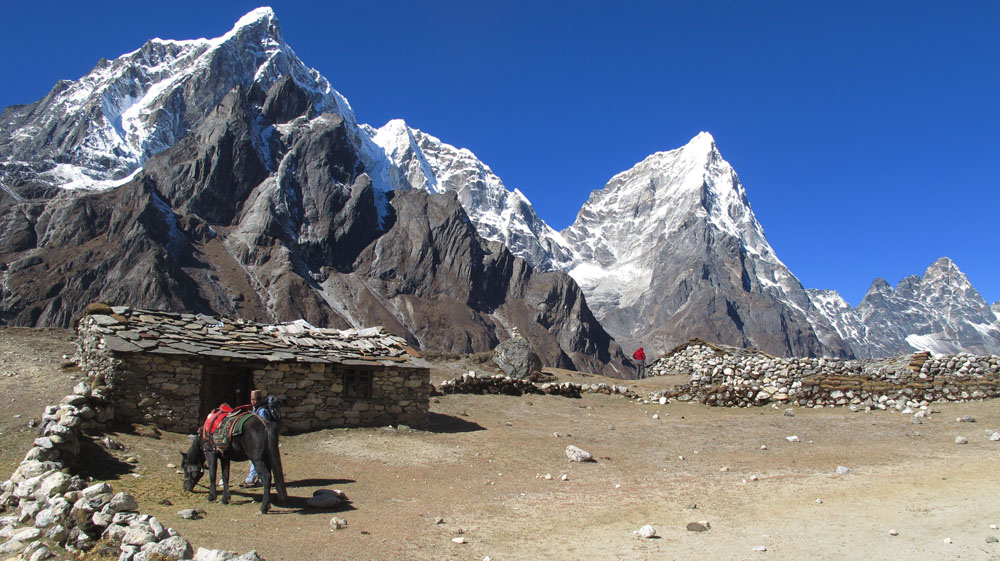 The morning broke on day nine of the trek. The day's hike included about 4-5 hours of hiking from Dingboche (4280m) to Lobuche (4939m). One of the two most difficult sections of the trek was on this leg (The Thukla Pass) but but would only take 45 minutes to complete. The journey began on a really cold and windy morning. Oh yes, foreshadowing.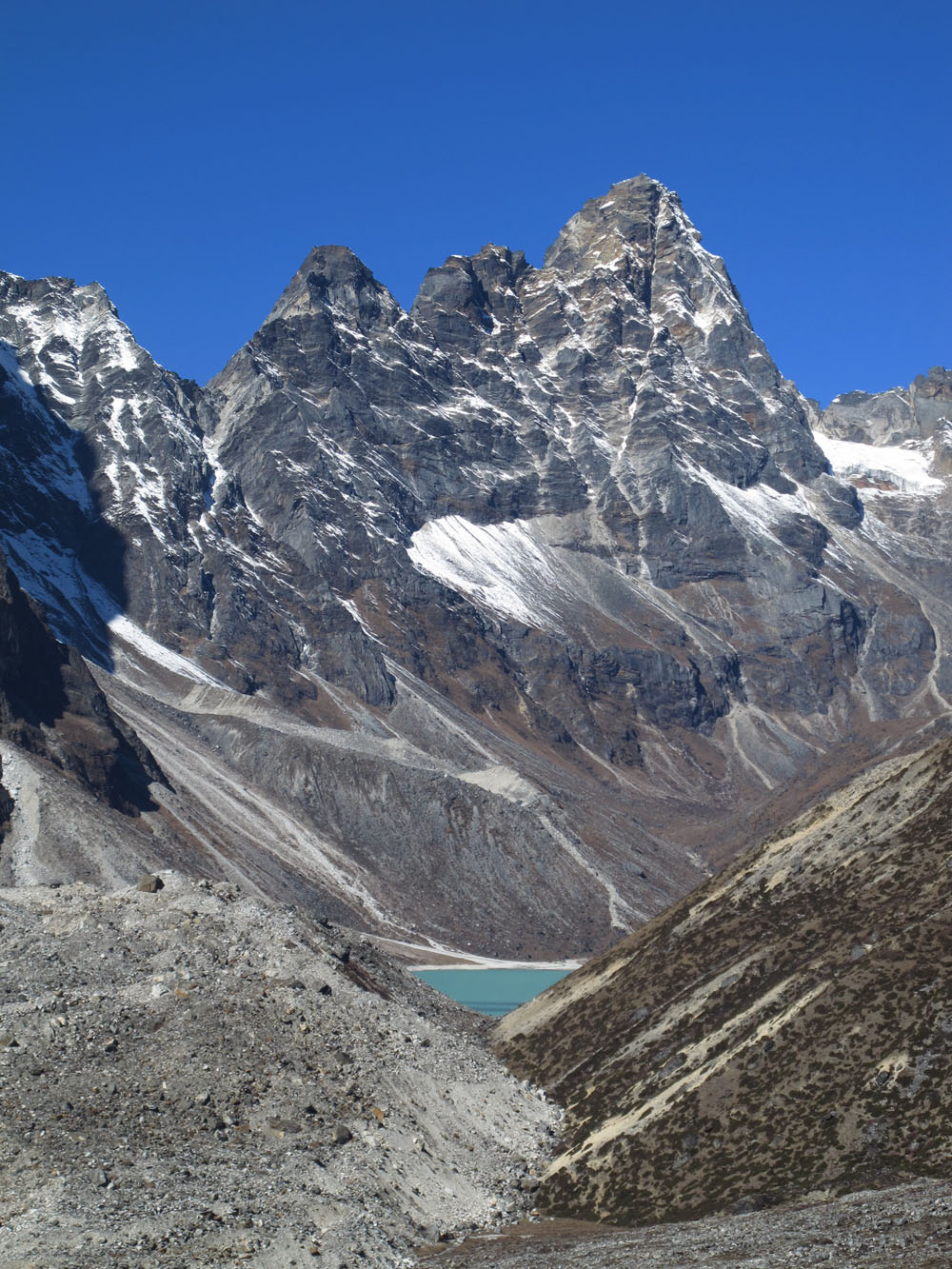 As our hike progressed, the team started to feel the altitude more and more. My Canadian friend Christina nearly coughed out a lung on the way through the riverbed, and I began to feel an exhaustion through my body like nothing I've ever experienced. It was getting harder to take deep breaths and harder to move our legs from step to step. After two hours of gradual movement, we reached the bottom of the pass and a water break.
It was nice to take a rest, that was until one of our guides came running to us with bad news. After he had set out on the same walk at 6am in hopes of securing rooms in our next pit stop, Lobuche, he had to run all the way back to meet us to let us know there was no vacancy in Lobuche. Great. So now the choice was a) stay where we were right then over night. Today would have been only a three hour day, leaving us with an extra three hours on top of an ten hour day for tomorrow. Or b) eat an early lunch and hike through to Gorak Shep, the last stop before base camp, a mere six hours away. Upon hearing the choices, my body collapsed in a heap on a rock. Both were vile choices at the time.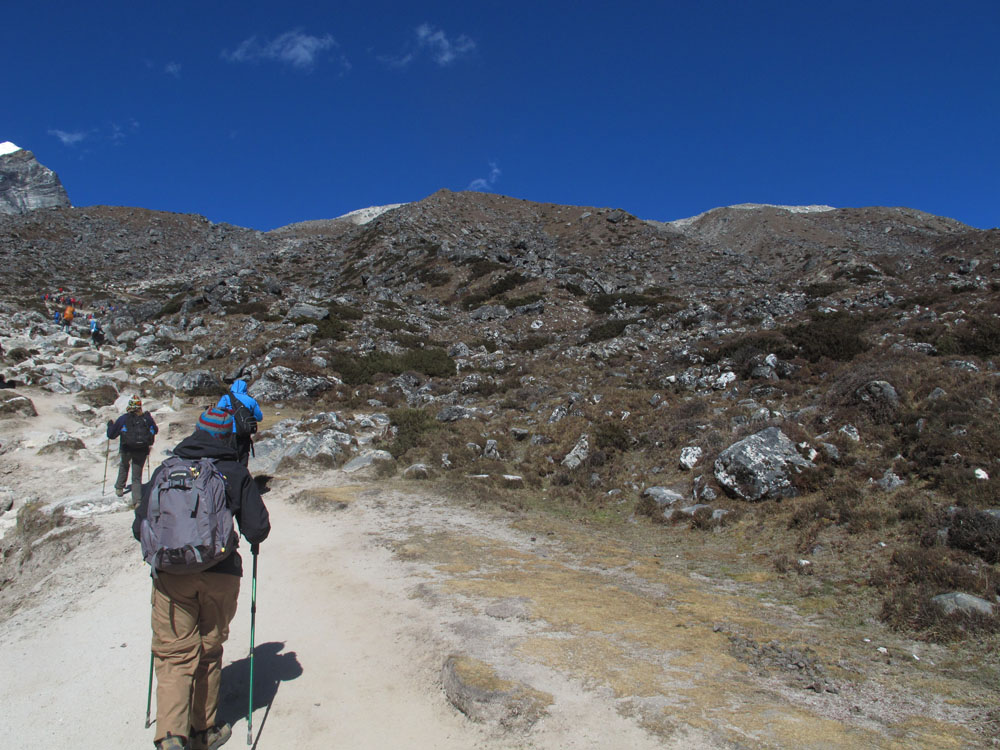 With both limbs and mind contesting, my team decided to hike through to Gorak Shep that day. Now with my spirit completely terrified of the task ahead of me, Matt force fed a few potatoes before we prepared for our marathon hike up to 5164 meters. I started up slowly up the pass with the team, one foot in front of the other. It took 45 minutes of a high altitude StairMaster-ing before we came up to flat riverbed(thank god), and finally up into the high mountain terrain. (which was much like I imagine the moon to be like: no plants, no animals, no heat, and no air).
The only thing that got me through the hike that day were heaving deep breaths, Matt walking right behind me, and some very much needed music on my ipod. I do believe without the ipod, my body might have gone on strike and left me sitting on a rock in the middle of nowhere. After six hours and 16 kilometers of unbelievable scenery and intense willpower, we arrived at Gorak Shep for some black tea and a seat. Thinking back on it now, I remember very little of what obstacles I actually overcame, just that one leg went in front of the other and I didn't fall down. The air at Gorak Shep was filled with only 50% of the oxygen found at sea level and our sinuses filled with god knows what. Shortly after arriving, I did what only champions do: I ran outside by the front door to the tea house and threw up every drop of water I drank on the hike.
Afterwards, I downed a few bowls of garlic soup (which is actually quite helpful for nausea) and went straight to bed, to sleep through one of the coldest nights I have ever experienced. Our clock-thermometer read 23 degrees Fahrenheit in the middle of the night. INSIDE our room. Luckily, I wouldn't have known it. I was wearing three pairs of socks, fleece leggings, hiking pants, two tank tops, two long sleeve shirts, a hoodie, a fleece, a down jacket, a hat, a hood, and a fleece eye cover. All inside a down sleeping bag.
We woke up at 5am the next morning and set out in our puffy jackets and headlamps on a two hour climb to base camp. The hike began in the pitch black of morning, but as the sunrise approached, the Khumbu glacier, Lhotse, and Nuptse revealed themselves in a dim blue light. Once the sun rose over the mountain peaks and the cold wind died down, we arrived at Everest Base Camp. 17,500 feet. At the foot of the tallest mountain in the world.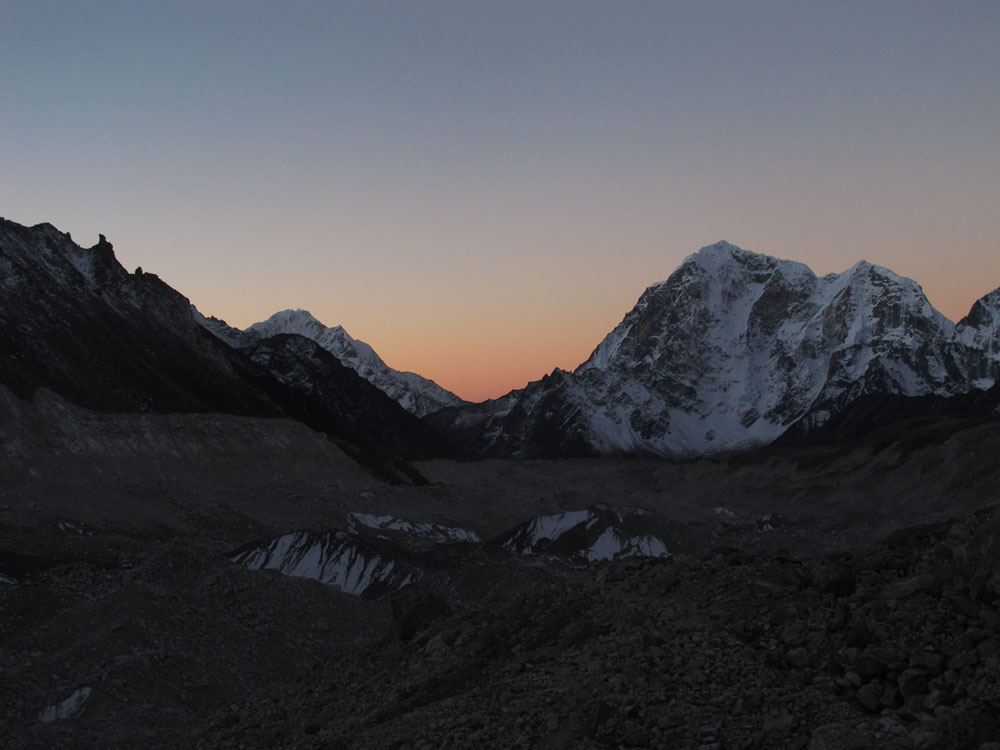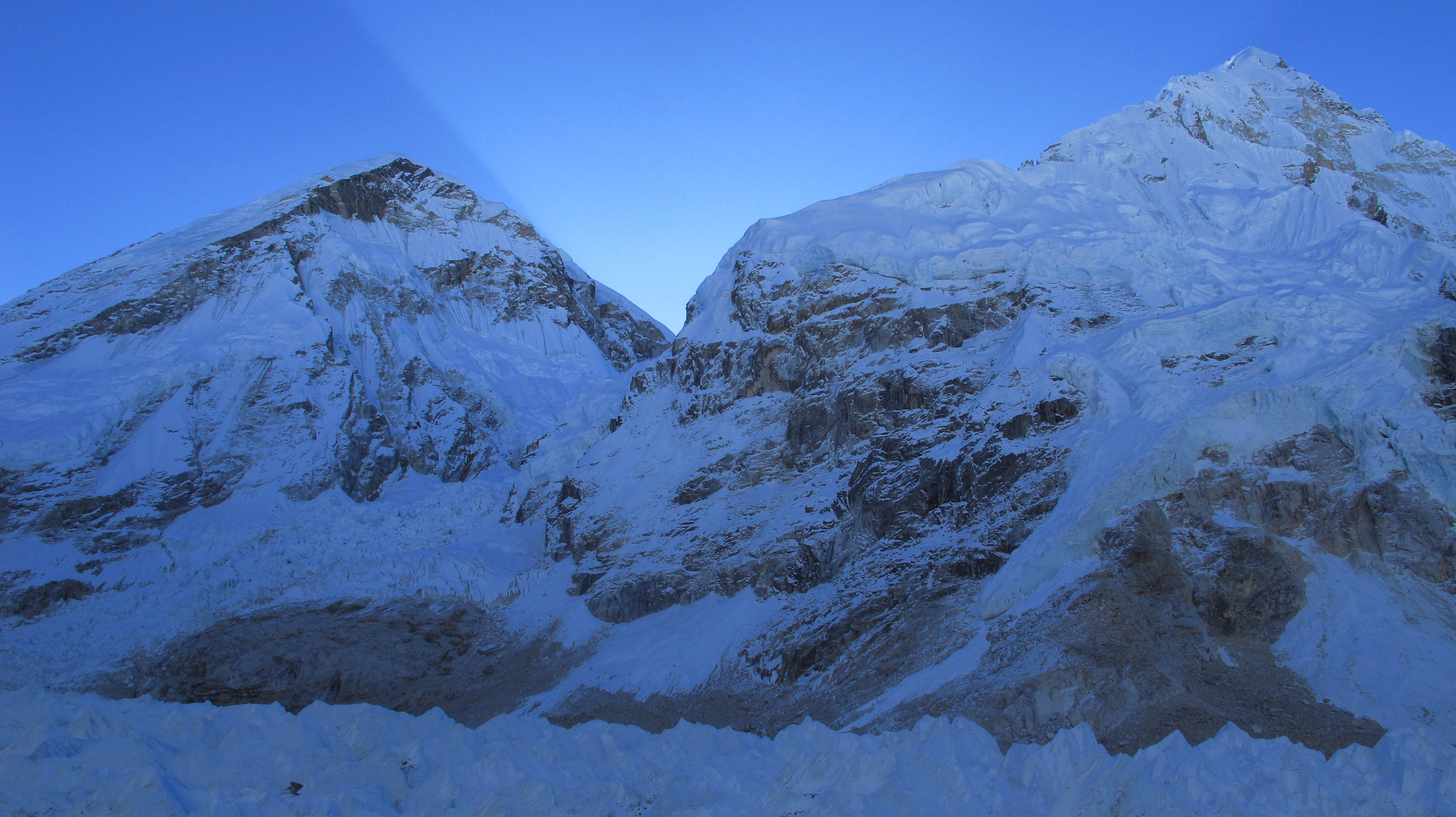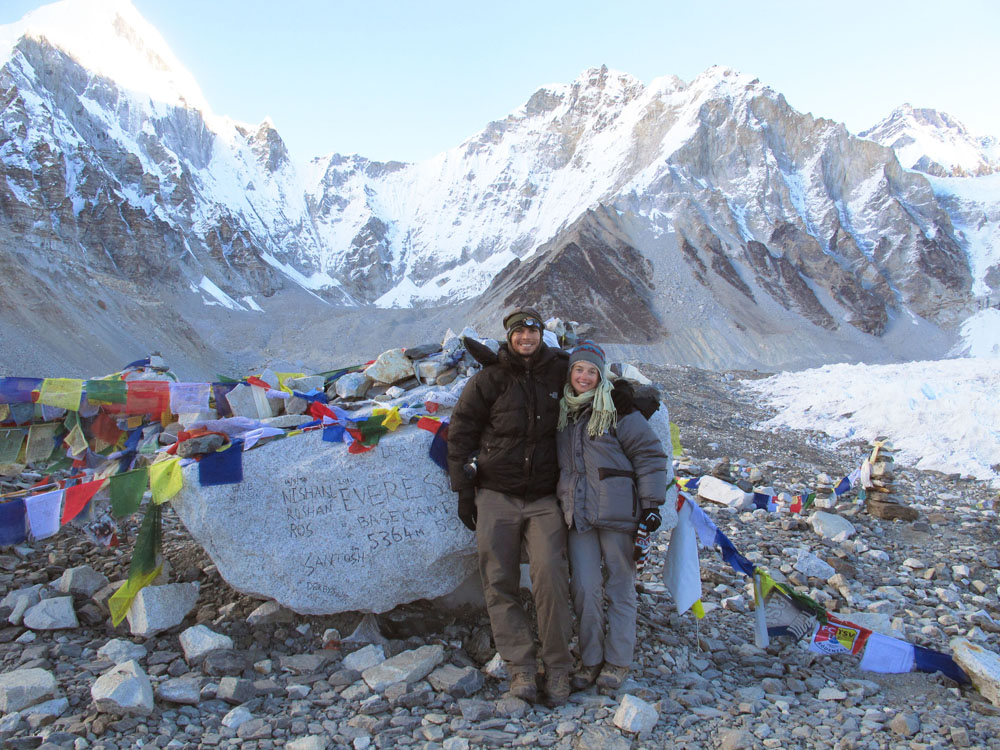 We sat on the Khumbu glacier, ate Snickers bars (except for matt – Pringles, please), took photos, and marveled at the views. It was truly one of the most rewarding feelings I've ever felt. We struggled through exhaustion, sinus plagues, thin air, 23-degree teahouse bedrooms to get here. We hiked through the most beautiful mountain terrain I think exists on the planet to get here. We didn't shower for nine days to get here. And now we are here. As a team, all alone, in the first light of day.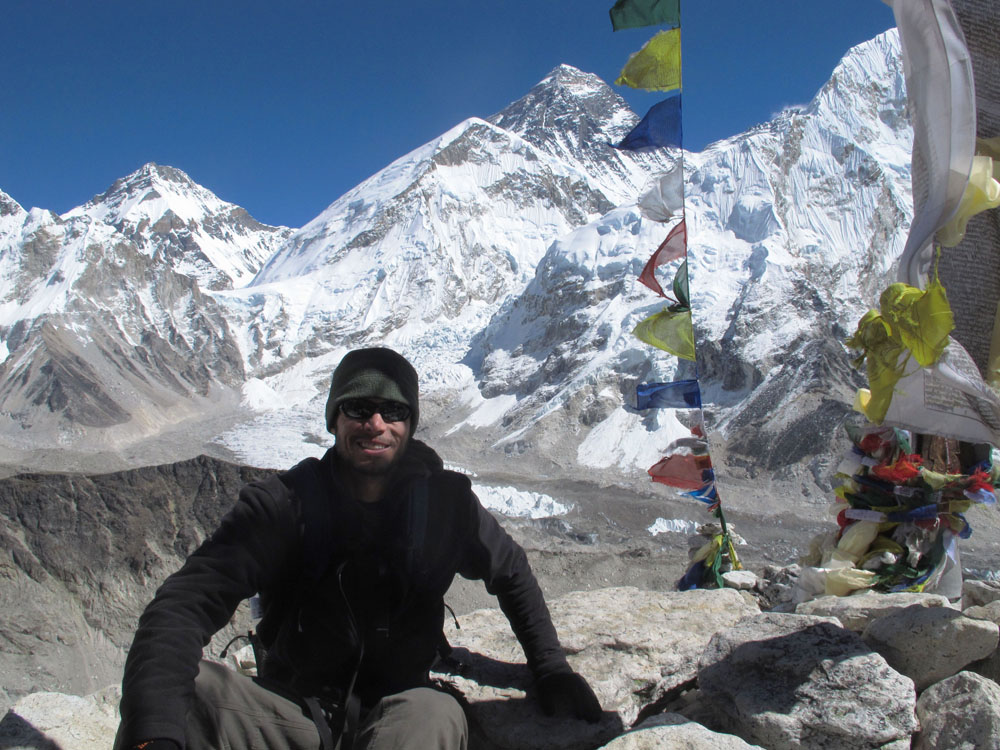 Most of the team continued on to the nearby peak of Kala Pattar, 5547 meters, where the views of Everest are the best in the region. Sadly, our lead guide Dol took myself and another teammate Marat down the mountain instead, since apparently such exhaustion is a sign of possible acute mountain sickness. We left shortly after returning to Gorak Shep from base camp, and arrived at the next stop, five hours down the mountain, at around 4:30pm for some mint tea and a good yak dung fire. Matt and the rest of our team were a few hours behind us and arrived in the dark to our tea house at around 7pm. Needless to say, they were all cold, tired, and hungry. None of them were amused by Marat and I, sitting by the fire in our socks.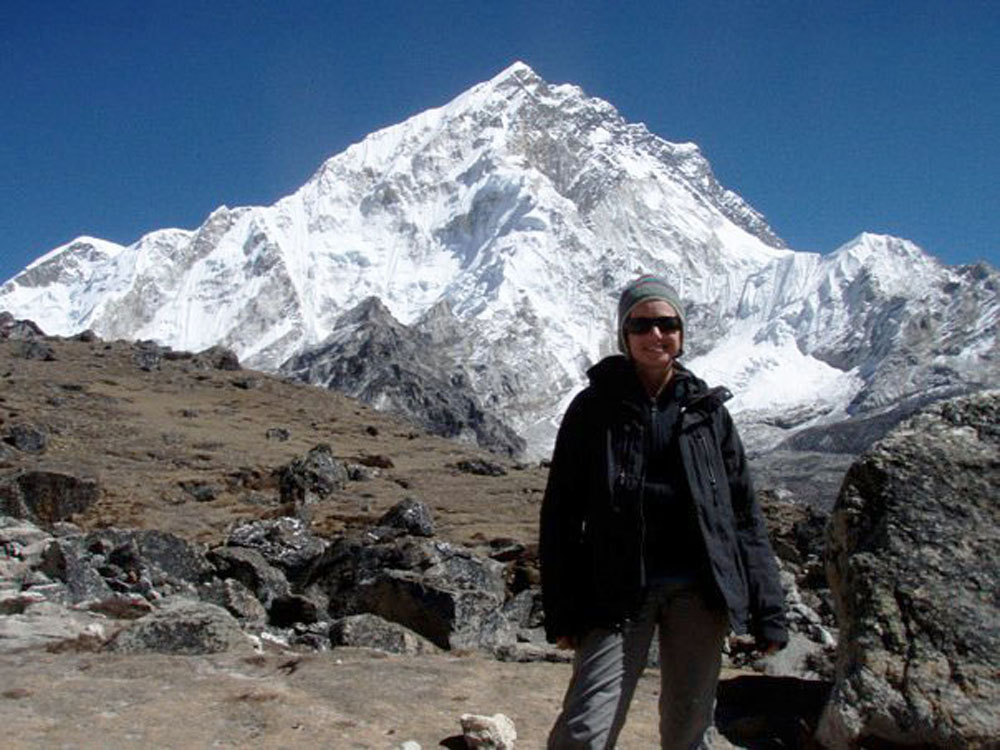 The Day We Reached Everest Base Camp was, quite possibly, the most physically demanding day of my life. Eleven hours of hiking in high altitude, in extreme conditions, with a possible case of AMS? Difficult. Walking nonstop for 15 days in cold temperatures with little comforts of home just to get there? Also difficult. And even though I probably wouldn't do it again, ever again, unless you paid me quite handsomely and bought me a couple of baby pandas, I would never give up the memory of sitting on the Khumbu Glacier with my husband, at 5364 meters, together in a place we've always wanted to go to but never thought we'd be lucky enough to be.