New Orleans holds a special place in my heart. Since my first trip to the city in 2004, it's been a place of great memories, music, and moments.  I've visited for work, for friends, for events, and for fun. I've been able to share it with people from home (California) and friends from New York, and it seems like every time I visit, I meet someone new. It's also where Matt and I got engaged – along the Mississippi River near the French Quarter on a warm night in October of 2009.
New Orleans sort of feels like another home to me. A travel home.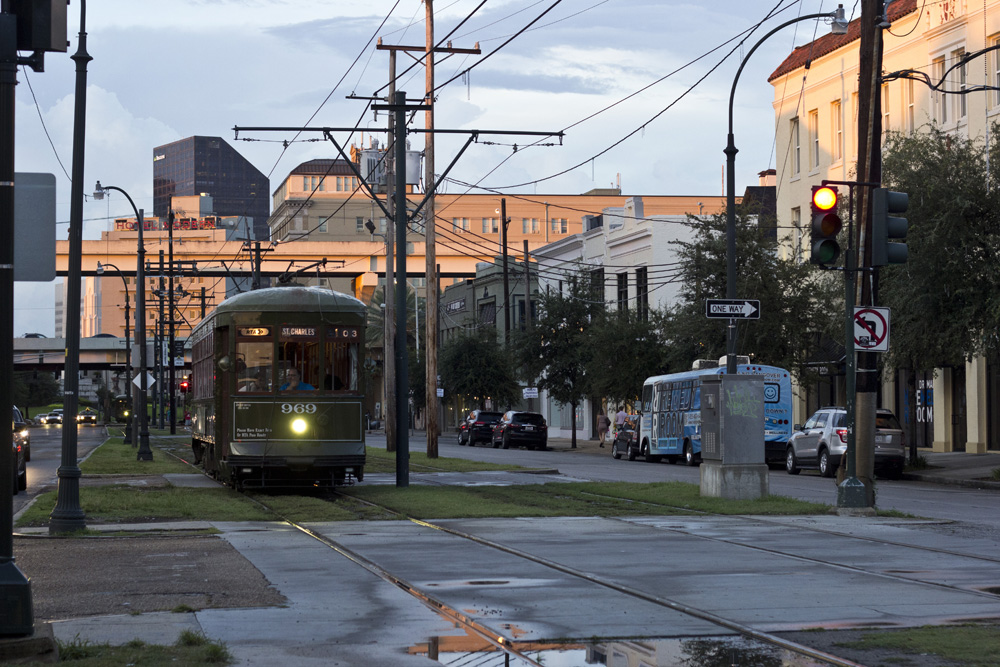 Matt went to college at Tulane University in the Uptown neighborhood of the city, and over the last 11 years, he has been a wonderful personal guide. He's introduced me to some places that ooze with local culture and others that feel comfortable and familiar.
Sure, I could recommend that you visit some of the most famous restaurants in town. Or I could tell you about the landmarks that make New Orleans so important historically and culturally. Instead, I'd like to show you the places that make this city feel like a old friend. Those places that I think about and wish so much that I had them in Brooklyn. Those places that took me four or five trips to even discover. Those places that have crept under my skin and keep me coming back, no matter how popular they may be.
---
FAVORITE PLACES

Frenchmen Street (The Marigny)
Frenchmen Street is no secret, but I love going here late at night. There's a two block strip between Decatur St and Royal St that should be on everyone's list of places to go. Within these two blocks, you'll find The Blue Nile, The Spotted Cat, Apple Barrel Bar, d.b.a, and The Maison (was the Boom Boom Room before the storm).  Five bars/music venues that offer a taste of the dynamic live music scene in New Orleans. Jazz, funk, hip hop, and blues, all mixed up together.
There's also always the chance to witness a spontaneous performance out in the street. This, to me, is the reason to hang out down here. See a show at The Blue Nile, hear some jazz at the Spotted Cat, but make sure to spend a little time out on the sidewalk with a to-go drink (aka "a traveler") waiting for a street show. It's always spontaneous and it doesn't happen every night, but when it does, it's real. And it's pure music magic.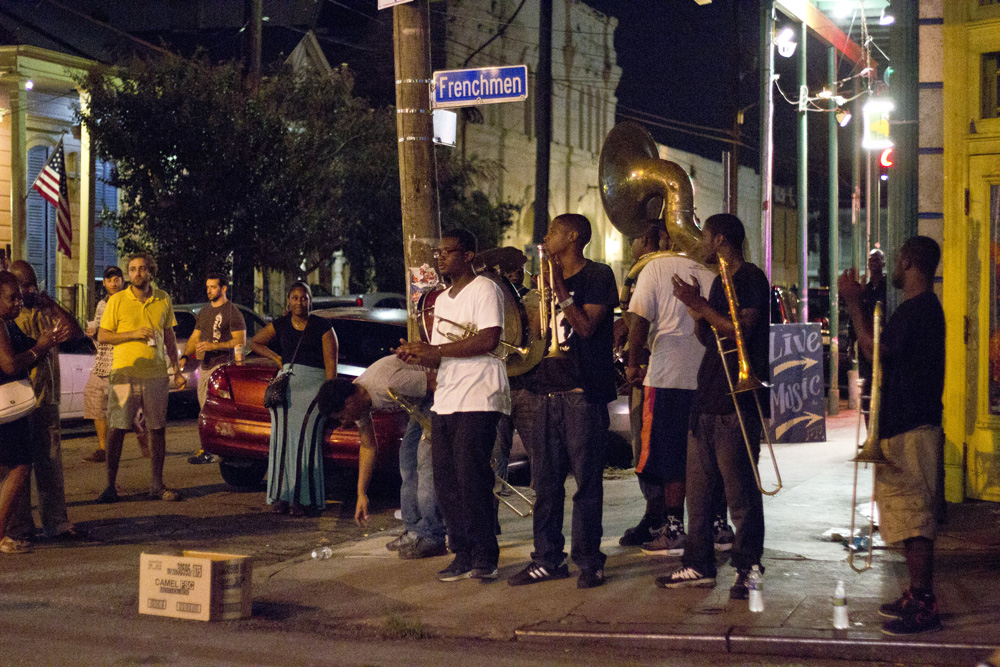 Royal Street (French Quarter)
If you've never been to New Orleans, checking out the French Quarter is an absolute must. Over the years I've started to feel less of a need to spend time here, but the charm and the unique architecture always dazzles me when I do visit. Royal Street in particular. Royal is home to the famous Hotel Montelone and it's slowly-rotating Carousel Bar as well as many of the quarter's antique shops that specialize in historic furniture, classic and modern art, weapons, and coins. You'll also find quite a few art galleries.
Even better than the antiques are the balconies. Nearly every building seems to have a second floor wrought iron balcony railing dripping in ivy, greenery, and flowers. For this reason, it's one of the most picturesque streets I've ever seen in my life.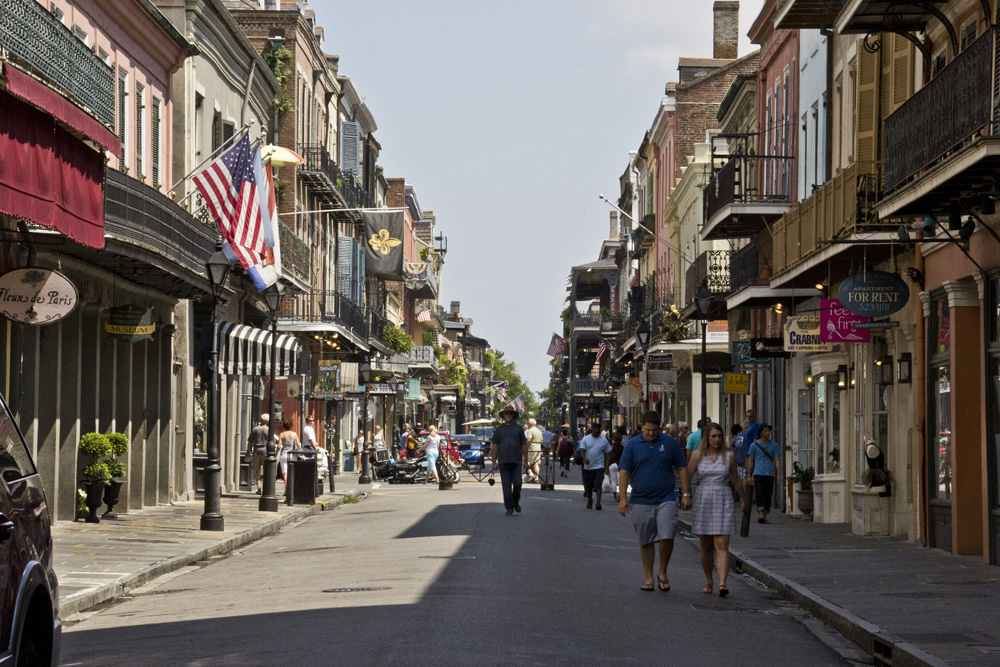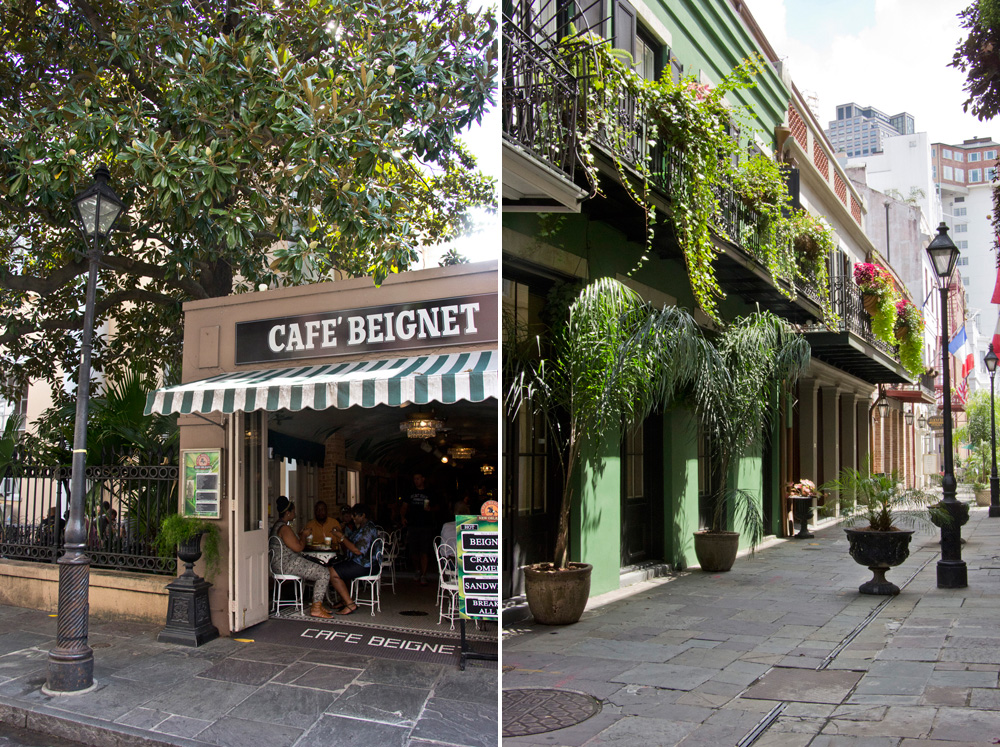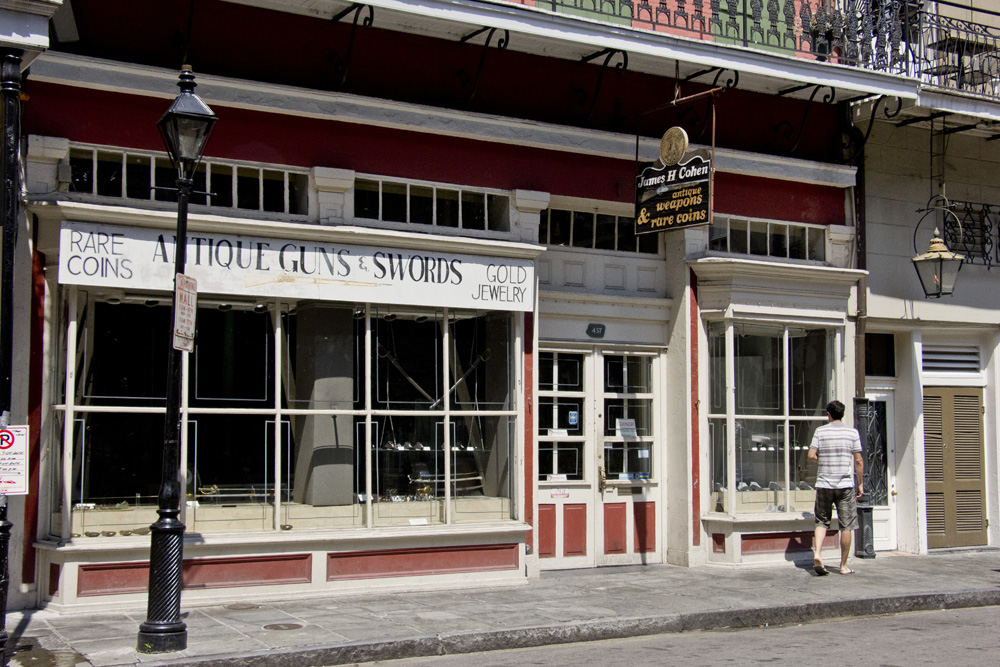 SIDE NOTE: I bought a Yankee musicians sword (translation: a sword held by a Yankee army drummer purely for decoration, not for battle) from this shop, James H. Cohen, as a wedding gift for Matt. He is fascinated all things Abe Lincoln and all things Civil War. So, you know, sword gift.
I know, I'm kind of awesome. And yep, that's Matt in the photo peering into the window at the old coins.
Magazine Street (Uptown)
When I'm not wandering Frenchmen or buying antique weapons on Royal St, you can find me on Magazine Street – my favorite place in the whole city. I would TOTALLY live right off Magazine if I could. Of course I cannot because it's just way too gross in the summer for me in New Orleans. I'm a humidity wimp. But if I weren't a wimp, this is my ideal neighborhood.
Magazine is littered with boutiques, local restaurants, international restaurants, bars, juice shops, ice cream shops, vintage shops, furniture shops, antique shops, and really uber-fancy shops that I could never afford but are pretty to look at. It feels like equal parts New Orleans and equal parts home. If only I could pick up Magazine and drop it in Fort Greene…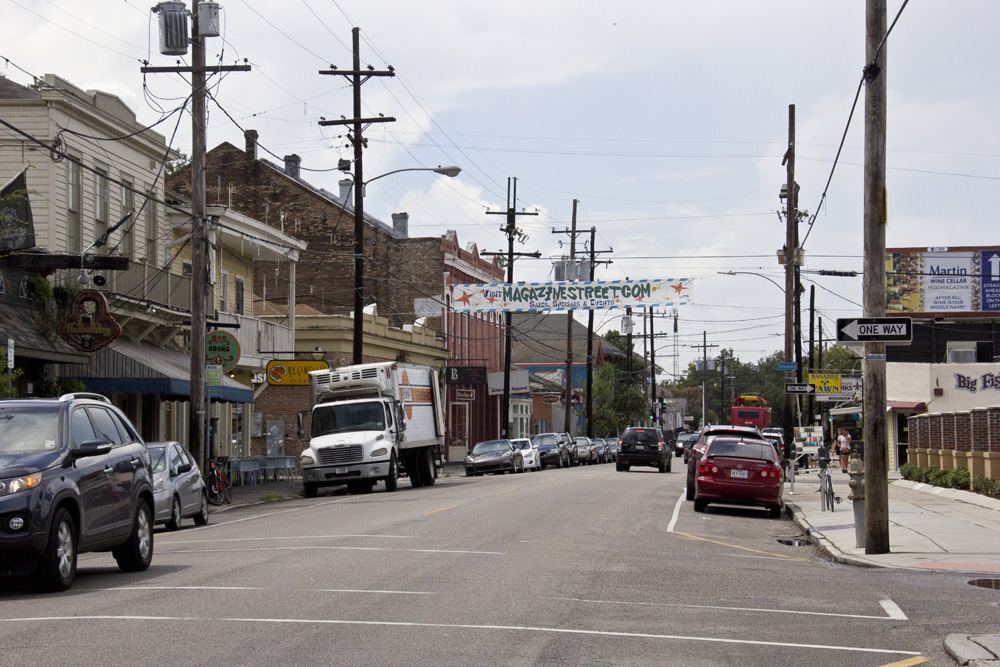 ---
WHERE TO GO FOR LIVE MUSIC
The Blue Nile (The Marigny)
The Blue Nile is one of Frenchmen Street's best music venues. It's a decent size open space that seems to always have something interesting going on when I'm in town. Drinks aren't expensive and they aren't dirt cheap either. But I'd say $4 for an Abita Amber is pretty darn good.
Spoiler Alert: it's really really blue inside. Blue light, blue walls, blue everywhere.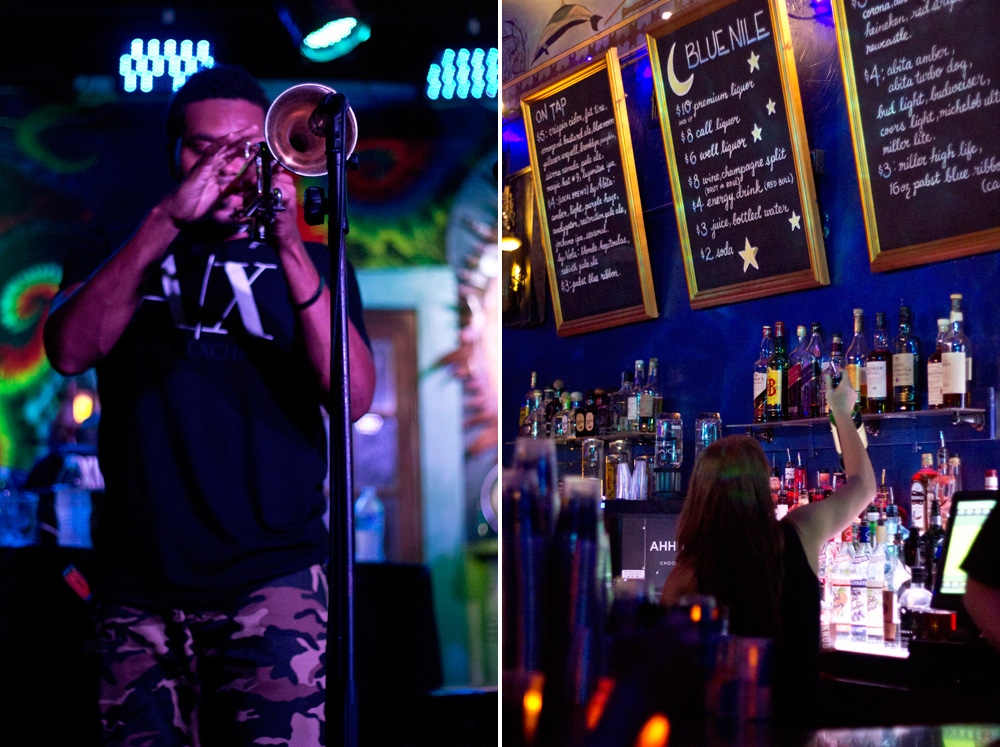 d.b.a (The Marigny)
d.b.a. has a fantastic beer selection which makes it stand out from the other spots along this strip of Frenchmen. If you are in the mood for a Coors Light or that $4 Abita Amber, you can go anywhere. If you want an Lagunitas IPA or a Gnarly Barley Catahoula Common, d.b.a. is your spot. They also book some great acts. My favorite show at d.b.a. was Kermit Ruffins, one of NOLA's most loved trumpet players.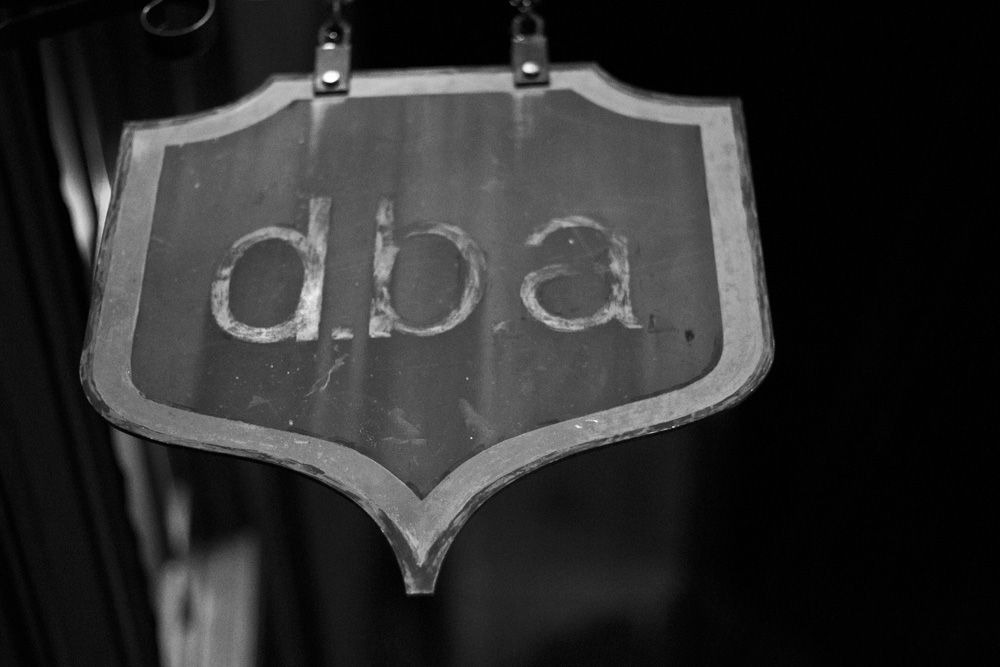 Tipitinas (Uptown)
Tipitina's is also in a random location but it's always on my mind as some of my favorite bands have played here. Local favorites like the Dirty Dozen Brass Band and the Neville Brothers have taken the stage, as well more mainstream acts like Blues Traveler and Ani DiFranco. Once upon a time, even Phish played here. EVEN PHISH!
But the best part about Tipitina's has more to do with the city than with the music. The staff has made it their mission to support to Louisiana music scene in any way they can. They've created programs that donate instruments to school music departments, offer lessons and rehearsal space to local groups, and also to aide musicians with instrument repair. And they've a got a start to a "music walk of fame" out on their sidewalk.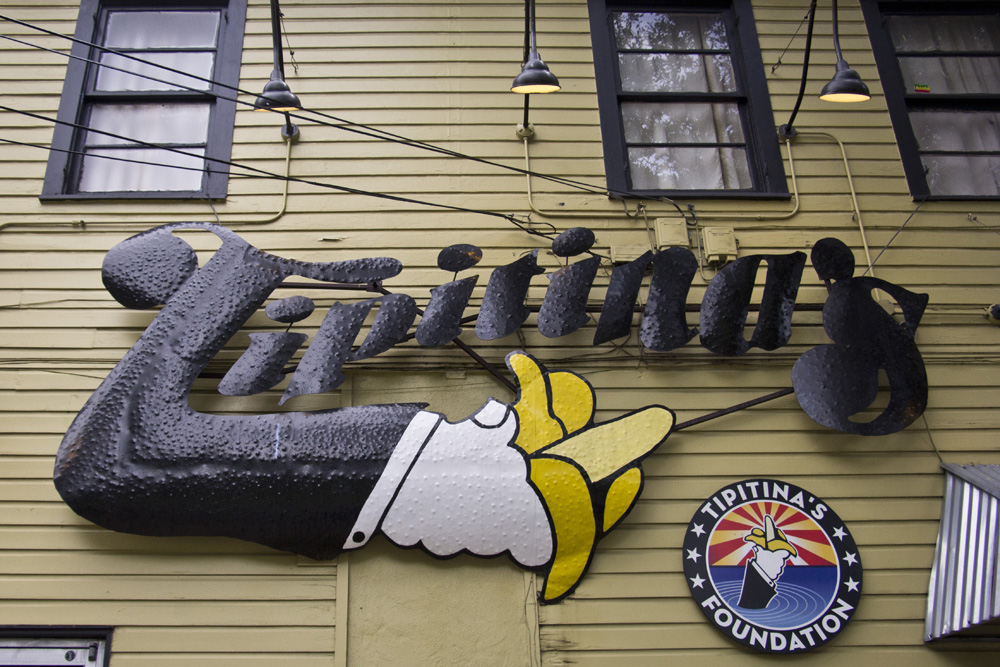 ---
WHERE TO GO FOR THE EATING AND THE DRINKING
Domilise's (Uptown)
Seriously, I don't think I've ever had a po-boy that has come close to the deliciousness of the shrimp po-boy at Domilise's. Ever. I could write an entire post just about the awesomeness of this sandwich. Or maybe a song.
At some point between the restaurant's opening in the 1930's and well, today, the good people of Domilise's Po Boy and Bar discovered the recipe for friend shrimp sandwich heaven. The bread is airy like a pillow. The shrimp is crispy and salty and hot. And the dressings – lettuce, tomato, pickles, ketchup, and mayo – add the perfect cool crunch and vinegar bite.
Order at the counter, get your drinks at the bar, take your heaven-sandwich to one of the five tables, and top that thing with some good ol' Louisiana Crystal hot sauce.  HOLY. DELICIOUSNESS.
The moral of the story is this: Please go eat here. It's totally worth venturing out of the way for. Just don't go on Sundays or Thursdays because it will be closed. Oh, and don't worry, there's beer.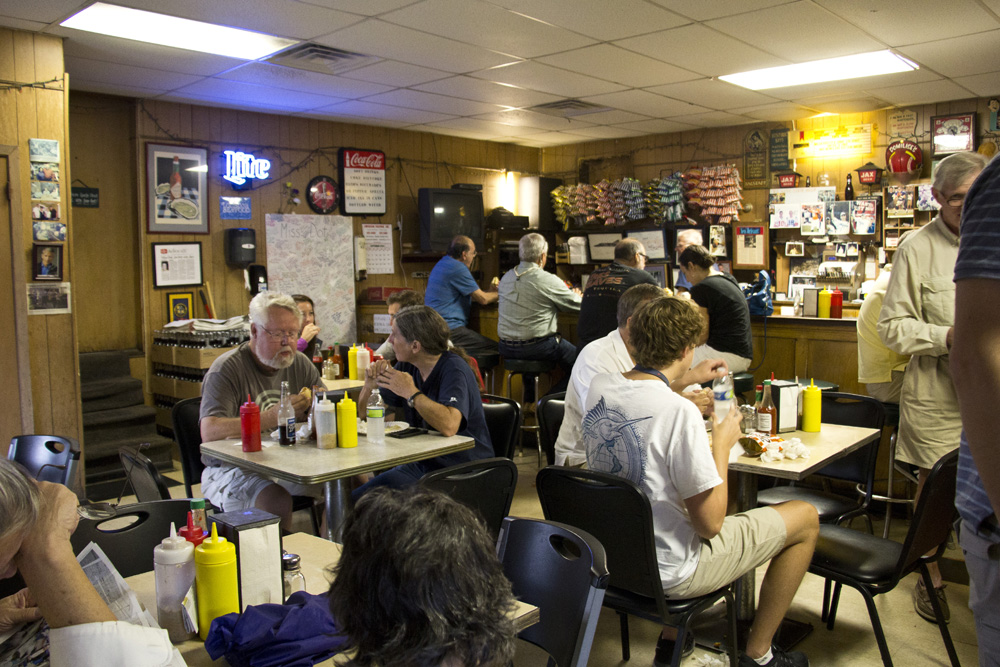 Slim Goodies Diner (Uptown)
This is the PERFECT place to go for breakfast after drinking too much the night before. The breakfasts at Slim Goodies are comforting and enormous. Honestly, I've never been able to finish one. But it's exactly what I want to eat, where I want to eat it (on Magazine Street of course), in a room with some laid back quirky style. I love it so much, I even own a Slim Goodies t-shirt.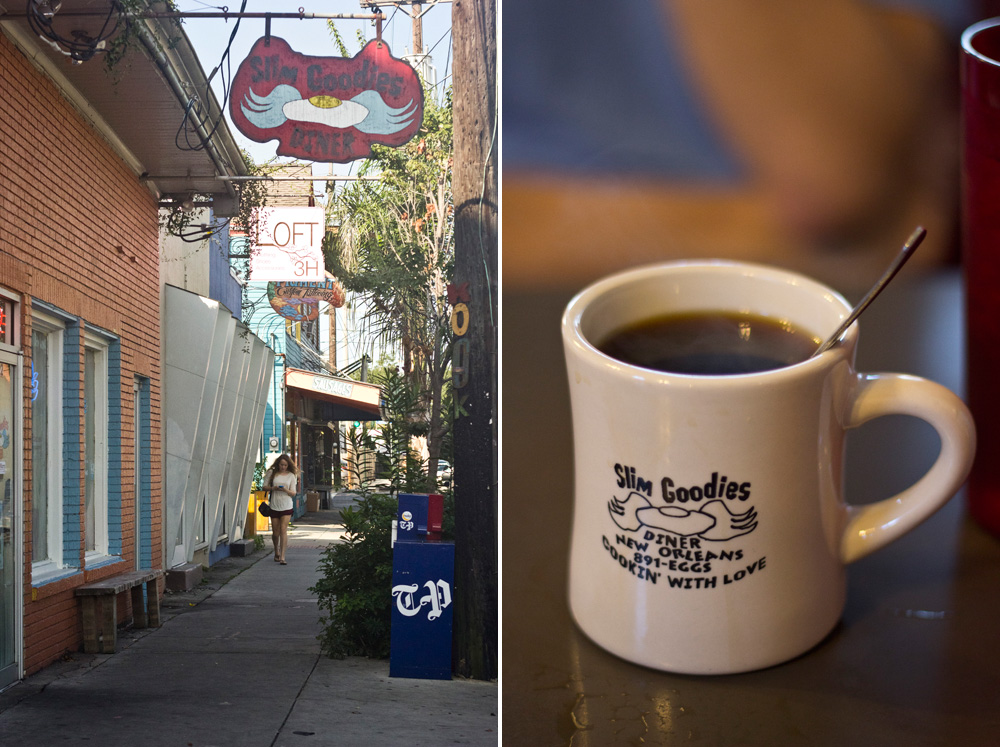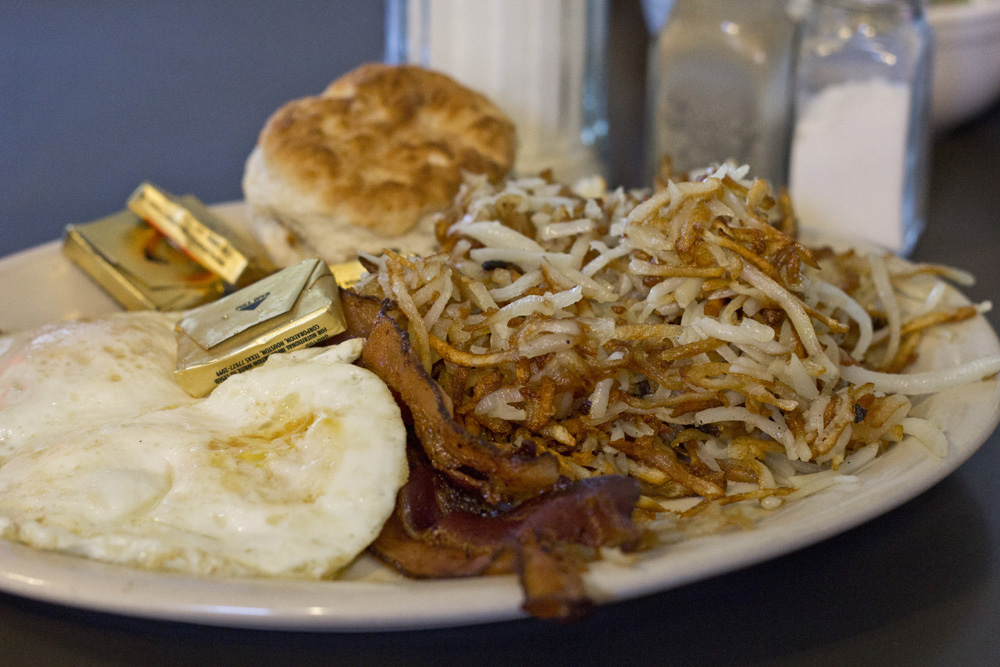 Lafitte's Blacksmith Shop Bar (French Quarter)
Lafitte's is legendary. It's billed as being the oldest structure used as a bar in the country. (It's from 1722.) The atmosphere inside feels old and kind of haunted and the patio is cozy.
I have to admit though, it's not what it used to be. Lots of loud karaoke groups and bead-wearing bachelor/bachelorettes coming through. That being said, you should still come by and check it out for a minute. Go during the day for some relative quiet. And if you go at night, maybe just pop in and grab a traveler. (the to-go drink, not a person please.)

Barrel Proof (Uptown/Garden District)
This weirdly cavernous bar on Magazine Street, just west of Route 90, was a new discovery on our most recent trip down to NOLA. It's right across the street from the cozy and unique bed and breakfast The Green House Inn and is a perfect place to start a night.
While they do have an awesome selection of craft beer, bourbons, and whiskeys, it kinda feel like it should be in Brooklyn instead of New Orleans. Rustic reclaimed wood and industrial touches abound. For this reason, it made me feel right at home.
I really enjoyed their wide selection of stouts – my Green Flash Double Stout was great. Matt was into their rye whiskeys.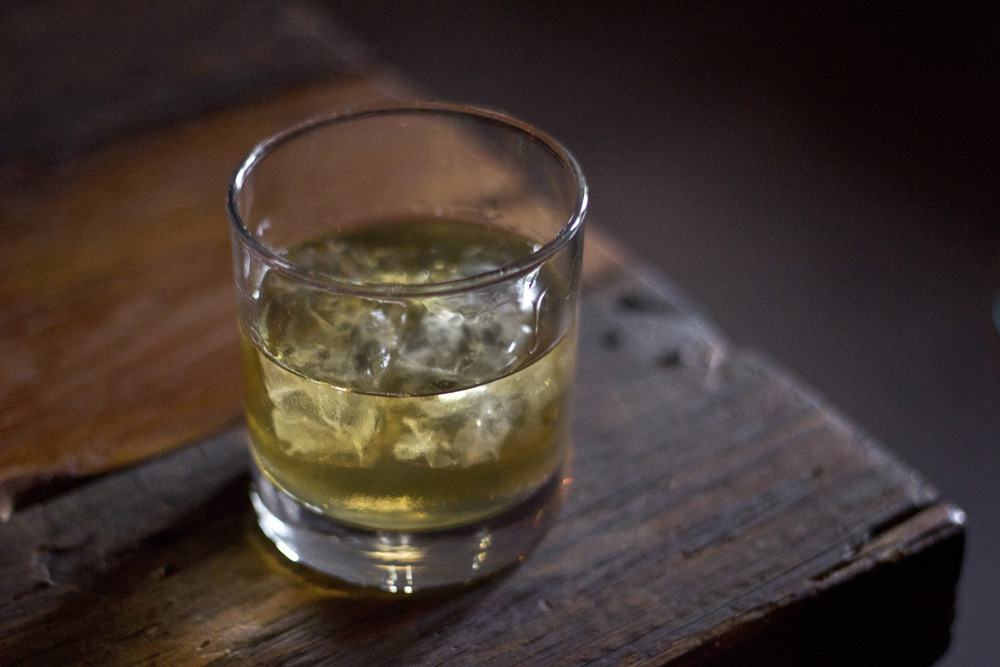 –
I leave you with a video clip of a spontaneous street performance on Frenchmen Street. This one was early in the night (1030pm) so the crowd was still small, but that didn't stop anyone from dancing in the street.