(Written by Matt, the other half of the TravelShus crew)
I've been fortunate enough to attend many sports events over the years with rabid fanbases. I've seen a couple, albeit not enough, Jets playoffs wins, Michael Jordan play, Curt Schilling's "bloody sock" game, NFL games in different cities, Duke v. UCLA at Cameron Indoor Stadium in the mid 90s; but I've never seen a game with a crowd of fans so passionate about their team than after I attended the Boca Juniors v. Racing soccer game this weekend in Buenos Aires at La Bombonera. Boca Juniors are the most popular and famous of teams, in part due to being Diego Maradona's team, in the Argentinian national soccer league.
Boca's home stadium is situated, almost wedged, into the local Boca neighborhood.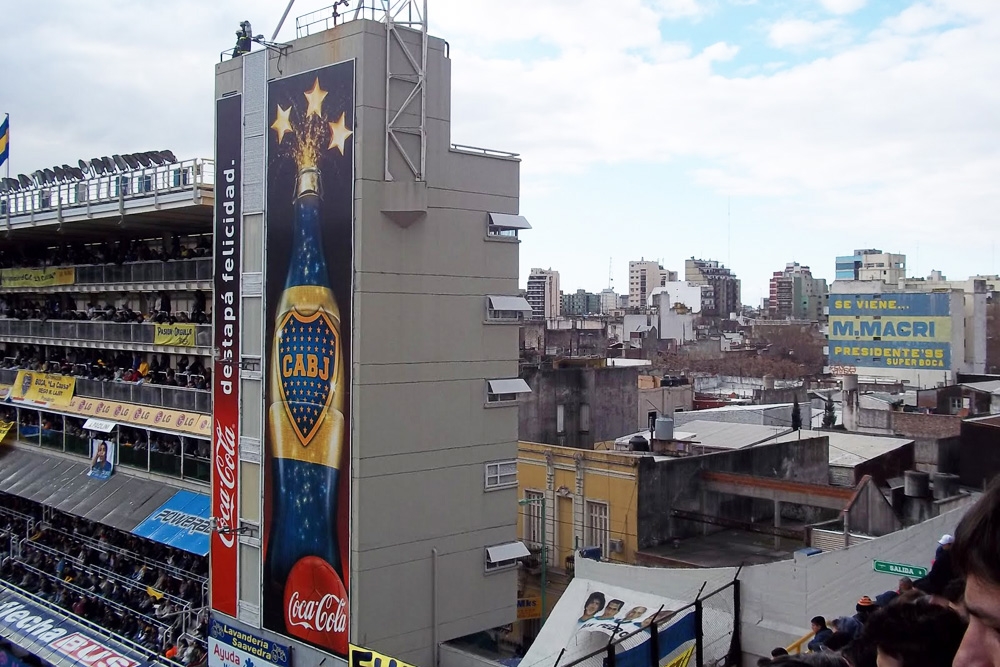 Tickets
Access to tickets was frustratingly difficult for me to figure out. No Ticketmaster? No Stubhub? No ticketmaster telephone numbers in far away states? My god.
Tickets are available through a few avenues (which took me a long time to figure out): To socios or members (basically season ticket holders), at the box office on the day of the game 6 hours before kickoff if any tickets remain unsold to socios, bought from scalpers on the street who apparently sell 75% fake tickets, or through an agency that gets you tickets, and transports you to the game.
We chose the final avenue as Annie was not pleased with idea of me waiting inline at an Argentinian soccer stadium hours before kick off.
Pre-Game Pregame
We booked tickets through my Spanish school who arranged for a pick up at the school with a few other students. We were driven to a pregame tailgating party of sorts four blocks from the stadium. The only way I can explain this is mix a backyard college house party, with a college football tailgating atmosphere, with Argentinian food, and place it in an area your mother probably wouldn't want you being in for too long. Our tailgating site included buildings which had seen their better days by the late 1800s and random dogs chained up and ready to attack anyone for a piece of prized chorizo. La Bombonera, similar to Yankees Stadium, and many older stadiums aren't in the traditional newest, and best part of town. However, on gameday, they are as safe as anywhere else in the city (unless you are wearing the opposing team's colors)!
Anyway back to the pregame, we drank Quilmes tall boys and were offered to purchase chorizo straight from their makeshift grill while the pregame played on some tv in the corner. On the way to the stadium, Annie bought a flag from a street vendor which we proceeded to wave until it broke only 10 minutes into the game.
Pregame mystery meat grill: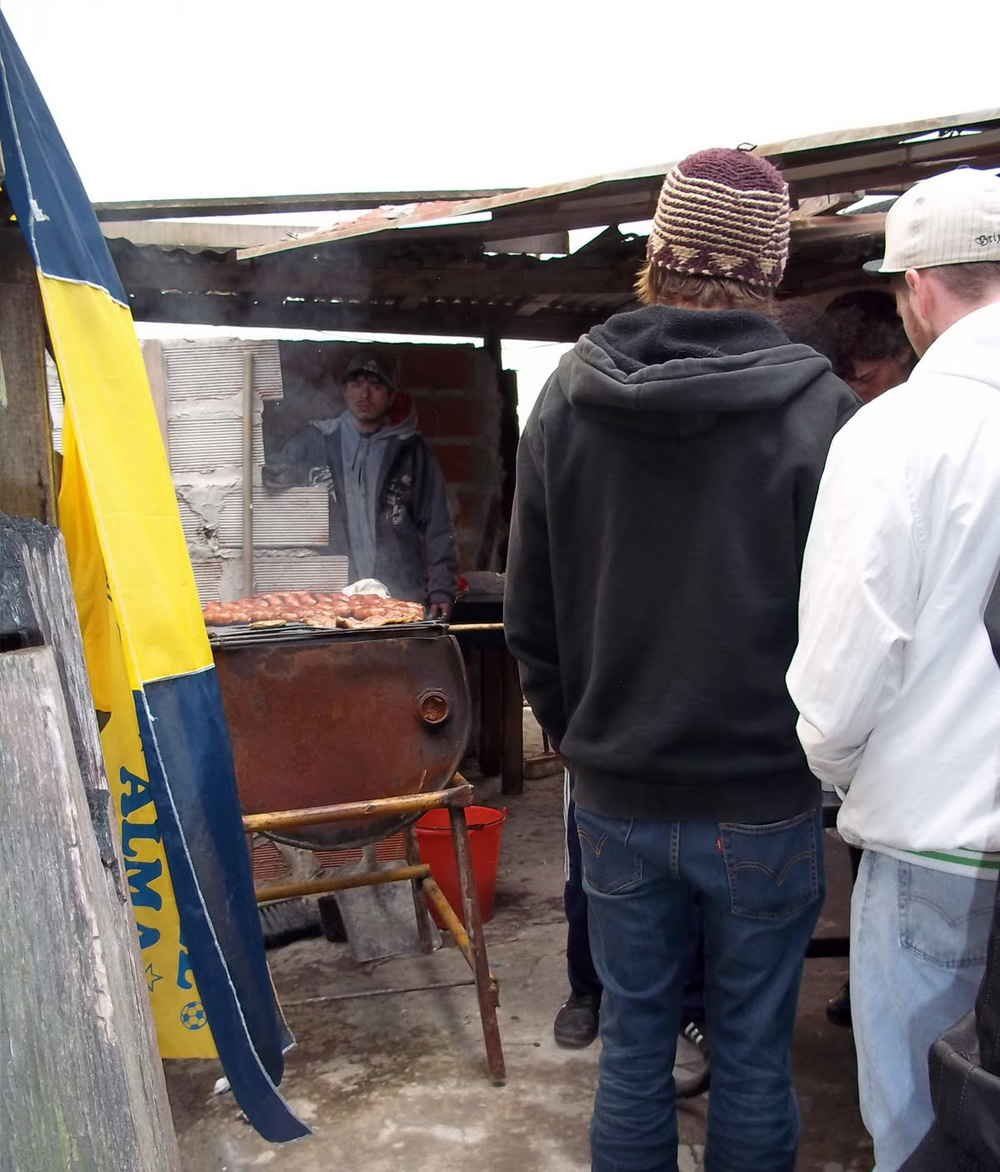 Drinking before noon on gameday hasn't hurt anyone: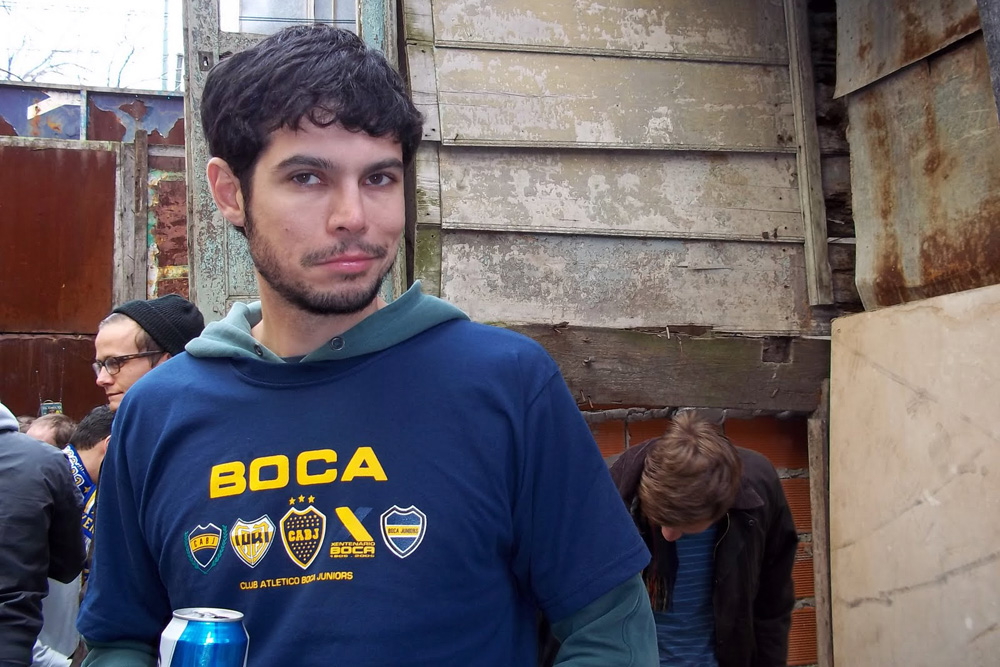 I chose not to find out where these treacherous stairs led: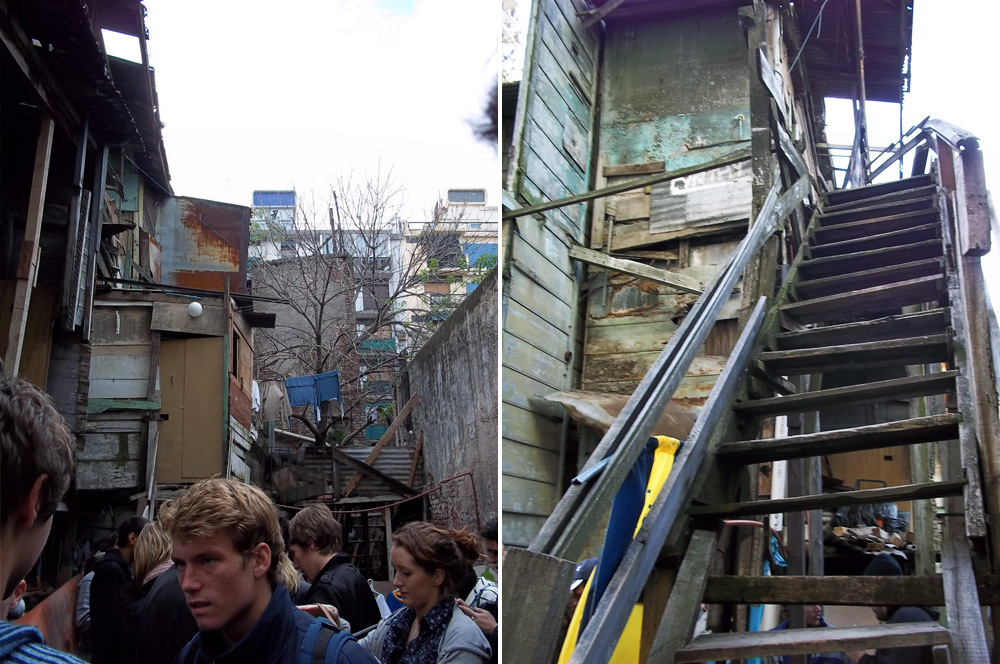 Annie, proud of her new $2.50 Boca flag: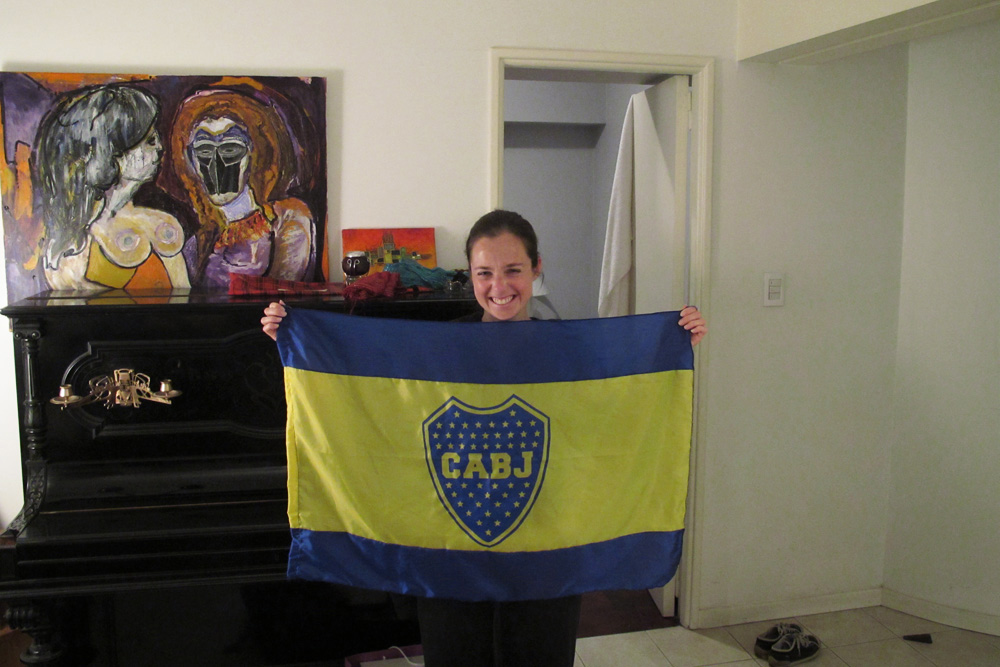 The Pregame (at the stadium)
Entering the stadium I could literally smell the freshly cut grass we are used to seeing when entering down low at a baseball or football game. The stadium seats about 50,000 and probably had about 48,000 there for the game.
Our seats in the stadium were in the "popular local" section behind one goal. Basically it was the home fans general admission section (as the visiting fans are segregated into their own section in the upperdeck – which was surrounded with barbed wire…seriously). As it turned out both ends were general admission and we were in the tamer, although still insanely passionate section. The other end at one point opened up a flag that was took up the entire 3 levels of the stadium, and was passionately chanting the entire game, waving flags, umbrellas, and constantly drumming.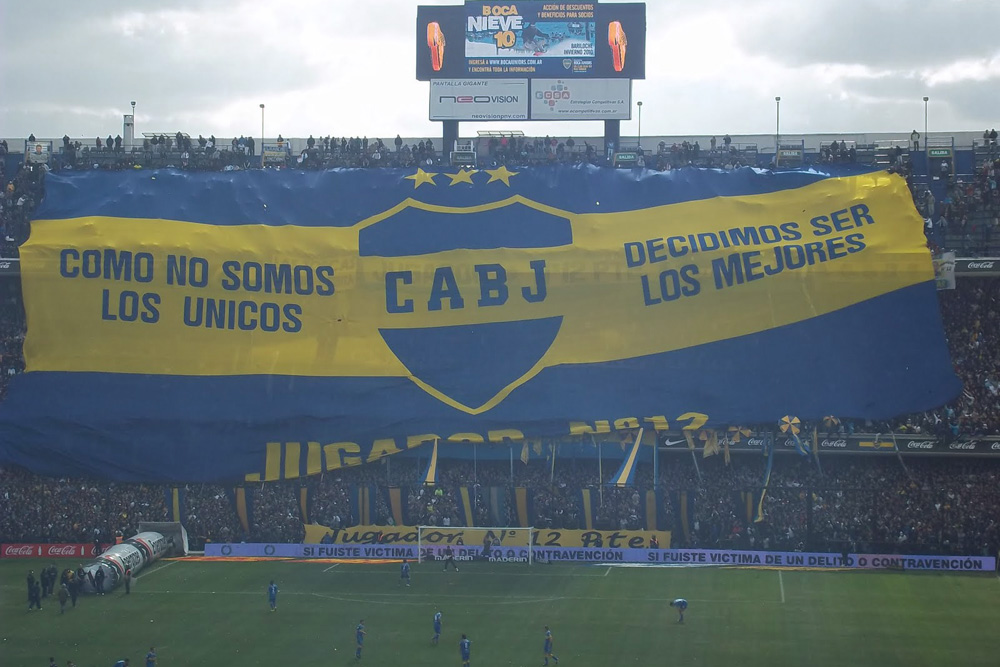 The Chanting and the Fans
Each team down here as their own chants and songs, and basically don't stop chanting, singing, and jumping the entire game. I was especially impressed that after both Racing goals there was maybe a 10 second lull by the home crowd, and then the fans would be up again chanting almost trying to will their team back into it. It was great to not see any of the disappointed cynicism we are used to in the states after our team screws up. There were a few comments when Boca players had clear errors, and fouls, but there was no stadium draining despair like after a home football team gives up an INT return for a touchdown. (as an aside, since only 2-3 goals are scored in most soccer games, what other sports equivalents are there for such a single momentum swinging play?)
One of the great joys of attending a game like this is joining in the excitement with the local fans. With the excitement, comes the hatred for the other team:
Everytime a Racing player lay injured on the turf (which happened quite often), there were many "Puto!!!!" chants. When a bad call was made by the referee? Another "Puto!!!!!!!" was needed. After another dive by a Racing player, I exclaimed "Puto!" as the player lay writhing on the turf. Annie warned me there was a 10 year old boy next to her. But as we looked over, he was already knowingly yelling "Puto!!!!!!"
Right on little Boca boy.
The Game
Boca got out to an early lead scoring in the 10th minute. The goal happened so quickly I almost missed it, but felt the energy explode throughout the stadium. I looked over and saw a 10 year old boy from several rows above who somehow basically ended up laying next to Annie as everyone surged forward with excitement.
Racing tied the game late in the first, and scored the winning goal early in the second. Boca was fairly sloppy and missed a few decent scoring opportunities. One of their better players who just signed a 4 year extension was out with a "knee" and Martin Palermo, their aging star, was noticeably slow and pushed around numerous times. Alas, Boca could not score a tying goal and lost 2-1.
If you ever find yourself in BA during soccer (futbol) season I highly recommend checking out a game. I'd imagine if you could attend a playoff or even championship match at La Bombonera in which Boca is playing it could be among the most exciting games to attend in all of the entire sports world. Based on their play on Saturday, they won't be in the championship this season, so if anyone goes in a few years, give me a call.