Not too dissimilar to my love affair with the Temples of Bali, I developed a love affair with the exotic beauty of Thai temples. The intricacy of the tiling and color coordination, the brilliance of gold, and the design of the rooftops all are an enormous departure from Western style. I am enchanted by the whimsy of it all.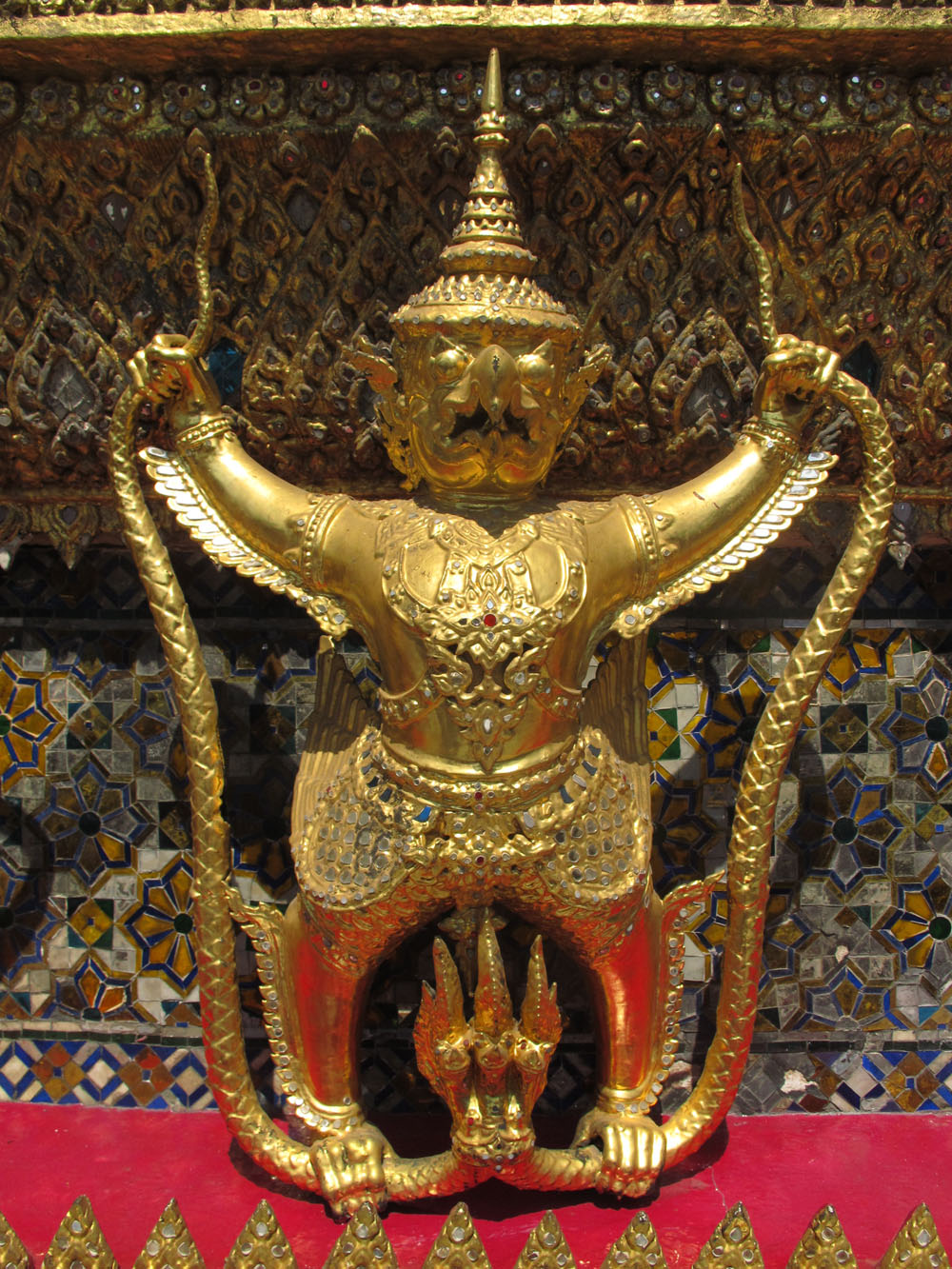 Sometimes ostentatious and sometimes austere, Thai Buddhist temples have so many details. Similar to, say, a Hindu spiritual site (ahem, my beloved Balinese temples), there are many components to these temples – statues, stupas, spirit houses… The chaos of these different parts add a sense of mystery. An outsider most likely won't be able to decode the meaning for the different pieces. I know I couldn't. And that made them all more intriguing.
During our time in Thailand, I took my time marveling at every temple I could. Sometimes I marveled so long Matt would end up sitting in the shade in boredom until I was done with my up-close examinations of colorful mirrored tile work or photographic journeys around the courtyards. In each city we visited, temples increasingly became an important part in understanding the region.
Wandering around Pai, a small mountain town in northwest Thailand, temples seem to creep up on you. Hidden in alleys, hidden along main roads, they feel very local and humble. This first one was across the street from our guesthouse – a fantastic view to have outside the front door. Unfortunately, it was loud neighbor to have in the early morning. Monks, though generally quiet, are loud in large group prayer.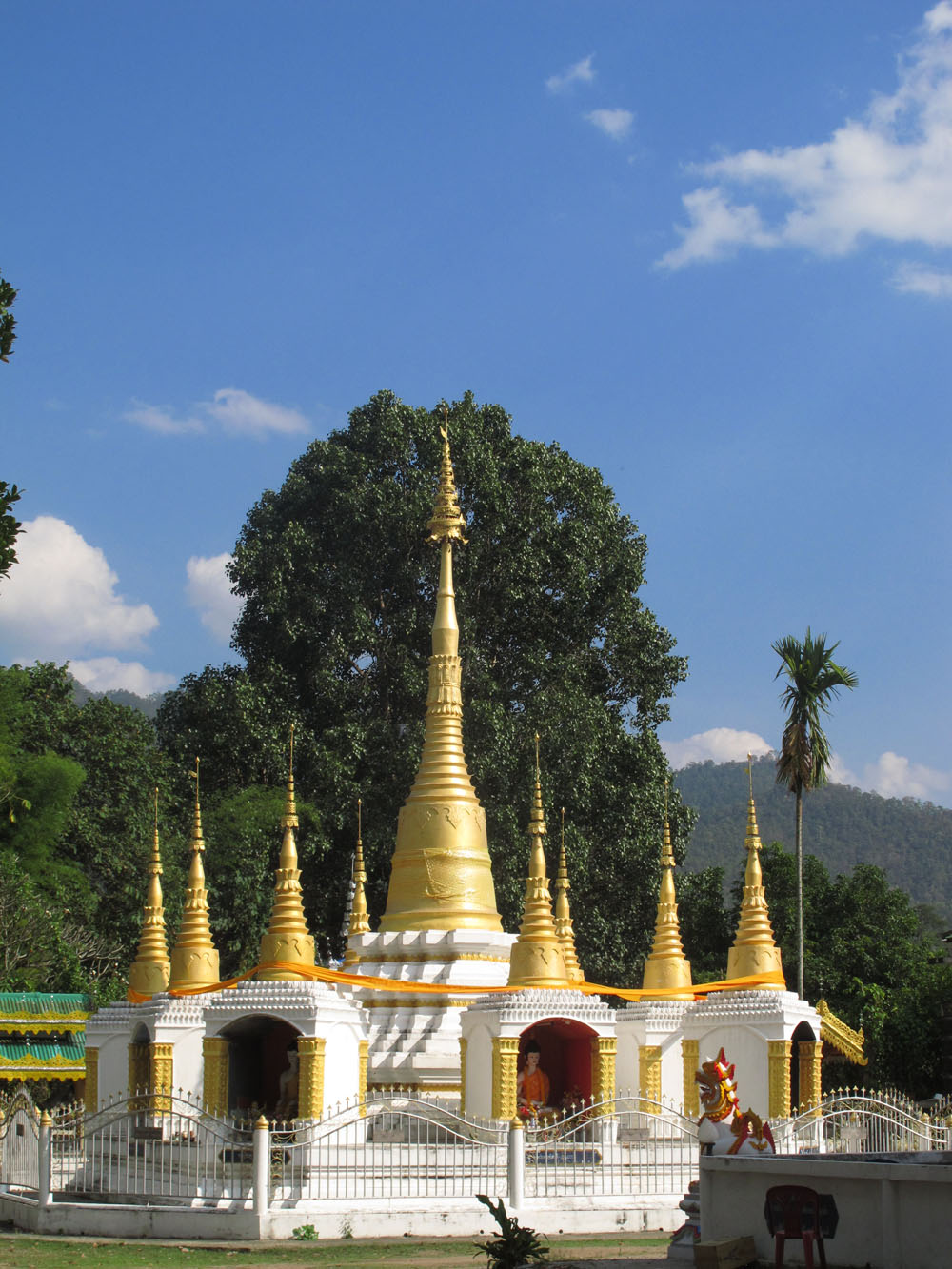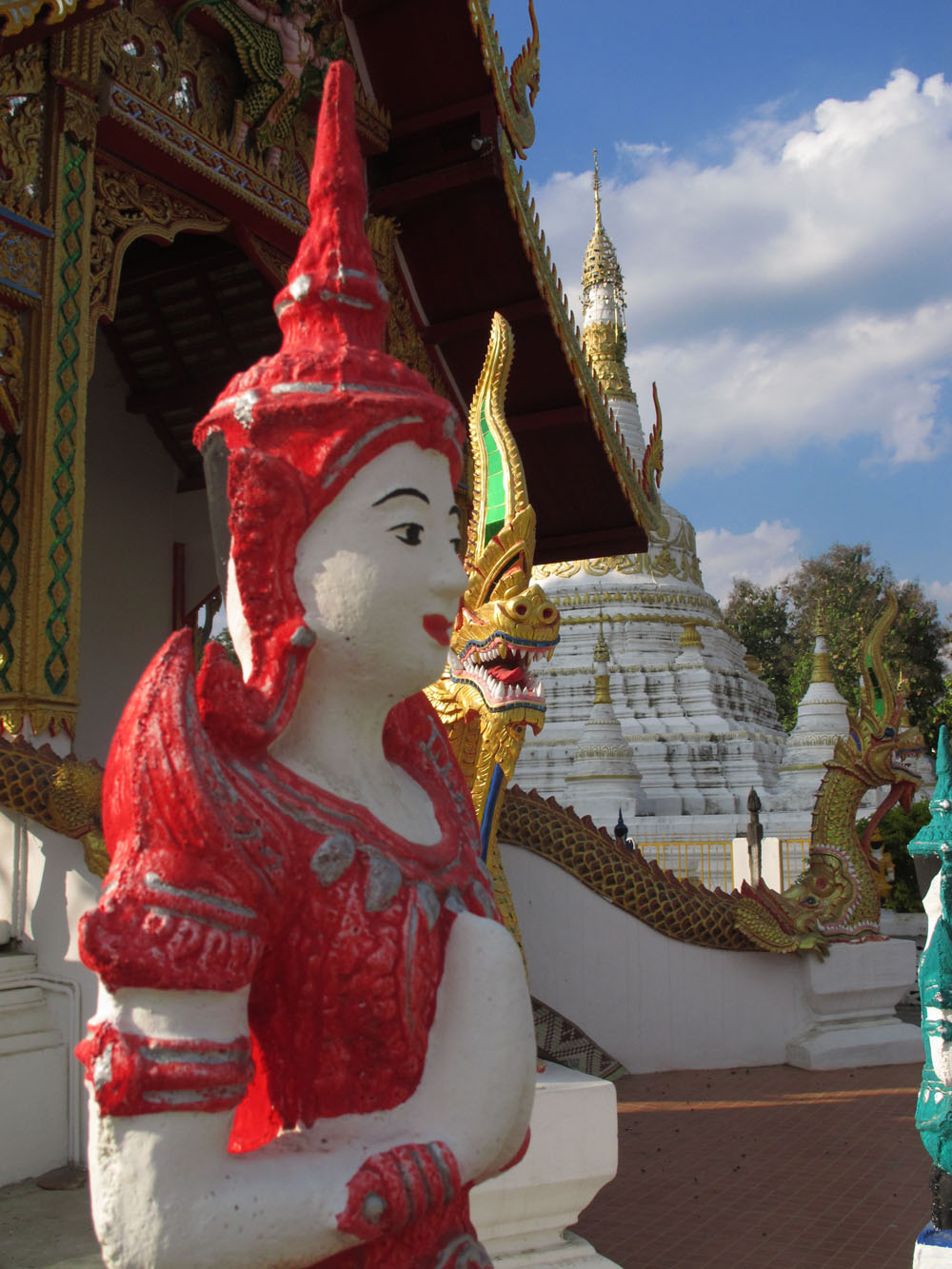 Another temple from Pai HERE
In Chiang Mai, Doi Suthep is golden and colorful. It sits on a hill above the city and is considered one of the holiest temples in all of Thailand. Hundreds of visitors come here to pay respects as well as to marvel at the intricate architecture and stunning tiling.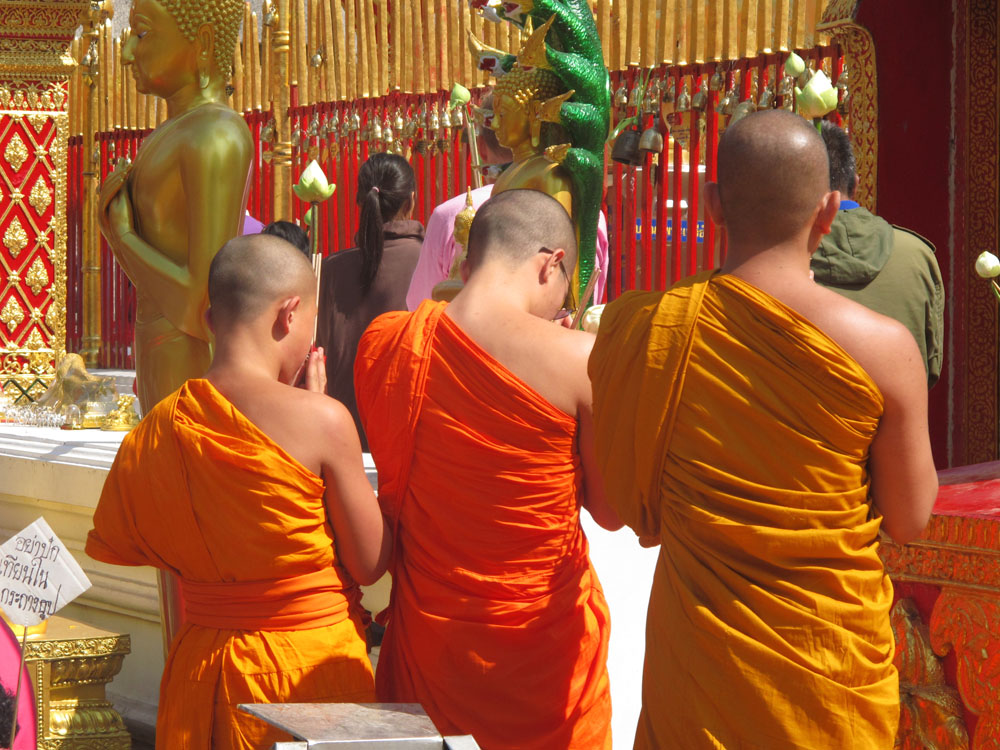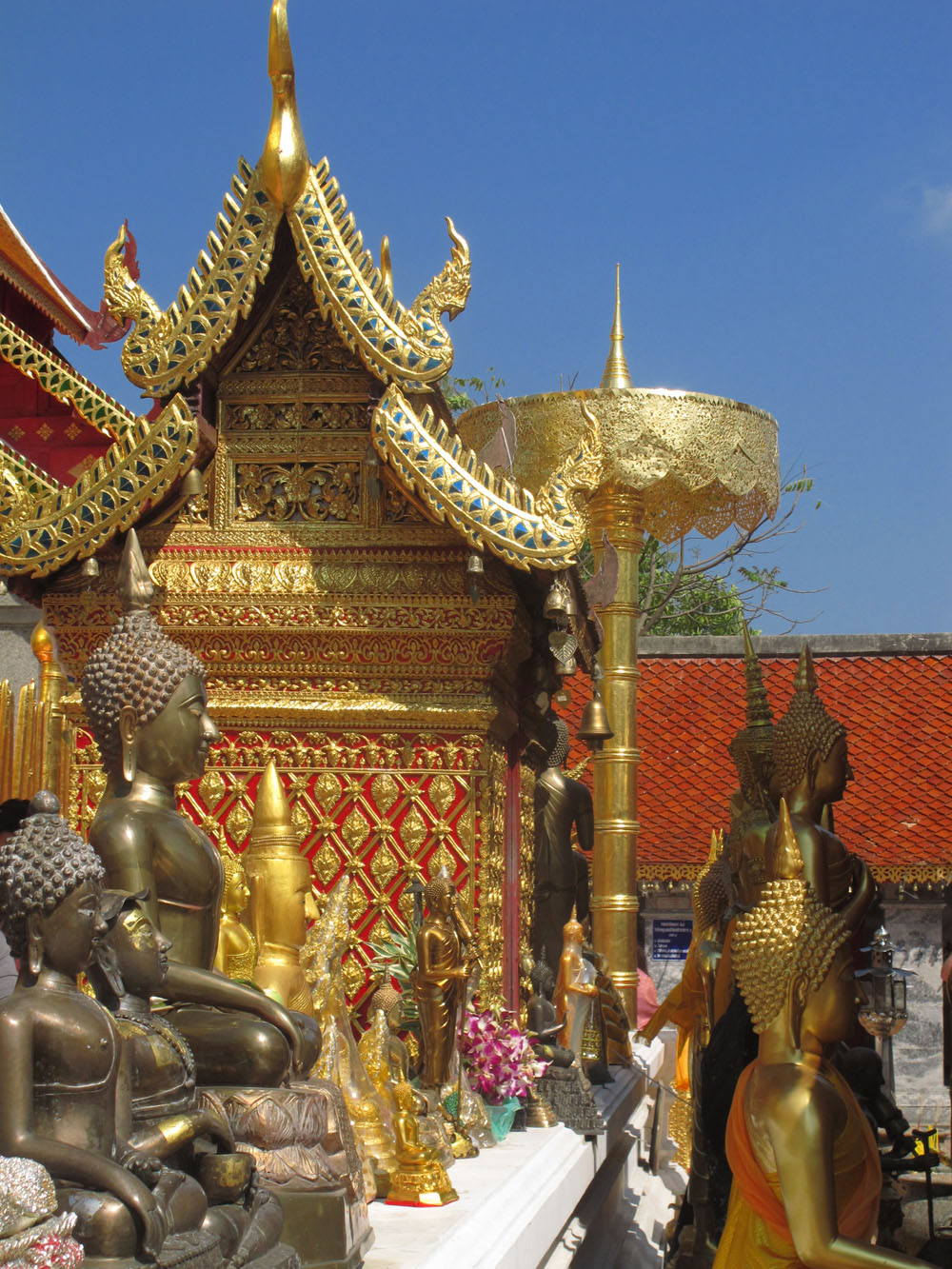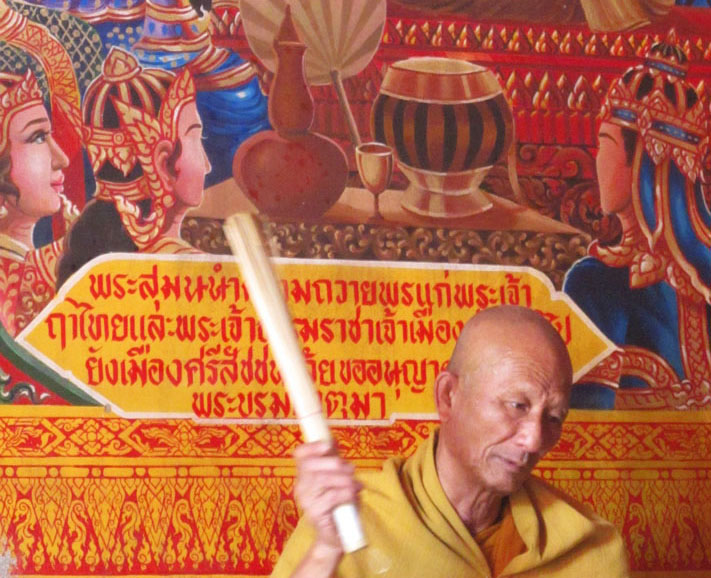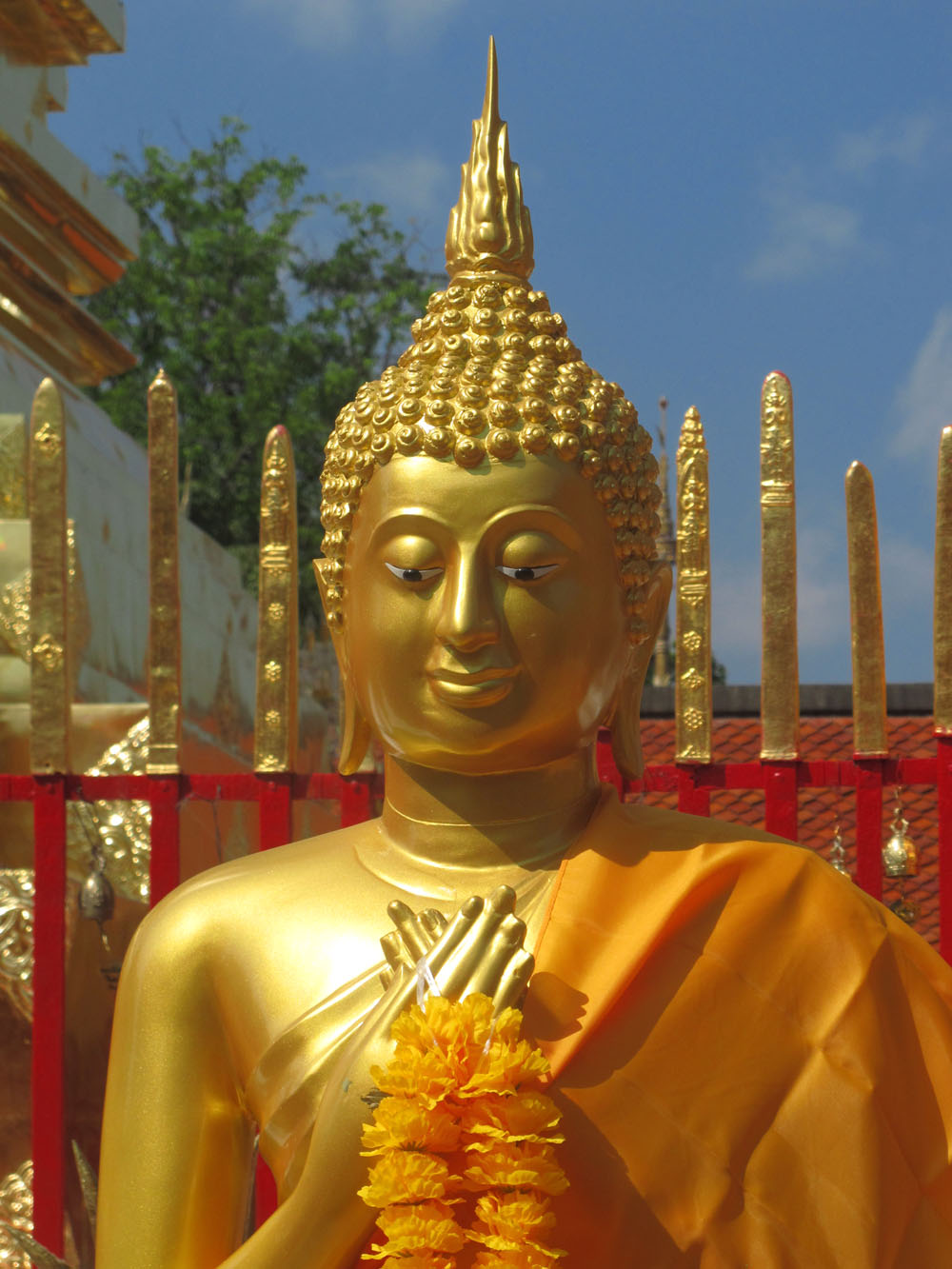 As Mae Hong Son sits so close to the Burmese/Myanmar border, the temples here have a slightly different look. Instead of combining layers of glimmer and color, temples are less showy and feature more standard colors, with more metal and tiling.
Wat Jong Kham-Wat Jong Klang in Mae Hong Son is a perfect, and painfully photogenic, example of this type of temple. It casts a somber reflection in the lake which adds so much to its demure design.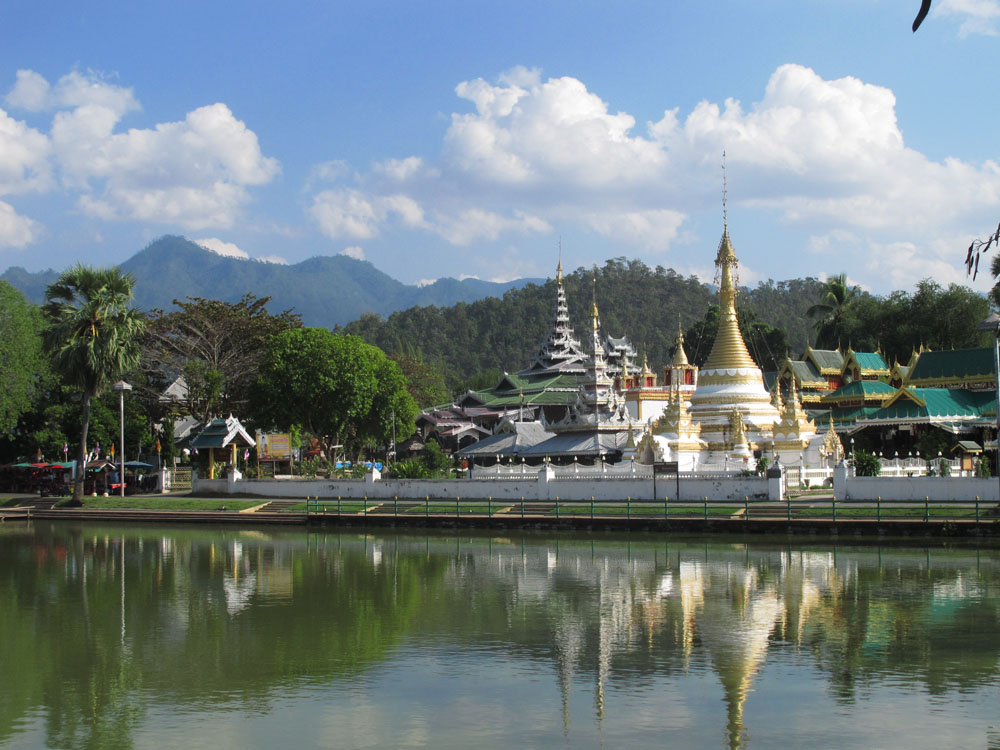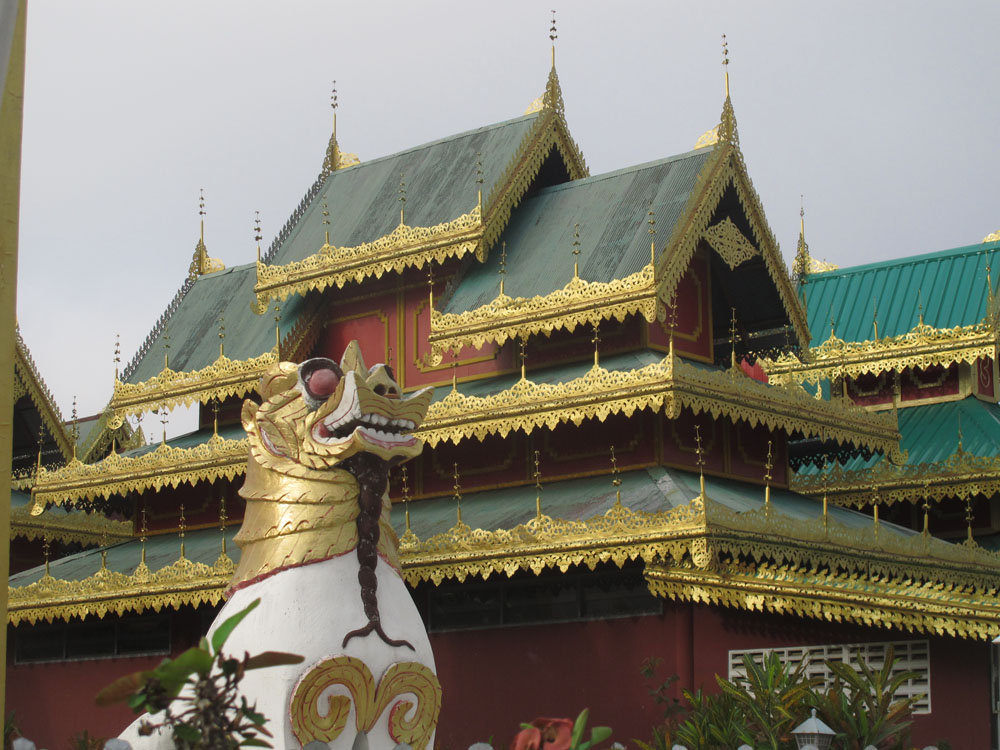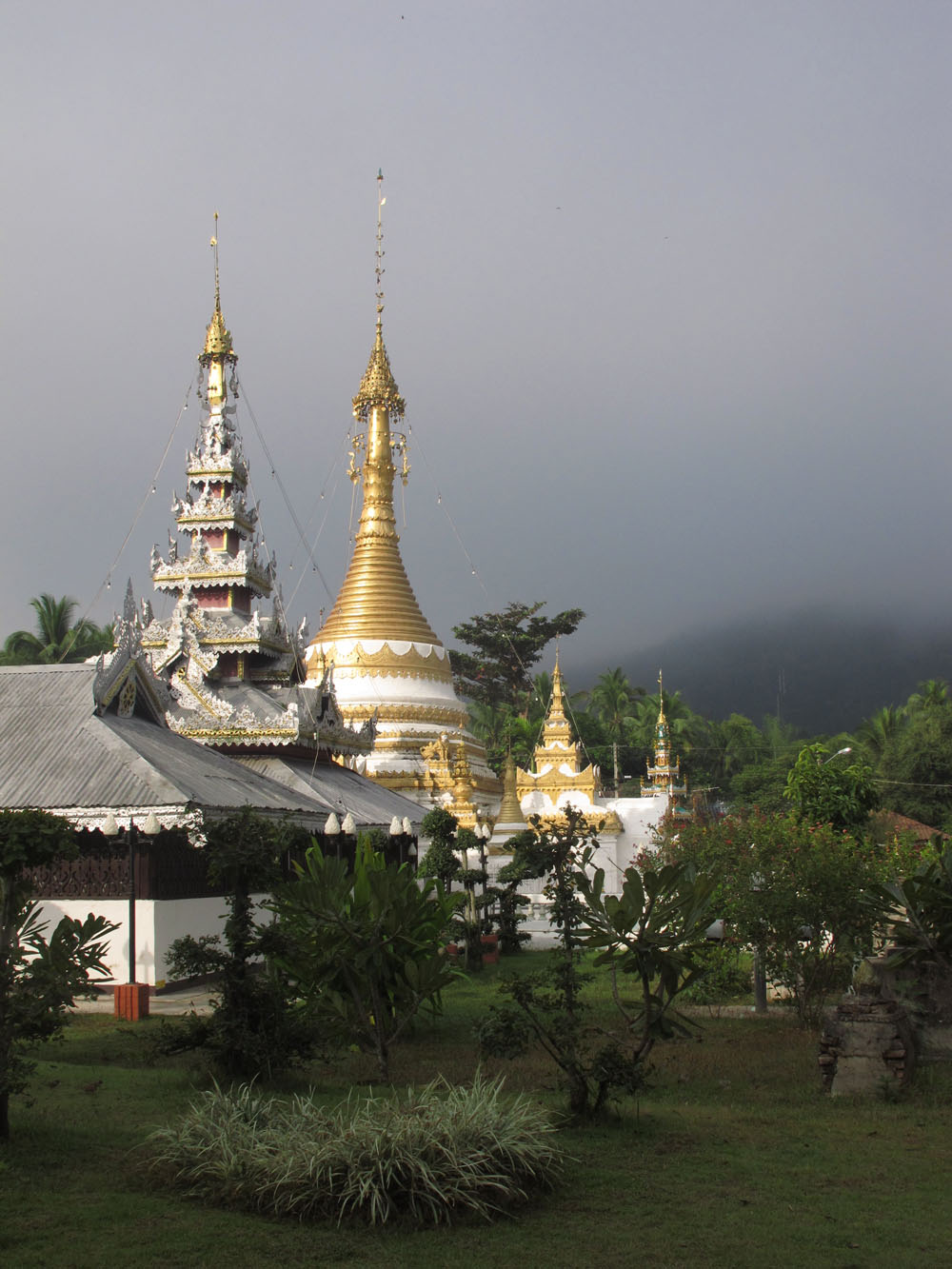 Some of the most complex and well kept temples, however, are in Bangkok. The Royal Palace, Wat Pho, Wat Arun – all important pieces of Bangkok's spirituality.
Loaded with tourists though. It kind of takes away from any spirituality you may feel as an outsider. The structures, however, are historic and beyond beautiful. (Wat Pho was my favorite!)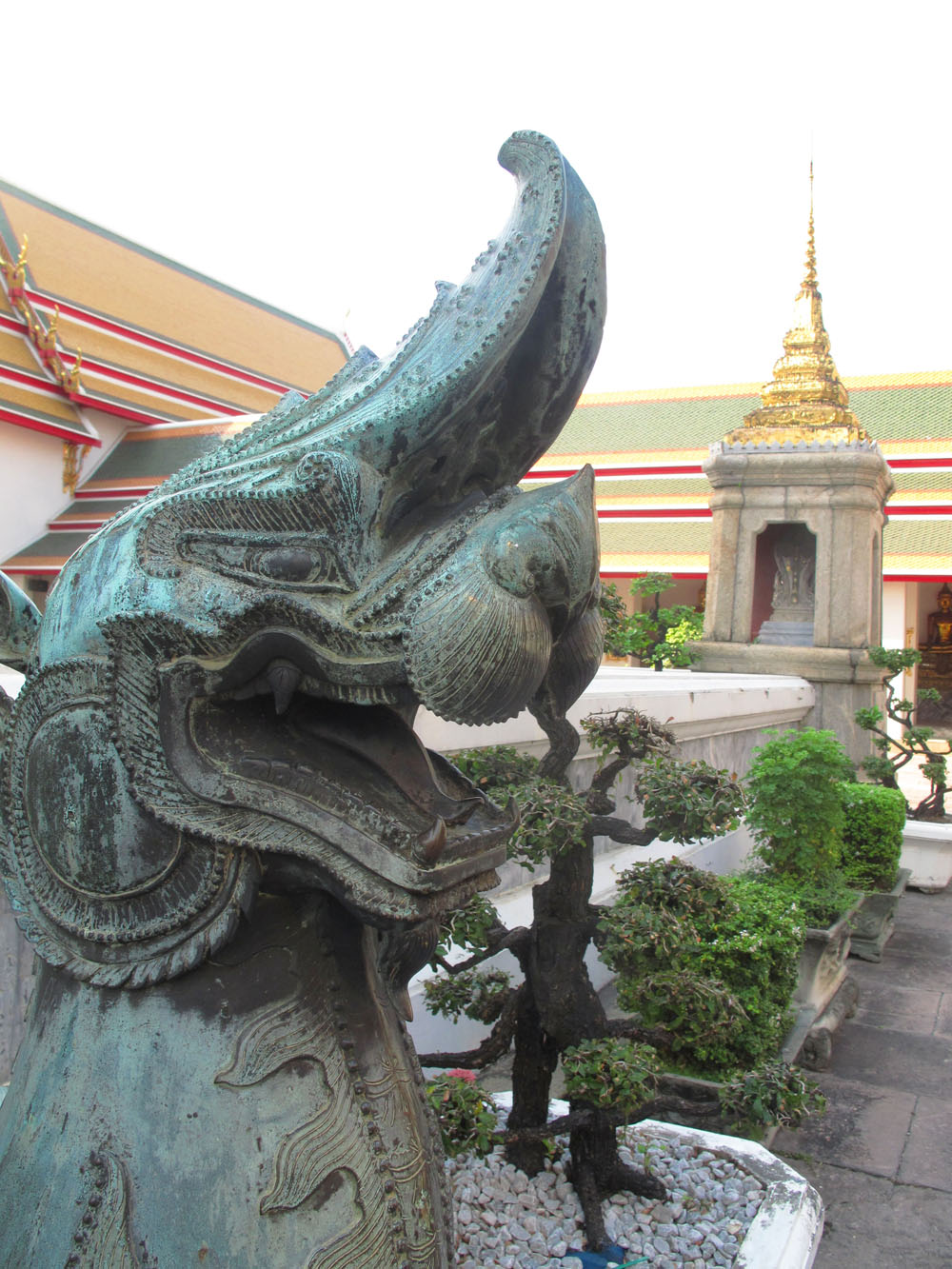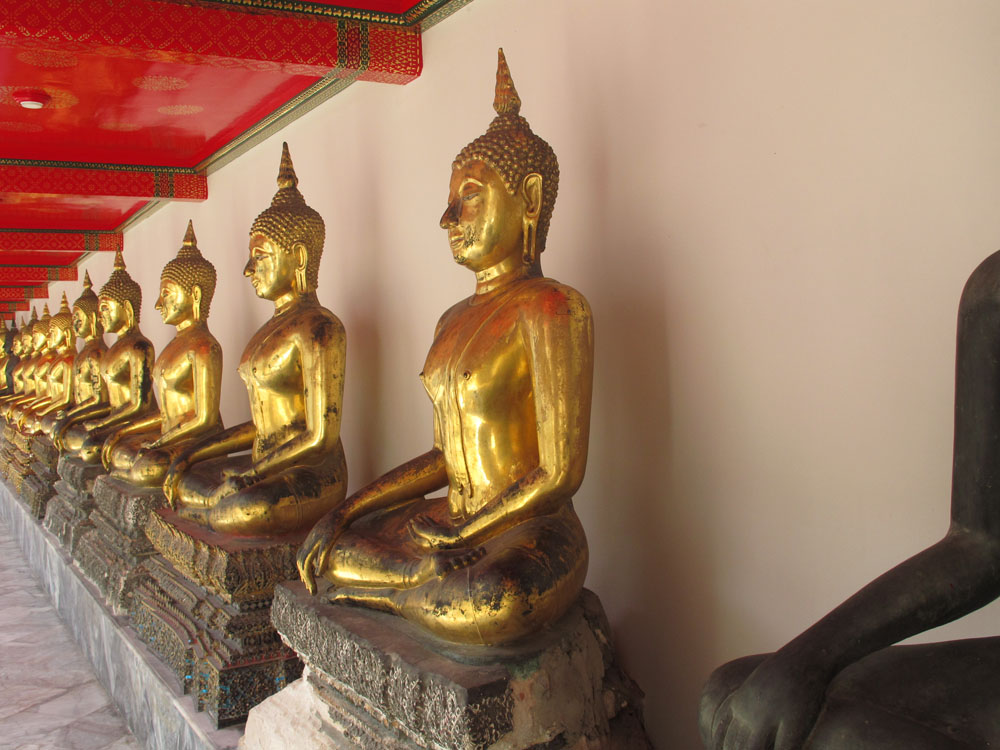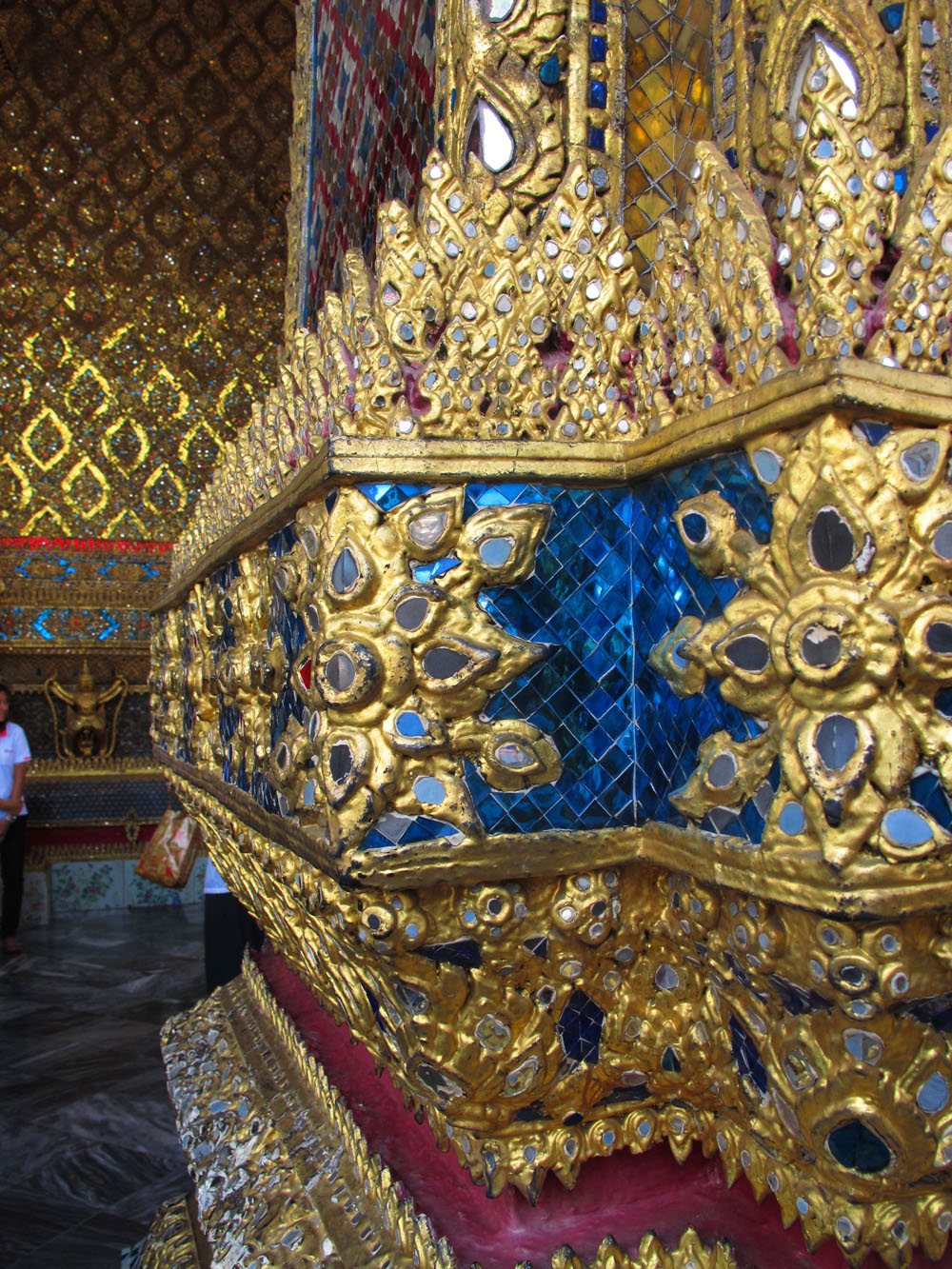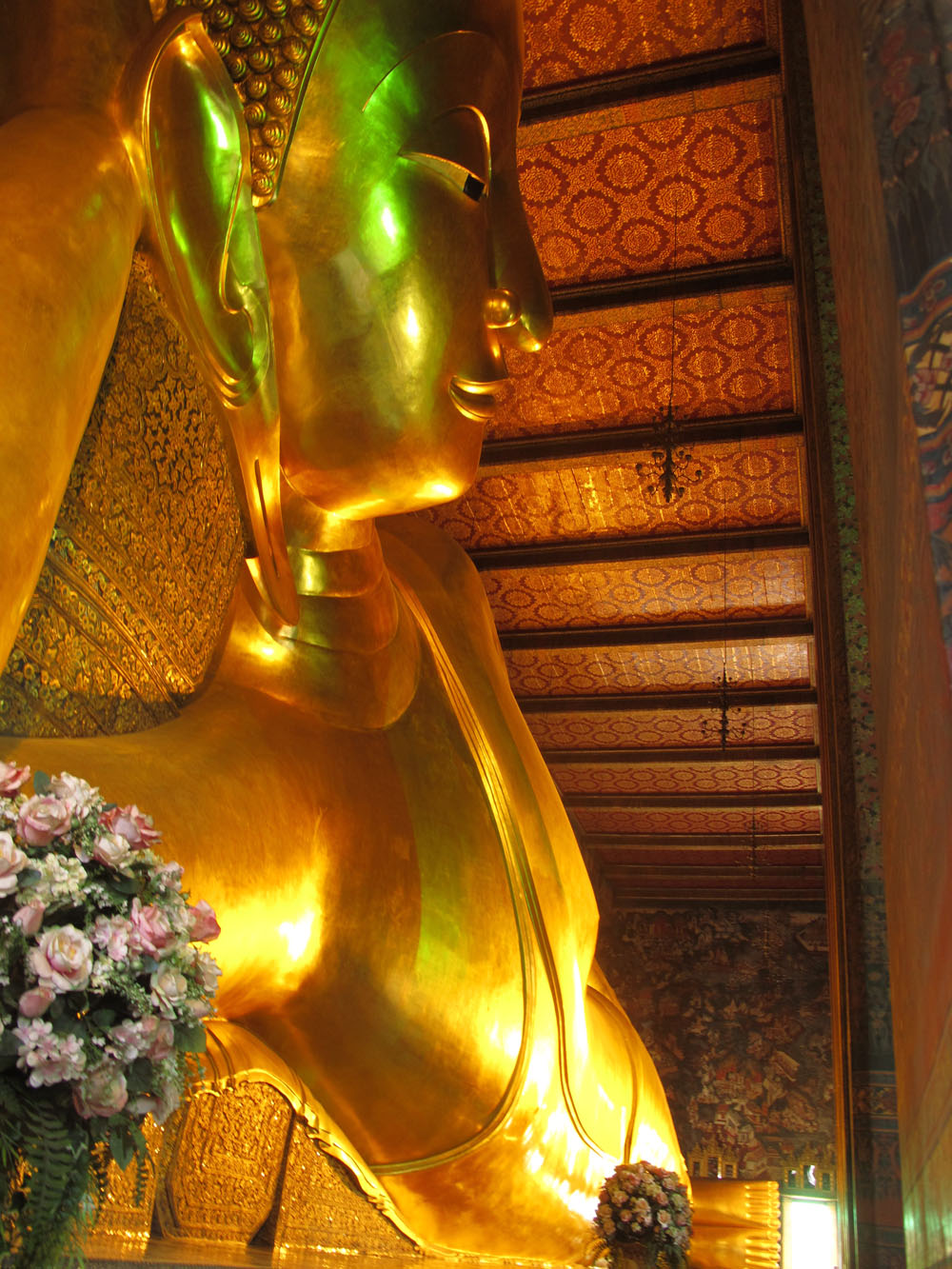 All of these temples (and many others that we chose not to photograph) helped me feel more of a connection to Thailand. Though it is true that I understand extremely little (read: nothing) about what these structures signify and how important each statue and Buddha actually is for Buddhist people, I do feel a deep sense of respect for the faith that these places embody.
Also, these temples are super cool. And such a feat of artistry and design.