A Trip to Oregon, Part 2
(click here for Part 1, if you missed it)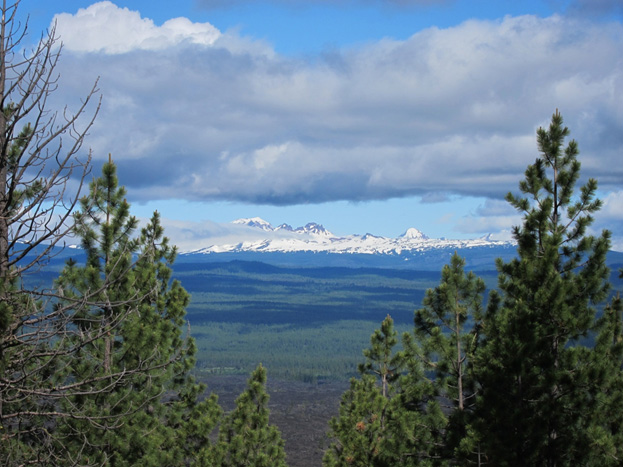 Above is a view of Mt. Bachelor (we think) from the top of Lava Butte.  Below is a chipmunk that tourists were feeding in the parking lot.   He has nothing to do with my story except that I love this shot (photo credit goes to Seth).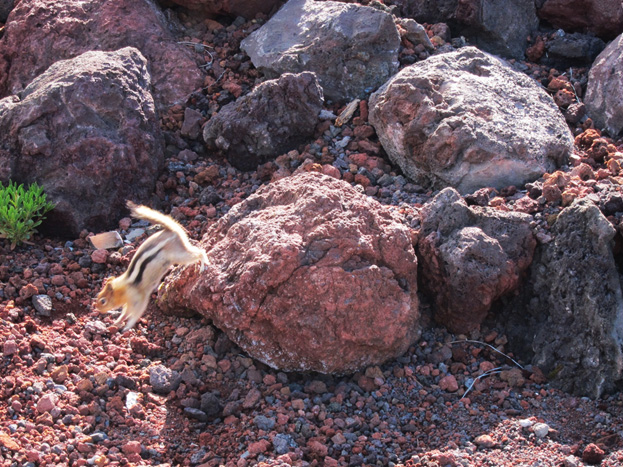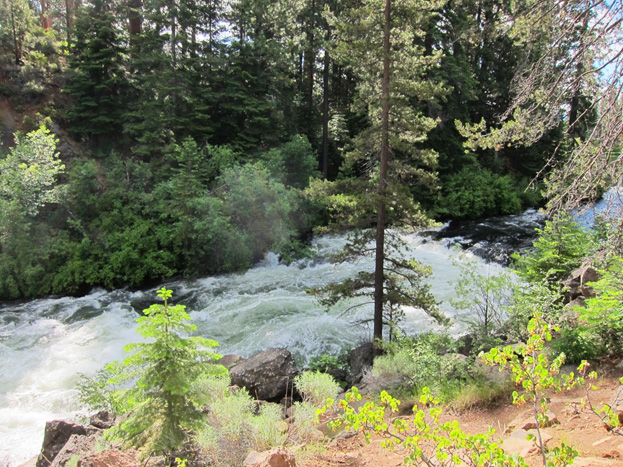 The main attraction, and indeed, the reason we went to Sunriver, Oregon, was the Lava River Cave. The cave is a mile long tube carved deep underground by an ancient lava flow.  Before entering we had to attest that we hadn't been in any caves where bats were known to have white nose syndrome (ironically, the one they asked us about was Howe Caverns in New York).  No big deal, we hadn't been there, but wait a minute.  Bats?  I'm not going to lie.  The lava tube was amazing…totally creepy, pitch black, and almost freezing cold…but I spent the entire time wondering if, at the end, we were going to come to a huge room of bats which would swoop down at me, very angry that I had disrupted their slumber.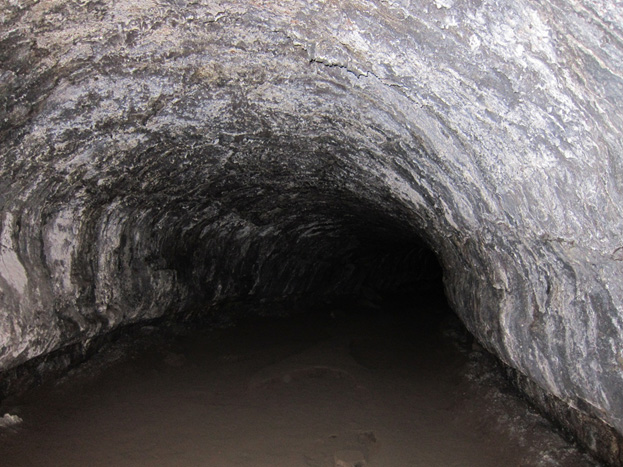 It turns out, at the end, all we got was a sign that said "Don't Go Any Further" and a wall of rock.  If the sign had said "If you go any further you are going to see a zillion bats and possibly pee your pants," would I have kept going?  I don't know.  I was feeling pretty brave just for making it that far.  Seth couldn't believe I'd made it past the first hundred feet of pitch blackness.  Now, I was getting somewhere though.  My Merrell's had mud on them. Lots of mud.  Score.
We rewarded ourselves with some Mirror Pond Pale Ale from Deschutes Brewery (local Bend brewery) and opened the travel guides again.  Next we'd try a drive up the Oregon coast.  We made Newport, OR our home base, had a swim, some clam chowder, and a walk on the beach, and prepared for Day 3 which would hold my favorite part of our trip.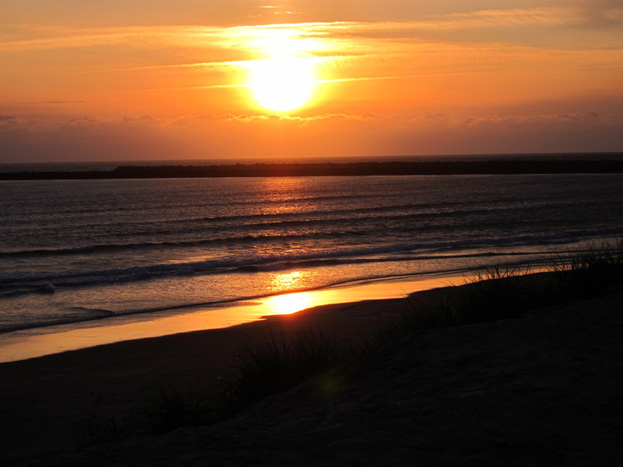 In Newport we started with one of my guilty pleasures: the lighthouse.  I love lighthouses.  I don't know if it's because I grew up on Long Island, where Montauk Point Lighthouse held many fun summer memories, or because I appreciate the peace and safety they symbolize.  Either way, I'm hard pressed to leave a coastal town without seeing its lighthouse if it's lucky enough to have one.  Yaquina Head Lighthouse is the tallest in Oregon and has been in operation since 1872.
Next we headed to the Three Capes Loop: Cape Kiwanda, Cape Lookout, and Cape Meares.  By Day 3, Oregon was heating up, and though we were in pants and jackets, the locals were beach ready.  Children played in the water and shirtless men roamed the beach, but we wouldn't officially learn what huge wusses we really were until a few hours later.  After the Three Capes we headed east to Saddle Mountain.  My guidebook had convinced me it was time to try a real hike and see if I could hack it, or if all I'd ever be able to appreciate of the Pacific Northwest was the clean air and grey-blue skies.
The drive from the highway to the trailhead seemed to be about 18 miles long, winding, and steep.  I kept thinking, "Isn't this a small mountain?  What's going to be left to hike?"  We packed a backpack and layered up.  As we started the hike, a family of three children and their mother was starting as well.  The teenage girls were complaining that they might be cold, but their mother assured them once they started hiking they would be fine.  They were wearing tank tops, shorts, and sandals.  Not only was I freezing in my three layers and boots, but I couldn't see how these kids and their mom were going to finish this hike.  I thought maybe they were just going to do part of it.  At the start the mom asked us to pass them and said she'd be going very slowly.  We were by no means fast, but we thought we had a better handle on this than they did.  We were sure of it.
The thing I've always loved about hiking is what most people love about their sport of choice.  It doesn't feel like you're exercising for the sake of exercising.  It has a purpose that running on a treadmill does not.  The way my lungs hurt and my head gets light all while taking in the most amazing sights is a gift that spin class will never give me.  The hike itself had its ups and downs (pun intended).  I sometimes like to stop for a few minutes to recharge, but Seth didn't understand this and kept "encouraging" me to keep going.  We made a deal that if I made it to the top he'd drive to Portland that night.  I just kept thinking that with how sore my legs would be I really wasn't going to want to drive later.  I might have taken 15 rest stops, but about an hour and a half later we reached the top.  We were proud and happy.  A young girl took our picture to commemorate our victory.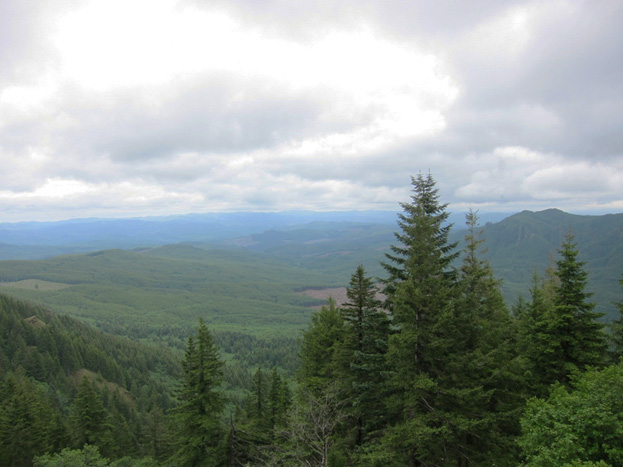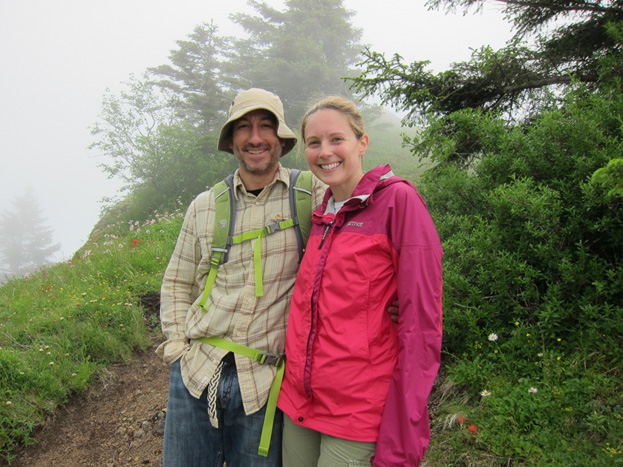 Oh, and about five minutes after this picture was taken, a family of four in tank tops and sandals showed up right behind us, not freezing, not wheezing, and just as proud and smiley as we were.  We may have tackled the mountain that day, but we had a long way to go toward becoming the hiking snobs we thought we were.
When I asked Seth if Saddle Mountain was his favorite part of our trip, as it was mine, he said no, that it was whale watching off the Semiahmoo Peninsula in Blaine, Washington later that week.  As it turned out, he preferred Washington to Oregon and said if we were ever to move to this area, he'd want it to be to Seattle.  For me, this trip confirmed what I was pretty sure I had already known.  A place known to some as Beervana, that is also one of the only places in the world where my favorite wine is bottled, that has stunning rivers, mountains, and waterfalls almost everywhere you look, will remain on my short list of places to live for all my long and harried New York City days.
Thanks Erika for sharing your trip!  Loved hosting you on TravelShus.