Yogyakarta(Jogja) was a last minute addition to our trip, since most of Indonesia had been filed away in the "Matt can't eat there so we can't go there" category. Of course once those allergy assumptions were proven to be idiotic, Java became a focal point in our plans for Indonesia. This five day trip outside of Bali and into the heart of Indonesian Muslim culture would prove to be one of the most moving and consuming five days I had on the whole trip. A cathartic experience which was desperately needed and unfortunately came late in the trip. Could've Should've Would've.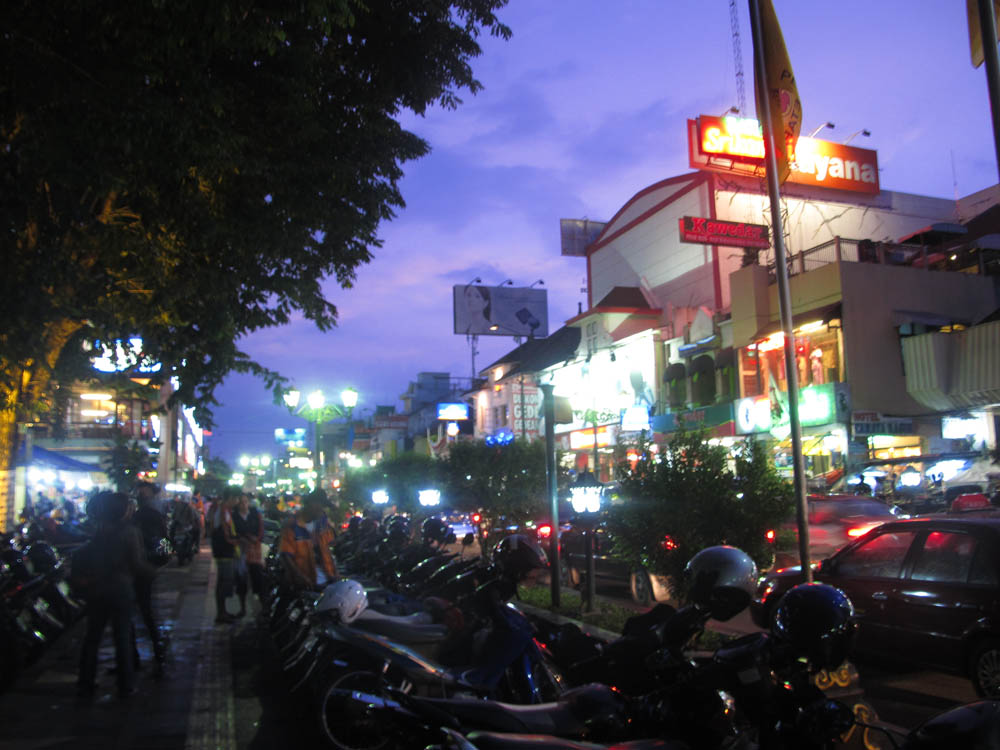 By the time we made it to Java, we had a meer 33 days left on the road. In the interest of saving time, we flew from Bali over to Java. I'm an airline safety geek, so we chose to fly the delightful Air Asia from Denpasar to Yogyakarta with a 3 hour stopover in Jakarta. (ok, I badgered Matt to please let us avoid direct flights on Garuda and Lion Air until he relented. Hes a good husband.) On the way back to Bali, we opted for a train ride across the island back to Jakarta instead of the trans-island flight. The train was a surprisingly beautiful way to see the Javanese countryside. Another excellent surprise was the guy at the doughnut stand in the Jakarta airport singing karaoke on the PA system.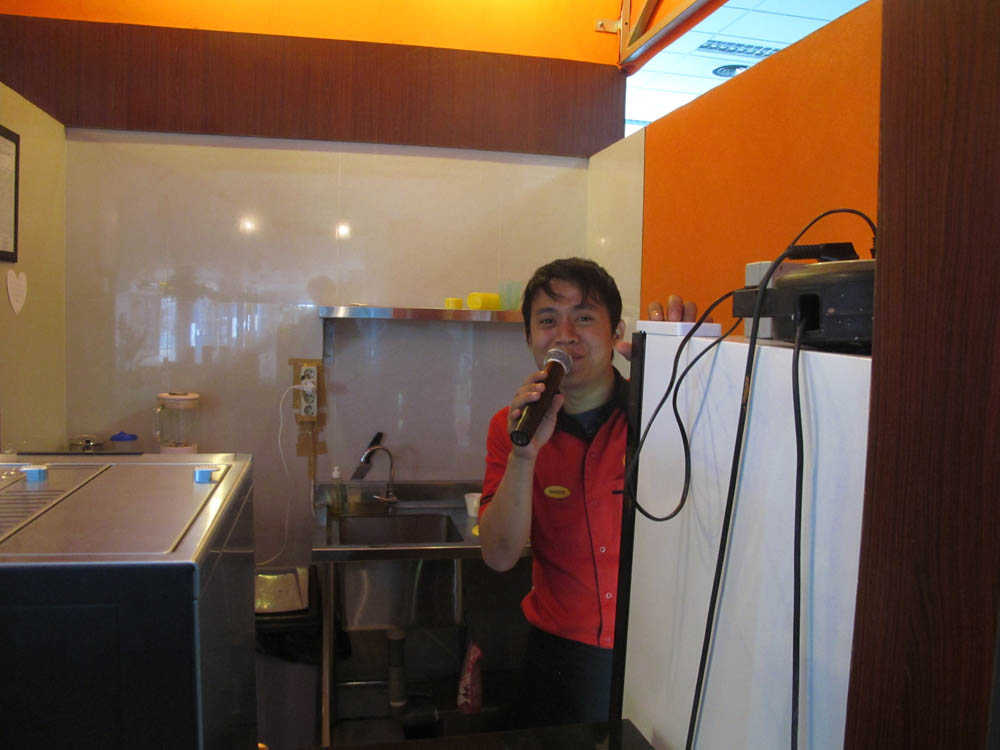 We stayed near the backpacker area in downtown Jogja, but not right in it. The Ameera Hotel on Jalan Dagen was exactly what we wanted. It's only a 5 minute walk from all the local western restaurants and backpacker hostels, but it's far enough away that we were the only westerners in our hotel and the only westerners on the block. We might have been the first white people to stay in the hotel altogether, as it had just opened weeks before. Everything was new and clean, including the mandi. Yes, the mandi. To those unfamiliar with Asian bathing techniques, a mandi is a type of shower where one uses a hollowed out coconut shell to pour cold water, from a gigantic cauldron, over oneself. For those of us who hate cold water showers, you can also boil some water in a kettle to pour into the giant cauldron. Though an adjustment, it was easy to get used to mandi-ing and definitely became one of the cooler parts of staying in a hotel off the traveler strip. But thank god for a clean toilet. And a real floor!
Aside from being an hour from Borobudur, the main reason travelers descend upon Jogja, the city is also the center of Indonesian batik. There are countless batik galleries and shops up and down Jalan Malioboro, one of the main shopping strips. Locals, Indonesian tourists, and foreigners all walk along the road shopping for various batik items, souvenirs, and wood furniture.
The Beringharjo Market sits on Jl. Malioboro as well, boasting hundreds of stalls stocked with everything you can think of from housewares, to ballgowns, to locally made batik shirts, to freshly cut banana leaves. One could get lost in the alleys of the market for hours exploring each area and vendor. As we had decided to stock up on gifts for our families in Java, we spent time bargaining on vintage batik stamps, silk scarves, swaths of classic Indonesian cottons. I gifted myself a silk Batik scarf, which has become one of my most prized possessions.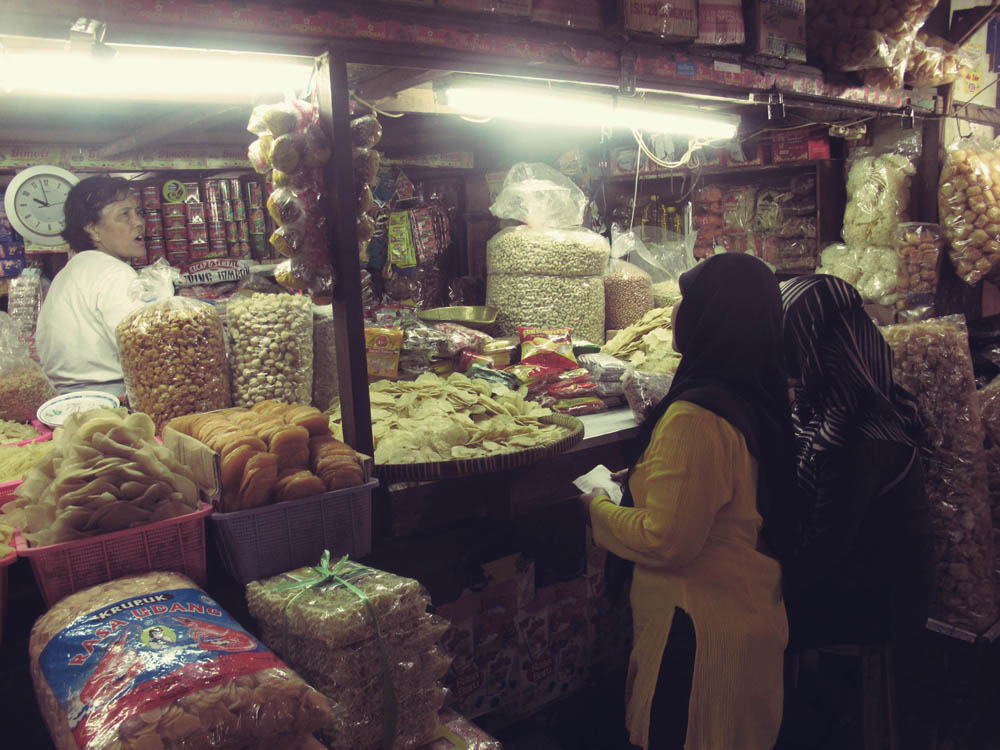 However interesting and full of surprises the city of Jogja is, Borobudur is still the most stunning and penetrating part of a visit to central Java. Borobudur, built in the 9th century, is the largest Buddhist structure in Indonesia. It is a interesting cultural paradox that this breathtaking temple sits where it does, in the most populous Muslim country in the world. Of course, historically, Java was a Buddhist and Hindu island. In the 14th century the temple was abandoned during the conversion over the Islam. It is only because it was forgotten until the early 1800s that it is still in such amazing condition. Comparing the detail in the stone carvings at Borobudur with those at Angkor Wat and it is clear way to see how preserved it is.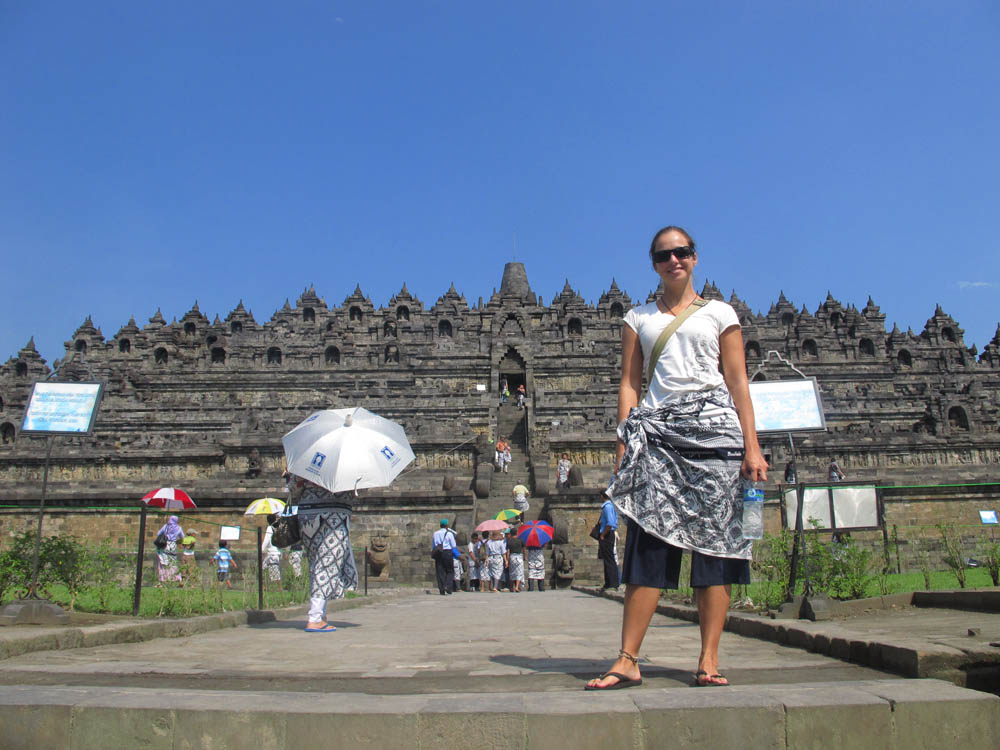 Visiting Borobudur is also fairly easy. Its a short 45 min ride out of Jogja, passing through small villages, open rice fields, and the foothills of Mt. Merapi. Luckily, there were no lines to get into the park for our visit and very little tourist congestion. It was a relief to not have to deal with the throngs of tourist buses and tour groups that we have seen at other temples. Plus, we got to wear nifty sarongs!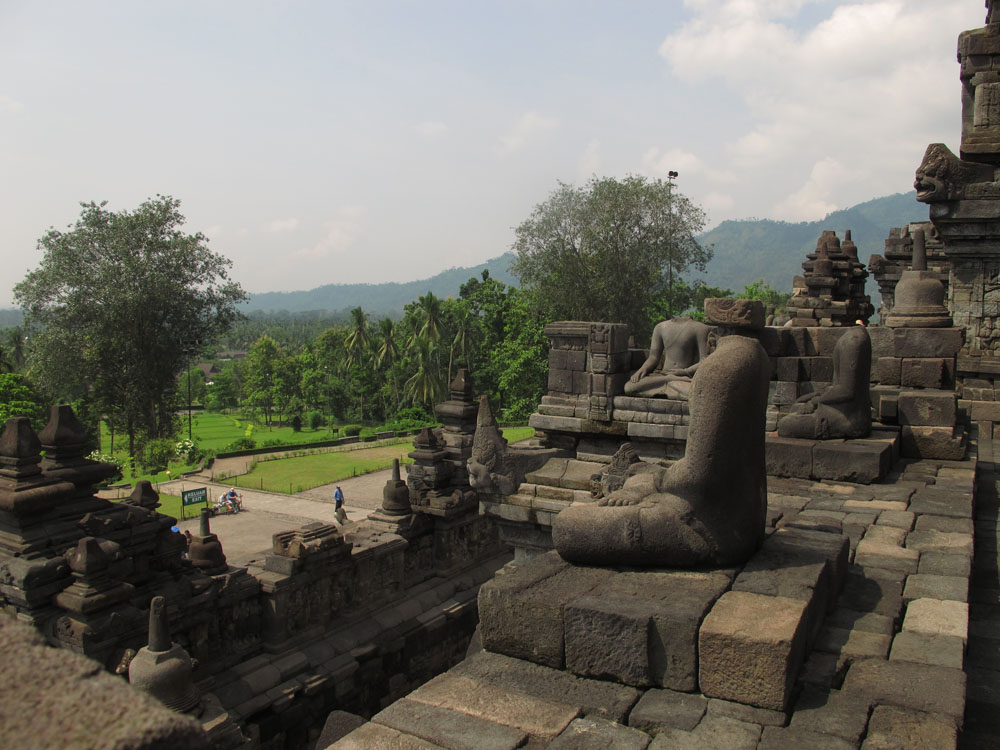 The whole temple is rather small as its only one structure, but it's probably got about a billion steps. Couple the heated black stone with brutal sun and an extra layer of cotton afixed to your waist and you've got an intense temple experience.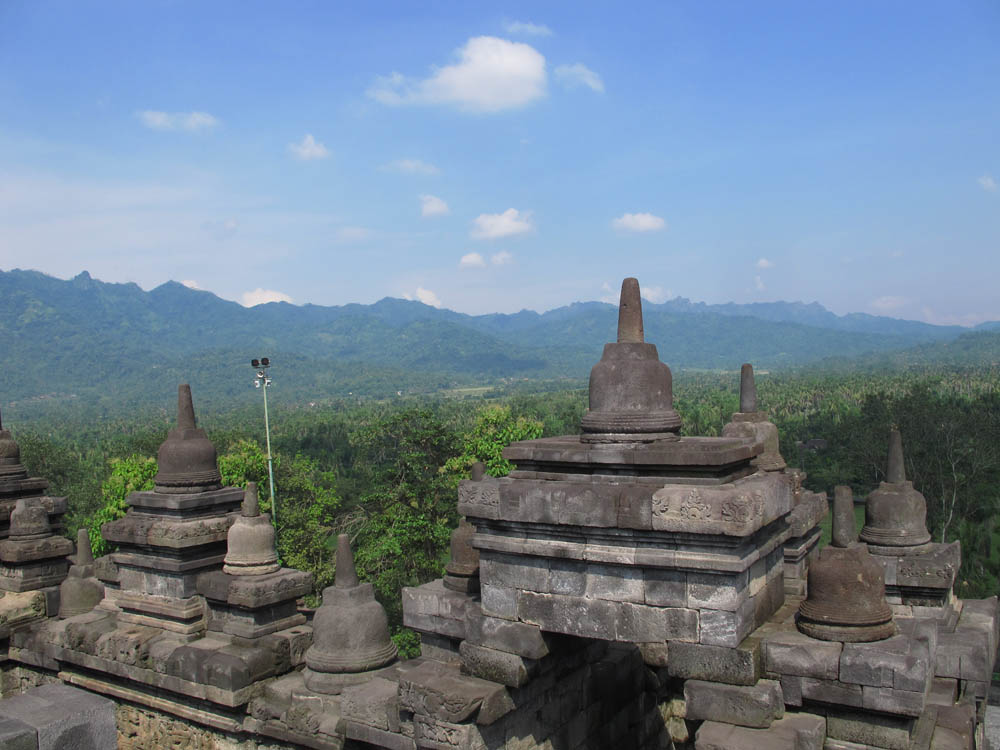 Age old Buddhas and stone carvings are the only thing to keep your mind off looming heatstroke. I suggest a large bottle of water and a visit in the morning when its still somewhat cool and there are morning shadows throughout the temple you can use to hide from the sun.
In spite of the heat, Jogja and Borobudur was a very moving and important travel experience for me. Aside from it being a last minute addition, (which somehow always tend to be more fun than the planned destinations) it was also in a country which was previously off limits to us. A country which, for a westerner like me who is curious about Asian cultures, is mysterious and misunderstood.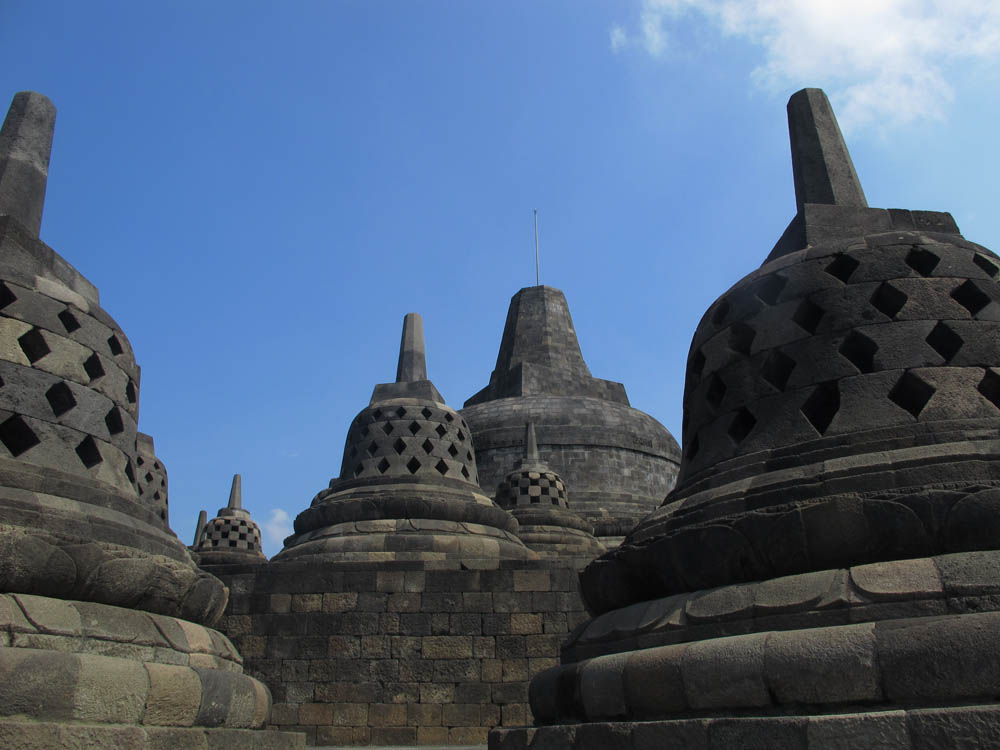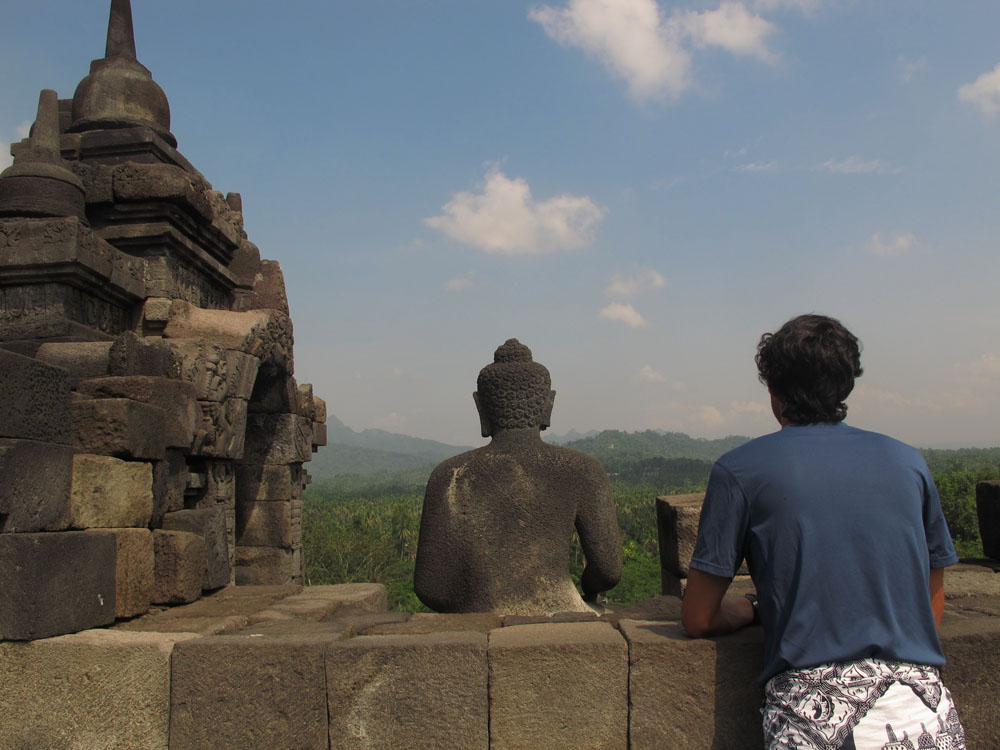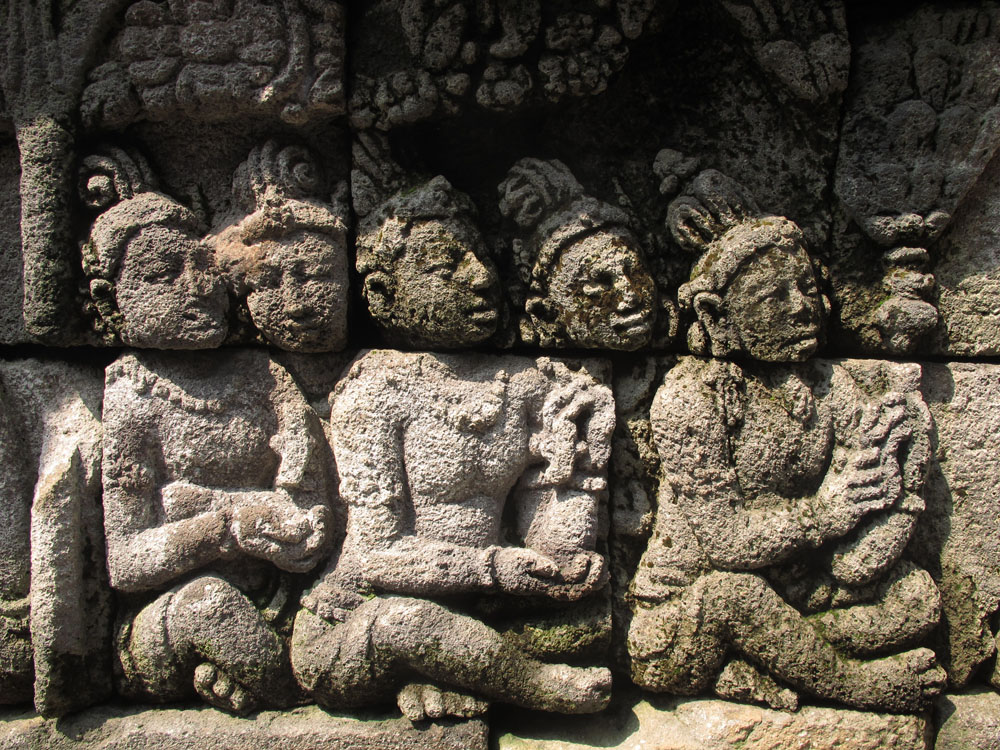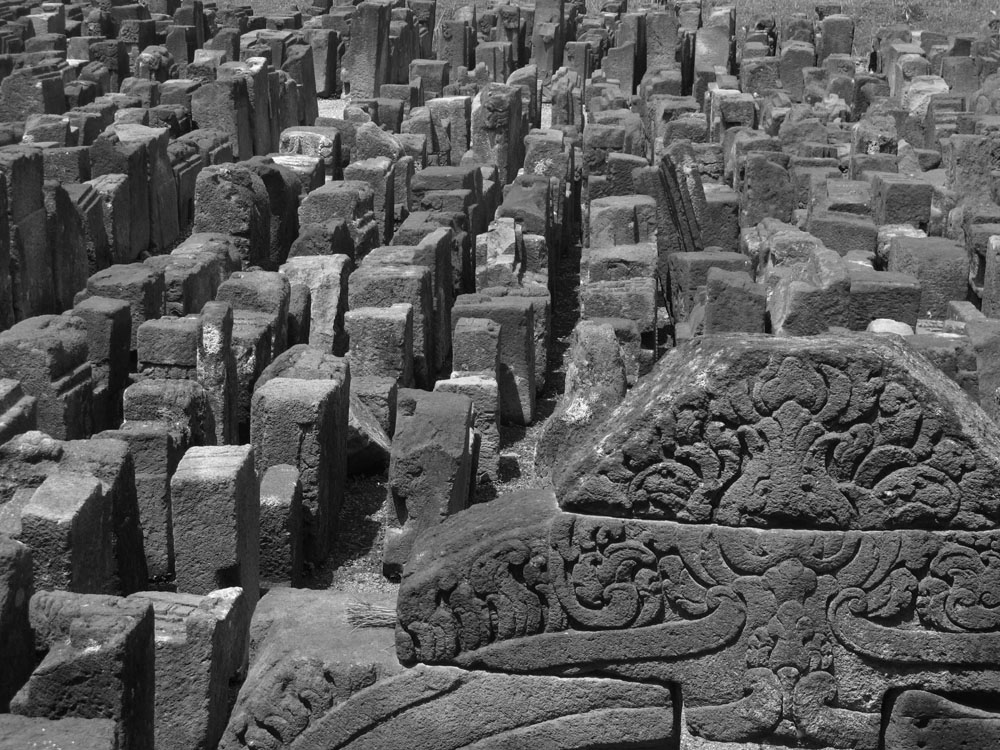 Indonesia was the biggest surprise on The Trip, in part due to experiences like this one on Java. All I knew of Indonesia before arriving there centered around surfing and Balinese dancing. A short trip to Java gave me a look into a culture I didn't even know existed and one which has fascinated me to no end. I mean it, to no end. I still relive our short time on Java, as well as Bali and Lombok, every day in my mind. I've tacked up photos from various Indonesian locations in my cube at 30 Rock to remind myself of what I uncovered there. Indonesia will continue to consume and inspire me as it was my favorite destination on our trip as well as a testment to how travel can open ones mind and spirit to a new side of the world.