Finding the right place to stay in St John takes a lot of thought and planning. Prices can be high and inventory is low on this small and protected Caribbean island. You'll wanna do some research. There are only a handful of actual resorts on the island, a small group of hotels and eco-hotels, and a large variety of vacation rentals. And to make it even more confusing, each type of accommodation offers a different island experience.
On my first trip to St John, I chose to stay at the Concordia Eco Resort on the far side of the island near Salt Pond Bay. I LOVED it and spent most of my time on the quiet eastern beaches.  This time, however, I was hoping to explore a different part of the island. Instead of returning to Concordia, I decided to rent this little cottage on a hill.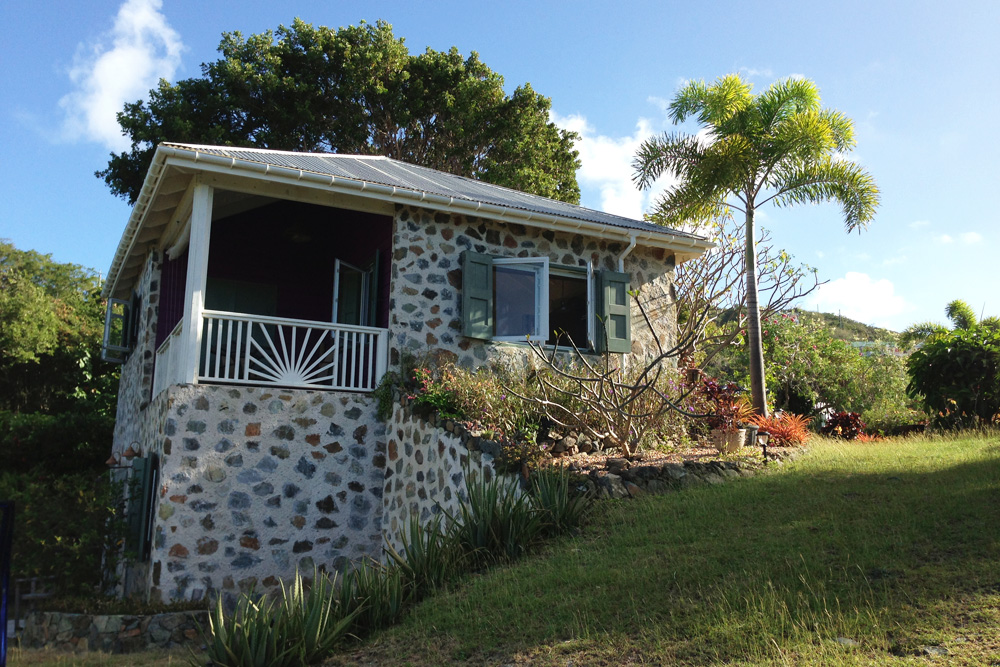 You may think that renting a condo or villa in the Caribbean would require a chunk of change and a large group to make it worth the cost, but you'd be surprised by the number of small affordable options that are available. Some of them are tucked away in the hills, some are right in Cruz Bay, and some share property with a larger house or villa. All of them will give you a chance to have a relaxed more local travel experience. I did my research on VRBO, Airbnb, and Homeaway and eventually booked this cute little stone cottage through VRBO. (Listing Here). The sticker price is actually a lot higher than I normally spend on accommodation, but for the quality, location, and views that I got, it was a fantastic value worth every penny. (There are less expensive cottages and apartment available as well, if you are looking for something a little less)
The cottage and adjacent main house is located in the Chocolate Hole area, which is only a five minute drive from the Cruz Bay ferry dock. The property sits on top of a hill that overlooks the bay, Cruz Bay, and off to St Thomas.
Guests have access to a parking spot, an outdoor shower, and store room stocked with beach supplies. The cottage itself is a breezy screened-in studio style retreat renovated with modern finishes. Shared with the main house is a pool and pool deck, as well as a barbeque, hot tub, and pool-side kitchen.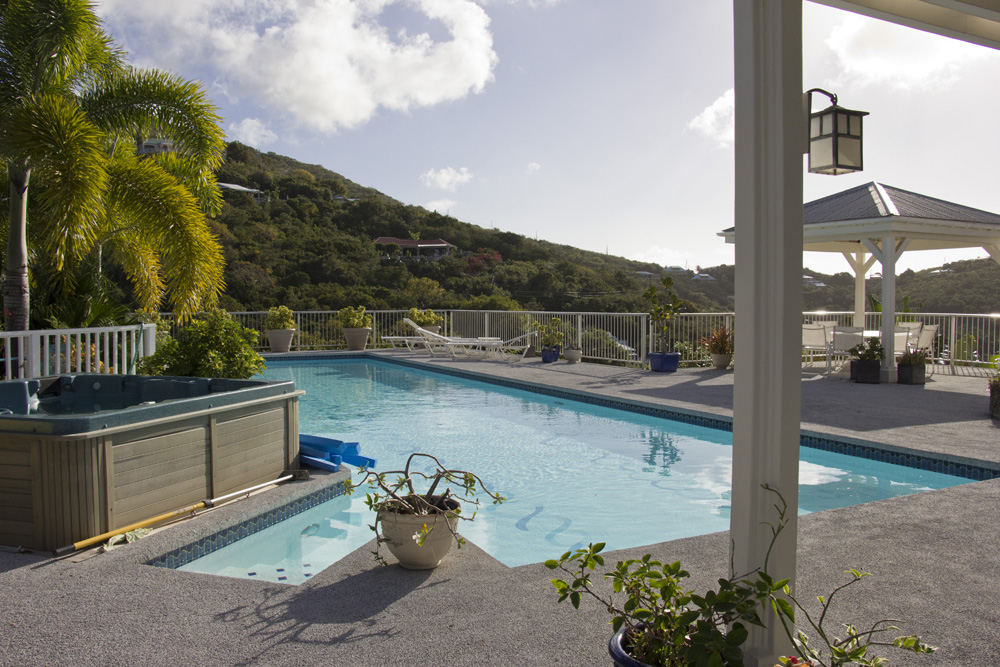 Inside, the cottage feels airy and open. The walls and ceiling are white-washed and the screened-in windows allow for cool breezes. I don't think I ever turned on the air conditioner. On the downside, the kitchen is small and isn't enough on it's own – you'll want to use the barbeque by the pool and the sink in the poolside kitchen as well. But, the kitchen in the cottage  it is perfect for morning toast, coffee, and storing some groceries. It was also perfect for a bar.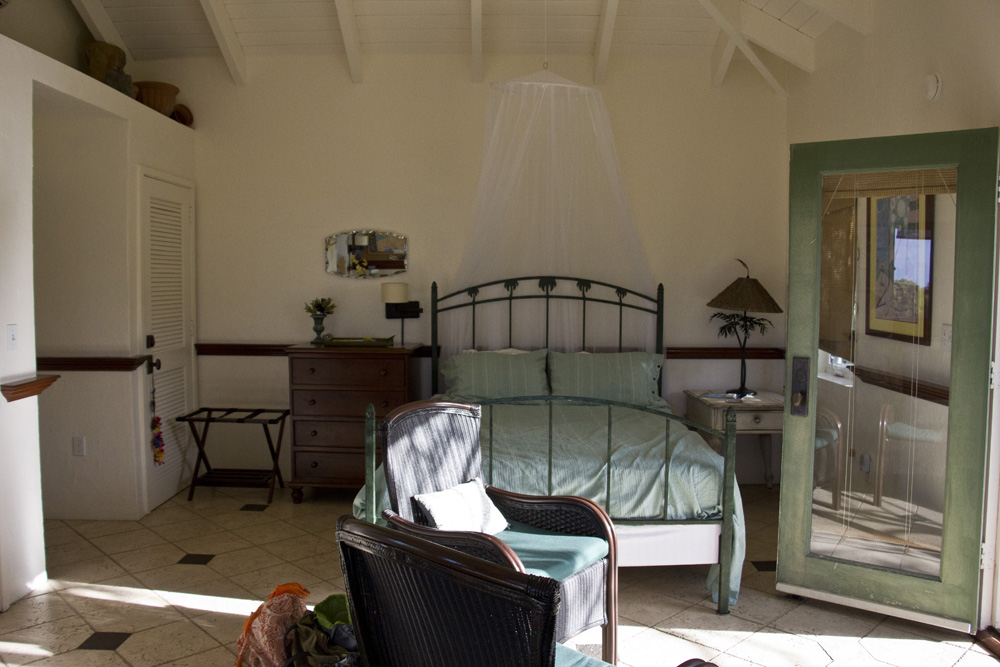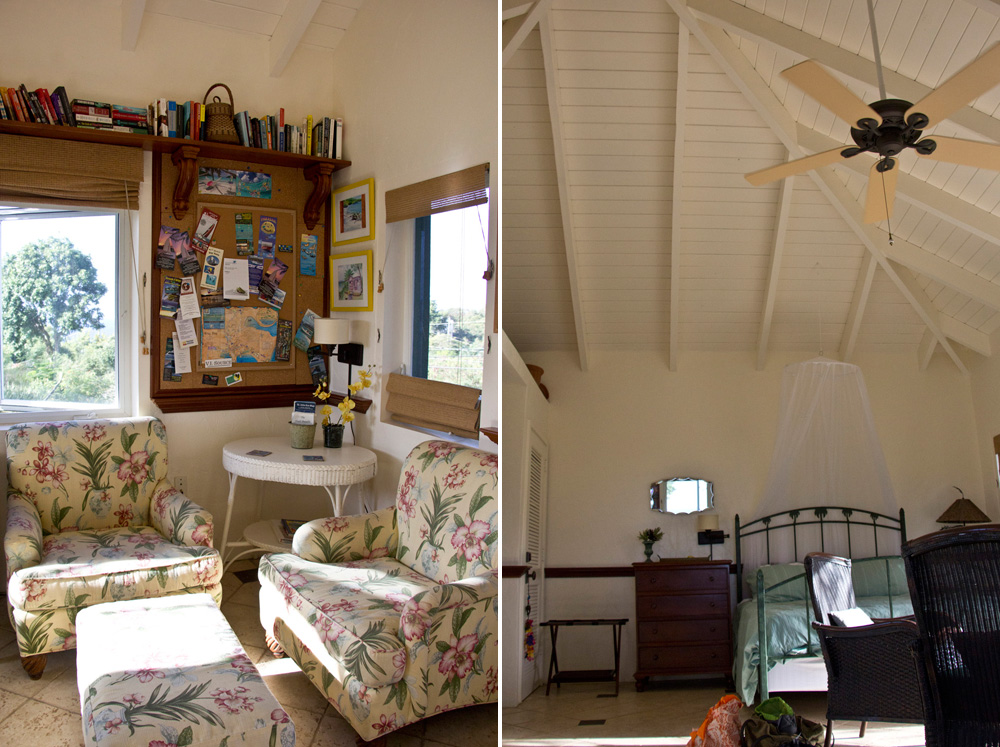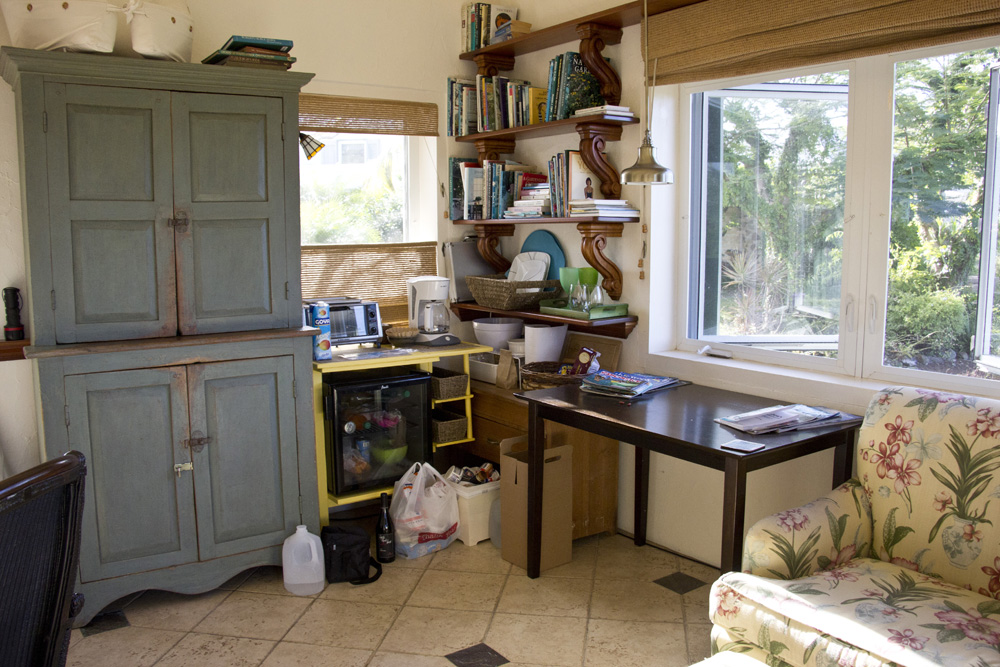 The grounds are well-kept as the owner is careful about maintaining the property. You'll find some interesting tropical flowers set in lush green gardens.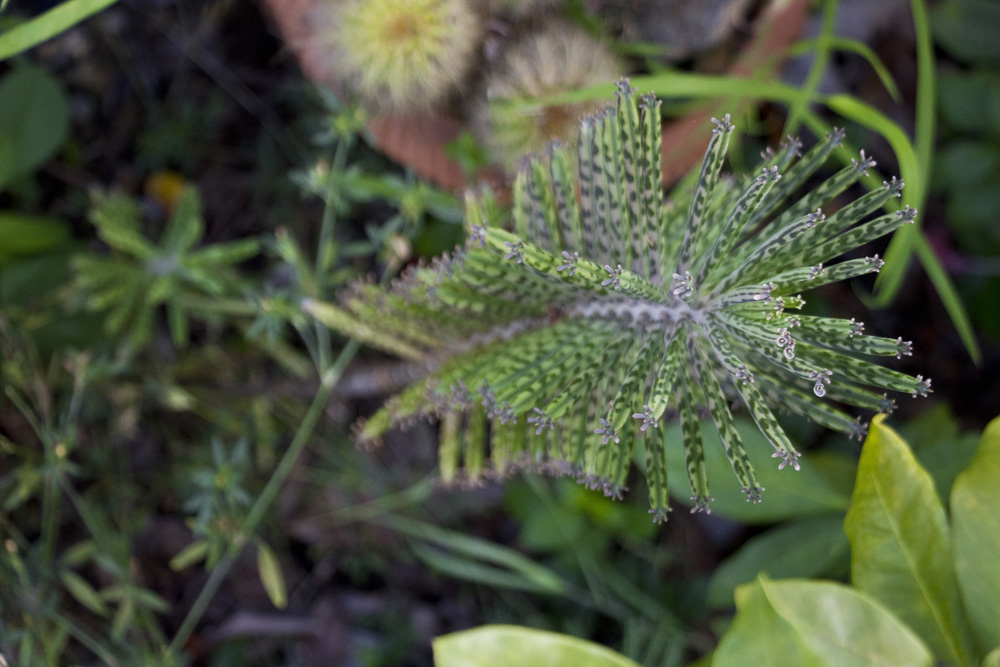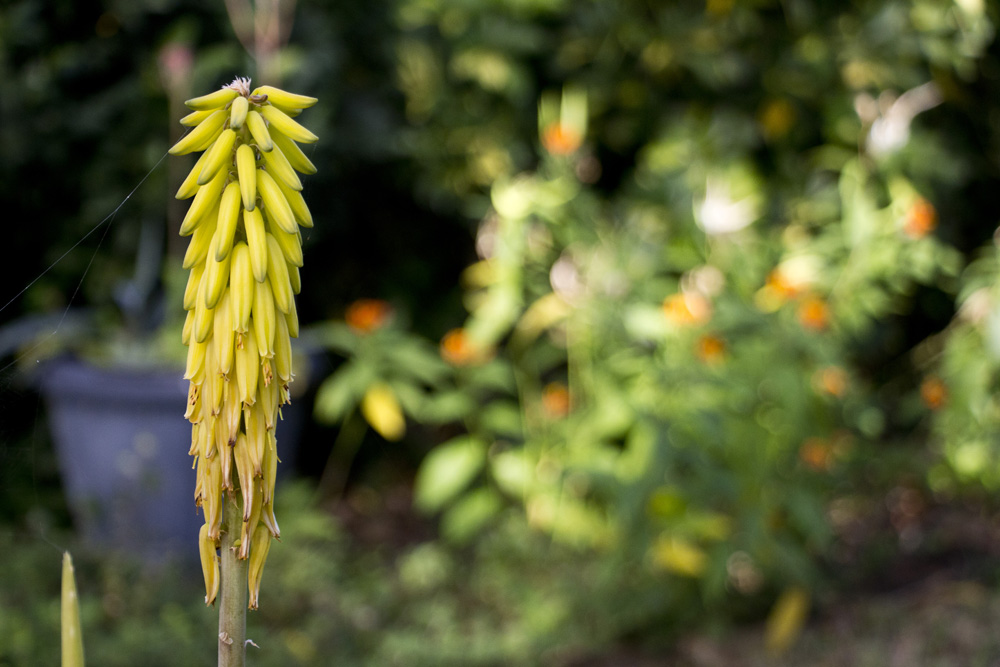 I really loved staying at this cottage for a variety of reasons. I enjoyed talking with the owner and learning about her and her family, but she also left me to enjoy the property on my own. It's close enough to town and to the beaches, but far enough away to feel secluded and enjoy the quiet. The barbeque and kitchen utilities allow you  to prepare and/or cook almost every meal at the cottage, and a late night dip in the hot tub was the ideal way to end each day in Caribbean paradise.
I highly recommend staying at this cottage on a hill. If not for the local lifestyle, and if not for the pool, then maybe come just for the sunsets.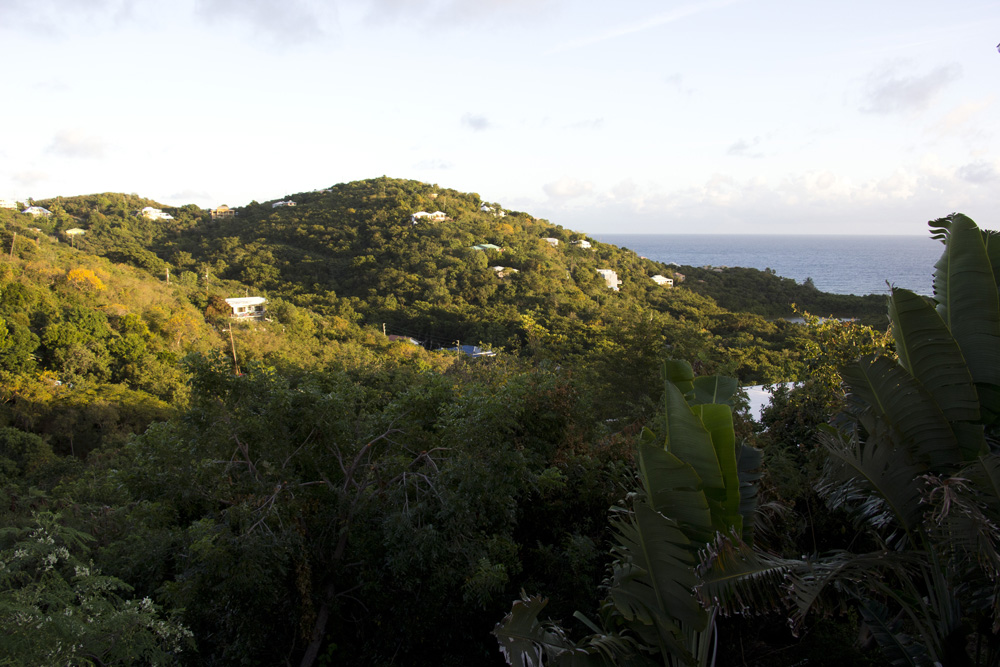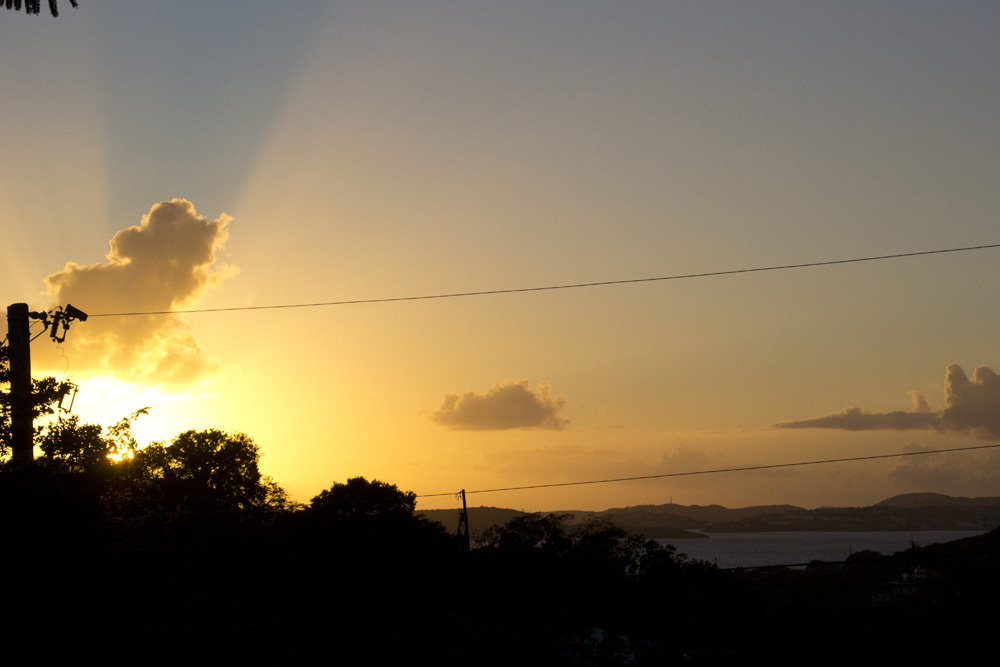 ---
Check it out: TravelShus' Interactive Guide to St John, USVI
---